WNEW FM DJ Alison Steele
January 26, 1937 – September 27, 1995
"The flutter of wings, the sounds of the night, the shadow across the moon, as the Nightbird lifts her wings and soars above the earth into another level of comprehension, where we exist only to feel. Come fly with me, Alison Steele, the Nightbird…"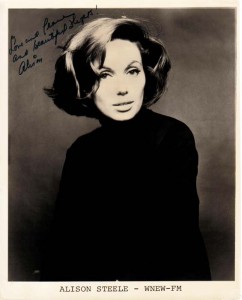 (

According to Jimi Hendrix's manager, Michael Jeffery, the song "Night Bird Flying", recorded by Hendrix and released posthumously on the album, The Cry Of Love, was inspired by Allison's late night Manhattan radio program.

)
WNEW FM DJ Alison Steele
Alison
For those of us in the New York metropolitan area who discovered FM rock music in the 60s, WNEW-FM is the station we think of.  Yes, WOR-FM had preceded 'NEW with a rock format and later there was WPLJ-FM where John Zacherle and Vin Scelsa initially were. But WNEW-FM really was where rock and our hearts lived.

And Alison Steele became one of those voices forever embedded in our hearts.
She began her time at 'NEW in 1966 as part of  an all female DJ line-up.  That was an interesting legal adjustment WNEW made since FM stations in large markets could no longer simulcast what was being broadcast on the AM side. The experiment lasted 13 months.
WNEW FM DJ Alison Steele
WOR-FM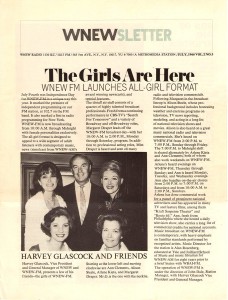 WOR-FM, another NYC station, dropped free-form rock in the late fall of 1967 and WNEW-FM hired ex-WOR-FM jocks Rosko (Bill Mercer) and Scott Muni and added Jonathan Schwartz and Dick Summer. Alison Steele remained and became "The Nightbird."
The wonder and beauty of WNEW-FM's format was that the DJ's were far more than disc jockeys. While certainly playing music–vinyl and likely albums–they also spoke to us. They commented on current events. They read poetry. They told stories. They spoke for us.
In 1971, a New York Times article wrote, "In the radio world, Alison Steele is something of a rarity. As WNEW-FM's self-proclaimed "Nightbird,"  she is the only full-time woman disk jockey in the city and one of the few in the country."
Valentine's Day, 1977
She left WNEW in 1979, but her voice continued to be her presence.
Alison died in 1995 of cancer. Our Nightbird had flown >>> NYT obit
References: NY Radio Archive site
WNEW FM DJ Alison Steele