American Bandstand Dick Clark
August 5, 1957
First ABC broadcast of "American Bandstand"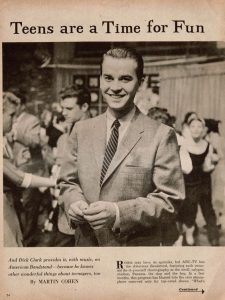 American Bandstand Dick Clark
First Bandstand
In March 1950 WFIL-TV in Philadelphia broadcast Bandstand. Bob Horn, also a radio DJ, hosted the show. It was not a dance show. It featured short musical films and only occasionally had guests. Think black and white MTV.
It was a time when television, the new media kid on the block, selected a successful radio show and literally visualized it.
By the way, I've placed the more familiar music theme, "Bandstand Boogie," by Larry Elgart over this blog, but the first theme song for the original Bandstand was Artie Shaw's "High Society."
Dancing Bandstand
The Bandstand show that Boomers remember today, with teenagers dancing to hit records, came into being on October 7, 1952. Bob Horn continued as host with Lee Stewart. Stewart left as co-host in 1955.  The short music films continued to be part of the show.
DWI
In July, 1956, WFIL and The Philadelphia Inquirer were doing a series on drunk driving.  In July, 1956, police arrested Horn for drunk-driving.
On July 9, 1956, Dick Clark took over as the host
American Bandstand Dick Clark
ABC's American Bandstand
Broadcast companies are always searching for the next hit.  A year after he became host of Bandstand, Dick Clark pitched his show to ABC. The network did not say "Yes" immediately, but eventually did. I'm sure they were happy they did.
August 5, 1957
On this date, ABC did the first national broadcast. Since it was now a nationally televised show, the name changed to American Bandstand. Duh!
The  more popular Mickey Mouse Club interrupted the for half an hour in the middle. The first guest was the Chordettes and the first record danced to on the show was Buddy Holly's "That'll Be the Day."
The show  moved to Los Angeles in 1964. It had already switched from a daily to a weekly Saturday show in which it continued as until 1987.
American Bandstand Dick Clark