Shere Hite Awakens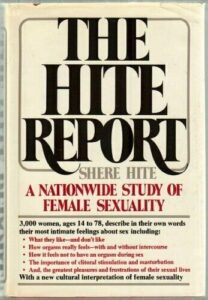 Shere Hite was born on November 2, 1942 in St Joseph, Missouri. MO. She died in London as a German citizen on September 9, 2020.
To oversimplify, Hite was a feminist writer about female sexuality, especially a woman's orgasm. Perhaps you can begin to understand her dying in a country other than the one she was born in.
Shere Hite Awakens
Shirley Diana Gregory
Hite was born Shirley Diana Gregory.  After her parents divorced, she would take the surname of her stepfather, Raymond Hite.
In 1967, she received a master's degree in history from the University of Florida  and moved to New York City to enroll at Columbia University in a doctoral program.  While there, she posed in Playboy and also posed for a typewriter ad that unbeknownst to here would have the tagline: "The typewriter is so smart she doesn't have to be"
Hite joined the protest against the ad's chauvinistic attitude.
She did not complete the doctorate because of her dissatisfaction with what she felt was the overly conservative views of the university.
Teaching
Hite taught at Nihon University in Tokyo, Chongqing University in China, and Maimonides University, North Miami Beach, Florida.
The Hite Report
In 1976, she published The Hite Report on Female Sexuality. The book challenged the traditional view of female sexuality which meant that it scandalized many people. The discussion of sexuality in the United States is always controversial and the publication of a book that challenged the then staid view of female sexuality outraged many.
The male-dominated academia refused to accept the well-researched work.
Erica Jong
In an October 3, 1976 New York Times article, Erica Jong wrote about the Hite Report: We learn…just how much sexual starvation exists in the midst of this seeming plenty. We learn that 95 percent of women (even those who think themselves "frigid") always reach orgasm when they masturbate, even though no one taught them how and even though most of them feel guilty about it. We learn how they do it, how they hold their legs up for orgasm, what they think about, whether or not they make noise, move, lie still, what devices they use (from electric toothbrushes to water spouts!). We learn how they feel about intercourse, their anger at not reaching orgasm when their men do, their real pleasure in giving pleasure, their paradoxical tendency to suppress anger (and their own feelings) in an attempt to win love and approval.
In 1995, she renounced her U.S. citizenship and accepted German nationality, because she regarded German society as more tolerant and open-minded about her endeavors.
Works
Among her works are:
Sexual Honesty, by Women, For Women (1974)
The Hite Report on Female Sexuality (1976, 1981, republished in 2004)
The Hite Report on Men and Male Sexuality (1981)
Women and Love: A Cultural Revolution in Progress (The Hite Report on Love, Passion, and Emotional Violence) (1987)
Fliegen mit Jupiter (English: Flying with Jupiter) (1993)
The Hite Report on the Family: Growing Up Under Patriarchy (1994)
The Hite Report on Shere Hite: Voice of a Daughter in Exile (2000, autobiography)
The Shere Hite Reader: New and Selected Writings on Sex, Globalization and Private Life (2006)
Death
Hite died on September 9, 2020. In a New York Times obituary, Katharine Q Steele wrote:  Her most famous work, "The Hite Report: A Nationwide Study of Female Sexuality" (1976), challenged societal and Freudian assumptions about how women achieved orgasm: It was not necessarily through intercourse, Ms. Hite wrote; women, she found, were quite capable of finding sexual pleasure on their own.
The Disappearance of Shere Hite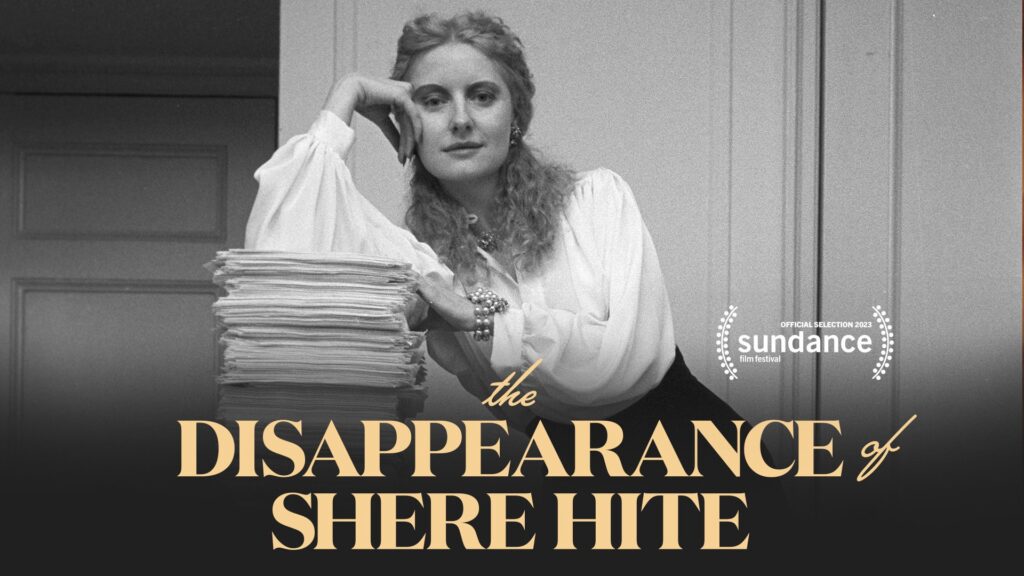 In January 2023, a documentary called The Disappearance of Shere Hite, directed by Nicole Newnham and narrated by Dakota Johnson premiered at the Sundance Film Festival.
Adrian Horton wrote in the January 23, 2023 review of the film and Hite: …her confidence on the language and centrality of female sexuality was startling then, and still invigorating now.
Shere Hite Awakens