Aldergrove Beach Rock Festival
Canada's First Outdoor Rock Festival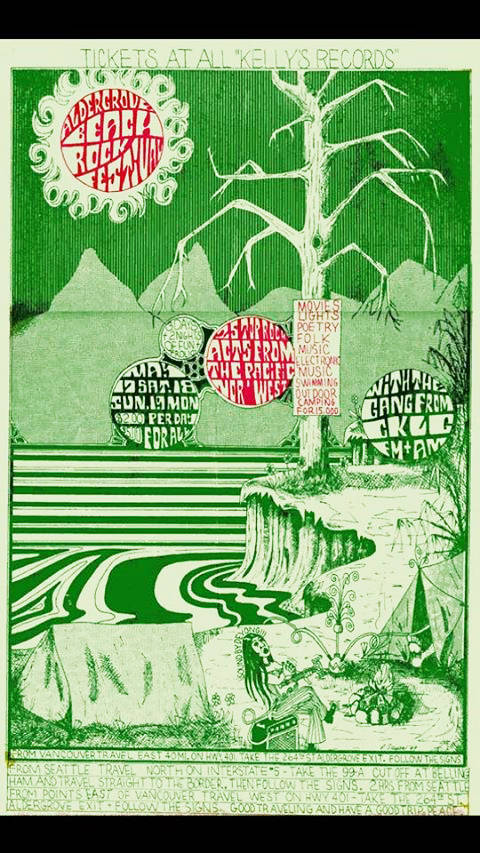 May 17-19, 1969
Langley, British Columbia
1969 festival #5
And Once Again…
By 2019 I thought I'd researched thoroughly enough to have found all of 1969's rock festivals. The initial discovery several years earlier that there had been more than a couple had surprised me. And once in awhile another one sneaks in. The Aldergrove Beach Rock Festival is a recent revelation.
Aldergrove Beach Rock Festival
25,000
The Vancouver Sun reported afterwards, "More than 25,000 young people from all over Canada and the Pacific Northwest rocked their way through the holiday weekend here — peacefully.
"There was pot; there was liquor; there was some nudity; and there was some sleeping bag love-ins. But nothing was as bad as the foretellers of doom had predicted."
The "beach" was alongside a man made lake located on 8th Avenue and 272nd Street.  It no longer exists.
Aldergrove Beach Rock Festival
Local bands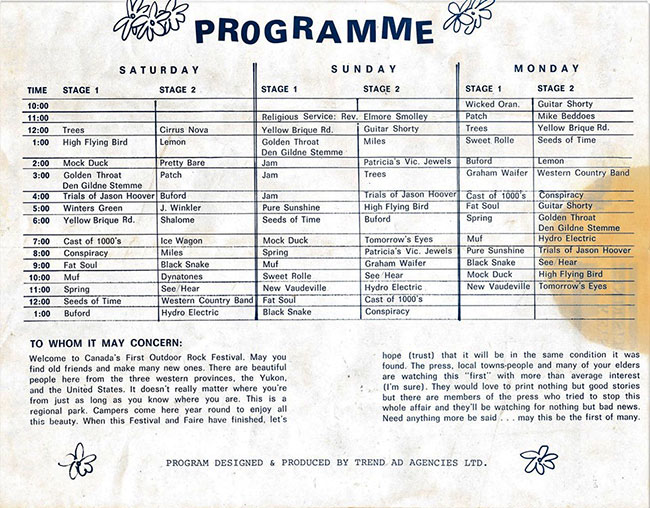 The note beneath the program's lineup says a lot about the times and its attitudes:
Welcome to Canada's First Outdoor Rock Festival. May you find old friends and make many new ones. There are beautiful people here from the three western provinces, the Yukon, and the United States. It doesn't really matter where you're from just a long as you know where you are.
Aldergrove Beach Rock Festival
Not Free/Free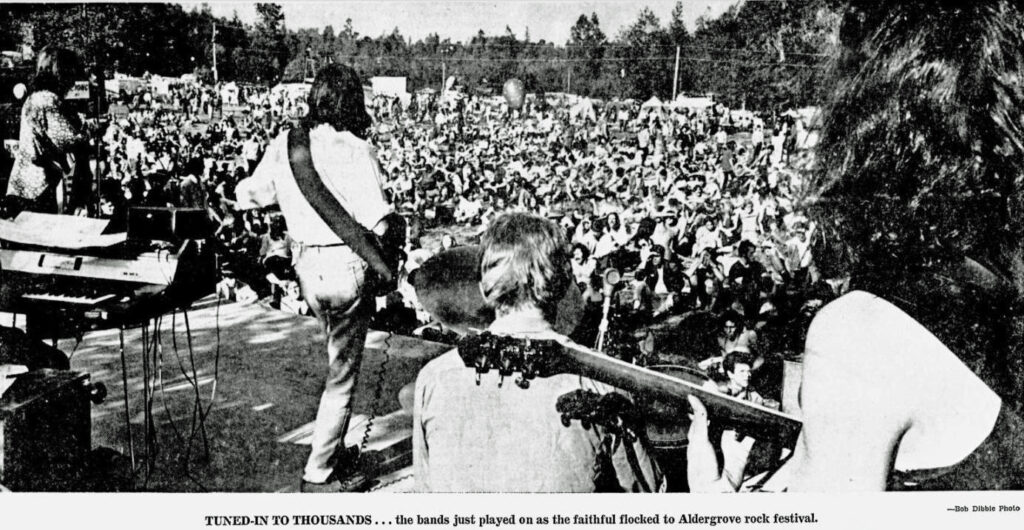 Aldergrove entrepreneur Brent Joliffe and a couple of DJs from Vancouver radio station LG73 promoted the festival, which turned out to be a financial disaster as many of the festival-goers had simply snuck into the park over the back fence instead of paying at the front gate. [Aldergrove Star, June 21, 2017]
There was also the common fear of adults of such a youthful gathering.  Neil Godin,  was one of the organizers and he recalls that  he barely slept.
One of his main tasks was managing its relationship with the Royal Canadian Mounted Police (RCMP), who were camped out nearby and constantly threatened to shut the event down.
"It was radical at the time," he said. "There was a lot of fear and it was reflected in the RCMP presence, for sure."
Silent black and white footage shot by Max Andersen of Ectoplasmic Assault Light Show for use at his gigs. Now in the collection of Acid Rain Light Show.
Aldergrove Beach Rock Festival
Vladimir Keremidschieff
Vladimir Keremidschieff was a local professional photographer who took many pictures of the festival.  Follow this link (VK photos) to see some.
Guitar Shorty
You might notice the name Guitar Shorty on that list.  He had married a woman from Seattle, where they lived in 1969. Her name was Marcia and she had a half-brother who fell in love with Guitar Shorty's playing. His name was Jimi and as the story goes, Shorty introduced the young Hendrix to the wah pedal and loaned him one when he couldn't afford to buy his own.
Contines
Aldergrove continues to hold a music fair, although this year's event had to be online due to COVID-19. The event includes heritage, history, 4-H, prizes, videos, and photography.
Aldergrove Beach Rock Festival
Next 1969 festival: Aquarian Family Festival