Moonfire Lewis Beach Marvin III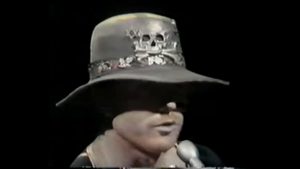 Love Your Animal Friends…
Don't Eat Them
Limited photos
I had only loaded the borrowed 35mm camera with one roll of Kodachrome, so I had to carefully measure my picture-taking at Woodstock.
During that weekend, I saw someone walking around with a lamb and a sign. The sign read:  Love Your Animal Friends, Don't Eat Them.
Keep in mind that it was 1969 and meat and potatoes dominated the United States diet. Salad was an option and a meatless meal verboten.
To see such an interesting-looking guy expressing such (to me) an odd view merited using one of my valuable pictures. He was distant from me,  but close enough to give it a try.
Moonfire Lewis Beach Marvin III
Nowadays
After my tours at Bethel Woods Center for the Arts Museum, I stick around to show any interested guests those several pictures I took. When I get to the "vegetarian guy" I try to explain how unusual it was to me to see someone like that.
Tdoday, when people invite friends and relatives to eat, they also ask if anyone has any dietary preferences. Some are simply that: preferences. Others are prescribed medical requirements.
Times have changed.
Moonfire Lewis Beach Marvin III
Lewis Marvin
It was only recently that I found out who the "vegetarian guy" was: Lewis Marvin. And not only did I find out his name, it also surprised me that he was an heir to the S & H Green Stamp fortune because his father had been that company's chairman.
Being a vegetarian at that time was one thing and to express such fondness for animals in general could bring outrage and ridicule. Just watch how Joe Pyne treats and speaks to Marvin on Pyne's show in 1966:
The audience as well seems to enjoy the way Pyne excoriates Marvin as well.
Moonfire Lewis Beach Marvin III
Moon Fire Ranch
Marvin's story was more than just a respect for animals and tolerance of ridicule.  According to a 2012 article by Adrain Glick Kudler (who also used information from a Wall Street Journal article) in Curbed,  Marvin bought property in Topanga Canyon (CA) "in 1957 for $15,000…."
His wife, Barbara,  and he raised their three children there.
 "Over the next two decades, Mr. Marvin's estate became part-salon, part-muse for his motley crew of artistic friends." Those friends included, naturally, George Harrison…and Jim Morrison, as well as the Manson Family, supposedly."
Apparently Jim Morrison was wearing Marvin's hat (with skull and crossbones on it) on March 1, 1969 in Miami when police accused Morrison of lewd behavior.
Off the grid
While the idea of living off the grid may seem like a recent lifestyle, the Moon Fire Ranch was so isolated that Marvin used solar panels and a generator for power and collected rainwater.
Marvin also built the Moon Fire Temple there, "for the 1966 Paul Newman film, Harper, and is featured prominently as The Temple in the Clouds. Jimi Hendrix, Janis Joplin and The Doors performed at the Moon Fire Temple regularly during the late 1960s and early 1970s.
Artists who have featured their work include; Andy Warhol, David Nelson Rose, Bon Jovi, Mastodon, Thrill Kill Cult, 80's hairband Dokken's music video "Walk Away", Tommy Chong in Far Out Man and numerous Playboy shoots."
Moonfire Lewis Beach Marvin III
Mondo Hollywood
Mondo Hollywood is a 1967 documentary that depicts the social/political/cultural scene in Los Angeles, and especially Hollywood, in the mid to late '60s.
alfiehitchie writes in their IMDB review of Mondo, "Long considered a cult classic, "Mondo Hollywood" captures the underside of Hollywood by documenting a moment in time (1965-67), when an inquisitive trust in the unknown was paramount, hope for the future was tangible and life was worth living on the fringe. An interior monologue narrative approach is used throughout the film, where each principal person shown not only decided on what they wanted to be filmed doing, but also narrated their own scenes. The film opens with Gypsy Boots (the original hippie vegan – desert hopping blender salesman), and stripper Jennie Lee, working out 'Watusi-style' beneath the 'Hollywood' sign — leading into the 'sustainable community' insight of Lewis Beach Marvin III, the S&H Green Stamp heir, who lived in a $10 a month garage while owning a mountain retreat in Malibu."
The IMDB entry on the movie does not indicate, as the Kudler article does, that Lewis and the Ranch were part of the movie.
Moonfire Lewis Beach Marvin III
The Family
Ed Sanders (of Fug fame) wrote of Moonfire in his well-respected book on Charles Manson, The Family: "the place had been constructed for a 1966 movie called Harper, starring Paul Newman and Lauren Bacall … In the film, the structure on the high hill above the Pacific belonged to a "religious fanatic" to serve as a "Temple in the clouds." and that "occult ceremonies had occurred" and that Manson had visited.
According to Kudler's article, Marvin died in 2005, I cannot find much more about his death other than in a second internet article by  Moonbattery that states, "He died in 2005 at a monkey refuge in Panama."
I cannot find any additional corroboration.
Moonfire Lewis Beach Marvin III
Moonfire today
Today the ranch has become "…a premiere Los Angeles venue." At least that what its site claims. It also states that, "Moonfire Ranch is now available for bookings. Welcoming all motion pictures, movie shoots, photo shoots, music video productions, and artistic events."
One might say that Joe Pyne won.
Moonfire Lewis Beach Marvin III