Nick Cave Skeleton Tree 2016
Nick Cave & the Bad Seeds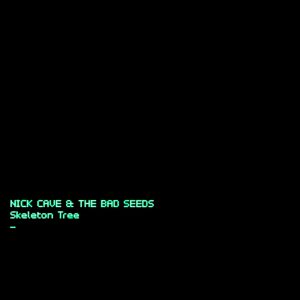 Wings of Desire
I'm not sure, but I think the first time I encountered the music of Nick Cave and Cave himself was in Wim Wender's movie, Wings of Desire (Der Himmel über Berlin). I really liked the film and how Cave's music enhanced the film's eerie emotionally intense atmosphere.  Cave's music, though not Cave, was also in Wings' sequel Faraway, So Close.
Cave seemed to pop up regularly in my meandering musical journey, but I never stopped to listen very long. That was a mistake and I'm trying to catch up.
Nick Cave Skeleton Tree 2016
Nick Cave
Out of ignorance, I thought Cave was either American or English and living in Germany.
He is Australian and surprisingly survived his tumultuous teens. Those years included excessive underage drinking, sexual assault (pulling down a school girl's pants), the subsequent school expulsion, stripping in public for fun, and gangster obsession. His teens ended with the death of his father in a car crash. His mother told him of the death as she bailed him out of jail for burglary.
Cave has said that he has no memories of his father's funeral, but remembers that "he died at a point in my life when I was most confused." Cave later wrote that "the loss of my father created in my life a vacuum, a space in which my words began to float and collect and find their purpose."
Cave Music
While still in school, Cave and some other students started a cover band called Concrete Vulture. As the name might imply, the covers were by artists such as Lou Reed, David Bowie, and Alice Cooper.
Out of school and still in Australia, they changed the band's name to The Boys Next Door. Their Cave-led performances successfully got them banned from venue after venue.
Birthday Party
The Boys Next Door made one album and went to London and became The Birthday Party. The stage act, often described as riotous with Cave yelling, howling, and jumping around the stage.
John Peel, a disc jockey, record producer,  and journalist announced their "Release the Bats" the best record of 1981 and success followed.
Nick Cave Skeleton Tree 2016
Berlin
In 1983 Birthday Party moved to Berlin where it dissolved and some pieces reformed as The Bad Seeds. Simon Reynolds has described Cave's songwriting as  "the fullest, most hideously voluptuous flowering of the abject in rock."
Life imitates Art
Cave's career has careened through other arts such as the above mentioned acting as well as screen writer, author, playwright, and lecturer.
Cave and Viviane Carneiro had a son Luke. Cave had another son Jethro who lives with his mother in Australia.
Cave controlled his demons and found family life in Brighton, England and with his third wife Susie Bick had twins, Earl and Arthur.
On July 14, 2015 darkness descended on Cave. His son Arthur, 15, under the influence of LSD,  suffered a fatal brain injury after plunging onto the underpass of Ovingdean Gap in Brighton.
Nick Cave Skeleton Tree 2016
Skeleton Tree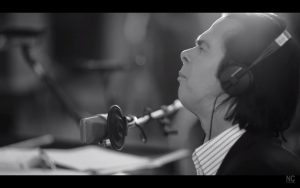 Skeleton Tree  is Cave's 16th album with the Bad Seeds. Arthur Cave's death occurred during Skeleton Tree's writing and recording and sadness surrounds each song. Though the circumstances are somewhat different, I am reminded of David Bowie's Blackstar.
Knowing what we know, it is a wonderfully difficult album to listen to. W.B. Yeat's "terrible beauty."
The album's fifth song, "Anthrocene" expresses that horrible sadness best:
All the things we love, we love, we love, we lose
It's our bodies that fall when they try to rise
And I hear you been looking out for something to love
Sit down beside me and I'll name it for you
Behold, behold
The heaven bound sea
The wind cast its shadow and moves for the tree
Behold the animals and the birds and the sky entire
I hear you been out there looking for something to set on fire
The head bow children fall to their knees
Humbled in the age of the Anthrocene
Nick Cave Skeleton Tree 2016
Post Skeleton Tree
In May 2017, Mark Mordue interviewed Cave in the Guardian during his first tour since Arthur's death. Mordue wrote, "he is…slowly attempting to come back into the world, step by step. I suspect it won't be long before he is up and running at a terrifying pace; Cave possesses a momentum that can knock you over through sheer proximity alone. He tells me he is already writing new songs. "Not to answer Skeleton Tree," he emphasises, "but to artistically complete the trilogy of albums we began with Push the Sky Away." 
Nick Cave Skeleton Tree 2016