Sam Phillips Memphis Recording Service
Sam Phillips
There are many dates offered for the birth of rock and roll, but certain dates unarguably made rock possible.
One: Sam Phillips opened the Memphis Recording Service on January 3, 1950.
Two: in April 1951, Phillips recorded "Rocket 88″ by  Jackie Brenston and his Delta Cats, a song considered by many to be the first Rock and Roll song.
Three: on January 4, 1954 while still working as a truck driver, Elvis Presley went to the Sam Phillips to record a song for his mother's birthday which was many months away. He recorded "It Wouldn't Be The Same Without You" and "I'll Never Stand In Your Way." It was this recording that would lead Phillips to call Presley back to record for his Sun Records label. The receipt is dated Jan. 6, but the date of the recording was Jan. 4.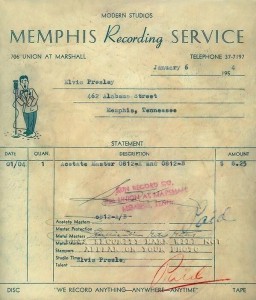 Sam Phillips

Memphis Recording Service
Alabama kid
When growing up in Alabama, Sam Phillips had been exposed to all types of music, but he loved the blues sound he'd heard traveling through Memphis, Tennessee' Beale Street. When he opened the Memphis Recording Service he followed that lead and recorded such Black performers as B.B. King, Junior Parker, and Howlin' Wolf. Phillips then would sell their performances to larger record labels.
Sam Phillips

Memphis Recording Service
MRS
According to the  the Kitchen Sisters, "Before Elvis walked through the door, before Sun Studios put Memphis on the map—Sam Phillips, a young man with a tape recorder, lived by the motto, "We Record Anything, Anywhere, Anytime." Weddings, funerals, marching bands, the Miss Memphis Pageant—Sam recorded them all—anything to keep his fledgling Memphis Recording Service open to record Howlin' Wolf, B.B. King, Little Junior, Ike Turner, Carl Perkins, Johnny Cash, Roy Orbison, Elvis Presley. The raw and rocking, unrecorded music of the 1950s South. (to listen to the Kitchen Sisters' excellent podcast on Phillips >>> Kitchen Sisters)
Sam Phillips

Memphis Recording Service
Sun Records
In 1952 Phillips started Sun Records. According to the Rock and Roll Hall of Fame site his company released 226 singles during its 16 years and "…That figure doesn't include the 71 singles released on Sun's sister label, Phillips International!) Those 45s and 78s with the familiar Sun logo amount to a treasure of music whose greatest moments mark the spot where rock and roll originated and thrived in all its frantic, wild-eyed abandon. "We're all crazy," Phillips has said of himself and his charges at Sun. "But it's a type of insanity that borders on genius. I really feel that. To be as free as you have to be for any kind of music, you almost have to be in another dimension. And to do the broad expanse of rock and roll takes an element of mind expansion that people less creative would term insanity." (form more >>> Rock and Roll Hall of Fame site)
So important was Sam Phillips's impact on the history or Rock and Roll, he was part of the inaugural class of inductees into the Rock and Roll Hall of Fame in 1986.
For more about Phillips, the Memphis Recording Service, and Sun records, watch this excellent video history:
Sam Phillips

Memphis Recording Service