Immigrant Luis Eduardo Ramirez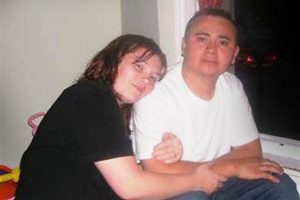 March 16, 1983 – July 14, 2008
Luis Ramirez had came to the U.S. from Mexico in 2002 when he was 19 to look for work. He settled in Shenandoah, Pennsylvania about 80 miles northwest of Philadelphia where other Mexicans had found field and factory work.
Ramirez found steady employment, fathered two children and, occasionally endured harassment by long-time white residents.
Immigrant Luis Eduardo Ramirez
Shenandoah, PA
On July 12, 2008, a group of Shenandoah Valley High School Blue Devils football players beat Luis Ramirez. 
Shenandoah Borough Manager Joseph Palubinsky said he did not believe Ramirez's ethnicity was what prompted the fight: "I have reason to know the kids who were involved, the families who were involved, and I've never known them to harbor this type of feeling."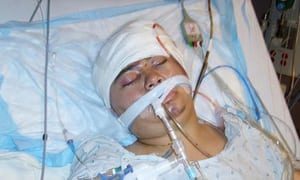 On July 14: Ramirez died from head injuries.
Immigrant Luis Eduardo Ramirez
Arrests

On July 25 police arrested Brandon Piekarsky, 19, and Colin Walsh, 17, both white.  
The attack drew condemnation from immigrants' rights groups, who  held vigils in Shenandoah.
The Justice Department opened an investigation into the case.
August 19, 2008: State Judge Anthony Kilker ruled that prosecutors had enough evidence to try Walsh and Piekarsky on charges of third-degree murder and ethnic intimidation. Donchak was ordered to stand trial on aggravated assault, ethnic intimidation and other counts.
August 26, 2008:  bail was set at $50,000 each for Piekarsky and Walsh. They had been held without bail since their arrests on July 25.
A third defendant, Derrick Donchak was charged with aggravated assault and other offenses. He posted bail soon after his arrest. (NYT article)
November 27, 2008:  Judge, William Baldwin of Schuylkill County, ruled that charges of third-degree murder against Piekarsky and Walsh were warranted. Baldwin also let stand the aggravated-assault count against  Donchak, but dismissed a hindering-apprehension charge against him.
The three were also charged with ethnic intimidation because the authorities say the attack on Ramirez was racially motivated. (NYT article)
Immigrant Luis Eduardo Ramirez
Walsh Guilty plea
April 8, 2009, : Colin Walsh pleaded guilty to one felony violation of the Federal Fair Housing Act for his role in aiding and abetting Piekarsky and  Donchak in the beating death. 
April 21, 2009: local charges were dropped against Walsh because he had entered the guilty plea to charges in federal court. (NYT article)
April 28, 2009: Walsh testified against Piekarsky and Donchak. When asked on the witness stand, Walsh said that his federal deal called for nine years in federal prison, but that he could be out in four because of his cooperation. (NYT article)
Immigrant Luis Eduardo Ramirez
All-white jury
May 2, 2009:  an all-white jury acquitted Piekarsky  of third-degree murder and ethnic intimidation, and Derrick Donchak of aggravated assault and ethnic intimidation.
Both were convicted of simple assault.
Prosecutors had described Luis Ramirez as the victim of a gang of drunken white teenagers motivated by their dislike of their small coal town's burgeoning Hispanic population.
Defense lawyers called Ramirez the aggressor and accused the district attorney's office of twisting the facts. (NYT article)
Immigrant Luis Eduardo Ramirez
Following PA trial
A May 16, 2009:  NYT article described several incidents in Shenandoah following the trial.  Several white students threatened Felix Bermejo that he was next.  The car of Eileen Burke was egged. Burke, a former Philadelphia police officer, had said she believed that local police had mishandled the case. A fight broke out between a white group and a mixed black and Latino group.
June 19, 2009: Judge William Baldwin of Schuylkill County sentenced each sentenced Piekarsky and Donchakto at least six months behind bars.  Baldwin said that the sentences exceeded the usual sentencing guidelines but that they reflected the "absolute brutality and viciousness" of the attack on Ramirez. Baldwin also said he could not consider the racial overtones of the case and the fact that Ramirez died. (NYT article)
Immigrant Luis Eduardo Ramirez
Federal government steps in
December 15, 2009: federal prosecutors charged Police Chief Matthew Nestor, Lt. William Moyer, and Officer Jason Hayes with obstruction of justice in connection with their handling of the investigation of the beating death of Ramirez.
Piekarsky and Donchakto were indicted on federal hate crime charges.
The officers were called to the scene of the beating on the night, but prosecutors alleged they were closely linked to the boys: Hayes was in a relationship with Piekarsky's mother who was also a good friend of Nestor, while Moyer's son played in the football team with the students. (NYT article)
The officers were alleged to have let the students go, even given them lifts in a police car away from the crime scene. They then encouraged them to "get their story straight" and tampered with evidence to make their detection more difficult. (Guardian article)
December 22, 2009: in federal court, Piekarsky and  Derrick Piekarsky and Donchak were arraigned in Wilkes-Barre, PA, charged with hate crimes. They  pleaded not guilty. (NYT article)
Immigrant Luis Eduardo Ramirez
Convictions
October 14, 2010: the federal jury in Scranton, PA convicted Donchak and Piekarsky of a hate crime arising out of the fatal beating of Ramirez.
The jury found the defendants guilty of violating the criminal component of the federal Fair Housing Act, which makes it a crime to use a person's race, national origin or ethnicity as a basis to interfere, with violence or threats of violence, with a person's right to live where he chooses to live. 
A jury had previously acquitted both of murder charges in state court and convicted of simple assault.
"…people attacked one person because of his race and because they didn't want people like him living in their town," prosecutor Myesha K. Braden had said during her closing argument.
Witnesses had testified that racist language was used before and during the attack and that Ramirez was kicked in the head repeatedly after falling down. The defendants, they said, didn't want immigrants in their neighborhood and repeatedly ordered Ramirez to leave.
Local authorities helped cover Local authorities helped cover up the incident. Braden said, "They hatched a plan to leave out the kick, to leave out the race and even to leave out the drinking." (NYT article) (for sentencing, see February 27, 2011 below)
Immigrant Luis Eduardo Ramirez
Police trial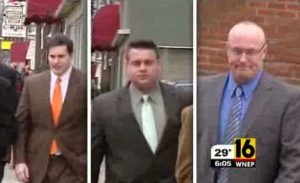 January 13, 2011, the trial of officers Nestor, Hayes, and Moyer on charges of obstructing justice in the beating death of Ramirez began. (NYT article)
January 27, 2011: a federal jury convicted Matthew Nestor, the  Shenandoah police chief at the time of the murder, of the most serious charge against him in what prosecutors said was a cover-up of the beating death of Ramirez.
The jury delivered a less severe verdict against a Moyer and acquitted a Hayes.
Authorities had accused the former officers, Matthew Nestor, Jason Hayes and William Moyer, of helping a group of the white teenagers cover up their parts in the beating death Ramírez.
Nestor was found guilty of falsifying records, a charge that could bring up to 20 years in prison, but he was acquitted of conspiracy. Moyer, a former Shenandoah lieutenant, was convicted of lying to the F.B.I., but acquitted of all other counts, including obstruction of justice, and he faced up to five years in prison. Hayes, a former patrolman, was acquitted of all charges. (NYT article)
Immigrant Luis Eduardo Ramirez
Sentencing
February 27, 2011: a judge sentenced Derrick Donchak and Brandon Piekarsky to nine years in prison.  (CNN article)
June 1, 2011: Judge A. Richard Caputo of Federal District Court in Wilkes-Barre, Pa sentenced Nestor 13 months in prison–a lower-than-expected term.
Caputo  said the sentencing guidelines were too harsh for Nestor. A pre sentencing report by probation officials had recommended 57 to 71 months.
Caputo sentenced Moyer to three months. (PennLive article)
June 18, 2012:  a three-judge panel decided that Donchak and  Piekarsky must stay in federal prison for their hate-crime convictions.
In a 34-page opinion, the panel ruled there was no basis to overturn the convictions of either Donchak or Piekarsky.
"We therefore affirm the final conviction, judgment and sentence," U.S. Circuit Judge Julio M. Fuentes wrote in the court's opinion, which was joined by the other panel members, U.S. Chief Circuit Judge Theodore A. McKee and U.S. Circuit Judge Kent A. Jordan. (Republican Herald article)
Immigrant Luis Eduardo Ramirez
Documentary
April 20, 2013: David Turnley's documentary"Shenandoah" released.  A NYT article stated that, "Turnley spent four years burrowing into the lives of people on all sides of the story, whether the burly football players who participated in the attack, their parents who struggled to understand it, or Mr. Ramirez's family both in Shenandoah and in Mexico."
October 17, 2013: a unanimous three-judge panel of the U.S. Court of Appeals for the Third Circuit affirmed the federal hate-crime convictions of Donchak and Piekarsky.
Immigrant Luis Eduardo Ramirez