Father Steve Muruga Booker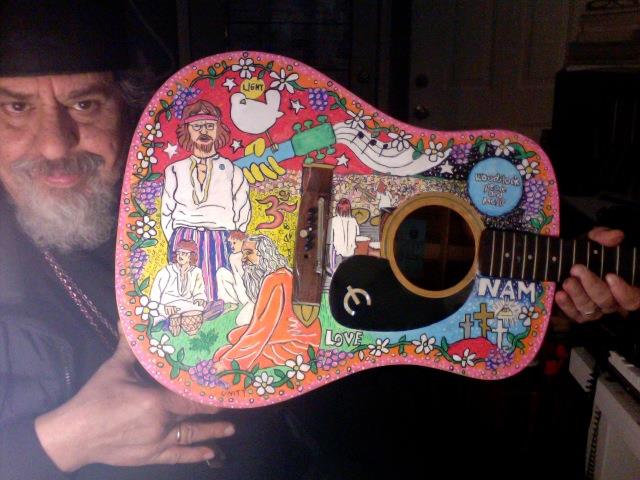 Happy birthday
27 December 1942
Muruga jamming on his invention, the Nada drum at Sage St. Studio (2015)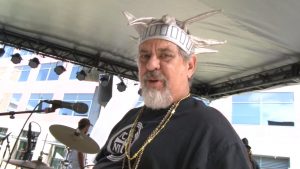 I suppose every musician has their story of how they came to play.
In an 2000 interview with PT Quinn, Booker [or the original Bookvich] related his unique story: I would have to tell you that when I was a young man, I had a deep recall of being in the womb.  My mother used to go to the Latin Quarter in Detroit and hear Puncito, and I would hear the drums in the womb.  That influenced me somehow, but my Dad introduced me to the accordion at 3. I met one of his teachers… Misha Vishkov from Hamtramick at 6.  As well as accordion, Misha played the drums.  I'm a Serbian son raised with the gypsies. I liked the drum when he played it.  I wanted to play so I started at 14 and had some good teachers in high school.  At the Record Hop I noticed I could move all 4 of my limbs with the beat, and that would be the drums. 
Father Steve Muruga Booker
Woodstock
Steve Booker was the drummer who backed Tim Hardin at the Woodstock Music and Art Fair, but at that time he was simply Steve Booker. He  was about to leave the Paul Winter Consort which had also included Woodstock band mates Ralph Towner and Richard Bock.
In any case, the way Steve relates his Woodstock connection, (from a Detroit Metro Times piece). "One day while in New York City, I went to see Jim and Jean. They were going to a jam at the Café au Go Go on Bleecker Street in the Village, which was the happening hippie place at that time. …Tim Hardin was also [there].  …I approached him… while walking down Bleecker Street. He said if I'm ever in need of a gig to call him, and he gave me his Woodstock home phone number.
Booker showed up a week later with friend Richard Bock. Hardin offered them both a spot in his then-organizing band.  They agreed and Hardin left them to practice without him for two days. Luckily, the group was used to improvisation and did well until Hardin returned.
Unfortunately, Hardin's performance, despite the stellar back up band, was not one to remember. Being intimate on a drizzly evening in front of 400,000 people was not what a Hardin performance was made for.
Father Steve Muruga Booker
Swami Satchidanada
For Booker the event was literally life-changing. He met Swami Satchidananda whose spirituality immediately impressed Booker. Booker studied with the Swami for several years and it was Satchidananda who gave the name "Muruga" to Booker.
Booker continued to be a musician and eventually was ordained an Orthodox priest. Today he operates his own chapel, St. Gregory Palamas, in Ann Arbor, Michigan. His spirituality led him to invent the nada drum, a variation on the talking drum.
Father Steve Muruga Booker
Michigan
The list of people Booker has played with is a who's who of musicians. A very partial list includes: Peter Gabriel, George Clinton, Merle Sanders, Jerry Garcia, Mickey Hart, John Lee Hooker, Al Kooper, Ted Nugent, and Dave Brubeck. (a more complete list)
Born in Michigan, he returned there to live in 2000.
Not surprisingly, when asked what his greatest success was, Booker's response was, "My happy family: wife, Patty; son, Aaron; daughter, Rani; and my priesthood."
Booker's own words best sum up his life now:  You could say that the spirit of Woodstock continues for many of us through the spirit and heart that's still in the music we love to play.
The 2021 concert poster for the celebration of his 79th birthday.
And a 2022 Facebook post where he simply plays in his backyard:
https://www.facebook.com/100005926840199/videos/1302746970257576/
Father Steve Muruga Booker