February Peace Love Activism
Feminism
New York Shirtwaist Strike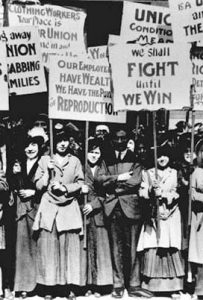 ---
In February 1910: the New York Shirtwaist Strike ended. The settlement  improved workers' wages, working conditions, and hours, but did not provide union recognition. A number of companies, including the Triangle Shirtwaist Factory, refused to sign the agreement. But even so, the strike won a number of important gains. It encouraged workers in the industry to take action to improve their conditions, brought public attention to the sweatshop conditions. (next Feminism, see December 1910)
UNITE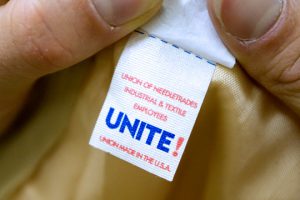 ---
In February 1995: the General Executive Boards of the International Ladies Garment Workers Union and the Amalgamated Clothing Workers of America voted unanimously to merge.  The new union, named the Union of Needletrades, Industrial and Textile Employees (UNITE), was led by former ILGWU President Jay Mazur. In 1995, UNITE had a membership of about 250,000 in the United States, Canada, and Puerto Rico. (Revolvy article) (next Feminism  June 26, 1996)
February Peace Love Activism
BLACK HISTORY
Marcus Garvey
February – August 1919: copies of The Negro World confiscated by authorities in various countries. It was banned by the governor of Belize, called seditious by the governor of Trinidad, and seized by the government of British Guiana. The acting governor of Jamaica ordered the postmaster to open and detain copies of the newspaper. (see April 27, 1919)
Southern Poverty Law Centre
In February 1987: with the support of Morris Dees and Joseph J. Levin at the Southern Poverty Law Centre (SPLC), Beulah Mae Donald, the mother of slain Michael Donald sued the United Klans of America. An all-white jury found the Klan responsible for the lynching of Michael Donald and ordered it to pay 7 million dollars. This resulted the Klan having to hand over all its assets including its national headquarters in Tuscaloosa. (Black History, see February 10, 1989; Donald, see June 6, 1997)
Cold cases
In February 2006; the FBI launched its review of unsolved civil rights-era murders, many of which were believed committed by Klansmen. (BH, see May 21, 2006; Cold Cases, see October 7, 2008)
February Peace Love Activism
February Music et al
Gil Evans
In February 1961: Gil Evans's "Out of the Cool" released. Recorded at Van Gelder Studio. The Penguin Guide to Jazz selected this album as part of its suggested "Core Collection" calling it "Evans' masterpiece under his own name and one of the best examples of jazz orchestration since the early Ellington bands."
Bob Dylan
---
In February 1963: Columbia staff photographer Don Hunstein photographed Dylan and Suze Rotolo, together again after seven months' separation, for the cover of The Freewheelin' Bob Dylan. Hunstein recalled: "We went down to Dylan's place on Fourth Street, just off Sixth Avenue, right in the heart of the Village. It was winter, dirty snow on the ground . . . Well, I can't tell you why I did it, but I said, Just walk up and down the street. There wasn't very much thought to it. It was late afternoon you can tell that the sun was low behind them. It must have been pretty uncomfortable, out there in the slush." (see Apr 12; photo, see May 27)
Duke Ellington & John Coltrane
In February 1963: Duke Ellington (64 years old) and John Coltrane (37 years old) released Duke Ellington & John Coltrane.  In a Sentimental Mood, written by Ellington in 1936 as an instrumental and later given lyrics was one of the songs done on the album The song had been theme song for at least nine radio shows; included in eight movie soundtracks; and two Broadway shows.
Jimi Hendrix
In February 1964: won first prize in an Apollo Theater amateur contest. (see March 1964)
LSD/Owsley Stanley
In February 1965: Owsley Bear Stanley first succeeded in synthesizing crystalline LSD. Earliest distribution was March 1965. (see Feb 21)
Ken Kesey
In February 1966: newspapers begin reporting that Ken Kesey was not dead but in Mexico. (see Feb 5)
A Love Supreme
In February 1965: John Coltrane released A Love Supreme album. Recorded at Van Gelder Studios.
News Music
In February 1965: the Impressions released People Get Ready, a Curtis Mayfield composition. (see Mar 25)
The Beatles  & Monterey Pop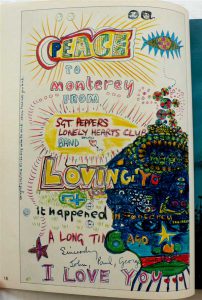 In February 1967, organizers asked the Beatles to contribute a drawing to the upcoming Monterey International Pop Festival The Beatles' publicist Derek Taylor. Paul McCartney was on the Board of Governors for the Festival and he insisted that the relatively unknown Jimi Hendrix appear at the show.
The Beatles had stopped touring, so they did not want to appear at the festival. Instead, the Art Director for the Festival, Tom Wilkes, asked Derek Taylor if the Beatles could contribute something for the official festival program. The Beatles created an original illustration with felt marker, colored pencil and ink which said "Peace to Monterey" at the top.
The Beatles were busy working on their landmark album, Sgt. Pepper, at the time, so the drawing is "from Sgt. Peppers Lonely Hearts Club Band." The message on the drawing continues: "Loving You, it happened in Monterey a long time ago."
In classic Beatles humor, the drawing is signed "Sincerely, John, Paul, George and Harold."
February Peace Love Activism
Vietnam
Cambodia
In February, 1967: 25,000 US troops sent to Cambodian border. (see Feb 8 – 10)
Operation Menu
In February, 1969: in spite of government restrictions, President Nixon authorized the covert Operation Menu, bombing of North Vietnamese and Vietcong bases within Cambodia. Over the following four years, U.S. forces will drop more than a half million tons of bombs on Cambodia. (Third World Traveler article) (see Feb 13)
February Peace Love Activism
Nuclear/Chemical News
ICAN
In February 2014:  146 States and more than a hundred civil society campaigners attended the Nayarit Conference on the Humanitarian Impact of Nuclear Weapons. The International Campaign to Abolish Nuclear Weapons [ICAN] told participants "the claim by some states that they continue to need these weapons to deter their adversaries has been exposed by the evidence presented at this conference…as a reckless and unsanctionable gamble with our future." At the conclusion of the conference, Mexico called for the start of a diplomatic process to negotiate a legally binding instrument prohibiting nuclear weapons. (Nuclear, see Feb 18; ICAN, see Oct 26)
February Peace Love Activism
Please follow and like us: