Woodstock Hero Max Yasgur
December 15, 1919 – February 9, 1973
Born in Brooklyn, Max Yasgur eventually found his way to Sullivan County, NY where he became the most successful dairy farmer in that county.
 1969 was another turbulent year of that turbulent decade and Woodstock Ventures hoped that their festival would provide a place in the country where young people could peacefully enjoy their music and sleep under the stars.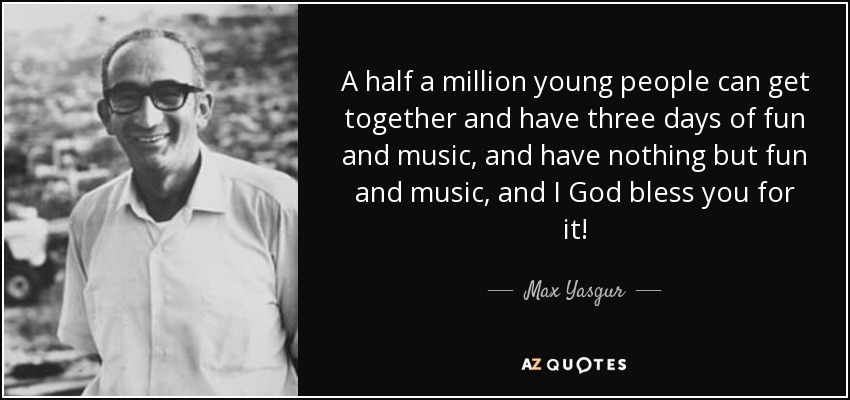 ---
We know the story. After the town of Wallkill realized what Woodstock Ventures was doing and "who" was going to attend, it put one legal roadblock after another in the concert's way. Wallkill finally succeeded and Max was the man who came to the rescue.
He showed Michael Lang a big grassy bowl at the intersection of Hurd and West Shore Roads.
Perfect.
Woodstock Hero Max Yasgur
Bethel hurdles
Like Wallkill, many Bethel locals were against the idea and threatened Yasgur telling others to boycott his milk. Max Yasgur stood his ground and basically told locals where they could put their protest.
At a Bethel Town Board meeting before the festival he reportedly said: "I hear you are considering changing the zoning law to prevent the festival. I hear you don't like the look of the kids who are working at the site. I hear you don't like their lifestyle. I hear you don't like they are against the war and that they say so very loudly. . . I don't particularly like the looks of some of those kids either. I don't particularly like their lifestyle, especially the drugs and free love. And I don't like what some of them are saying about our government. However, if I know my American history, tens of thousands of Americans in uniform gave their lives in war after war just so those kids would have the freedom to do exactly what they are doing. That's what this country is all about and I am not going to let you throw them out of our town just because you don't like their dress or their hair or the way they live or what they believe. This is America and they are going to have their festival."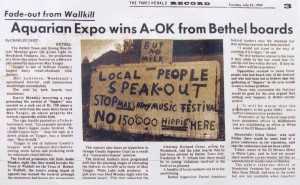 Woodstock Hero Max Yasgur
On the last day of the concert, the New York Times published an article about Max: Until a few days ago Max Yasgur was just another dairy farmer in Sullivan County. Now he gets phone calls threatening to burn him out. And even more calls praising him and asking how the callers can help.
On the same day, he spoke to those young people whom he had defended:
Woodstock Hero Max Yasgur
Max Yasgur

He died less than three years later on February 9, 1973. (NYT article)
Woodstock Hero Max Yasgur