National Women's Hall of Fame
Happy anniversary
It's never too late to learn something new. Today we will start with a matching quiz. In the left column are the names of five outstanding women who are in the National Women's Hall of Fame. In the right column are brief descriptions of their specific accomplishments, 

but the rows do not match

.
Try to match the name with the correct accomplishment? I will show the answers at the end.
| | |
| --- | --- |
| Tenley Albright | one of the co-founders of The Feminist Majority Foundation, a former president of the National Organization for Women, and publisher of Ms. Magazine |
| Barbara Iglewski | the founder and co-president of the National Women's Law Center. The creation of the Center over 40 years ago established her as the first full-time women's rights legal advocate in Washington, D.C |
| Eleanor Smeal |  one of the world's leading research scientists investigating T-cells, the family of cells that help the body fight off disease. Her pioneering work isolating the T-cell receptor has led to a greater understanding of the molecular basis of the immune system, and has contributed to medicine's current understanding of vaccines, HIV, and other immune disorders. |
| Marcia Greenberger | first American woman to win a world figure skating championship and is the first winner of figure skating's "triple crown", capturing the World, North American, and United States ladies figure skating titles in a single year. In 1956, she became the first American woman to win an Olympic gold medal in figure skating. |
| Philippa "Pippa" Marrack | landmark discoverer that pathogenic bacteria communicate with each other via a system known as "quorum sensing" showed how this system is a global regulator of virulence in humans. |
National Women's Hall of Fame
It was on February 20, 1969 that a group founded the National Women's Hall of Fame in Seneca Falls, New York. where Elizabeth Cady Stanton and Lucretia Mott, two renowned leaders of the US suffragette movement, organized the first Women's Right Convention at Seneca Falls in 1848.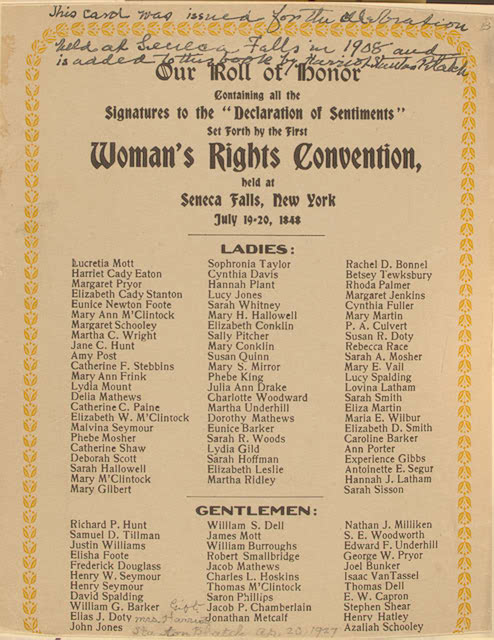 The Hall of Fame's mission is, "Showcasing great women…Inspiring all!"
According to its site, "In 1969, the women and men of Seneca Falls created the National Women's Hall of Fame, believing that the contributions of American women deserved a permanent home in the small village where the fight for women's rights began. The Hall is currently housed in the Helen Mosher Barben Building, in the heart of the downtown Historic District.
The National Women's Hall of Fame is the nation's oldest membership organization dedicated to recognizing and celebrating the achievements of great American women. This esteemed group grows with each Induction Ceremony and as women continue to influence and shape the arts, athletics, business, education, government, humanities, philanthropy and science."
Reference >>> Women's Hall of Fame site
And the correct matches are:
| | |
| --- | --- |
| Tenley Albright | first American woman to win a world figure skating championship and is the first winner of figure skating's "triple crown", capturing the World, North American, and United States ladies figure skating titles in a single year. In 1956, she became the first American woman to win an Olympic gold medal in figure skating. |
| Barbara Iglewski | microbiologist whose landmark discovery that pathogenic bacteria communicate with each other via a system known as "quorum sensing" served as the foundation for an entire field of study and has led to drug development to interrupt the bacterial communication process. |
| Eleanor Smeal | She has been at the forefront of nearly every significant women's rights victory.  Responsible for coining the phrase "gender gap" referring to the difference in the way women and men vote and popularizing its usage in election and polling analyses to enhance women's voting clout. |
| Marcia Greenberger | The founder and co-president of the National Women's Law Center, Marcia Greenberger has been a leader in developing strategies to secure the successful passage of legislation protecting women and counsel for landmark litigation establishing new legal precedents for women. |
| Philippa "Pippa" Marrack | landmark discoverer that pathogenic bacteria communicate with each other via a system known as "quorum sensing" showed how this system is a global regulator of virulence in humans. |
For an informatve 2-minute introduction about the Hall by a few of the women who are members, watch the following:
Please follow and like us: