Bassist Leo Lyons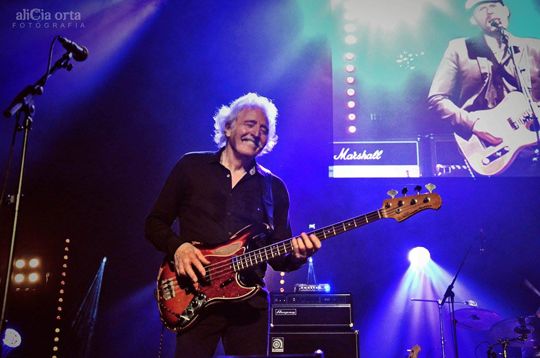 Happy birthday
November 30, 1943
I am (and most of you are) certainly aware of and love Ten Years After's "I'm Goin' Home" performance at the Woodstock Music and Art Fair (I didn't hear it as I had already gone home). And we know that it was Alvin Lee up front on guitar, but how many of us know and could name the other band members: Ric Lee on drums, Chick Churchill on keyoards, and Leo Lyons on bass.

I should. We should.
Bassist Leo Lyons
David William "Leo" Lyons was born in Mansfield, Nottinghamshire. grew up in Mansfield, Nottinghamshire England, a mining town where most of his male relatives worked in those mines. 

An uncle and aunt had a wind up gramophone and he played all their collection.  He loved country music legend Jimmy Rogers and blues legend Leadbelly.

His first instrument was his grandfather's old banjo. He did take guitar lessons later and played with friends with his guitar's four bottom strings. He became a bassist.

When he was 16, the manager of a local band called the Atomites (it was the dawning of the nuclear age remember) asked Lyons to join the band. His first gig was a local dance hall and the experience hooked him.

Alvin Lee replaced the Atomite's guitar player and later the band changed its name to the Jaybirds. In 1961 the Jaybirds went to London seeking success. They didn't find it and most of the band members left. 

Later drummer Ric Lee joined, then Chick Churchill.  

From 1963 to 1966 Leo did it all. He played and managed the Jaybirds, worked as a session musician, toured as a sideman with pop acts, appeared in a play in London's West End, and played a residency with British jazz guitarist Denny Wright.
Ten Years After
In 1967 the Jaybirds became Ten Years After and began a residency at London's Marquee Club. Their debut album followed. 

Bill Graham heard that album and invited them to play at his venues. They were also one of the first rock groups to be part of the Newport Jazz Festival.  That experience led them to play with such luminaries as Nina Simone, Roland Kirk, and Miles Davis.
Woodstock Music and Art Fair
It is likely that Ten Years After would have had its great  success even without its performance at Woodstock and its inclusion on both the album and movie, but those inclusions supercharged that likelihood. 

The band broke up (temporarily) after their final recording,  Positive Vibrations, in 1974.
Post After
In 1975 Chrysalis Records hired Lyons as studio manager to re-equip and run Wessex Studios in London. He was later to go on and build two commercial studios of his own. He has produced dozens of records. 

Other projects include stage musicals, cartoon soundtracks, film and music videos. 

Aside from writing and producing, Leo has been guest bassist on CDs by Savoy Brown. Leslie West, Fred Koller, Danny Johnson and has toured extensively with former Buddy Guy guitarist Scott Holt.

He played with Ten Years After when that band occasionally reformed but left again in 2013 to remain full time with the band he'd helped form in  2010: Hundred Seventy Split.

Lyons now lives in Nashville, Tennessee. Lyon's site
Bassist Leo Lyons, Bassist Leo Lyons, Bassist Leo Lyons
Please follow and like us: