April 10 Peace Love Activism
US Labor History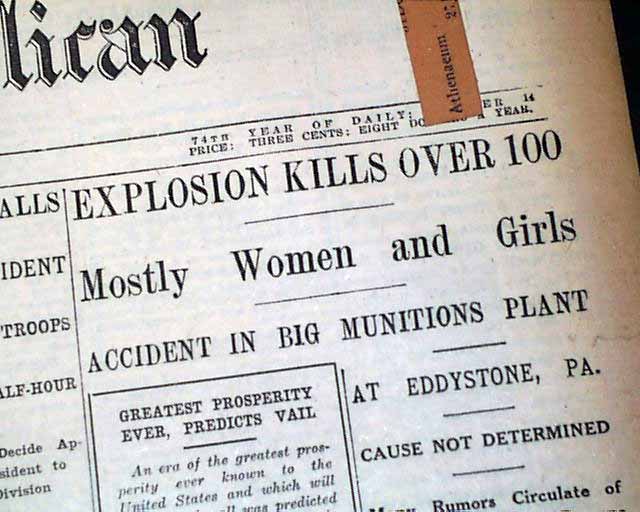 April 10, 1917: in Eddystone, PA, an explosion tore apart the Eddystone Ammunition Works loading room. The explosion killed 133 people, mostly women and girls. Of the dead, 55 were never identified 

The explosion was initially blamed on German saboteurs, and later on Russians. It may in fact have been an accident caused by malfunctioning equipment. (see Aug 1)
Dolores Huerta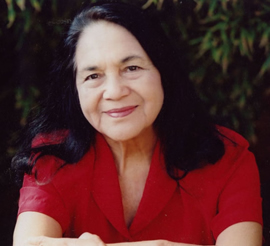 April 10, 1930: Dolores Huerta born in Dawson, New Mexico. (see 1938)
Civilian Conservation Corps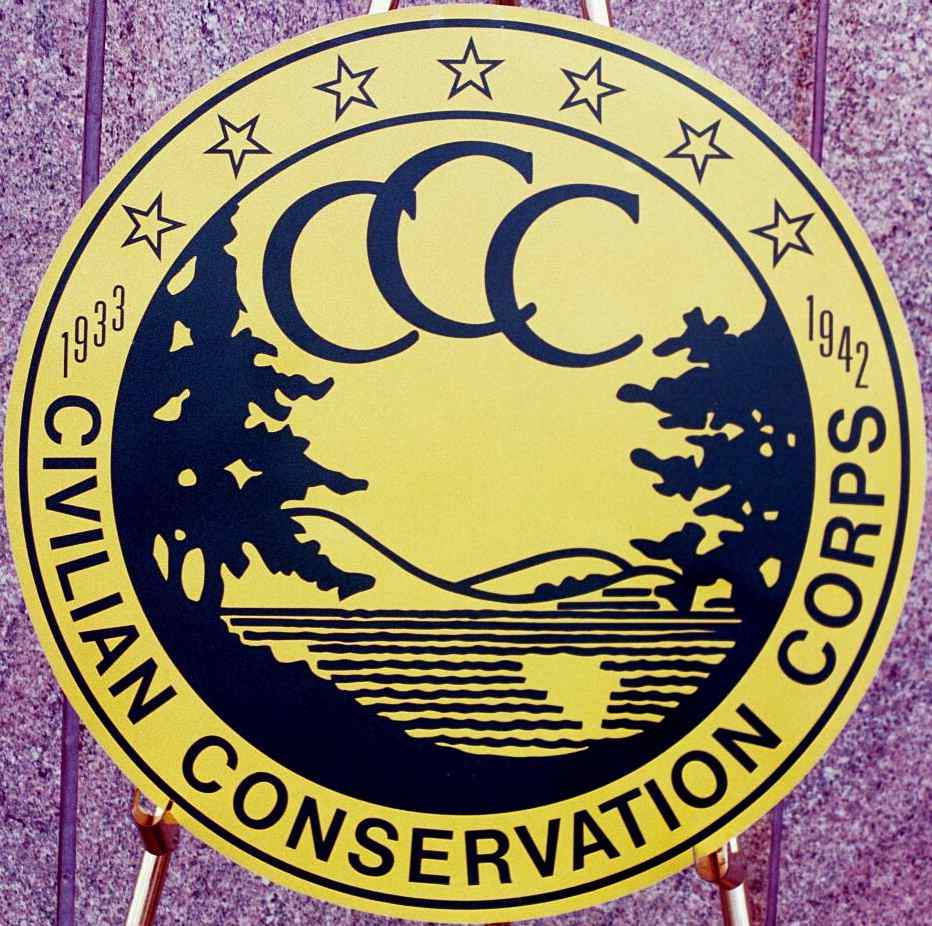 April 10, 1933: the Roosevelt administration created the Civilian Conservation Corps, a tool for employing young men and improving the government's vast holdings of western land. The Civilian Conservation Corps (CCC) was primarily designed to put thousands of unemployed young men to work on useful public projects. Roosevelt put the program under the direction of his Secretary of Interior, Harold Ickes. Since the vast majority of federal public land was in the West, Ickes created most of his CCC projects in that region. The young men who joined, however, came from all over the nation. It was the first time many had left their homes in the densely populated eastern states. (see May 6)
United Farm Workers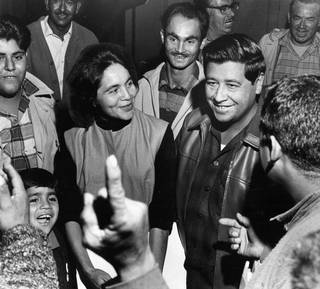 April 10, 1966:  March to Sacramento ends. Along the way, thousands of supporters joined César Chavez and Dolores Huerta. The march drew national attention to the suffering of farm workers. At the rally Huerta stated, "We are no longer interested in listening to the excuses the Governor has to give in defense of the growers, to his apologies to them for not paying us decent wages or why the growers cannot dignify the workers as individuals with the right to place the price on their own labor through collective bargaining. The Governor maintains that the growers are in a competitive situation. Well, the farm workers are also. We must also compete—with the standards of living to give our families their bread." 

During the march and after a four-month boycott, Schenley Vineyards negotiated an agreement with NFWA--the first genuine union contract between a grower and farm workers' union in US history.

Chavez announced a boycott of DiGiorgio Corporation to put pressure on it to negotiate a similar agreement. (see June 1)
Frances Perkins Building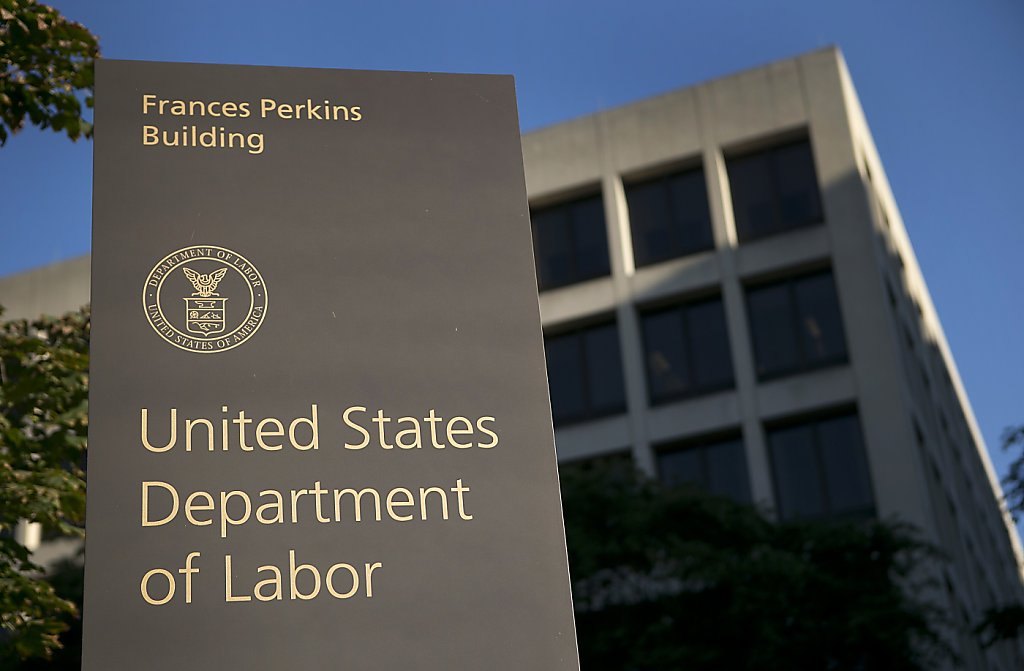 April 10, 1980: President Jimmy Carter and Secretary of Labor Ray Marshall presided over a ceremony renaming the Department of Labor Building the Frances Perkins Building. The date was the 100th anniversary of her birth. Perkins's daughter,  Susanna Coggeshall, was also present.  A plaque on the building said that Perkins' "legacy of social action enhances the lives of all of us."

On the same day, the US Postal Service issued a new 15-cent stamp bearing the likeness of Perkins.  (see Apr 11)
Cultural Milestone
April 10, 1925:  publication of  "The Great Gatsby" by F. Scott Fitzgerald. (see February 18, 1929)
Cold War
Red Scare
Ronald Reagan & Jane Wyman
April 10, 1947:  actor and future president Ronald Reagan, along with his wife Jane Wyman, provided the FBI with a list of names of Screen Actors Guild members they believed were or had been Communists. Reagan developed a close and private relationship with the FBI in the 1940s, which continued while he was Governor of California in the 1960s and early 1970s. (see Apr 16)
Hollywood Ten
April 10, 1950: in a test case of two of the so-called "Hollywood Ten," the Supreme Court upheld their convictions. In a joint statement the Hollywood Ten said, "By it's refusal to review the cases of John Howard Lawson and Dalton Trumbo...the Supreme Court has welcomed govermental censorship, political blacklisting, and thought control by our system. By this decision it has announced that only those Americans will be safe from inquisition and intimidation who will crawl before men like J Parnell Thomas, John Rankin and Senator McCarthy. (Red Scare, see April 20; HT, see May 29)
Elia Kazan
April 10, 1952: theater and film director Elia Kazan named eight people who he had known to have been members of the Communist Party in testimony before the House Un-American Activities Committee (HUAC). Kazan had refused to name names in his initial appearance before the committee in January 1952, but changed his mind and in order to avoid being blacklisted decided to name names. His naming names on this day provoked a bitter controversy that lasted for decades. (Red Scare, see "in June"; Kazan, see July 28, 1954)
VII Summit of the Americas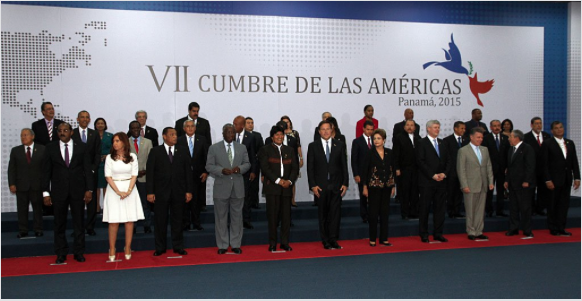 April 10, 2015: in the first full-fledged meeting between presidents of the United States and Cuba in more than a half-century, President Obama and President Raúl Castro of Cuba shook hands at the VII Summit of the Americas in Panama City, Panama and American officials said they would hold discussions the next day during a gathering of regional leaders (see Apr 11)
Nuclear/Chemical News
USS Thresher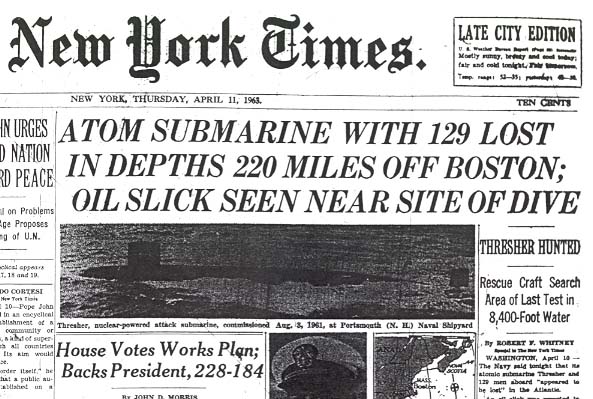 April 10, 1963:  the USS Thresher, an atomic submarine, sank in the Atlantic Ocean, killing the entire crew. One hundred and twenty-nine sailors and civilians were lost when the sub unexpectedly plunged to the sea floor 300 miles off the coast of New England. (see Apr 25)
FREE SPEECH
Washington Sq Park
April 10, 1961: NYC Parks Commissioner announced that an informal referendum would be held to determine if folk singers should be allowed to sing in Washington Square on Sundays. (see April 11; see New York City Bans Folk Music)
Mississippi Anti-Picketing statute
April 10, 1964: the pickets resumed marching along the now unmarked route; they were arrested for violating the Anti-Picketing statute. (see April 13)
Black History
April 10, 1956, African American singer and pianist Nat King Cole was performing before a white-only audience of 4000 at the Municipal Auditorium in Birmingham, Alabama, when he was attacked and knocked down by a group of white men. The attack happened so quickly that some audience members believed the attackers had rushed the stage to attack a drunk man near the front row who had been jeering at Mr. Cole, "Negro, go home." Police present at the concert in case of trouble apprehended Cole's attackers quickly. Four men were charged with inciting a riot while two others were held for questioning. Outside the arena, officers later found a car containing rifles, a blackjack, and brass knuckles. (see May 13)
Elvis's GI Blues
April 10 – 16, 1961: Elvis's GI Blues returns to Billboard #1 album for a third time. (see May 22)
Stu Sutcliffe
April 10, 1962: Stu Sutcliffe died. The Beatles original bassist, Sutcliffe was with the band when he and John Lennon decided to call themselves "The Beatals", which would later be changed to "The Beatles". Stu Sutcliffe is one of the people that are often referred to as "The Fifth Beatle". Sutcliffe left the band to pursue his career as an artist, enrolling in the Hamburg College of Art, studying under future pop artist, Eduardo Paolozzi, who later wrote a report stating that Sutcliffe was one of his best students. Stu had also met Astrid Kirchherr in Hamburg and was engaged to her. While in college in Germany, Sutcliffe began experiencing severe headaches and acute sensitivity to light. In the first days of April 1962, he collapsed in the middle of an art class after complaining of head pains. German doctors performed various checks, but were unable to determine the exact cause of his headaches. On 10 April 1962, he was taken to hospital, but died in the ambulance on the way. The cause of death was later revealed to have been an aneurysm. Sutcliffe was only 21 years old when he died. (see April 11)
The Beatles' Second Album
April 10, 1964, Capital released The Beatles' Second Album album.
Freddy and the Dreamers
Apr 10 – 23, 1965: "I'm Telling You Now" by Freddy and the Dreamers #1 on the Billboard Hot 100.
Mary Poppins
April 10 – July 9, 1965: the Mary Poppins soundtrack returns to the Billboard #1 album spot.
A Man for All Seasons
April 10, 1967: 1966 Oscars held. Bob Hope hosts. A Man for All Seasons best  picture.
In the Heat of the Night
April 10, 1968: 1967 Oscars held after two-day delay after ML King's assassination. Bob Hope hosts. The winner in the Best Picture category was In the Heat of the Night (with seven nominations and five wins - Best Picture, Best Actor, Best Screenplay, Best Film Editing, and Best Sound).
Beatles break-up
April 10, 1970: The Daily Mirror, Paul McCartney made the Beatles' secret breakup public by issuing a press release to announce that he has left the group, done in the form of a fake interview: "Q: Is your break with the Beatles temporary or permanent, due to personal differences or musical ones? PAUL: Personal differences, business differences, musical differences, but most of all because I have a better time with my family. Temporary or permanent? I don't really know."

John Lennon was furious, especially since the breakup, already agreed upon by the group, was announced just one week prior to the British release of McCartney's first solo album. When a reporter tracks down Lennon for his thoughts, he replies, "Paul hasn't left. I sacked him." (see April 20)
April 10 Peace Love Activism
Vietnam
DRAFT CARD BURNING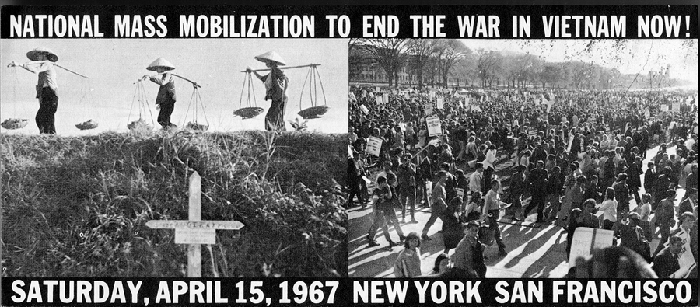 April 10, 1967: Vietnam Week started. Draft card burnings and anti-draft demonstrations. (see April 10)
DRAFT CARD BURNING
April 10, 1967: The US Court of Appeals for the First Circuit held unconstitutional the amendment to the Selective Service Act that forbade the burning of draft cards. (Draft Card Burning, see April 15; Vietnam, see April 14)
My Lai Massacre
April 10, 1972: a tribunal report supported the Army's account of the events of the day. Witnesses to the event disputed the report's conclusions and regarded it as a whitewash. (My Lai, see April 16, 1974; Vietnam, April 16)
STAND YOUR GROUND LAW
Trayvon Martin Shooting
April 10, 2012: Craig Sonner and colleague Hal Uhrig, George Zimmerman's attorneys, said they were dropping him as a client, complaining that they have lost all contact with him and that he called the prosecutor and talked to a TV host after they told him not to speak to anyone.
ADA
EEOC v. Ford Motor Co
April 10, 2015: the Sixth Circuit court issued a decision on telecommuting accommodations for disabled employees.  In EEOC v. Ford Motor Co., a divided en banc Sixth Circuit affirmed summary judgment for Ford on claims brought under the Americans with Disabilities Act by the Equal Employment Opportunity Commission.  At issue in the case was a telecommuting request from a Ford employee with underlying health problems.  The EEOC alleged that Ford: 1) failed to reasonably accommodate the employee, Ms. Harris, by denying her telecommuting request and 2) retaliated against her for raising the issue with the EEOC.

Emphasizing the importance of consistent in-person attendance for interactive jobs, the majority held that no genuine issue of material fact remained, and EEOC's claims failed as a matter of law. The lynchpin of the court's ruling was that regular and predictable on-site job attendance was an essential function of Ms. Harris's job as a resale buyer.  Concluding that Ms. Harris's job was fundamentally interactive, the majority invoked the "general rule" that regularly attending work on-site is essential to most jobs, especially interactive ones. (see Apr 13)
April 10 Peace Love Activism, April 10 Peace Love Activism, April 10 Peace Love Activism, April 10 Peace Love Activism, April 10 Peace Love Activism, April 10 Peace Love Activism, April 10 Peace Love Activism, April 10 Peace Love Activism, April 10 Peace Love Activism, April 10 Peace Love Activism, April 10 Peace Love Activism, April 10 Peace Love Activism, April 10 Peace Love Activism, 
Please follow and like us: