October 5 Peace Love Activism
Native Americans
Tecumseh
October 5, 1813:  during the War of 1812, General William Harrison's American army defeated a combined British and Indian force at the Battle of the Thames near Ontario, Canada. The leader of the Indian forces was Tecumseh, the Shawnee chief who organized inter-tribal resistance to the encroachment of white settlers on Indian lands. He was killed in the fighting. Tecumseh's death marked the end of Indian resistance east of the Mississippi River and soon after most of the depleted tribes were forced west. (see March 3, 1819)
Chief Joseph
October 5, 1877: Chief Joseph of the Nez Perce Indians surrendered to U.S. General Nelson A. Miles in the Bear Paw mountains of Montana, declaring, "Hear me, my chiefs: My heart is sick and sad. From where the sun now stands, I will fight no more forever."

Earlier in the year, the U.S. government broke a land treaty with the Nez Perce, forcing the group out of their homeland in Wallowa Valley in the Northwest for relocation in Idaho. In the midst of their journey, Chief Joseph learned that three young Nez Perce warriors, enraged at the loss of their homeland, had massacred a band of white settlers. Fearing retaliation by the U.S. Army, the chief began one of the great retreats in American military history.

For more than three months, Chief Joseph led fewer than 300 Nez Perce Indians toward the Canadian border, covering a distance of more than 1,000 miles as the Nez Perce outmaneuvered and battled more than 2,000 pursuing U.S. soldiers. During the long retreat, he treated prisoners humanely and won the admiration of whites by purchasing supplies along the way rather than stealing them. Finally, only 40 miles short of his Canadian goal, Chief Joseph was cornered by the U.S. Army, and his people were forcibly relocated to a barren reservation in Indian Territory.  (see November 1, 1879)
BLACK HISTORY
White terrorist vigilantism 
October 5,1920: four black men were killed in Macclenny, Florida, following the death of a prominent young white local farmer named John Harvey. According to news reports at the time, Harvey was shot and killed at a turpentine camp near MacClenny on October 4, 1920. The suspected shooter, a young black man named Jim Givens, fled immediately afterward and mobs of armed white men formed to pursue him. Givens's brother and two other black men connected to him were questioned and jailed during the search, though there was no evidence or accusation that they had been involved in the killing of Harvey.

Those three men - Fulton Smith, Ray Field, and Ben Givens - were held in the Baker County Jail late into the night until, around 1:00 a.m. on October 5, a mob of about 50 white men overtook the jail and seized the men from their cells. The mob forced the men to the outskirts of town, where they were tied to trees and shot to death. A fourth lynching victim, Sam Duncan, was found shot to death nearby later in the day. Also with no alleged ties to the killing of John Harvey, Duncan was thought to be an unfortunate soul who had encountered a mob seeking Jim Givens and been killed simply for being a black man.

Three days later, the Chicago Defender, a Northern black newspaper, reported that most of the black community of Macclenny had deserted the area in fear of further violent attacks while whites posses continued to search for Jim Givens. (see Oct 20)
School Desegregation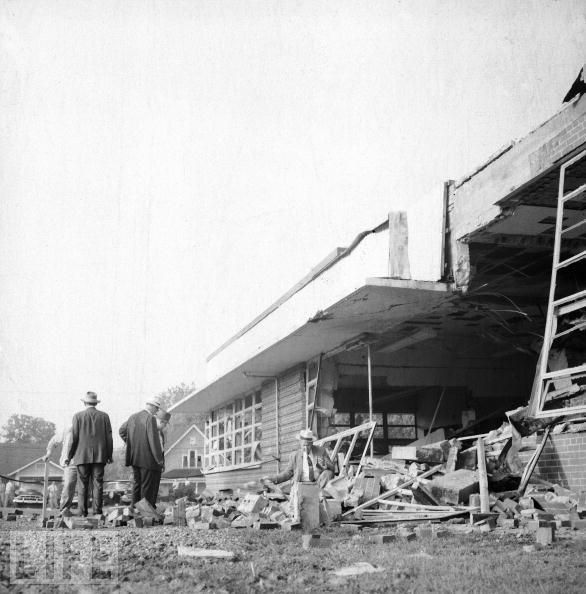 October 5, 1957: early in the morning a series of dynamite explosions severely damaged the Clinton High School building [Clinton, TN] An estimated 75 to 100 sticks of dynamite had been placed in three locations in the building. No one was injured. Clinton High School did not reopen until  1960. (BH, see Oct 10; SD, see February 20, 1958)
Technological Milestone
Televised presidential address
October 5, 1947: President Harry Truman made the first-ever televised presidential address from the White House, asking Americans to cut back on their use of grain in order to help starving Europeans. In 1947, television was still in its infancy and the number of TV sets in U.S. homes only numbered in the thousands. (see Oct 14)
Space Race
October 5, 1957: the Soviet daily newspaper Pravda mentioned Sputnik in a short piece at the bottom of page one. When bold headlines and major stories run in British and American newspapers, the U.S.S.R. realized that the Sputnik program was a huge propaganda tool. (see Nov 3)
October 5, 1948: Wynonie Harris's "Good Rockin' Tonight" hits #1 on the R&B chart. (see March 31, 1949)
"Love Me Do"/"P.S. I Love You"
October 5, 1962, The Beatles before their US appearance: released first single, "Love Me Do"/"P.S. I Love You", in the UK. (see Oct 27) 
Otis Redding
October 5, 1966: Otis Redding released Complete & Unbelievable: The Otis Redding Dictionary of Soul album, his fifth.
Jimi Hendrix
October 5, 1966: Jimi Hendrix, Mitch Mitchell and Noel Redding played together for the first time. (see Dec 26)
Waiting for the Sun
October 5 – 11, 1968: The Doors' Waiting for the Sun returned to the Billboard #1 album position.
 
October 5 Peace Love Activism
World Series
Pirates v Yankees
October 5 - 13, 1960: the 1960 World Series [Pittsburgh Pirates (NL) vs. NY Yankees (AL)] is notable for the Game 7, ninth-inning home run hit by Bill Mazeroski, which won the game for the Pirates 10–9.
Orioles v Dodgers
October 5 - 9, 1966: World Series: Baltimore Orioles against the defending champion Los Angeles Dodgers, with the Orioles sweeping the Series in four games to capture their first championship in franchise history.
JFK Assassination
October 5, 1966:  the Texas Court of Criminal Appeals reversed the murder conviction of Jack Ruby, who was sentenced to death in for the slaying of Lee Harvey Oswald, assassin of President Kennedy. (NYT article) (see January 3, 1967)
Nuclear/Chemical News
October 5, 1966: The Fermi Nuclear Generating Station, less than 40 miles from Detroit, suffered a partial fuel meltdown, although no radioactive material was released. It operated for another nine years before being deactivated. (see January 27, 1967)
Vietnam & Weather Underground
October 5, 1969: the Haymarket Police Statue in Chicago was bombed; Weathermen claim credit for the bombing in their book, Prairie Fire. (see Oct 8 – 11)
Iran–Contra Affair
October 5, 1986: Eugene Hasenfus is captured by troops of the Sandinista regime in Nicaragua after the plane in which he is flying is shot down; two others on the plane die in the crash. Under questioning, Hasenfus confessed that he was shipping military supplies into Nicaragua for use by the Contras, an anti-Sandinista force that had been created and funded by the United States. Most dramatically, he claimed that operation was really run by the U.S. Central Intelligence Agency (CIA). (see Nov 3)
FREE SPEECH
October 5, 1990: Cincinnati jurors took about two hours to acquit the Contemporary Arts Center and its director, Dennis Barrie, of the charge of pandering obscenity for showing sexually explicit photographs that were part of Mapplethorpe's traveling retrospective, ''The Perfect Moment.'' The acquittal was resounding because it took place in a city that has tough laws and a record of vigorously prosecuting obscenity. (see June 22, 1992)
US Labor History
California supermarket janitors
October 5, 2004: some 2,100 supermarket janitors in California, mostly from Mexico, win a $22.4 million settlement over unpaid overtime. Many said they worked 70 or more hours a week, often seven nights a week from 10 p.m. to 9 a.m. Cleaner Jesus Lopez told the New York Times he only had three days off in five years. (see March 23, 2005)
Occupy Wall Street
October 5, 2011: thousands of union workers joined protesters marching through the Financial District, resulting in about 200 arrests later in the same evening when dozens of protesters stormed barricades blocking them from Wall Street and the Stock Exchange. Police responded with pepper spray and penned the protesters in with orange netting.  (NYT article)  (see Oct 25)
October 5 Peace Love Activism, October 5 Peace Love Activism, October 5 Peace Love Activism, October 5 Peace Love Activism, October 5 Peace Love Activism, October 5 Peace Love Activism, October 5 Peace Love Activism, October 5 Peace Love Activism, October 5 Peace Love Activism, October 5 Peace Love Activism, October 5 Peace Love Activism, 
Please follow and like us: