November 28 Peace Love Art Activism
BLACK HISTORY
 TERRORISM
November 28, 1871: Ku Klux Klan trials began in US District Court in South Carolina as part of a federal effort to halt growing white violence in the former Confederate states. (see Dec 28)
Dyer Anti-Lynching bill
November 28, 1922: a Democrat filibuster completely deadlocked the US Senate as a result of the Republican attempt to have the Dyer Anti-Lynching bill made the unfinished business of the Senate. Senator Underwood, the Democratic leader, stated that the minority wold filibuster to the end of the session if necessary, adding that so long as the majority persisted in trying to bring the bill before the Senate the opponents of the bill would refuse to permit the consideration of any other legislation. (see Dec 2)
Ernie Davis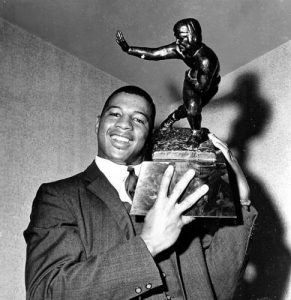 November 28, 1961: Ernie Davis of Syracuse University became the first African-American to be named winner of the Heisman Trophy. (see Nov 29)
137 SHOTS
November 28, 2014: nine non-African American Cleveland police officers accused the police department of racial discrimination in the aftermath of the deadly Nov. 29, 2012 chase in a federal lawsuit. The officers—eight white officers and one Hispanic—claim the department has a history of treating non-black officers who shoot black residents "more harshly" than black officers involved in shootings, according to the lawsuit filed in U.S. District Court Northern District of Ohio. (see 137 for expanded chronology)
November 28 Peace Love Art Activism
Feminism
Susan B Anthony
November 28, 1872: authorities arrested Susan B Anthony for voting.
Sex in Education
In 1873: in Sex in Education: or, a Fair Chance for the Girls, Harvard professor Edward Clarke predicted that if women went to college, their brains would grow bigger and heavier, and their wombs would atrophy. He based his prediction on the observation that college-educated women had fewer children than non-college-educated women.
Voting Rights
Spring 1873: Susan B Anthony spoke to residents in areas of Monroe County, New York before her trial. At each she stated:
Friends and fellow-citizens, I stand before you under indictment for the alleged crime of having voted illegally. . . We throw to the wind the old dogma that governments can give rights. The Declaration of Independence, the United States Constitution, the constitutions of the several states . . . propose to protect the people in the exercise of their God-given rights. No one of them pretends to bestow rights. . . . One half of the people of this Nation today are utterly powerless to blot from the statute books an unjust law, or to write a new and just one. . . . This form of government, that enforces taxation without representation — that compels [women] to obey laws to which they have never given their consent — that imprisons and hangs them without a trial by a jury of their peers — that robs them, in marriage of the custody of their own persons, wages, and children — [leaves] half of the people wholly at the mercy of the other half.
Following her "prejudic[ing] of any possible jury," in Monroe County, Anthony's trial was rescheduled for June 17 and moved to Canandaigua, a town in Ontario County, New York.
By June 16, Anthony had delivered her speech in every village in Ontario County. (see May 7)
November 28 Peace Love Art Activism
INDEPENDENCE DAY
November 28, 1912: Albania independent from Ottoman rule. (see February 13, 1913)
November 28 Peace Love Art Activism
November 28 Music et al
November 28, 1960 – January 8, 1961:  written in 1926, "Are You Lonesome Tonight" by Elvis #1 on the Billboard Hot 100. (see Dec 12)
Leader of the Pack
November 28 – December 4, 1964: "Leader of the Pack" by The Shangri-Las #1 on the Billboard Hot 100.
John Lennon
November 28, 1968: John Lennon pleaded guilty of the drug charges, taking sole responsibility in order to protect Yoko Ono, who had recently suffered a miscarriage. He was additionally fearful that if they both fought the charges and lost, Ono may have been deported from the United Kingdom.
During the hearing Lennon's lawyer, Martin Polden, told the court that Ono had recently lost their baby, which had been a terrible blow to the couple. Additionally, Polden declared that Lennon had renounced drugs after becoming a devotee of Maharishi Mahesh Yogi the previous year, and stressed that the Beatle had "given pleasure to millions" through his music.
The magistrate quashed the charge of obstruction to justice, and fined Lennon £150 plus court costs of 20 guineas. Lennon was also warned that if he was found guilty again of a similar offence he risked a custodial sentence.
Although the judge exercised some leniency, the repercussions of the case continued for Lennon for many years. The conviction was a key factor in the Nixon administration's efforts to deny Lennon a Green Card for residence in the US. (NYT link) (see Dec 2)
November 28 – 30, 1969: from a 2009 Palm Beach Post article: Then-Palm Beach County Sheriff Bill Heidtman vowed to make life miserable for the free-loving, pot-smoking, anti-establishment youngsters who were coming to the Palm Beach Pop Festival. He threatened to herd alligators toward the crowd, gathered on a grassy field at the Palm Beach International Raceway. And he promised to dig out fire ant colonies and relocate them at the venue.
The Festival was at a drag strip outside of West Palm Beach. Among others, Grand Funk played three nights also. The show featured Iron Butterfly, King Crimson (Robin Fripp and Greg Lake), Jefferson Airplane, Rotary Connection (Minnie Ripperton), PG&E, Rolling Stones, Vanilla Fudge, Janis Joplin and Her Full Tilt Boogie Band, Johnny Winters, and others.
On the third night, Winters played, then Vanilla Fudge played followed by Janis Joplin. Afterwards, the announcer said, Johnny wants it, Janis wants it, and the Fudge wants one. All three bands came out on stage and jammed. Winters jammed with the guitar players and scatted with Janis.
Wavy Gravy was there in his WW2 pilot helmet or whatever it was, guiding a car backwards trying to help them and backed them into the pond. We'd like to think he knew it was the police in an unmarked car and put them in the pond on purpose since we know he didn't do drugs. (see Dec 6)
 Whatever Gets You Thru The Night
November 28, 1974: when John Lennon was in the studio with Elton John recording "Whatever Gets You Thru The Night", Elton bet Lennon that the song would be a number one hit. Lennon didn't think so and told Elton that if it did, he would go on stage with him. The song reached number one.
On this date, Elton John was playing at New York's Madison Square Garden and being true to his word, Lennon came onstage. They played "Whatever Gets You Thru The Night", "I Saw Her Standing There" and "Lucy In The Sky With Diamonds". This would be John Lennon's last concert appearance.
Also that night, while backstage, Lennon saw Yoko Ono after they had been separated for 18 months, a time period Lennon called his "lost weekend" and the 2 soon got back together. (see Dec 29)
November 28 Peace Love Art Activism
The Velvet Revolution
November 28, 1989:  known as the Velvet Revolution because of its non-violent nature, the Communist Party of Czechoslovakia announced they would give up their monopoly on political power
Elections held in December brought the first non-communist government to Czechoslovakia in more than 40 years. (see Nov 29)
November 28 Peace Love Art Activism
Native Americans
November 28, 1989: the National Museum of the American Indian Act ordered the Smithsonian Institute to return Native American remains to American Indian tribes. (see November 16, 1990)
November 28 Peace Love Art Activism
Fair Housing
November 28, 1990: Cranston-Gonzalez National Affordable Housing Act emphasized home-ownership and tenant-based assistance, launches HOME housing block grant. Low-Income. (see October 28, 1992)
November 28 Peace Love Art Activism
CLINTON IMPEACHMENT
November 28, 1998: Republicans express disappointment and outrage at what some describe as President Clinton's evasive and legalistic answers to the Judiciary Committee's questions. (see CI for expanded chronology)
November 28 Peace Love Art Activism
STAND YOUR GROUND LAW
November 28, 2016: JAMA Internal Medicine published a report that gun deaths in Florida had risen sharply since the passage of its controversial "stand your ground" gun law. The report analyzed data from 1999 to 2014 and discovered that homicides in Florida had increased 24.4 percent, while gun-related homicides were up 31.6 percent since the law was enacted in 2005 under then-Gov. Jeb Bush.  [Huff Post article] (see June 9, 2017)
November 28 Peace Love Art Activism
Nuclear/Chemical News
Hawaii
November 28, 2017: the Hawaii Emergency Management Agency announced that Beginning December 1, 2017, monthly tests of the statewide warning siren system would include a newly activated Attack Warning Tone, intended to warn Hawaii residents of an impending nuclear missile attack.
North Korea
November 28, 2017:  North Korea fired an intercontinental ballistic missile that flew both higher and longer than previous such launches.
US Defense Secretary Jim Mattis expressed concern, emphasizing what he said were technical advances on display in the 53-minute flight.
"It went higher, frankly, than any previous shot they've taken," Mattis said. [NYT article] (see Nov 29)
November 28 Peace Love Art Activism