Jim Fielder
October 4, 1947
Jim Fielder's musical path has been an great one. Not surprisingly, it parallels many musicians' stories and most interesting of all the bands and performers he has played with as well as simply crossing paths with.
Texas to California
Fielder was born in Denton, TX. He

 started playing guitar at the age of seven. His early influences in the 1950s were people like Elvis and the Everley Brothers





In high school he started playing an upright acoustic bass. Ralph Pena, Frank Sinatra's bassist, tutored him. As a young bassist he listened to musicians such as Ray Brown, Ron Carter, and Charles Mingus. 
Tim Buckley
In the 60s his

 first band was "The Bohemians" a group that Tim Buckley was in as well. They went to amateur nights at the Troubadour in Los Angeles. Buffalo Springfield was one of the groups playing there. 





Tim Buckley got a recording contract with Electra Records and Fielder played on some of the tracks on Buckley's first two albums.  
Frank Zappa
im Fielder also played with Mastin & Brewer (later evolved into Brewer & Shipley). The drummer of M & B knew Frank Zappa and an introduction led to Fielder playing with Zappa's Mothers of Invention as a guitarist. He was with the Mothers when they recorded the Absolutely Free album, but his name does not appear on the album because he'd left the band before the album's release and Zappa excluded Fielder's name.
Buffalo Springfield
The band Fielder joined after the Mothers was Buffalo Springfield. He played bass for them while their original bassist, Bruce Palmer, was out of the country in Canada with visa issues. When Palmer resolved those issues he returned to the band and Fielder left. He did get a shout out on the back of the Springfield's second album, Buffalo Springfield Again, amongst the many names the band thanked.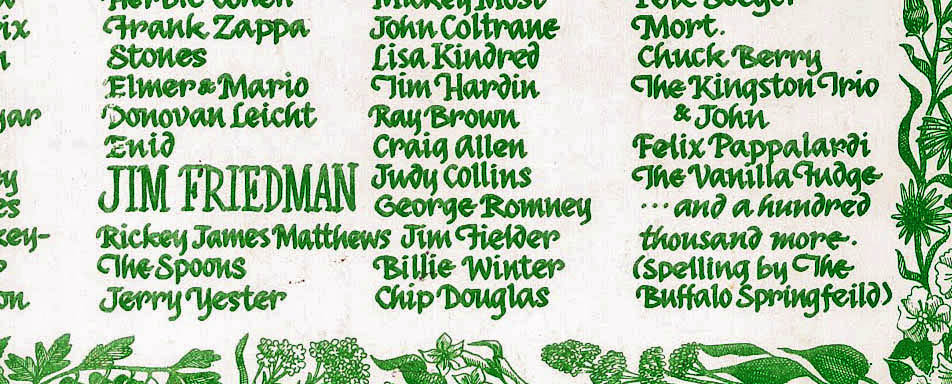 Al Kooper > Blood, Sweat and Tears
Another path. Another relationship. Jim Fielder was "in between" bands. While playing at the Fillmore in San Francisco with Buffalo Springfield and the Mothers, Fielder had met Al Kooper and 

Steve Katz

 from the  Blues Project. When Kooper left the Project he lived with a neighbor of Fielder's. Drummer 

Bobby Colomby

 joined the nascent group with Katz forming a quartet. 



Saxophonist

 Fred Lipsius joined two months later. They played at the Fillmore East.  Lipsius recruited New York jazz horn players he knew. The final Blood, Sweat and Tears lineup debuted late November '67 at "The Scene" in New York.



The band released its first album, Child Is Father To the Man, on February 21, 1968. Kooper left soon after, but the band continued with David Clayton Thomas as its lead singer. Their second album, Blood Sweat and Tears, was a huge success and a big part of their invitation to the...
Woodstock Music and Art Fair
Fielder's memories: "We played late Sunday night between Johnny Winter and Crosby, Stills & Nash. The crowd was down to about 50,000 by then, but it still felt like were playing to the whole world. Backstage was like old home week. I got to see a lot of old friends and people I had played with over the years. It was probably the highlight of my career." (from http://www.goldminemag.com/)
Neil Sedaka
Fielder stayed with the band until 1974. He returned to Los Angeles in 1974 and began freelancing. He worked with 

Danny O'Keefe and Chris Hillman and was the musical director for Bing Crosby's grandson Chris.



Then the opportunity to work with Neil Sedaka was on Fielder's path in 1976. It was an offer he couldn't and didn't refuse and Fielder has basically worked with Sedaka since.


Here is an article about an August 2017 Neil Sedaka show in NJ in which the reporter writes about a song Sedaka performed with "expert musician Jim Fielder's bass part which includes an impossibly difficult slap bass line and an ongoing sequence of electric guitar-inspired figures played simultaneously on his bass!"

Much of the information for this entry came from:  http://www.rdrop.com/users/rickert/fielder.html
Jim Fielder
Please follow and like us: