Trumpeter Thomas Henry Lowther
Birthday greetings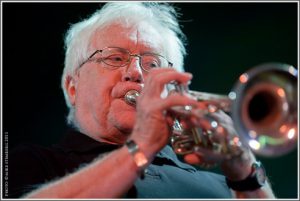 July 11, 1941
Jazz musician and…
Member of Keef Hartley Band at Woodstock
Thomas Henry Lowther was born in Leicester, England. "As a child Lowther learned trumpet from his father and took private violin lessons before going on to study with Manoug Parakian at London's Royal Academy of Music." (from All Music).
It has been a lifetime of music since then.
Of Woodstock he said, ""You know I played Woodstock as the first gig of an American tour with the Keefe Hartley band. The only other trumpet player at the gig was Sly Stone's sister!"  (Jazz Wise magazine)
---
John Till and Louis Gasca with Janis, Steve Madaia and Keith Johnson with Paul Butterfield, and Chuck Winfield and Lew Soloff with Blood, Sweat and Tears might differ with his view, but we'll just attribute Lowther's error to that famous Woodstock Haze.
Trumpeter Thomas Henry Lowther
Henry Lowther
           From  Vortex Jazz site: During the sixties Henry was one of the first musicians on the British jazz scene to experiment with total free improvisation, notably with Jack Bruce, Lyn Dobson and John Hiseman. He played with the original and seminal Mike Westbrook band (which included Mike Osborne and John Surman), and also with John Dankworth, including playing on the now legendary and rare Kenny Wheeler album "Windmill Tilter" while also working on occasions on the rock scene with musicians such as Manfred Mann, John Mayall and  Keef Hartley, with whom he appeared at the famous Woodstock festival in 1969.
          His work on the British jazz scene reads like a "Who's Who". He has played regularly with the likes of Gordon Beck, Michael Garrick, Graham Collier, Mike Gibbs, Pete King, Loose Tubes, John Surman, John Taylor, Stan Tracey and Kenny Wheeler. 
Here is his All Music list of credits. You're going to be here awhile!
Trumpeter Thomas Henry Lowther
After Keef Hartley
            After Lowther left Keef Hartley in 1970, he worked with dozens of different musicians including Bryan Ferry, Van Morrison, and did the trumpet solo for Elton John on "Return to Paradise" in 1978.
Trumpeter Thomas Henry Lowther
              In 1996, along with his great friend the great bass player Dave Green, Henry formed his own band Still Waters to enable him to pursue his increasing interest in composition. In 1997 Still Waters recorded an album, "ID", on the Village Life label, to much critical acclaim
Trumpeter Thomas Henry Lowther
2018
In March, Still Waters released a new album: Can't Believe, Won't Believe. The personnel are: Henry Lowther (trumpet/flugel); Pete Hurt (tenor); Barry Green (piano); Dave Green (bass); Paul Clarvis (drums)
Of it, the Financial Times said, "The sturdy theme and somnolent harmonies of the opening title track have trace elements of a works' brass band. But the melody has a quizzical edge, and elliptic splatters of percussion lie underneath. As the piece evolves, the trumpeter's brassy certainty is interrupted by drummer Paul Clarvis's off-kilter breaks. Can't Believe, Won't Believe is dedicated to cynics everywhere. As the album progresses, Lowther's modern jazz quintet embroiders the trumpeter's elegant and knowing compositions with unruffled emotions and filigree detail. Pete Hurt is a wispy-toned tenor sax foil to Lowther's precise turn of phrase, and pianist Barry Green's haunting impressionist voicings are underpinned by Dave Green's pitch-perfect counterpoint bass."
Trumpeter Thomas Henry Lowther
Please follow and like us: