September 15 Peace Love Activism
Nuclear/Chemical News
Cold War
September 15, 1961: U.S. started underground nuclear testing with a series of nine low yield underground experiments at Yucca Flat with a further 62 tests there in 1962. The Soviet Union activity extended to a series of 50 detonations. (CW, see Sept 22; NN, see Oct 6)
Japanese reactors
September 15, 2013: Japan started the process of switching off its last working nuclear reactor for a scheduled inspection with no restart date in sight due to public hostility towards atomic power. (see Oct 22)
 Rice, Walli, and Boertje-Obed
September 15, 2015: Catholic peace activists Sister Megan Rice, Michael Walli and Greg Boertje-Obed were resentenced to time served for vandalizing a storage bunker that held much of the nation's bomb-grade uranium.

Rice, Walli, and Boertje-Obed were originally convicted of felony sabotage for their 2012 actions in Oak Ridge, Tennessee, where they cut through fences and sneaked into the most secure area of the Y-12 National Security Complex. Once there, they hung banners, prayed and hammered on the outside wall of the bunker to symbolize a Bible passage that refers to the end of all war: "They will beat their swords into ploughshares."

Rice was sentenced to nearly three years in prison while Walli, 66, and Boertje-Obed, 60, were each sentenced to just over five years. (see January 6, 2016)
see
September 15 Music et al
for more
Pendletons
September 15, 1961, the Pendletons,  from Hawthorne, California, attend their first real recording session at Hite Morgan's studio in Los Angeles. The band recorded 'Surfin'. They changed their name to the Beach Boys. (see Dec 8)
Four Seasons
September 15 – October 19, 1962: "Sherry" by the Four Seasons #1 Billboard Hot 100. 
Otis Redding
September 15, 1965: Otis Redding released his Otis Blue: Otis Redding Sings Soul containing his composition "Respect"
Fear of Rock
September 15, 1970:Vice President Spiro Agnew stated that  American youth were being destroyed by rock music, the drug culture, and underground newspapers. (see March 27, 1971)
BLACK HISTORY
September 15, 1963
Virgil Ware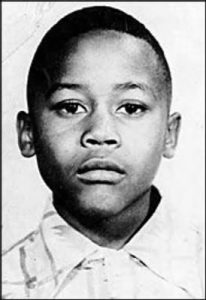 While riding on the handlebars of his 16-year-old brother's bicycle, near his family's home, 13-year-old Virgil Ware was killed on Docena-Sandusky Road, outside Birmingham, Alabama.  16-year old Larry Joe Sims shot at the Ware brothers while he was riding by on a motorbike with Michael Lee Farley. Sims shot Virgil twice,. Sims and Farley had just attended a segregationist rally. Both  were charged with first-degree murder, but an all-white jury convicted them on the lesser charge of second-degree manslaughter. Judge Wallace Gibson suspended the boys' sentences and gave them two years probation. 
Sixteenth Street Baptist Church bombing
Birmingham, AL. 18 days after King's speech, Bobby Frank Cherry, Thomas Blanton, Herman Frank Cash, and Robert Chambliss, members of United Klans of America, a Ku Klux Klan group, planted a box of dynamite with a time delay under the steps of the Sixteenth Street Baptist Church, near the basement. At about 10:22 a.m., twenty-six children were walking into the basement assembly room to prepare for the sermon entitled "The Love That Forgives," when the bomb exploded. Four girls, Addie Mae Collins (aged 14), Denise McNair (aged 11), Carole Robertson (aged 14), and Cynthia Wesley (aged 14), were killed in the attack, and 22 additional people were injured, one of whom was Addie Mae Collins' younger sister, Sarah. The explosion blew a hole in the church's rear wall, destroyed the back steps and all but one stained-glass window, which showed Christ leading a group of little children. 

John Coltrane composed "Alabama" in response on Nov 18). The following year Joan Baez released "Birmingham Sunday" and Phil Ochs released "On Her Hand a Golden Ring" (BH, see Oct 2; Sixteenth Street, see Sept 26, 1977; CB, see June 16, 1964)
Muhammad Ali
September 15, 1965: Joe Namath took his Army physical. (BH, see Sept 24; Vietnam, see Sept 25; Ali (Namath), see December 9).
Ali/Spinks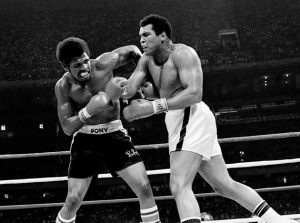 September 15, 1978: exactly seven months after losing to Spinks, Ali rematch in the New Orleans Superdome. Ali defeated the younger Spinks, becoming boxing's first three-time heavyweight champion. (Ali, see December 12, 1981, BH, see Sept 30)
Autherine Lucy Foster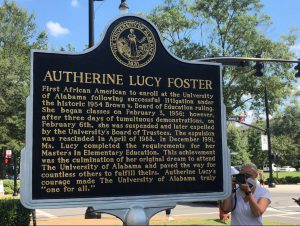 September 15, 2017: the University of Alabama unveiled an historic marker honoring Autherine Lucy Foster, the first black student to be admitted to an all-white public school or university in Alabama. 

Foster attended the unveiling which was part of a larger campus ceremony at the College of Education.

Approximately 10% of the University of Alabama's students are black. Approximately 25% of the State's population is black.
September 15 Peace Love Activism
Environmental Issues
September 15, 1970: Greenpeace was founded. (see Dec 2)
Weather Underground
September 15, 1970: the WUO helped Timothy Leary escape from the California Men's Colony prison. (see March 1, 1971)
US Labor History
UAW
September 15, 1970: more than 350,000 members of the United Auto Workers begin what is to become a 69-day strike against General Motors. (see June 8, 1971)
Joseph Yablonski
September 15, 1977: "Tony" Boyle pleaded not guilty at the opening of his second trial on the charge of murder in the Joseph Yablonski case. (see February 18, 1978)
NHL lockout
September 15, 2004: National Hockey League owners agreed to lock out the players. (The 2004-05 season was eventually canceled.) (see Oct 5)
Hurricane Katrina
September 15, 2005: President George W. Bush, addressing the nation from storm-ravaged New Orleans, acknowledged the government failed to respond adequately to Hurricane Katrina and urged Congress to approve a massive reconstruction program. (see Sept 19)
Great Recession of 2008
September 15, 2008: Lehman Brothers filed for Chapter 11 bankruptcy protection, laying the catalyst for the global financial crisis.
Occupy Wall Street
September 15, 2012: on the first of three days of events planned for the one-year anniversary of Occupy Wall Street, about 250 people marched down Broadway from Washington Square toward Zuccotti Park, accompanied by a large number of police officers on foot, in marked and unmarked cars, and riding scooters. (see Sept 17)
Iraq War II
September 15, 2009:  Muntader al-Zaidi  (see April 7, 2009)was released for good behavior, after serving nine months of the sentence. (see August 18, 2010)
LGBTQ
September 15, 2015: a federal appeals court denied Kim Davis's motion to halt a requirement that she issue marriage licenses to gay couples.

"Davis has not demonstrated a substantial likelihood of success on her federal constitutional claims," the panel of judges said in their order denying the request. (Sept 21)
Marijuana
September 15, 2015: administrative Law Judge John S. Kennedy ruled that Lora Barbour, the mother of a Genny Barbour who had epilepsy, could not come to school to feed her daughter cannabis oil that had helped control her seizures. Kennedy said that state and federal drug possession laws trump their right to use medical marijuana on school grounds.

It was the third legal defeat for the Barbour Family of Maple Shade, NJ.

In addition to the conflicts in state and federal law, state Kennedy said the family failed to show their daughter Genny would suffer "irreparable harm" if denied medical marijuana in school, according to his 11-page decision.

"There are no doctor's reports from (Genny Barbour's) treating physician that would establish that her lunchtime dose of marijuana is medically necessary," Kennedy wrote. (NJ.com article) (M, see Oct 19; Barbours, see Nov 9)
September 15 Peace Love Activism, September 15 Peace Love Activism, September 15 Peace Love Activism, September 15 Peace Love Activism, September 15 Peace Love Activism, 
Please follow and like us: