Election Aftermath Suits
As the US Senate's second impeachment trial of former President Donald J Trump  moved toward its foregone acquittal,  the State of Georgia announced that it had begun an investigation into Trump regarding his alleged attempt to change the vote total there and reverse the election results.
The State of New York already had an tax inquiry into Trump.
Here is a chronology of those suits following the acquittal.
Trump Tired and Tried Again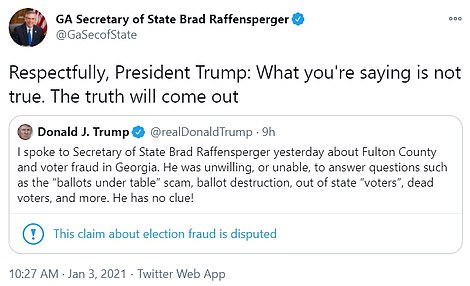 January 2, 2021: the Guardian reported that in an hour-long phone call President Trump pressed Georgia Secretary of State Brad Raffensperger to "find" enough votes to overturn Joe Biden's victory there in the election the president refuses to concede.
The Washington Post obtained a tape of the conversation, which Trump acknowledged on Twitter (Twitter later permanently suspended his account).
Election Aftermath Suits 
February 4, 2021:  Smartmatic, which provided election technology in one county, filed suit against Donald J. Trump's longtime favorite news outlet and three Fox anchors, Maria Bartiromo, Lou Dobbs and Jeanine Pirro, all ardent supporters of the former president. A trial could reveal how Mr. Trump's media backers sought to cast doubt on an election that delivered a victory to Joseph R. Biden Jr. and a loss to an incumbent who refused to accept reality.
Filed in New York State Supreme Court, Smartmatic's suit sought at least $2.7 billion in damages. In addition to Mr. Murdoch's Fox Corporation, Fox News and the three star anchors, it targets Rudolph W. Giuliani and Sidney Powell, lawyers who made the case for election fraud as frequent guests on Fox programs while representing President Trump. [NYT article]
Election Aftermath Suits 
Fani T. Willis
February 11, 2021: Fani T. Willis, the recently elected Democratic prosecutor in Fulton County, Georgia, sent a letter to numerous Georgia stage government officials, including Secretary of State Brad Raffensperger, requesting that they preserve documents related to "an investigation into attempts to influence" the state's 2020 presidential election.
The criminal investigation revolved around the former President's attempts to overturn Georgia's election results, including a phone call he made to Raffensperger in which Trump pressured him to "find" enough votes to help him reverse his loss.
Election Aftermath Suits 
Lindsey Graham included
The criminal investigation into former President Donald Trump's post-election conduct expanded to include Trump ally Sen. Lindsey Graham.
According to Georgia Secretary of State Brad Raffensperger, Graham asked Raffensperger in November whether the secretary of state had the power to throw out all mail-in ballots in certain Georgia counties, a move that would potentially have tipped the state, and its 16 electoral votes, to Trump in the November election. [VOX article]
Election Aftermath Suits 
New York City Inquiry
February 19, 2021: the Manhattan District Attorney's Office subpoenaed a New York City property tax agency as part of a criminal investigation into Donald Trump's company, suggesting prosecutors were examining the former president's efforts to reduce his commercial real-estate taxes for possible evidence of fraud.
The subpoena issued to the New York City Tax Commission was the latest indication that Manhattan District Attorney Cy Vance Jr. was looking at the values Trump assigned to some commercial properties in tax filings and loan documents.
Along with information already subpoenaed from creditors, the tax agency documents would help investigators determine whether Trump's business inflated the value of his properties to secure favorable terms on loans while deflating those values to lower tax bills for those same properties.
New York City Tax Commission President Frances Henn confirmed the subpoena in response to an inquiry from Reuters. [HuffPost article]
Election Aftermath Suits 
Lawyer reprimand
February 19, 2021:  U.S. District Court Judge James Boasberg in Washington formally referred Erick Kaardal, a Minnesota lawyer, for potential discipline over a lawsuit filed in December seeking to overturn President Joe Biden's wins in at least five battleground states.
Boasberg said the suit was so flimsy and legally flawed that it could merit Kaardal facing some sort of punishment from the court.
"The relief requested in this lawsuit is staggering: to invalidate the election and prevent the electoral votes from being counted. When any counsel seeks to target processes at the heart of our democracy, the Committee may well conclude that they are required to act with far more diligence and good faith than existed here," wrote Boasberg [Politico article]
Election Aftermath Suits 
Supreme Court/Trump Taxes/New York
February 22, 2021:  the Supreme Court cleared the way for a Manhattan District Attorney Cyrus Vance to obtain Donald Trump's tax returns, dealing a massive loss to Trump who has fiercely fought to shield his financial papers from prosecutors.
The ruling is a bitter loss for Trump, even if the tax records are shielded from public disclosure, after he consistently argued that the subpoena issued by
Manhattan District Attorney Cyrus Vance
was overbroad and issued in bad faith.
It means that the grand jury investigation into alleged hush money payments and other issues would no longer be hampered by Trump's fight to keep the documents secret. [CNN story]
Election Aftermath Suits 
Cobb County, Georgia
February 22, 2021: Cobb County asked Donald Trump and Georgia GOP chair David Shafer to pay $10,875 in fees and DeKalb County asked for $6,105, for a lawsuit challenging the state's election results that the Trump campaign ultimatelywithdrew in January.
"Given the number of failed lawsuits filed by the former President and his campaign, Petitioners apparently believed that they could file their baseless and legally deficient actions with impunity, with no regard for the costs extracted from the taxpayers' coffers or the consequences to the democratic foundations of our country," attorneys for Cobb County official Janine Eveler wrote in the court filing, saying they were asking for fees "in an effort to provide a modicum of accountability for the actions of Petitioners and to send a signal that similarly deficient contests filed in the future will face similar consequences."[Forbes article]
Election Aftermath Suits 
Manhattan Investigation
March 1, 2021: according to people with knowledge of the matter, state prosecutors in Manhattan who were investigating former President Donald J. Trump and his family business sharpened their focus on the company's long-serving chief financial officer, asking witnesses questions about his dealings at the company.
The increased focus on the executive, Allen H. Weisselberg, could step up pressure on him to cooperate with the investigation if the prosecutors unearth evidence of wrongdoing on his part. He had served as the Trump Organization's financial gatekeeper for more than two decades and would be a vital source of information for the government about the inner workings of the company. [NYT article]
Election Aftermath Suits 
Congressional Suit
March 5, 2021: Representative Eric Swalwell, Democrat of California, a former House impeachment manager, sued Donald J. Trump in federal court, attempting to move Congress's case that the former president incited the January 6 assault on the Capitol into the justice system after his acquittal in the Senate last month.
The suit brought accused Trump and key allies of inciting the deadly attack and conspiring with rioters to try to prevent Congress from formalizing President Biden's election victory. And like the case laid out in the Senate trial, it meticulously traces a monthslong campaign by Trumpto undermine confidence in the 2020 election and then overturn its results.
"The horrific events of January 6 were a direct and foreseeable consequence of the defendants' unlawful actions," asserts the suit, filed for Mr. Swalwell in Federal District Court in Washington. "As such, the defendants are responsible for the injury and destruction that followed."
He wanted the court to declare that in doing so, Donald Trump violated federal civil rights law and terrorism and bias crime statutes in the District of Columbia and inflicted serious emotional distress — findings that could severely tarnish his legacy and political standing. [NYT article]
Election Aftermath Suits 
Racketeering Lawyer
March 6: sources told Reuters that Fulton County District Attorney Fani Willishas hired John Floyd, an expert in racketeering cases, to help with her investigation into President Trump's calls during the counting of Georgia votes during the 2020 election.
Floyd will "help as needed" during the Trump investigation when issues of racketeering are brought up. [The Hill article]
Election Aftermath Suits 
New York Expansion
March 8, 2021: CNN reported that in a sign that the investigation into the former president's finances continued to expand, the Manhattan district attorney's office subpoenaed documents from Fortress Investment Management that had loaned the Trump Organization millions of dollars for its Chicago skyscraper.
Investigators' interest in how Trump and his company treated the Chicago loan was an expansion of an inquiry that encompasses multiple aspects of the Trump business.
Prosecutors were also investigating fees paid to consultants and a conservation easement taken on a New York family estate called Seven Springs.
Election Aftermath Suits 
Another Recording
March 10: WSB-TV in Atlanta reported that on December 23, 2020, before President Trump's call to Georgia Secretary of State Brad Raffensperger,  the President called Francis Watson, the chief investigator for Georgia's Secretary of State Office. Watson recorded the call.
In the recording, Trump mentioned other states in the South where he defeated President Joe Biden, including Florida and Alabama and questions how he didn't win Georgia. He also urged investigators to check signatures on ballots going back several years to verify their accuracy.
Election Aftermath Suits 
Proud Boys Charged
 March 17, 2021: F.B.I. agents arrested two organizers for the Proud Boys in Philadelphia and North Carolina, and prosecutors filed new charges against two other prominent members of the far-right group in Florida and Washington State as federal authorities continued their crackdown on its leadership ranks.
With the new conspiracy indictment, prosecutors had brought charges against a total of 13 people identified in court papers as members of the Proud Boys. Federal investigators described the group, which appeared in force in Washington on January 6, as one of the chief instigators of the riot at the Capitol that left five people dead, including a Capitol Police officer.
In the indictment, prosecutors accused Charles Donohoe, a Proud Boys leader from North Carolina, and Zach Rehl, the president of the group's chapter in Philadelphia, of conspiring to interfere with law enforcement officers at the Capitol and obstruct the certification of President Biden's electoral victory. Two other high-ranking Proud Boys who were already facing similar charges — Ethan Nordean of Auburn, Wash., and Joseph Biggs of Ormond Beach, Fla. — were also implicated as part of the conspiracy.
Election Aftermath Suits 
Dominion Suit
March 26, 2021: Dominion Voting Systems, an election technology company that was at the center of a baseless pro-Trump conspiracy about rigged voting machines, filed a lawsuit that accused Fox News of advancing lies that devastated its reputation and business.
Dominion sought at least $1.6 billion in damages. The lawsuit came less than two months after Smartmatic, another election tech company, filed a $2.7 billion lawsuit against Mr. Murdoch's Fox Corporation and named several Fox anchors, including Maria Bartiromo and Lou Dobbs, as defendants.
In a 139-page complaint filed in Delaware Superior Court, Dominion's legal team, led by the prominent defamation firm Clare Locke, portrayed Fox as an active player in spreading falsehoods that Dominion had manipulated vote counts and manipulated its machines to benefit Joseph R. Biden Jr. in the election. [NYT article]
Election Aftermath Suits 
2 grand juries 
March 29: Yahoo News reported that there were now two grand juries underway in Fulton County, Georgia, where District Attorney Fani Willis was investigating former President Donald Trump for allegedly interfering with and pressuring state election officials as they recounted votes from the 2020 presidential election, The Daily Beast reports. The jurors in the secret proceedings were reportedly expected to issue subpoenas demanding documents and recordings related to the investigation. "I suspect that's in the very near future," Willis told The Daily Beast.
Guiliani
April 28: federal agents raided Rudy Giuliani's Manhattan home and office, seizing computers and cellphonesin a major escalation of the Justice Department's investigation into the business dealings of former President Donald Trump's personal lawyer.
Giuliani, the 76-year-old former New York City mayor once celebrated for his leadership after 9/11, has been under federal scrutiny for several years over his ties to Ukraine. The dual searches sent the strongest signal yet that he could eventually face federal charges. [AP article]
Election Aftermath Suits 
New York State 
Criminal Investigation
May 11, 2021: Donald J. Trump and his family came under increasing pressure from New York investigators after the attorney general's office said  it was working alongside the Manhattan district attorney in an ongoing criminal fraud investigation.
The two offices had been conducting parallel investigations for more than a year, though the inquiry by the office of New York's attorney general, Letitia James, had been a civil one, meaning it could result in a lawsuit or fines. The Manhattan district attorney, Cyrus R. Vance Jr., had been conducting a criminal investigation, which could result in charges.
The new development, first reported by CNN, was disclosed after the attorney general's office wrote to the Trump Organization in recent days notifying it that information collected as part of the civil inquiry could now be used as part of a criminal investigation.
"We have informed the Trump Organization that our investigation into the organization is no longer purely civil in nature," Fabien Levy, a spokesman for Ms. James, said in a statement. "We are now actively investigating the Trump Organization in a criminal capacity, along with the Manhattan D.A. We have no additional comment at this time."  [NYT article]
Allen Weisselberg
May 19: the New York attorney general's office opened a criminal tax investigation into top Trump Organization officer Allen Weisselberg, increasing the legal pressure on the long-time aide to former President Donald Trump, people familiar with the investigation say.
The pressure on Weisselberg  was mounting from two directions with the attorney general looking into his personal taxes, while prosecutors in the district attorney's office were digging into his role at the Trump Organization, his personal finances, and benefits given to his son Barry, a long-time employee of the Trump Organization. [
CNN article
]
Special Grand Jury
May 18: New York prosecutors convened a special grand jury to consider evidence in a criminal investigation into former President Donald Trump's business dealings.
The development signaled that the Manhattan District Attorney Cyrus Vance Jr's office was moving toward seeking charges as a result of its two-year investigation, which included a lengthy legal battle to obtain Trump's tax records. [AP article]
Republicans Castigated
Anna Morgan-Lloyd, a 49-year-old Indiana woman before him, who had just pleaded guilty to a misdemeanor count of demonstrating inside the Capitol, did not disagree.
Although the day after the riotMorgan-Lloyd described Jan. 6 as "the most exciting day of my life," in court she expressed regret and contrition. [
WP article
]
Giuliani Suspended
June 24, 2021: an appellate court in New York suspended
Rudy Giuliani
from practicing law in New York state.
In a ruling released following disciplinary proceedings
, the court concluded that "
there is uncontroverted evidence
" that Giuliani, the former Manhattan US attorney, "communicated demonstrably false and misleading statements to courts, lawmakers and the public at large in his capacity as lawyer for former President Donald J. Trump and the Trump campaign in connection with Trump's failed effort at reelection in 2020." [
CNN article
]
Trump Organization/Allen Weisselberg
June 30, 2021: a Manhattan grand jury indicted the Trump Organization and its chief financial officer, Allen Weisselberg.
The charges were related to alleged tax crimes in connection with an array of perks and benefits awarded to employees.
Though former 
President Donald Trump
faced multiple federal and state prosecutorial inquiries during his administration, the district attorney's indictment would be the first to charge his namesake company with criminal conduct. [
CNN article
]
Trump/Justice Department
July 30, 2021: while it was previously known that Trump publicly and privately pushed the Justice Department to investigate his baseless claims that the election was stolen,  new documents —
nine pages of contemporaneous notes
 from a Dec. 27 phone call between Trump, then-acting Attorney General Jeffrey Rosen and then-acting Deputy Attorney General Richard Donoghue — provide new insights into those efforts
.The notes, which were taken by Donoghue, show Trump raising his now-familiar falsehoods about rampant voter fraud in Georgia, Nevada, Arizona, Michigan and Pennsylvania.
"We have an obligation to tell people that this was an illegal, corrupt election," Trump is quoted as saying. [NPR article]
US Capitol Police Sue Trump
Seven US Capitol Police officers sued former President Donald Trump, Stop the Steal rally organizers, and members of far-right extremist groups, accusing them of spreading lies, using White supremacist sentiments to attempt to overthrow the 2020 election, and ultimately bearing responsibility for the riot that injured more than 140 officers on January 6.
"
Plaintiffs and their fellow law enforcement officers risked their lives to defend the Capitol from a violent, mass attack — an attack provoked, aided, and joined by Defendants in an unlawful effort to use force, intimidation, and threats to prevent Congress from certifying the results of the 2020 Presidential election
," says 
the lawsuit filed
 in US District Court for the District of Columbia.
"Because of Defendants' unlawful actions, Plaintiffs were violently assaulted, spat on, tear-gassed, bear-sprayed, subjected to racial slurs and epithets, and put in fear for their lives," the lawsuit says. "Plaintiffs' injuries, which Defendants caused, persist to this day." [
CNN article]