July 17 Peace Love Art Activism
Feminism & Voting Rights
July 17, 1917:  sixteen pickets arrested and sentenced to an unprecedented 60 days at Occoquan Workhouse, Virginia. President Wilson pardoned "Bastille Day" prisoners three days later. (see July 19)
July 17

Peace Love Art Activism
Religion and Public Education
SEPARATION OF CHURCH AND STATE
July 17, 1925: Judge Raulston ruled in favor of a motion by prosecutors to bar expert testimony by scientists. Raulston argued that the experts' opinions on evolutionary theory would "shed no light" on the issue at hand in the trial — whether Scopes violated the state's anti-evolution laws. Many reporters leave town, believing that the trial is effectively over. Scopes was recruited to write news stories on the trial for some of the delinquent journalists. (see Scopes for expanded story)
July 17

Peace Love Art Activism
The Red Scare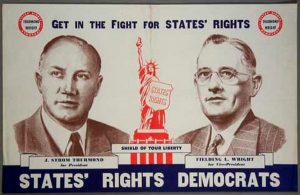 July 17, 1948: States Rights Party. Southern Democrats opposed to President Truman and the Democratic Party's liberal position on civil rights convene in Alabama to form the new States Rights Party (better known as Dixiecrats), which nominated South Carolinian Strom Thurmond for president. [platform] (see July 20, 1948)
July 17

Peace Love Art Activism
John Coltrane
July 17, 1967, Jazz saxophonist and composer John Coltrane died at age 40.
Joint Show
July 17, 1967: the Joint Show opened in the Moore Gallery in San Francisco. It was the first art show to celebrate Psychedelic rock concert poster artists and their work. The show showcased the "BIG FIVE" rock artists of the times: Rick Griffin, Alton Kelley, Victor Moscoso, Stanley Mouse, and Wes Wilson. Each of the five artists created a poster exclusively for the show, which was also made available for purchase. The show helped to create an acceptance of rock concert poster art in the larger art world and the museum community, and led to more gallery shows and the inclusion of these types of works into museum collections. (see Sept 23)
Jimi Hendrix
July 17, 1967: one of the oddest musical pairings ended when Jimi Hendrix dropped out as the opening act for The Monkees. Mike Jeffery, Hendrix's manager had made the booking. Jeffery was seeking greater public exposure for a young client who was a budding star in the UK, but a near-unknown in his native United States. It was in the UK, in fact, that Monkee Mike Nesmith first heard a tape of Hendrix playing while at a dinner party with John Lennon, Paul McCartney and Eric Clapton. Nesmith and his fellow Monkees Peter Tork and Mickey Dolenz became instant Hendrix fans, and after witnessing his legendary performance at the Monterey Pop Festival in June 1967, they encouraged their own manager to invite the little-known but highly respected Jimi Hendrix Experience to join their upcoming U.S. tour. (see Hendrix Monkees for expanded story)
Yellow Submarine
July 17, 1968: The Beatles movie, Yellow Submarine, released in the UK (see Aug 8)
Road to Bethel
July 17, 1969: although initially expressing disinterest in renting land for the festival, Max Yasgur agreed to meet with Woodstock Ventures after hearing that it is the group just kicked out of Wallkill. (see Chronology for expanded story)
July 17

Peace Love Art Activism
BLACK HISTORY
Race Revolts
July 17, 1967: Cairo, Illinois revolt. Three days of rioting following  the alleged jailhouse suicide of Pvt. Robert Hunt, a young African-American soldier on leave. Police said Hunt hanged himself with his t-shirt, (see July 19)
School Desegregation
July 17, 2001: Harvard University's Civil Rights Project published a study on the resegregation of school districts more than 45 years after the Supreme Court's decision in Brown v. Board of Education declared legally-mandated racial segregation in public education unconstitutional. In the study, then-Harvard Professor of Education and Co-director of the Harvard Civil Rights Project, Dr. Gary Orfield, evaluated statistics from the 1998-1999 school year and concluded that school districts across the nation and particularly in the South were resegregating at an alarming rate, with many Southern school districts returning to segregation levels of the early 1970s.
The study found that more than 70% of African American students attended predominantly minority schools in the 1998-1999 school year. This marked a significant increase from the 63% of African Americans who attended predominantly minority schools in the 1972-1973 school year, before the implementation of many full-fledged desegregation plans. The study linked this resegregation trend to a series of Supreme Court cases decided in the early 1990s — Board of Education of Oklahoma City vs. Dowell (1991), Freeman v. Pitts (1992), and Missouri v. Jenkins (1995) — which made it easier for school districts to be released from federal desegregation orders and more difficult for desegregation orders to be reinstated, thereby crippling desegregation efforts and undercutting progress toward racial integration in public schools. (Harvard article) (BH, see March 24, 2002; SD, see November 2, 2004)
BLACK & SHOT
July 17, 2014: New York City police suspected Eric Garner of selling loose, untaxed cigarettes. In an attempt to place him under arrest, officer Daniel Pantaleo put Garner in what New York Police Department Commissioner Bill Bratton described as a chokehold, a move banned by the department. Garner could be seen in a video of the incident saying he can't breathe as Pantaleo holds him. He was later pronounced dead at a hospital. A Staten Island grand jury voted on Dec. 2 not to indict Pantaleo, setting off a wave of national protests. (2015 NYT article) (see Aug 5)
July 17

Peace Love Art Activism
United Farm Workers
July 17, 1970: six thousand drivers and packing workers in the Salinas Valley in California represented by the Teamsters struck effectively preventing most of the nation's summer lettuce crop from reaching consumers. (Aug 24 NYT abstract) (see July 23, 1970)
July 17

Peace Love Art Activism
INDEPENDENCE DAY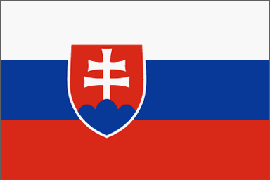 July 17, 1992: Slovakia declared independence from Czechoslovakia [Gentle Revolution] (see January 1, 1993)
July 17

Peace Love Art Activism
CLINTON IMPEACHMENT
July 17, 1998: Supreme Court Chief Justice William Rehnquist denies an extension of the temporary stay on Secret Service testimony. The subpoenaed Secret Service agents appeared before the grand jury, although only three of them testify. Larry Cockell, who is not one of the agents to testify, spends the afternoon waiting. (see Clinton for expanded story)
July 17

Peace Love Art Activism
LGBTQ & BSA
July 17, 2012: the Boy Scouts of America reaffirmed its longtime policy of barring openly gay boys from membership and gay or lesbian adults from serving as leaders. The decision came after what the organization described as a wide-ranging internal review, and despite public protests. The exclusion policy "reflects the beliefs and perspectives" of the organization, the Boy Scouts said in a news release. [NYT article] (LGBTQ, see July 31; BSA, see Oct 8)
July 17

Peace Love Art Activism
Native Americans
July 17, 2013: in a 3-2 decision the South Carolina Supreme Court awarded custody of Veronica Brown, a Cherokee child at the center of a protracted legal battle to a non-Native couple attempting to adopt her. The court ruled that Matt and Melanie Capobianco of James Island, S.C., were the only party properly seeking to adopt the three-year-old girl known as "Baby Veronica" and ordered the lower family court to finalize the adoption. (Indian Country Today article) (see Veronica for expanded story)
July 17

Peace Love Art Activism
Please follow and like us: