December 1 Peace Love Activism
INDEPENDENCE DAY
December 1, 1918: an Act of Union was signed by Denmark, allowing Iceland to become a sovereign state, however still under the Danish monarchy. (see January 22, 1919)
Emma Goldman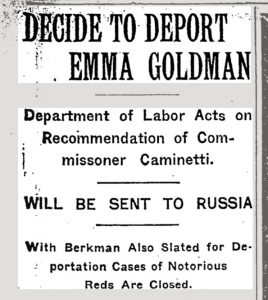 December 1, 1919: the Department of Labor ordered Goldman and Alexander Berkman to appear at Ellis Island for deportation to Russia. (NYT article)(see Dec 21, 1919)
BLACK HISTORY
Feminism & Montgomery Bus Boycott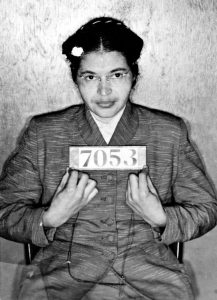 December 1, 1955 [Thursday]: Police arrested Rosa Parks after she refused to give up her seat to a white passenger on a crowded Montgomery city bus. In response to Parks' arrest, Montgomery's black community organized a boycott of city buses until seating policies are successfully changed. The night of Parks' arrest, Jo Ann Robinson called the other Women's Political Council leaders and they agreed that this was the right time for a bus boycott. Robinson stayed up all night copying 35,000 handbills by a mimeograph machine at Alabama State College to distribute the next day. She called students and arranged to meet them at elementary and high schools in the morning. The boycott will last 381-days.

In April 1956, Rosa Parks related the following description of her action that day.

ROSA PARKS: I left work on my way home, December 1st, 1955, about 6:00 in the afternoon. I boarded the bus downtown Montgomery on Court Square. As the bus proceeded out of town on the third stop, the white passengers had filled the front of the bus. When I got on the bus, the rear was filled with colored passengers, and they were beginning to stand. The seat I occupied was the first of the seats where the Negro passengers take as they—on this route. The driver noted that the front of the bus was filled with white passengers, and there would be two or three men standing. He looked back and asked that the seat where I had taken, along with three other persons: one in a seat with me and two across the aisle were seated. He demanded the seats that we were occupying. The other passengers there reluctantly gave up their seats. But I refused to do so.

I want to make very certain that it is understood that I had not taken a seat in the white section, as has been reported in many cases. An article came out in the newspaper on Friday morning about the Negro woman overlooked segregation. She was seated in the front seat, the white section of the bus and refused to take a seat in the rear of the bus. That was the first newspaper account. The seat where I occupied, we were in the custom of taking this seat on the way home, even though at times on this same bus route, we occupied the same seat with whites standing, if their space had been taken up, the seats had been taken up. I was very much surprised that the driver at this point demanded that I remove myself from the seat.

The driver said that if I refused to leave the seat, he would have to call the police. And I told him, "Just call the police." He then called the officers of the law. They came and placed me under arrest, violation of the segregation law of the city and state of Alabama in transportation. I didn't think I was violating any. I felt that I was not being treated right, and that I had a right to retain the seat that I had taken as a passenger on the bus. The time had just come when I had been pushed as far as I could stand to be pushed, I suppose. They placed me under arrest. (Black History, see Dec 3; Bussing, see February 1, 1956; Feminism, see March 9, 1959)
MARTIN LUTHER KING
December 1, 1964: civil rights leader Martin Luther King and FBI Director J. Edgar Hoover had a tense meeting in Hoover's office. A public conflict between the two had erupted when King criticized the FBI for failing to enforce civil rights and Hoover replied by calling King the "most notorious liar" in the country. The meeting was allegedly designed to heal the rift. At the meeting, however, Hoover told King a number of things about his activity that King realized could only have come from intensive surveillance, including wiretapping. King left the meeting deeply shaken about the extent of FBI spying on his activities. (BH, see Dec 4; MLK, see Dec 10)
George Whitmore, Jr
December 1, 1965: the jury found Richard Robles guilty. (BH, see Dec 3;  see Whitmore for whole story)
The Cold War
Nuclear/Chemical News
December 1, 1959: signing of the Antarctic Treaty and related agreements, collectively known as the Antarctic Treaty System (ATS), to regulate international relations with respect to Antarctica, The treaty, entering into force in 1961 and having 53 parties as of 2016, sets aside Antarctica as a scientific preserve, establishes freedom of scientific investigation and bans military activity on that continent. The treaty was the first arms control agreement established during the Cold War. The Antarctic Treaty Secretariat headquarters have been located in Buenos Aires, Argentina, since September 2004. (NYT article)(see February 13, 1960)
Cultural Milestone
December 1, 1961: a press release by the Department of Defense stated: The National Fallout Shelter Sign will be a familiar sight in communities all over the United States next year. It will mark buildings and other facilities as areas where 50 or more persons can be sheltered from radioactive fallout resulting from a nuclear attack. The sign will be used only to mark Federally-approved buildings surveyed by architect-engineer firms under conract to the Department of Defense. The color combination, yellow and black, is considered as the most easily identified attention getter by psychologists in the graphic arts industry. The sign can be seen and recognized at distances up to 200 feet. The shelter symbol on the sign is a black circle set against a yellow rectangular background. Inside the circle, three yellow triangles are arranged in geometric pattern with the apex of the triangles pointing down. Below the fallout symbol, lettered in yellow against black, are the words FALLOUT SHELTER in plain block letters. Yellow directional arrows are located directly underneath the lettering which will indicate the location of the shelter. (Cold War, see Dec 2; Cultural Milestone, see May 19, 1962)

In 1962 Bonnie Dobson released the post apocalyptic song, "Morning Dew" It was later covered most famously by the Grateful Dead. 
Also in 1962  Malvina Reynolds released "What Have They Done to the Rain" points out danger of nuclear testing. (Cold War, see Jan 2; Nuclear News, see Feb 16; News Music, see October 8, 1963) 
Immigration History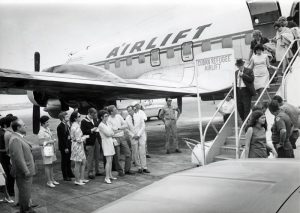 December 1, 1965: the start of a refugee airlift from Cuba.. A Pan American World Airways left Miami's International Airport at 7 a.m., carrying only its crew and two officials of the U.S. Public Health and Immigration departments. It returned three hours and 35 minutes later from Varadero, Cuba, with 90 refugees, the first of up to 100,000 expected in the new wave of immigration. (see April 5, 1973)
December 1 Music et al
McCartney & Best leave Germany
December 1, 1960: McCartney and Best arrived at London Airport. They spent their remaining money on a bus to Euston Station and a train ticket to Liverpool. John Lennon stayed behind in Hamburg for a while. (see Dec 10)
My Son, the Folk Singer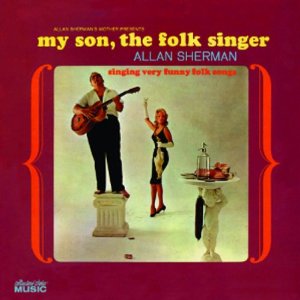 December 1 – 14, 1962: Allen Sherman's My Son, the Folk Singer Billboard #1 album. 
December 1, 1963: The New York Times Sunday Magazine, ran a story on "Beatlemania" in the U.K. (NYT article) (see Dec 2)
Roy Howard buys Yasgur's Farm
December 1, 1986: Miriam Yasgur sold farm to Roy Howard. (see April 25, 1990)
LSD
December 1, 2016: The Journal of Psychopharmacology concurrently released studies by researchers at New York University, with 29 patients, and at Johns Hopkins University, with 51 on the possible therapeutic benefit of psilocybin. The studies proceeded after arduous review by regulators and were the largest and most meticulous among a handful of trials. The results were striking. About 80 percent of cancer patients showed clinically significant reductions in both psychological disorders, a response sustained some seven months after the single dose. Side effects were minimal.
Feminism
Women's Equity Action League
December 1, 1968: The Women's Equity Action League (WEAL) established as an alternative to the National Organization for Women (NOW) for those who support women's equality in employment and education but do not want to address the issue of abortion. (see January 31, 1969)
Our Bodies Ourselves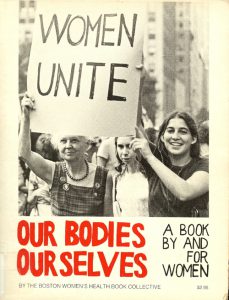 December 1, 1970:  The Boston Women's Health Book Collective published Our Bodies Ourselves: A Book By and For Women. The book encouraged women to become educated about their health and provided accurate information about body image, sexuality, and reproduction. (see Dec 17)
Vietnam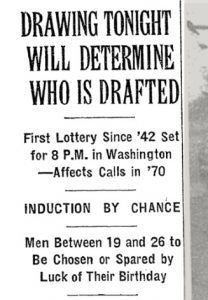 December 1, 1969:  the first draft lottery in the United States was held since World War II (see Dec 5)
December 1 Peace Love Activism
AIDS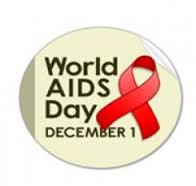 December 1, 1988: the World Health Organization organized the first World AIDS Day to raise awareness of the spreading pandemic. (see March 29, 1990)
SEPARATION OF CHURCH AND STATE
December 1, 2014: Thomas Jefferson Classical Academy's Grammar School in Forest City, N.C., ended teacher-led prayer and implemented a new policy on religion after a Nov. 6 complaint by Staff Attorney Patrick Elliott on behalf of a parent. A second-grade teacher had led students in prayer before lunch each day.

The parent was later told the prayers would be replaced with a moment of silence, but the teacher reportedly instead called on a student to lead the prayer. Elliott noted that a moment of silence did not cure the problem because it was clearly intended for prayer.

The principal responded Dec. 1, attaching an extensive new policy the charter school's governing board had adopted clarifying that while students remain free to pray on their own, "School administrators and teachers may not organize or encourage prayer exercises in classrooms. The right of religious expression in school does not include the right to have a captive audience listen, or to compel other students to participate." (see January 20, 2015)
December 1 Peace Love Activism, December 1 Peace Love Activism, December 1 Peace Love Activism, December 1 Peace Love Activism, December 1 Peace Love Activism, December 1 Peace Love Activism, December 1 Peace Love Activism, December 1 Peace Love Activism, December 1 Peace Love Activism, December 1 Peace Love Activism, December 1 Peace Love Activism, 
Please follow and like us: