February 8 Peace Love Activism
Native Americans
---
February 8, 1887: Congress passed The Dawes Act of 1887. It authorized the President to survey Indian tribal land and divide it into allotments for individual Indians. The stated objective of the Dawes Act was to stimulate assimilation of Indians into American society. Individual ownership of land was seen as an essential step. The act also provided that the government would purchase Indian land "excess" to that needed for allotment and open it up for settlement by non-Indians. (see December 29, 1890)
February 8 Peace Love Activism
US Labor History
Cripple Creek Strike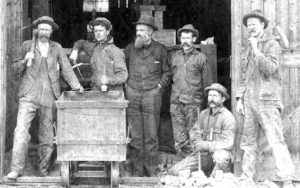 ---
February 8, 1894: union miners in Cripple Creek, Colorado  begin what became a five-month strike that started when mine owners cut wages to $2.50 a day, from $3. The state militia was called out in support of the strikers—the only time in U.S. history that a militia was directed to side with the workers. The strike ended in victory for the union. (see Mar 25)
Wobbly meetings illegal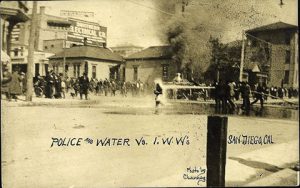 ---
AFL & CIO
February 8, 1912: a San Diego city ordinance restricting street meetings in the central business district went into effect. Almost immediately, police arrest forty-one International Workers of the World members for violating the ordinance. (see Mar 9)
---
February 8, 1955: Representatives of the AFL and CIO signed an agreement to merge, beginning a long period of unity within organized labor. George Meany will lead the organization for two decades, taking labor in a generally conservative direction. "We do not seek to recast American society," Meany says. "We seek an ever rising standard of living." Big Labor gradually became a complacent interest group rather than a social movement. (see Dec 5)
February 8 Peace Love Activism
Cultural Milestone
---
February 8, 1910: The Boy Scouts of America was incorporated.   (CM, see March 6, 1912; BSA, see May 7, 1967)
February 8 Peace Love Activism
BLACK HISTORY
The Birth of a Nation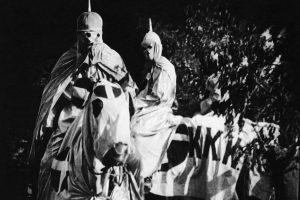 ---
February 8, 1915: D. W. Griffith's  The Birth of a Nation premiered in Los Angeles. Although local censors approved the film, city council members responded to concerns about the racist nature of the picture by ordering it suppressed. Released under the title, The Clansman, the movie debuted only after Griffith sought an injunction from the court.
---
Griffith's story centers on two white families torn apart by the Civil War and reunited by what one subtitle calls, "common defense of their Aryan birthright." Promoting a skewed historical vision of a war-torn South further abused by carpetbaggers, scalawags, and radical Republicans, the film remakes Lincoln as a friend of the South. "I shall deal with them as though they had never been away," Griffith's Lincoln says. In The Birth of a Nation, the Ku Klux Klan rushes in to fill the void left by Lincoln's untimely death and the chaos of Reconstruction. (see Feb 18)
Marcus Garvey
---
February 8, 1925: after being arrested at the 125th Street train station in New York, Garvey taken to Atlanta Federal Penitentiary and incarcerated. (BH, see Aug 8; MG, see June 8, 1927)
Hattie Carroll
---
February 8, 1963: Baltimore, MD. At the Spinsters' Ball at the Emerson Hotel, a very drunk and verbally abusive William Devereux "Billy" Zantzinger hits 51-year old Hattie Carroll  after she is slow to serve a drink to him. Carroll has a history of heart problems. Later, she collapses and dies. (1991 Washington Post article) [ON Oct 23, 1963, Bob Dylan will write, "The Lonesome Death of Hattie Carroll." (BH, see  April 4; Zanzinger, see Aug 28)
Orangeburg Massacre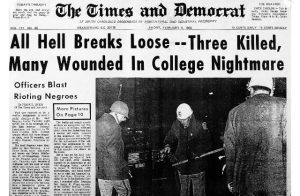 ---
February 8, 1968: white state troopers fired into a mostly African American crowd on the campus of South Carolina State College, an historically black college in Orangeburg, South Carolina. 28 were wounded. Three killed. (see 1968 Orangeburg Massacre for the expanded story and the sadly not unexpected results. (BH, see Feb 12; OM, see "in October 1970")
 Stop and Frisk Policy
---
February 8, 2012: NYC Council Speaker Christine Quinn wrote to Police Commissioner Ray Kelly demanding greater oversight of the NYPD's Stop-and-Frisks. (see Feb 10)
---
Women's Health
Emma Goldman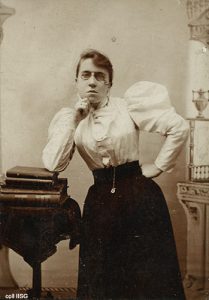 ---
February 8, 1916: Goldman lectured in NYC on birth control. Three days later, authorities arrest her for the illegal lecture.  (see Goldman for expanded story)
February 8 Peace Love Activism
DEATH PENALTY
Nevada uses lethal gas
---
February 8, 1924: Nevada carried out the first execution by lethal gas in American history was in Carson City. The executed man was Gee Jon, a member of a Chinese gang who was convicted of murdering a rival gang member. Lethal gas was adopted by Nevada in 1921 as a more humane method of carrying out its death sentences, as opposed to the traditional techniques of execution by hanging, firing squad, or electrocution. (see Aug 22)
House limits death penalty appeals
---
February 8, 1995: the US House of Representatives  voted 297-132 to limit inmate appeals of death sentences to one year in state cases.   (see March 7, 1995)
Vietnam
Ho Chi Minh returns to Vietnam
---
February 8, 1941: Ho Chi Minh, disguised as one of the local Nung people, slipped across the Chinese border into Tonkin (Vietnam) near the remote mountain village of Pac Bo and set up  a headquarters. (see May 10)
US bombing begins
---
February 8, 1965: U.S. starts air bombing North Vietnam. (see Feb 9)
CALC
---
---
February 8 – 10, 1967: CALC [Clergy and Laity Concerned] (formed in October 1965 as the Clergy Concerned about Vietnam) and organized a nationwide "Fast for Peace."  The FBI investigated CALC as a threat to national security. (see Feb 15)
Operation Lam Son 719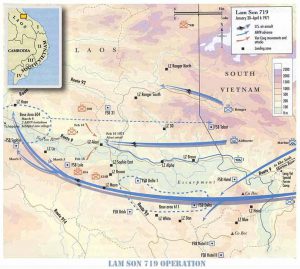 ---
February 8, 1971:  three South Vietnamese divisions drive into Laos to attack two major enemy bases. Unknowingly, they are walking into a North Vietnamese trap. Over the next month, more than 9,000 South Vietnamese troops are killed or wounded. More than two thirds of the South Vietnamese Army's armored vehicles are destroyed, along with hundreds of U.S. helicopters and planes. (see Feb 26)
February 8 Peace Love Activism
Pledge of Allegiance
---
On February 7, the Rev Doucherty had suggested to President Eisenhower that the phrase "under God" be included in the Pledge of Allegiance. The next day,  February 8, 1954,  Eisenhower acted on Rev Doucherty's suggestion and Rep. Charles Oakman (R-Mich.), introduced a bill to that effect. (see June 14)
February 8 Music et al
Teenage Culture
---
February 8 – 21, 1960:  "Teen Angel" by Mark Dinning #1 Billboard Hot 100. Released the previous October, radio stations were reluctant to play it and it was banned by the BBC. Performed by Sha Na Na at Woodstock. Third of three #1 songs in a row in which a person or persons die. (see July 18 – Aug 7)
---
---
Beatles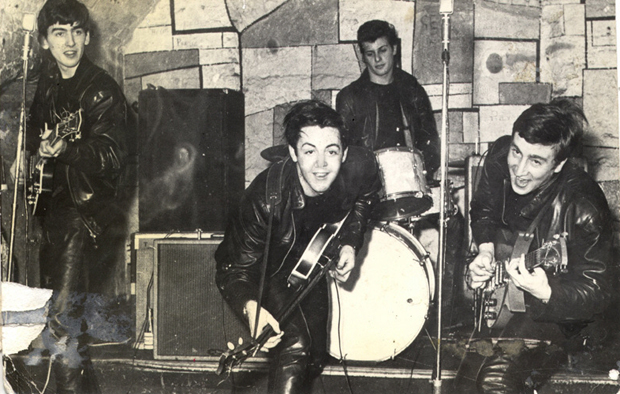 ---
February 8, 1963:  The Beatles were thrown out of the ABC Ballroom in Carlisle (UK) for wearing leather jackets. (see Feb 11)
---
Louie Louie
---
---
February 8, 1964: Max Firetag, the music publisher of the song "Louie Louie" offered $1,000.00 to anyone who could find anything 'suggestive' in the lyrics to the song.  (TC, see Sept 16; see Louie, Louie, for expanded story) 
Supremes
---
February 8 – 14, 1969:  the Diana Ross and the  Supremes with the Temptations album TCB is the Billboard #1 album. The album was the soundtrack to a 1968 TV special.
---
---
February 8 Peace Love Activism
The Red Scare
---
February 8, 1968:  Planet of the Apes released. The back story of the movie is that Michael Wilson wrote the script. Wilson been blacklisted during the Cold War after refusing to cooperate with the House Un-American Activities Committee (HUAC) in September 1951. (He was not one of the Hollywood Ten, who testified beginning on October 27, 1947, and were blacklisted.)
---
When he was able to return to work under his own name, he took his revenge for the blacklisting by including a scene in the Planet of the Apes that wickedly parodies the House Un-American Activities Committee (HUAC). In the scene, Charleton Heston stands naked, literally, in front of a committee of apes that interrogates him.  (see Feb 19) (Roger Ebert review)
February 8 Peace Love Activism
ADA
---
February 8, 1996: the Telecommunications Act passes and requires that computers, telephones, closed captioning, and many other telecommunication devices and equipment be made accessible. (FCC text) (see  February 12, 1998)
CLINTON IMPEACHMENT
February 8, 1999: House prosecutors and Clinton's lawyer offered closing arguments. (see Clinton for expanded story)
LGBTQ
---
February 8, 2015:  Judge Roy Moore, Chief Justice of the Alabama Supreme Court, issued an order commanding all probate judges in the state to refuse to issue marriage licenses same-sex couples. "Effective immediately, no probate judge of the State of Alabama nor any agent or employee of any Alabama probate judge shall issue or recognize a marriage license that is inconsistent" with the Alabama Constitution or state law, the chief justice wrote in his order.
---
Moore's edict came as a temporary stay on a federal court ruling striking down the state's ban on marriage equality was set to expire the following day. Under federal law, the expiration of this stay whould compel every public servant tasked with issuing civil marriage licenses to extend that service to same-sex couples starting February 9. The initial ruling, handed down by U.S. District Judge Callie V.S. Granade, found the state's marriage ban violated the 14th Amendment of the U.S. constitution. (see Feb 9)
February 8 Peace Love Activism
Please follow and like us: