January 24 Peace Love Activism
BLACK HISTORY
Scottsboro Travesty
January 24, 1936: while being transported to Birmingham Prison, Ozie Powell attacked a deputy sheriff.  Sheriff Jay Sandlin shot Powell in the head. He lives, but suffers from brain damage for the rest of his life. (see Scottsboro for expanded story)
---
Emmett Till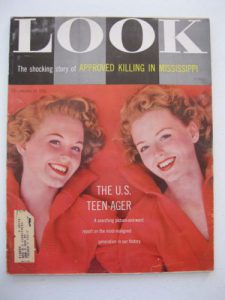 ---
January 24, 1956: Look magazine published the confessions of J.W. Milam and Roy Bryant, the two white men who were acquitted in the 1955 kidnapping and murder of Emmett Louis Till. In the article, titled "The Shocking Story of Approved Killing in Mississippi," the men detailed how they beat Till with a gun, shot him and threw his body in the Tallahatchie River with a heavy cotton-gin fan attached with barbed wire to his neck to weigh him down. The two killers were paid a reported $4,000 for their participation in the article,  (see expanded Emmett Till story)
---
Montgomery Bus Boycott
---
January 24, 1956: Montgomery Mayor Gayle urged whites to stop offering rides to blacks who work for them. (next BH, see Feb 2; see expanded Boycott story)
---
MARTIN LUTHER KING, JR
---
January 24, 1960: Martin Luther King became co-pastor of Ebenezer Baptist Church with his father, "Daddy King"  (BH, see Feb 1;  MLK, see Oct 19)
---
Albany Movement
January 24, 1963: the Dougherty County Board of Education rejected voluntary integration of local schools. (next BH, see Feb 8; see AM for expanded story)
Muhammad Ali
---
January 24, 1964: Ali took an Army evaluation test. (next Ali, see Feb 18; test, see Mar 3)
---
BLACK & SHOT
January 24, 2017: Los Angeles County prosecutors announced that they would not criminally charge Officers Sharlton Wampler and Antonio Villegas who shot and killed Ezell Ford during a clash near his South L.A. home on August 11, 2014. (see March 26)
---
January 24 Peace Love Activism
Vietnam
FDR and Vietnamese Independence
January 24, 1944  President Roosevelt wrote that "Indo-China should not go back to France…France has had the country…one hundred years and the people are worse off than they were at the beginning." Roosevelt envisioned a post-World War II trusteeship for Indochina. (see July 8)
---
Laos & herbicides
January 24, 1982: a draft of Air Force history reported that the U.S. secretly sprayed herbicides on Laos during the Vietnam War. (see Mar 26)
---
Nuclear and Chemical Weapons/News
IAEC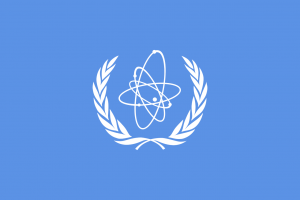 ---
January 24, 1946:  the UN established the International Atomic Energy Commission.  (see Mar 28)
---
B-52 bomber broke up in mid-air
---
January 24, 1961: a B-52 bomber broke up in mid-air and accidentally dropped two Mark 39 hydrogen bombs over Goldsboro, North Carolina.  The bombs fell to earth and one of the devices behaved precisely as a nuclear weapon was designed to behave in warfare: its parachute opened, its trigger mechanisms engaged, and only one low-voltage prevented its explosion. Each bomb carried a payload of 4 megatons – the equivalent of 4 million tons of TNT explosive. Had the device detonated, lethal fallout could have been deposited over Washington, Baltimore, Philadelphia and as far north as New York city – putting millions of lives at risk. (NYT article) (see July)
---
Nuclear-powered Soviet satellite
---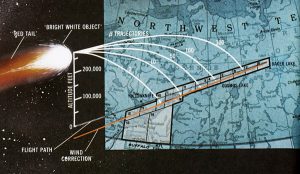 ---
January 24, 1978: a nuclear-powered Soviet satellite, Cosmos 954, plunged through Earth's atmosphere and disintegrated, scattering radioactive debris over parts of northern Canada.   (see March 28, 1979)
January 24 Music et al
The Quarry Men
---
January 24, 1958: The Quarry Men performed at the Cavern in Liverpool. This would be the Beatles only performance billed as The Quarry Men at the club. It would three years before the band would turn up again at the Cavern but under their new name. (see Feb 6)
---
Brian Epstein
---
January 24, 1962: Beatles signed Brian Epstein to manage group. (see Mar 7)
---
---
January 24, 1961: Dylan first arrived in New York City. He caught a subway down to Greenwich Village and to the Cafe Wha?. It was hootenanny night and the place was half-empty. Dylan asked the owner, Manny Roth, if he could perform — and he did, playing a short set of Woody Guthrie songs. In the following weeks, Dylan would appear occasionally at the coffee-house, playing harmonica ("blowin' my lungs out for a dollar a day" is how he put it in his early song, Talkin' New York) behind Mark Spoelstra and Fred Neil, writer of Dolphins and Everybody's Talkin'. (next Dylan, see Jan 29)
---
January 24 Peace Love Activism
Technological Milestone/Bob Dylan
---
January 24, 1984:  Apple Computer began selling its first Macintosh model, which boasted a built-in 9-inch monochrome display, a clock rate of 8 megahertz and 128k of RAM.
---
At the Annual Apple Shareholders meeting, Steve Jobs had quoted the second verse of Bob Dylan's "The Times They Are A'Changin':
---
Come senators, congressmen
Please heed the call
Don't stand in the doorway
Don't block up the hall
For he that gets hurt
Will be he who has stalled

There's a battle outside
And it is ragin'.
It'll soon shake your windows
And rattle your walls
For the times they are a-changin'.
---
(NYT article) (TM, see Aug 30; Dylan, see January 3, 2009)
---
Sexual Abuse of Children
Bishop Bernard Francis Law
January 24, 1984: the Vatican appointed Bishop Bernard Francis Law — Harvard educated and active in the civil rights movement in Mississippi during the 1960s — to head the Catholic archdiocese of Boston. He will be elevated to cardinal a year later.
---
One year later in 1985 the Rev. Thomas Doyle, a canon lawyer for the Vatican embassy in Washington, wrote a confidential memo for the nation's Catholic bishops citing 30 cases with 100 sexual abuse victims and projecting a cost to the church of $1 billion over 10 years.
---
In 2002 Law will leave his post on the same day that he reportedly was ordered to appear before a grand jury investigating his cover up of sex abuse allegations. (see In June 1985)
Feminism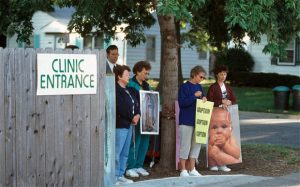 ---
January 24, 1994: The Supreme Court ruled unanimously that protesters who block access to abortion clinics or in other ways conspire to stop women from having abortions may be sued under federal anti-racketeering statutes. (NYT article) (see Mar 12)
---
January 24 Peace Love Activism
CLINTON IMPEACHMENT
Clinton gets assistance
January 24, 1998: President Clinton asked former Deputy White House Chief of Staff Harold Ickes and former Commerce Secretary Mickey Kantor to return to the White House to help deal with the controversy. Talks continue between Starr and attorneys for Lewinsky over a possible immunity agreement. 
---
Monica Lewinsky
January 24, 1999: Monica Lewinsky submits to a nearly two-hour interview with House prosecutors; they call the session "productive" but Lewinsky's lawyer says it added nothing new to the record. (NYT article) (see Clinton for expanded story)
---
LGBTQ
---
January 24, 2017: Mississippi's Gov. Phil Bryant (R) signed into law a bill that allowed businesses to refuse services to gay couples based on religious objections. The new law stated that it protected "sincerely held religious beliefs or moral convictions," including the belief that marriage was only between a man and a woman and that sexual relations should only occur in such a marriage. It also said that a person's gender is "determined by anatomy and genetics at time of birth" and went on to say that businesses can determine who is allowed to access bathrooms, dressing rooms and locker rooms.
---
Bryant (R) said that he was signing the bill "to protect sincerely held religious beliefs and moral convictions." (see Jan 30)
---
January 24 Peace Love Activism
January 24 Peace Love Activism
Please follow and like us: