December 26 Peace Love Activism

Native Americans
On August 18,1862 a Sioux Uprising began in Minnesota. It resulted in more than 800 white settlers dead and 38 Sioux Indians condemned and hanged. The Minnesota Uprising began when four young Sioux murdered five white settlers at Acton. The Santee Sioux, who lived on a long, narrow reservation on the south side of the Minnesota River, were reacting to broken government promises and corrupt Indian agents. A military court sentenced 303 Sioux to die, but President Abraham Lincoln reduced the list. after President Abraham Lincoln reviewed the list of the condemned and reduced the number.

On December 26, 1862 38 Sioux were hung in Mankato, Minn. The mass execution was performed publicly on a single scaffold platform. After regimental surgeons pronounced the prisoners dead, they were buried en masse in a trench in the sand of the riverbank. (June 24, 1864)
Nuclear and Chemical Weapons
December 26, 1898:  Marie and Pierre Curie discovered radium. (see July 22, 1927)
BLACK HISTORY
Jack Johnson
December 26, 1908: Jack Johnson became the first black heavyweight boxing champion when he knocked out Tommy Burns in Sydney, Australia. (see February 12, 1909)
Fred Shuttlesworth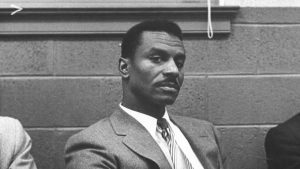 December 26, 1956: after the U.S. Supreme Court ordered the integration of city buses in Montgomery, Ala., Fred Shuttlesworth and others challenged the law in Birmingham, Ala. He boarded the bus hours after his own home was bombed. (see Dec 27)
Dr Maulana Karenga
December 26, 1966: the first day of the first Kwanzaa celebrated in Los Angeles under the direction of Dr Maulana Karenga, the chair of Black Studies at California State University at Long Beach. The seven-day holiday, hd  strong African roots. Karenga designed it as a celebration of African American family, community, and culture. (see In January 1967)
December 26 Music et al

GI Blues
December 26, 1960 – January 8, 1961:   Presley's GI Blues album Billboard #1 for a second time.


"I Want to Hold Your Hand"
December 26, 1963:  release of "I Want to Hold Your Hand" ("I Saw Her Standing There" B-Side) as a single released in US. Capitol Records begins distributing "I Want To Hold Your Hand" to radio stations in major U.S. cities where it was played regularly.  With teens home for Christmas-New Years break, radios get full-time use, and the record begins selling like crazy.  In New York City, 10,000 copies are sold every hour.  In the first three days, 250,000 copies are  sold.  Capitol was so overloaded it contracted Columbia Records and RCA to help with the pressings. (see Dec 28)

"I Feel Fine"
December 26, 1964 – Jan 15, 1965, The Beatles': their first year on the Billboard Hot 100 charts ends with "I Feel Fine" at #1—their 6th. (see January 9, 1965)


Jimi Hendrix
December 26, 1966: while in the dressing room of The Uppercut Club in London, Jimi Hendrix wrote the lyrics to "Purple Haze". The original title for the song was "Purple Haze / Jesus Saves". He changed the it by the time he recorded it. (see March 31, 1967)


Magical Mystery Tour
December 26, 1967: having been edited  10 hours of footage to 55 minutes, The Beatles' television film Magical Mystery Tour had its world première on BBC 1. Though filmed in color, BBC broadcast the show in black and white. The critical reaction was overwhelmingly negative. (see Dec 30)


Monterey Pop
December 26, 1968, Monterey Pop movie released.


Led Zeppelin
December 26, 1969  – January 2, 1970: Led Zeppelin's Led Zeppelin II is the Billboard #1 album.
December 26 Peace Love Activism
Women's Health
December 26,1970:  President Richard Nixon signed into law the Public Health Services Act, which included federal support for family planning services. A Republican, Nixon was a strong supporter of government aid for family planning services. These services were contained in Title X of the law, and today discussions of the subject today refer to "Title X" funding.

In the early 1970s, President Nixon and many other Republicans supported government support for family planning services. That changed beginning with President Ronald Reagan, when the Republican Party embraced the neo-conservative social agenda that opposed abortion and government-supported family planning services. (see March 22, 1972)
Vietnam
December 26, 1974: the 7th North Vietnamese Army division captured Dong Xoai. (see January 22, 1975)
Dissolution of the USSR
December 26, 1991: the official dissolution of the USSR. (see April 16, 2003)
Environmental Issues
December 26, 2004: a 9.3 magnitude earthquake hit the entire Indian Ocean region. Epicentered just off the west coast of the Indonesian island of Sumatra, it generates tsunami waves of up to  100 ft that crashed into the coastal areas of a number of nations including Thailand, India, Sri Lanka, the Maldives, Malaysia, Myanmar, Bangladesh, and Indonesia. The event killed 230,000–280,000 people in 14 countries. (see February 2, 2007)
TERRORISM
December 26, 2009: Umar Farouk Abdulmutallab appeared in front of Judge Paul D. Borman of the United States District Court for the Eastern District of Michigan in Detroit and was formally charged with attempting to blow up and placing a destructive device on an American civil aircraft. The hearing took place at the University of Michigan Hospital in Ann Arbor, Michigan, where he was receiving treatment for the burns he suffered when he attempted to detonate the device. (Terrorism & Abdulmutallab: see January 6, 2010)
Sexual Abuse of Children
December 26, 2013: a Pennsylvania appeals court ruled that Msgr. William J. Lynn, a Roman Catholic church official, had been wrongly convicted of child endangerment over his handling of sexual-abuse complaints against priests. Mr. Lynn's lawyer argued that the state's child-endangerment law at the time applied only to parents and caregivers, not to supervisors. (see Dec 31)
LGBTQ
December 26, 2014: according to an Associated Press survey, most of Florida's 67 clerks of court planned not to issue marriage licenses to gay couples on January. 6. They said that they were confused over whether a ban on same-sex marriage was being lifted across the whole state that day,.

The overwhelming majority of clerks who responded to AP's inquiry said they wouldn't offer marriage licenses to same-sex couples without further clarification from a federal judge on whether his ruling applied beyond Washington County.  A lawsuit filed in the remote Panhandle county by two men seeking to be married became a key basis for U.S. District Judge Robert Hinkle's decision ruling the state's same-sex marriage ban unconstitutional. (see January 1, 2015)
December 26 Peace Love Activism,December 26 Peace Love Activism, December 26 Peace Love Activism, December 26 Peace Love Activism, December 26 Peace Love Activism, December 26 Peace Love Activism, December 26 Peace Love Activism, December 26 Peace Love Activism, December 26 Peace Love Activism, December 26 Peace Love Activism, December 26 Peace Love Activism, December 26 Peace Love Activism, December 26 Peace Love Activism, 
Please follow and like us: