December 19 Peace Love Activism
BLACK HISTORY
Black Codes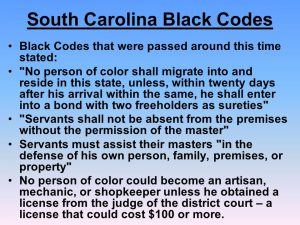 December 19, 1865: following the Civil War and emancipation, many freed black people in the South remained beholden to their former white masters. In South Carolina and other former slave-holding states, many freed people continued to reside in the same communities, sometimes on the same land, working for whites who had previously owned the men, women, and children as property. Freedmen had limited opportunities to earn money to support themselves and their families and often continued to work as manual laborers in slavery-like conditions. In many ways, "black codes" enacted following emancipation sought to maintain white control over freedmen and perpetuated the exploitation black people had experienced during slavery.

South Carolina's black codes, like others, contained many laws that applied only to black people. On December 19, 1865, a measure restored freed blacks' subservient social relationship to white landowners, stating that "all persons of color who make contracts for service or labor, shall be known as servants, and those with whom they contract, shall be known as masters." The law required black "servants" to work from dawn to dusk and to maintain a "polite" demeanor. South Carolina reached even further into black laborers' personal lives, 
prohibiting apprentices to marry without their masters' permission
 forbidding farmers living on their masters' land to have visitors
imposing a curfew.
forbidding freedmen in South Carolina from pursuing any occupation other than laborer unless able to pay a $100 fee. (see Dec 24)
Montgomery Bus Boycott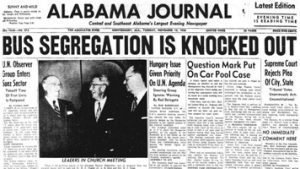 December 19, 1956: the Supreme Court upheld a lower court decision ordering an end to racial segregation of the Montgomery, Alabama, bus system. The Montgomery Bus Boycott was one of the iconic events in the history of the civil rights movement, but in fact a legal challenge to the bus system's policy of  segregation that had begun more than a year earlier when authorities arrested Rosa Parks on December 1, 1955.

The lead plaintiff in the legal challenge that was settled on this day was Aurelia Browder, who police arrested, along with three other African-American women on March 2, 1955.  On June 13, 1956 in Browder v. Gayle the U.S. District Court for Alabama ruled segregated public transportation unconstitutional.  Thus, it was the Browder decision that ended segregation of the Montgomery buses and not the famous bus boycott that Parks inspired.  (BH & MBB, see Dec 21)
Medgar Evers
December 19, 1990: twenty-seven years after the slaying of the civil rights leader Medgar Evers, authorities charged Byron de la Beckwith, a professed white supremacist with Evers's murder for the third time. Two trials in 1964 ended with the all-white juries deadlocked. But prosecutors said that they had turned up new evidence and new witnesses after a 14-month investigation. In a hearing in Tennessee, where Beckworth has lived for the past nine years, the 70-year-old Mr. Beckwith denied killing Mr. Evers and vowed to resist extradition "tooth, nail and claw." (BH & ME, see January 1, 1991)
US Labor History
Darr Mine explosion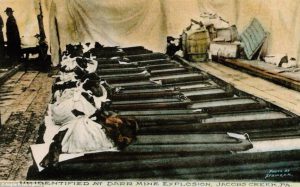 December 19, 1907: an explosion in the Darr Mine in Westmoreland County, Pennsylvania, killed 239 coal miners, most of whom were Hungarian immigrant laborers. Some came from the nearby Naomi Mine, which had closed after at deadly explosion several weeks earlier. Only one person is thought to have survived the Darr Mine explosion.(see February 3, 1908)

Truax v Corrigan
December 19, 1921: in Truax v. Corrigan, the Supreme Court ruled that picketing was unconstitutional. Chief Justice (and former president) William Howard Taft declared that picketing was, in part, "an unlawful annoyance and hurtful nuisance..."(see May 15, 1922)
Wilberg Coal Mine fire
December 19, 1984: a coal mine fire killed twenty-six men and one woman were in the Wilberg Coal Mine near Orangeville, Utah. It was the worst coal mine fire in the state's history. Federal mine safety officials issued 34 safety citations after the disaster but had inspected the mine only days before and declared it safe. (see May 31, 1985)
Technological Milestone
December 19, 1910: the artificial fiber rayon was first commercially produced by the American Viscose Co. of Marcus Hook, Pa.(see April 29, 1913)
Vietnam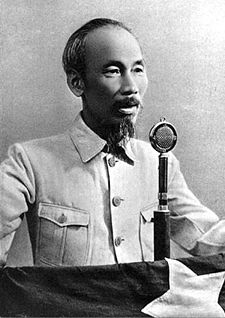 December 19, 1946:30,000 Viet Minh soldiers attacked French positions at Haiphong starting the French/Indochina War. Ho Chi Minh and General Vo Nguyen Giap fled Hanoi and return to their mountain stronghold near the Chinese border. Minh stated: "If war is imposed on us, we will fight rather than renounce our liberties."  (see March 8, 1949)
South Vietnam Leadership
December 19, 1964: the December 1964 South Vietnamese coup took place before dawn on. The ruling military junta of South Vietnam led by General Nguyễn Khánh dissolved the High National Council (HNC) and arrested some of its members. The HNC was an unelected legislative-style civilian advisory body they had created at the request of the United States. (V, see January 1 – February 7, 1965; SVL, see February 19, 1965)
December 19 Music et al
#1 Songs
December 19 – 25, 1960: Button-Down Mind of Bob Newhart comedy album returns for a third time to Billboard #1.
December 19 – 25, 1964: "Come See About Me" by the Supremes #1 on the Billboard Hot 100, their third consecutive release that went to #1.
Beatles's December 19
December 19, 1969: The Beatles released their 7th and last Christmas fan club recording. (see January 14, 1970)

December 19, 1974: after four years' negotiation, the Beatles had appeared to have agreed on the terms governing their formal split, and a meeting had been arranged at the Plaza Hotel in Manhattan. George Harrison was performing at Madison Square Garden that night; McCartney had flown in from London; and Starr, having signed the document earlier, was on the telephone.

At the last minute, John Lennon (also in NYC) objected to a clause that he felt would create tax problems for him (as the only Beatle living in the United States), and decided not to attend. Harrison, furious, canceled plans for Lennon to join him onstage at Madison Square Garden, but McCartney turned up at the East 52nd Street apartment that Lennon and Pang shared to discuss the sticking point. Things remained unresolved. (see Dec 29)
Watergate Scandal
December 19, 1974: Nelson A. Rockefeller sworn in as vice president, replacing Gerald R. Ford, who became president when Richard M. Nixon resigned. (see Watergate)
Iran–Contra Affair
December 19, 1986: Lawrence E. Walsh appointed independent counsel to investigate the Iran-Contra affair.(see January 6, 1987)
Dissolution of the USSR
December 19, 1989: workers in Romanian cities go on strike in protest against the communist regime. (see Dec 22)
CLINTON IMPEACHMENT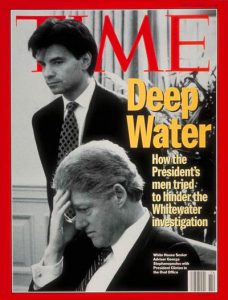 December 19, 1994: the Whitewater scandal investigation began in Washington, DC.

December 19, 1998: after 13 1/2 hours of debate over two days, the House of Representatives approved two articles of impeachment, charging President Clinton with lying under oath to a federal grand jury and obstructing justice. Clinton vowed to fill out his term and appeals for a bipartisan compromise in the Senate. (see Clinton Impeachment for full story)
TERRORISM
December 19, 2000: the U.N. Security Council voted to impose broad sanctions on Afghanistan's Taliban rulers unless they closed terrorist training camps and surrendered U.S. embassy bombing suspect Osama bin Laden.(see April 5, 2001)
World Trade Center
December 19, 2003: officials unveiled design plans for the signature skyscraper — a 1,776-foot glass tower — at the site of the World Trade Center in New York City. (see July 4, 2004)
Nuclear and Chemical Weapons
December 19, 2003: Libyan leader Moammar Gadhafi agreed to halt his nation's drive to develop nuclear and chemical weapons.(see August 9, 2004)
LGBTQ
Rev Frank Schaefer
December 19, 2013: the United Methodist Church defrocked Rev. Frank Schaefer, the Pennsylvania pastor who officiated at his son's same-sex wedding six years ago and refused to agree not to perform other gay marriages. (NYT article) (Schaefer, see June 24, 2014)

New Mexico
December 19, 2013: with lesbian and gay couples having married over the past several months in many New Mexico counties, on this date, the state Supreme Court ruled to allow same-sex couples to marry throughout the state.  This made New Mexico the first state in the Southwest with marriage equality and the 17th state nationwide.

The court wrote: "We hold that the State of New Mexico is constitutionally required to allow same-gender couples to marry and must extend to them the rights, protections, and responsibilities that derive from civil marriage under New Mexico law." 
Westboro Baptist Church
December 19, 2013: Westboro Baptist tweeted that it stood in solidarity with Phil Robertson of the A&E reality show "Duck Dynasty," who told GQ Magazine in a recent interview that he believed homosexuality was sinful.(LGBTQ, see Dec 20; WBC, see March 12, 2014)

Idaho responsible
December 19, 2014: U.S. Magistrate Judge Candy Dale ruled that Idaho must pay more than $400,000 to the lawyers who successfully fought to overturn the state's ban on gay marriage. Dale awarded an amount that was about 10 percent less than what the lawyers requested.

Utah Gov. C.L. "Butch" Otter and attorney Christopher Rich argued for an award of little more than $200,000. They said that the six lawyers working on the case took too much time and charged too much in hourly fees. The lead attorney billed $400 an hour and recorded more than 600 hours.

Judge Dale disagreed, saying that the complexity of the case warranted frequent communication and extra time to prepare for court appearances.(see Dec 23)
Stop and Frisk Policy
December 19, 2013: NYPD Officer Wilson Gonzalez pleaded guilty to the wrongful stop and frisk of a 52-year-old father in Brooklyn. Gonzalez was the second member of the department to be prosecuted at a disciplinary trial at police headquarters for questioning, stopping and frisking a person without sufficient legal authority. Gonzalez, who also pleaded guilty to writing the summons "without sufficient legal authority," will lose 15 days pay if Commissioner Raymond Kelly approves the punishment. (see Dec 31)
December 19 Peace Love Activism
ADA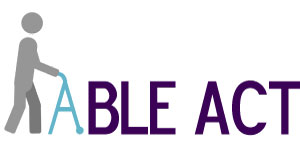 December 19, 2014: after passing the Senate and the House with broad majorities, legislation to help people with disabilities pay for health care and other needs was signed into law by President Obama.

The Achieving a Better Life Experience (ABLE) Act was the first sweeping legislation for people with disabilities since the Americans With Disabilities Act was passed in 1990. The new law allowed families who have a child with a disability to save for their long-term care through savings accounts modeled after tax-free 529 college savings accounts.(see February 3, 2015)
Crime and Punishment
December 19, 2016: President Obama issued 78 pardons and commuted the sentences of 153 prisoners, extending his acts of clemency to a total of 1,324 individuals, one of the larger uses of the presidential power to show mercy in modern presidential history. (see Dec 29)
December 19 Peace Love Activism, December 19 Peace Love Activism, December 19 Peace Love Activism, December 19 Peace Love Activism, December 19 Peace Love Activism, December 19 Peace Love Activism, December 19 Peace Love Activism, December 19 Peace Love Activism, December 19 Peace Love Activism, December 19 Peace Love Activism, December 19 Peace Love Activism, December 19 Peace Love Activism, December 19 Peace Love Activism, 
Please follow and like us: