December 16 Peace Love Activism
BILL OF RIGHTS
December 16, 1689, : the English "Bill of Rights" went into effect. (see October 19, 1765)
BLACK HISTORY
Short family murdered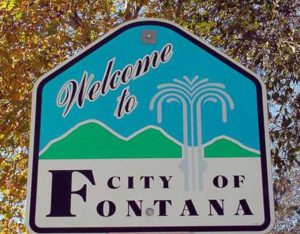 December 16, 1945: in Fontana, California, the home of the Short family erupted in flames, killing Mrs Helen Short and her two children, Barry, 9, and Carol Ann, 7. Mr O'day H. Short survived the explosion The Shorts were the first and only black family living in the neighborhood.

Initially organized as a collection of chicken farms and citrus groves in the early twentieth century, by the early 1940s the small San Bernardino County town of Fontana was transformed into an industrial center with the opening of a wartime steel mill. As the community population grew in numbers and diversity, strict segregation lines emerged: black families moving out of the overcrowded Los Angeles area were relegated to living in the rocky plains of "North Fontana," and working in the dirtiest departments of the mill. Ku Klux Klan activity also surged throughout Southern California during this time period, with white supremacists poised to terrorize black and Chicano veterans of WWII returning with militant ideas of racial equality.

This was reality in fall 1945, when O'day H. Short – a Mississippi native and Los Angeles civil rights activist – purchased a tract of land "in town" with intentions of moving his family to Fontana's white section. As the Shorts built their modest home and prepared to live in it full time, local forces of all kinds tried to stop them. In early December 1945, "vigilantes" visited Mr. Short and ordered him to move or risk harm to his family; he refused and reported the threats to the FBI and local sheriff. Sheriff's deputies did not offer protection and instead reiterated the warning that Short should leave before his family was harmed. Shortly after, members of the Fontana Chamber of Commerce visited the home, encouraging Mr. Short to move to the North Fontana area, and offering to buy his home. He refused.

Just days later, an explosion "of unusual intensity" destroyed the home, killing Mr. Short's wife and children. He survived for two weeks, shielded from the knowledge of the other deaths, but died in January 1946 after the local D.A. bluntly informed him of his family's fate during an investigative interview.

Local officials initially concluded that the fire was an accident, caused by Mr. Short's own lighting of an outdoor lamp. After surviving family members, the black press, and the Los Angeles NAACP protested, a formal inquest was held, at which an independent arson investigator obtained by the NAACP testified that the fire had clearly been intentionally set. Despite this testimony, and evidence of the harassment the Short family had endured in the weeks leading to the fire, local officials again concluded it an accident and closed the case. No criminal investigation was ever opened, no arrests or prosecutions were made, and residential segregation persisted in Fontana for over 25 more years.
Women's Political Council
In 1946, The Women's Political Council formed as a civic organization for African-American professional women in Montgomery, Alabama. It was inspired by the Atlanta Neighborhood Union. Many of its middle-class women were active in education; most of WPC's members were educators at Alabama State College or Montgomery's public schools. About forty women attended the first organizational meeting. Mary Fair Burks, who was head of Alabama State's English department, was the group's first president. (Black History, see Feb 12; Feminism, see July 9, 1947)
Albany Movement


December 16, 1961: New York Times: The Rev. Dr. Martin Luther King Jr., 264 other Negroes and one white youth were arrested today as they marched on City Hall for a prayer demonstration. All were jailed. There was no violence, despite the tension aroused by week-long racial controversy and the breakdown of negotiations between white and Negro leaders aimed at restoring this city of 56,000 persons to normal. (see Albany Movement for the long sad story)
Medgar Evers assassination

December 16, 1992: a divided Mississippi Supreme Court refused to block the trial of Byron De La Beckwith, paving the way for him to be tried for the third time for the 1963 murder of the civil rights leader Medgar Evers. The court voted 4 to 3 to deny Mr. Beckwith's claim that the case should be dismissed without going to trial.(see December 23)
SOUTH AFRICA/APARTHEID
December 16, 1961: Nelson Mandela and other A.N.C. leaders form a military wing called Umkhonto we Sizwe, or Spear of the Nation. Mr. Mandela becomes the first commander in chief of the guerrilla army. He will train to fight, work to obtain weapons for the group, and come to be known as the Black Pimpernel, but he will never see combat. (see August 5, 1962)
Amadou Diallo
December 16, 1999: a NY appellate court ordered a change of venue to Albany, stating that pretrial publicity had made a fair trial in New York City impossible. (see February 25, 2000)
Colin Powell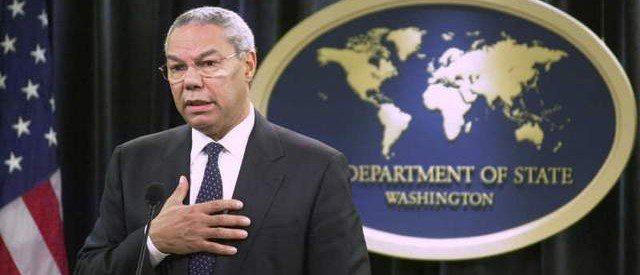 December 16, 2000: President-elect George W. Bush selected Colin Powell to become the first African-American secretary of state.(see January 21, 2001)
Tulsa "Good Friday" Shootings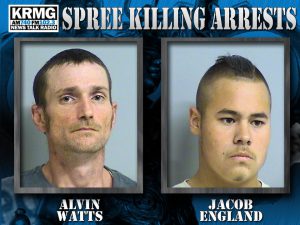 December 16, 2013: On April 6, 2012 Jacob England and Alvin Watts had gone on a shooting spree that left three people dead and terrorized Tulsa's black community. On this date, the two men were each sentenced to life without the possibility of parole. The men were sentenced after pleading guilty to three first-degree murder charges and two shooting with intent to kill charges. England, 19, and Watts, 33, were also sentenced to one year in the county jail for the misdemeanor charge of malicious intimidation, the state of Oklahoma's equivalent of a hate crime offense.

December 16, 2013, Tulsa shootings: Jacob England and Alvin Watts, the two suspects in Tulsa's so-called "Good Friday" murders, were each sentenced to life without the possibility of parole. The men were sentenced after pleading guilty to three first-degree murder charges and two shooting with intent to kill charges. England, 19, and Watts, 33, were also sentenced to one year in the county jail for the misdemeanor charge of malicious intimidation, the state of Oklahoma's equivalent of a hate crime offense.
Emmett Till
December 16, 2016:  President Obama signed the Emmett Till Civil Rights Crimes Reauthorization Act of 2016. The Act allowed the Department of Justice and the FBI to reopen unsolved civil rights crimes.committed before 1980. The legislation is an expansion of a previous bill of a similar name signed into law in 2008. (BH, see January 10, 2017; ET, see January, 23, 2017)
 

Cold War
Korea
December 16, 1950: President Harry S. Truman proclaimed a national state of emergency during the Korean War in response to Chinese intervention.
Survival Under Atomic Attack
In 1951, the US Government released a film, "Survival Under Atomic Attack" (NN, see Jan 27; Red Scare, see March 29, 1951)
LSD
In 1951: the CIA became aware of and began experimenting with LSD. (Red Scare, see March 29)
LSD
Al Hubbard
In 1951: Al Hubbard first tried LSD. Hubbard was an early proponent for the drug during the 1950s. He is reputed to have been the "Johnny Appleseed of LSD" and the first person to emphasize LSD's potential as a visionary or transcendental drug. Hubbard may have introduced more than 6,000 people to LSD, including scientists, politicians, intelligence officials, diplomats, and church figures. Hubbard, then forty-nine years old, eagerly sought out others familiar with hallucinogenic drugs, including Aldous Huxley, the eminent British novelist who for years had been preoccupied with the specter of drug-induced thought control.

"Most people are walking in their sleep," Hubbard said. "Turn them around, start them in the opposite direction and they wouldn't even know the difference. [but]  give them a good dose of LSD and let them see themselves for what they are." 
Charles Savage
In 1952: Charles Savage published the first study on the use of LSD to treat depression.
Dr. Humphry Osmond
In 1953: Dr. Humphry Osmond began treating alcoholics with LSD.
First conferences
In 1955: first conferences focusing on LSD and mescaline took place in Atlantic City and Princeton, N.J.
Aldous Huxley
In 1955, LSD: with Al Hubbard's assistance, novelist Aldous Huxley first took LSD. (see March 14, 1957)
LGBTQ
Overt Homosexuality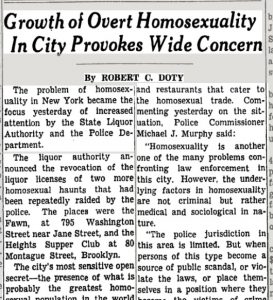 December 16, 1963: the NY State Liquor Authority announced the revocation of the liquor licenses of two NYC bars. In a NY Times article, NYC Police Commissioner said, "Homosexuality is another one of the many problems confronting law enforcement...the underlying factors in homosexuality are not criminal but rather medical and sociological." In the same NYT article, a Dr Irvin Bieber stated, "Public acceptance, [of homosexuality] if based on the concept of homosexuality as an illness, could be useful. If, by a magic wand, one could eliminate overnight all the manifestations of hostility I think there would be a gradual, important reduction in the incidence of homosexuality."  (see May 19, 1964)
Rev Frank Schaefer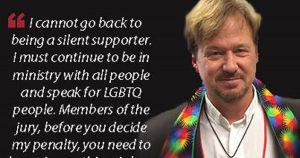 December 16, 2013: Rev. Frank Schaefer, a United Methodist minister who was suspended for officiating at his son's gay marriage, said he would not voluntarily surrender his religious credentials even though he cannot uphold his church's doctrines on issues relating to same-sex marriage.

Schaefer was convicted of violating church doctrine by performing a same-sex marriage when he officiated at his son's nuptials in 2007 in Massachusetts. On Nov. 19, he was suspended for 30 days and asked to agree to abide by church doctrine, as outlined in the Methodist Book of Discipline, or to surrender his ministerial credentials. (see Dec 19)
Vietnam & STUDENT ACTIVISM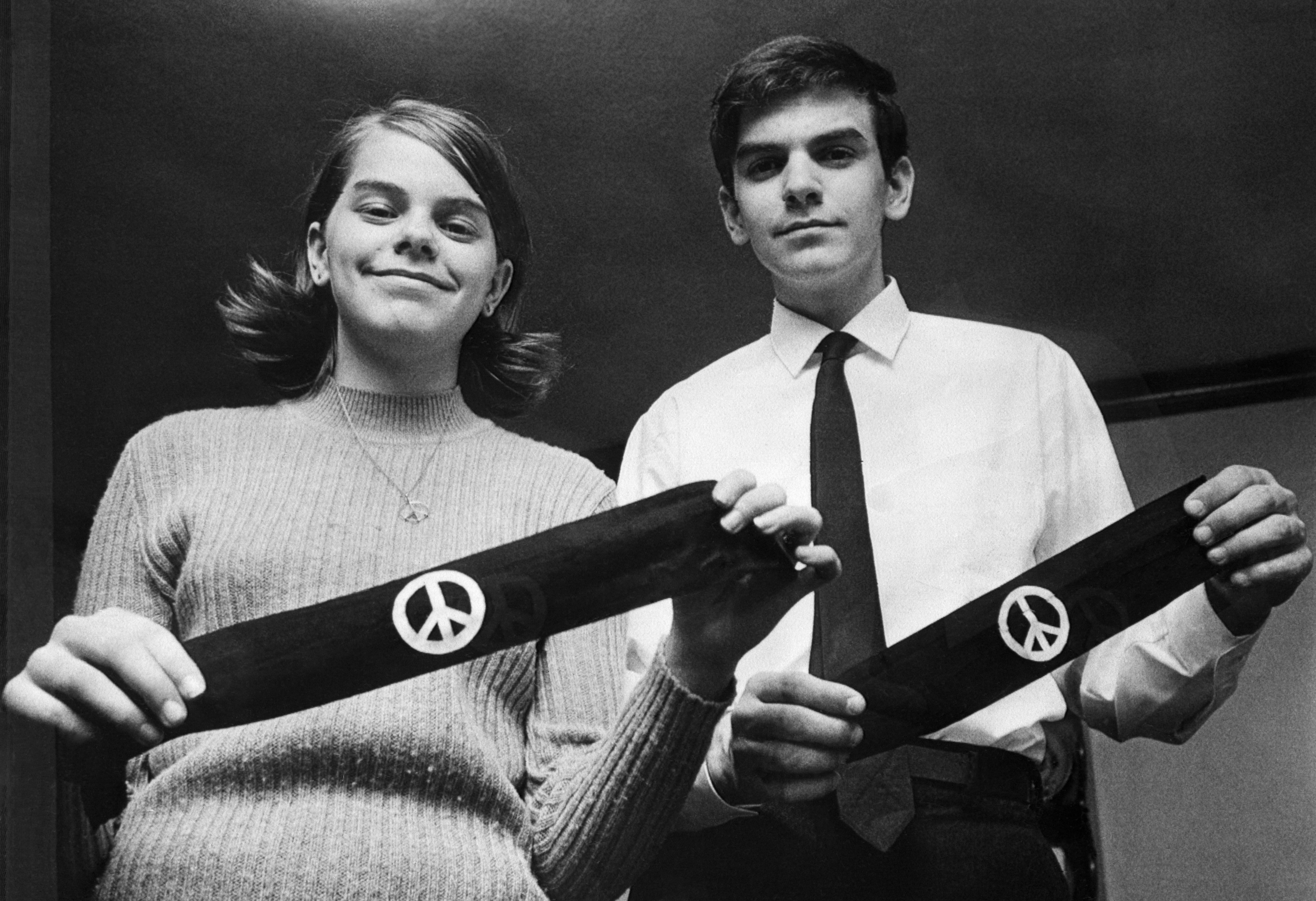 December 16, 1965: in Des Moines, Iowa  John F. Tinker (15), John's younger sister Mary Beth Tinker (13), and their friend Christopher Eckhardt (16) decided to wear black armbands to their schools (high school for John and Christopher, junior high for Mary Beth) in protest of the Vietnam War and supporting the Robert Kennedy's proposed extension of the Viet Cong's proposed Christmas Eve truce.  Two days earlier, the principals of the Des Moines schools adopted a policy that banned the wearing of armbands to school. Any student violating the policy would be suspended and allowed to return to school only after agreeing to comply with the policy. Mary Beth Tinker and Christopher Eckhardt chose to violate this policy, and the next day John Tinker also did so. Both were suspended from school until after January 1, 1966, when their protest had been scheduled to end. (for more, see Tinker v Des Moines). (Student Activism, see February 27, 1969; Tinker, see February 24, 1969; Vietnam, see Dec 18)
December 16 Music et al
The Beatles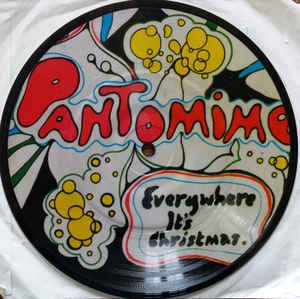 December 16, 1966: release of Beatles Fourth Christmas Record -- Pantomime: Everywhere It's Christmas to fan club members.(see Dec 18)
John & Yoko

December 16, 1969: John Lennon and Yoko Ono put up eleven billboards in major cities worldwide with the slogan: War Is Over! (Lennon, see Dec 19; Vietnam see Feb 18) 
INDEPENDENCE

 DAY
December 16, 1971, Bangladesh war of independence ends in victory. (NYT article)
December 16, 1991: Kazakhstan declared its independence from the Soviet Union.(USSR, see Dec 24; ID, see March 1, 1992)
Sara Jane Moore
December 16, 1975,  a federal court accepted Sara Jane Moore's plea of guilty of attempting to assassinate President Ford. (see January 15, 1976)
TERRORISM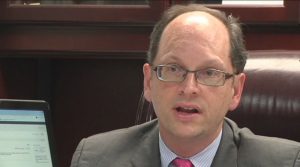 December 16, 1989: a powerful explosion killed Federal Judge Robert Vance after he opened a mail bomb in his house near Birmingham, Alabama. His wife, Helen, was seriously injured.
The federal government charged Walter Leroy Moody, Jr., with the murders of Judge Vance and of Robert E. Robinson, a black civil-rights attorney in Savannah, Georgia, who had been killed in a separate explosion at his office on December 18. Moody was also charged with mailing bombs that were defused at the Eleventh Circuit's headquarters in Atlanta and at the Jacksonville office of the NAACP.
---
Moody was sentenced to seven federal life terms. (see Dec 18)
IRAQ
Weapon discovery
December 16, 1995, IRAQ: Iraqi scuba divers, under the direction of the United Nations Special Commission, dredge the Tigris near Baghdad. The divers find over 200 prohibited Russian-made missile instruments and components. (see August 31, 1996)
U.S. and British forces attack Iraq v Clinton Impeachment
December 16, 1998: in a coordinated strike, U.S. and British forces attack Iraq in retaliation for its failure to cooperate with U.N. weapons inspectors. Because of the military action, House Republican leaders delay a planned impeachment debate and vote set to begin Thursday, December 17. (see Clinton Impeachment: Iraq, see October 2, 2002)
Sexual Abuse of Children
December 16, 2006:  the Archdiocese of Los Angeles agreed to pay $60m to settle to 45 cases of alleged sexual abuse by priests.(see January 4, 2007)
December 16 Peace Love Activism
STAND YOUR GROUND LAW
December 16, 2012: Tampa, FL. Michael Jock was waiting in line at a Little Caesars when another customer, Randall White, complained about the slow service. The men exchanged words, which turned into a shoving match. Jock pulled out a revolver and fired it at White, striking him in the torso. The two struggled and White was shot a second time. Jock claimed the action was justified under Florida's "stand your ground" law. However, according to the Tampa Bay Times, police determined that the incident "did not reach a level where deadly force was required." The officers charged Jock with aggravated battery with a weapon and shooting within a building. He was later released on $20,000 bail. (see January 3, 2013)
Stop and Frisk Policy
December 16, 2013: the Civilian Complaint Review Board went after officer Roman Goris after an alleged wrongful stop and frisk in 2011. The NYPD disciplinary trial of marked the first time the NYPD's independent watchdog prosecuted an officer for a stop and frisk violation itself. (see Dec 19)
Marijuana
December 16, 2014:  drug Policy Alliance lobbyist Bill Piper told the Los Angeles Times "the war on medical marijuana is over" after President Obama signed the $1.1 trillion "Cromnibus" bill  with a small provision tucked away inside that prohibited the federal government from interfering with states that legalized it. (see Dec 18)
December 16 Peace Love Activism, December 16 Peace Love Activism, December 16 Peace Love Activism, December 16 Peace Love Activism, December 16 Peace Love Activism, December 16 Peace Love Activism, December 16 Peace Love Activism, December 16 Peace Love Activism, December 16 Peace Love Activism, December 16 Peace Love Activism, December 16 Peace Love Activism, December 16 Peace Love Activism, December 16 Peace Love Activism, 
Please follow and like us: