Izola Curry Stabs Martin Luther King Jr
September 20, 1958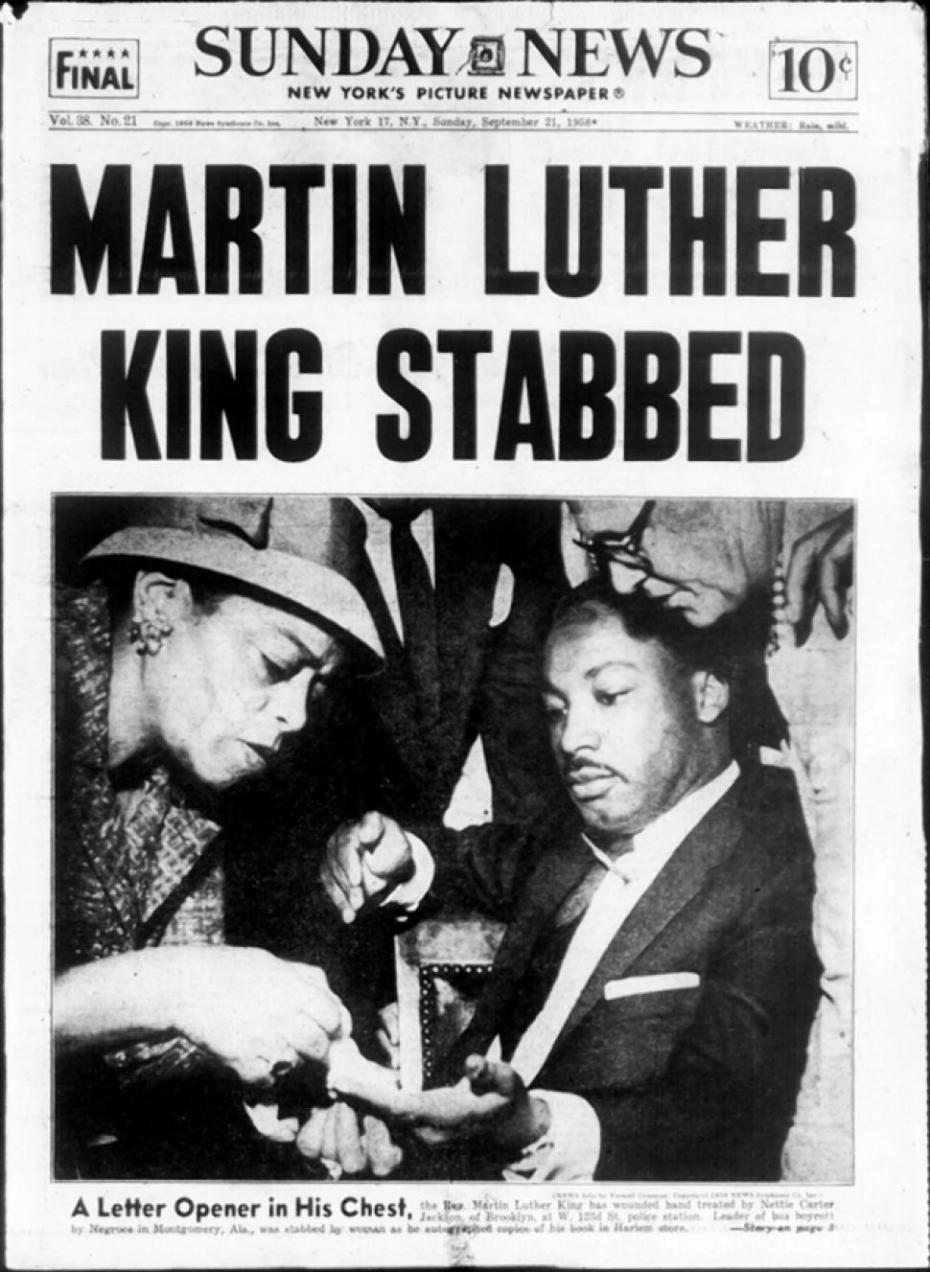 Martin Luther King, Jr
Boomers remember the day that James Earl Ray assassinated Martin Luther King, Jr 1968 had begun with the disillusioning Tet Offensive and June 5 brought Sirhan Sirhan's assassination of Robert Kennedy on the night RFK mostly wrapped up the Democratic nomination for president.

When Ray assassinated King, it didn't bring surprise or shock so much as worry and wonder. When would the violence end? 
1958 book signing
Martin Luther King, Jr was in New York City signing copies of his recently published book, Stride Toward Freedom: The Montgomery Story in Blumstein's department store. Izola Ware Curry was on line with others who were waiting for King to sign a copy of the book. 

Izola Ware Curry was a woman with mental illness. The illness prevented her from holding a job. She moved regularly in hopes of finding a permanent job and living in a permanent location.
Izola Curry Stabs Martin Luther King Jr
When she came up to King she asked him if he was Martin Luther King, Jr. When King replied yes, she said, "I've been looking for you for five years," then stabbed him in the chest with a steel letter opener.

NYPD officers Al Howard and Phil Romano responded. Very luckily for King, Howard told him, "Don't sneeze, don't even speak." At the Harlem Hospital, chief of thoracic and vascular surgery John W. V. Cordice, Jr., and trauma surgeon Emil Naclerio [who had been attending a wedding and arrived still in a tuxedo] were the first to treat King. They  inserted a rib spreader, making King's aorta visible. 

Chief of Surgery Aubre de Lambert Maynard then entered and attempted to pull out the letter opener, but cut his glove on the blade; a surgical clamp was finally used to remove it.

While it may seem that a letter opener is not necessarily a very dangerous weapon, had Curry's thrust gone any deeper it would have hit King's aorta and likely killed him.
Aftermath
When King later spoke of the incident, he sometimes told about how many letter of encouragement he'd received. Even from President Eisenhower and Vice President Richard Nixon. But he typically spoke about a letter that a high school student from White Plains, NY sent: 
Dear Dr. King,
I am a ninth-grade student at the White Plains High School. While it should not matter, I would like to mention that I'm a white girl. I read in the paper of your misfortune, and of your suffering. And I read that if you had sneezed, you would have died. And I'm simply writing you to say that I'm so happy that you didn't sneeze.
With gallows humor, King always closed the telling by saying, "And I'm glad I didn't sneeze, too." He  referred to the letter the day before Ray assassinated him.
Izola Curry
A grand jury indicted Isola Curry, but psychiatrists found her too ill to be responsible for her actions. She first went to Matteawan State Hospital for the Criminally Insane, near Poughkeepsie, N.Y. She remained there for some 14 years. She was later institutionalized for about a year at the Manhattan Psychiatric Center on Wards Island, in the East River. She lived in a series of residential-care homes before entering a nursing home in Queens, NY.

She died there on March 7, 2015 with no known relatives. (NYT obit)
PDF NYT article: MLK stabbed
Izola Curry Stabs Martin Luther King Jr, Izola Curry Stabs Martin Luther King Jr, Izola Curry Stabs Martin Luther King Jr, Izola Curry Stabs Martin Luther King Jr, Izola Curry Stabs Martin Luther King Jr, Izola Curry Stabs Martin Luther King Jr, 
Please follow and like us: