November 4 Peace Love Activism
DEATH PENALTY
SEPARATION OF CHURCH AND STATE

November 4, 1646:  the Massachusetts General Court approved a law requiring all members of the colony to recognize the Bible as the Word of God, under penalty of death. (DP, see May 27, 1647; Separation, see April 21, 1649)
Rose Bird defeated
November 4, 1986: California Chief Justice Rose Bird and two other 'liberal' members of the state supreme court were ousted in a retention election. The election followed a bitter campaign that centered on the three justices' records in death penalty cases.  (see November 1987)
BLACK HISTORY
Benjamin Ryan Tillman
November 4, 1890: Benjamin Ryan Tillman was elected governor of South Carolina. An outspoken white supremacist, Tillman advocated for violence against African American voters and staunchly opposed educational access for black people.

Tillman's political career catapulted to success after his involvement in the 1876 Hamburg Massacre, where white men rioted and killed nine people in a predominantly African American town in South Carolina. In his gubernatorial campaign, Tillman promised to keep the state's African American population in a position of permanent inferiority. In his inaugural address and throughout his administration, he emphasized white supremacy and the necessity to revoke African Americans' rights. Concerning the education of African Americans, Tillman argued, "when you educate a Negro, you educate a candidate for the penitentiary or spoil a good field hand."

He served two terms as governor and played a critical role in the 1895 South Carolina Constitutional Convention. In order to vote under the revised constitution, a man had to own property, pay a poll tax, pass a literacy test, and meet certain educational standards. The 1895 constitution disenfranchised African American voters and served as a model for other southern states.


Tillman was elected United States Senator for South Carolina in 1895, and he served in this capacity for twenty-four years. Throughout his tenure, he opposed African American equality, women's suffrage, and any federal interference in state government. Tillman's philosophy helped shape the era of oppression and abuse of African Americans throughout the South. A statue honoring Tillman still stands on the grounds of South Carolina's State Capitol and as with many statues today, there are many who feel that such recognition is undeserved. (Charleston City Paper article) (see September 1, 1891)
National Equal Rights League

November 4, 1922: the National Equal Rights League presented a petition signed by thousands of people from fifteen States calling for Congress to consider the Dyer Anti-Lynching bill. (see Nov 28) 

Statue of Liberty plot
November 4, 1965: Federal Judge William Herlands sentenced Robert Collier to 5 years in prison; Walter Bowe received a three-year sentence; and Khaleel Sayyed received an 18-month sentence for their conspiracy to blow up the Statue of Liberty on June 14, 1965.  (BH, see Nov 8; Terrorism, see September 5 – 6, 1972)
George Whitmore, Jr
November 4, 1988: Richard Robles, who had served 24 years in the famous ''career girls'' murder case, was denied parole for a second time. Mr. Robles, 45 years old, was given a life sentence for the killing of Janice Wylie, a Newsweek researcher, and Emily Hoffert, an elementary-school teacher, in an East Side apartment on Aug 28, 1963. ( see Whitmore for full story)
Autherine Lucy Foster
In 1989: Autherine Lucy Foster again enrolled at the University of Alabama. Her daughter Grazia also was a student at the time. (BH, see Feb 10; U of A, see May 9, 1992)
Barak Obama
November 4, 2008:  Barak Obama elected President. First Black American elected President of the US. (click for transcript of Obama's victory speech >>> Victory speech) (see Nov 5)
Murders of Three Civil Rights Workers
November 4, 2013: the U.S. Supreme Court rejected an appeal from Edgar Ray Killen, convicted of manslaughter in 2005 for the 1964 slayings of three civil rights workers in what became known as the "Mississippi Burning" case. The decision means the justices won't review lower-court rulings that found no violations of Killen's constitutional rights during his trial in Mississippi. (see January 4, 2014)
November 4 Music et al
Bob Dylan/Carnegie Chapter Hall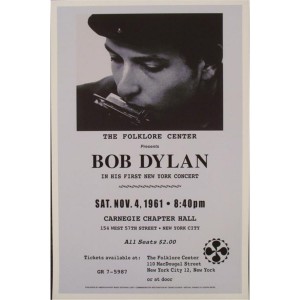 November 4, 1961: Dylan played a concert at Carnegie Chapter Hall, a smaller room than the famous bigger room. There are varying reports on how many people attended the concert. The number ranges between 47 and 53, pretty much all friends and family.


Suze Rotolo
In mid-December 1961,: shortly after recording his first album for Columbia, Dylan moved into his first rented apartment in the middle of West Fourth Street, a tiny, scruffy place above Bruno's Spaghetti Shop, and persuaded his girlfriend, Suze Rotolo, to move in with him. (see January 1962)
The Beatles/Royal Variety Show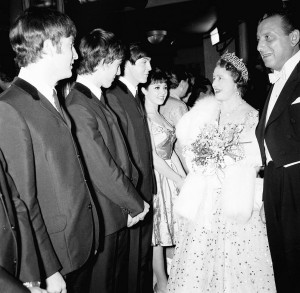 November 4, 1963: The Beatles performed their legendary Royal Command Performance at the Prince of Wales Theatre, London, before the Queen Mother and Princess Margaret. Technically The Beatles were 7th on a 19-act bill, but there was no doubt that they were, in fact, the main attraction. The Beatles called upon their masterful showmanship to put on a stunning four-song performance. They began playing their first song, "From Me to You", before the curtain opened. John and Paul, at the end of the first song, moved their microphones nearer to the audience. After playing their second song, "She Loves You", The Beatles bowed to the audience. A nervous Paul cracked a joke about Sophie Tucker being The Beatles' favorite American group, then they performed "Till There Was You". At the end of that song, Paul and John moved their microphone stands back to their original position. After waiting for the applause to die down, John introduced "Twist and Shout", requesting that persons in the cheaper seats join in by clapping their hands, while everyone else should just "rattle your jewelry". At the end of "Twist and Shout", Ringo came down from his drum kit and joined the others; as the curtain closed behind them, they bowed to the audience, then they bowed to the royal box, and then they ran off the stage to thunderous applause.

The show was taped for later broadcast on both television and radio. Their entire performance was broadcast on television, by ATV, on November 10. BBC radio broadcast all but "She Loves You", also on November 10. The Beatles were a sensation all across Britain, the Royal Command Performance being a huge triumph for them. The Beatles were the entertainment kings in the UK; soon they would be ready to tackle America and the rest of the world. Three of the performances ("She Loves You", "Till There Was You", and "Twist and Shout") are included on "The Beatles Anthology 1" (Disc 2, Tracks 1-3).(see Nov 11 - 12)
FREE SPEECH
November 4, 1964:  NYC police arrested comedian Lenny Bruce  for obscenity. He was arrested many times in his career on charges of obscenity (October 4, 1961). His style of humor, radical for its time, savagely attacked American hypocrisy on sex, religion and race. Many believe that his arrests were provoked more by his attacks on the Catholic Church than for the dirty words in his routines. (see Dec 2)
November 4 Peace Love Activism
Iran hostage crisis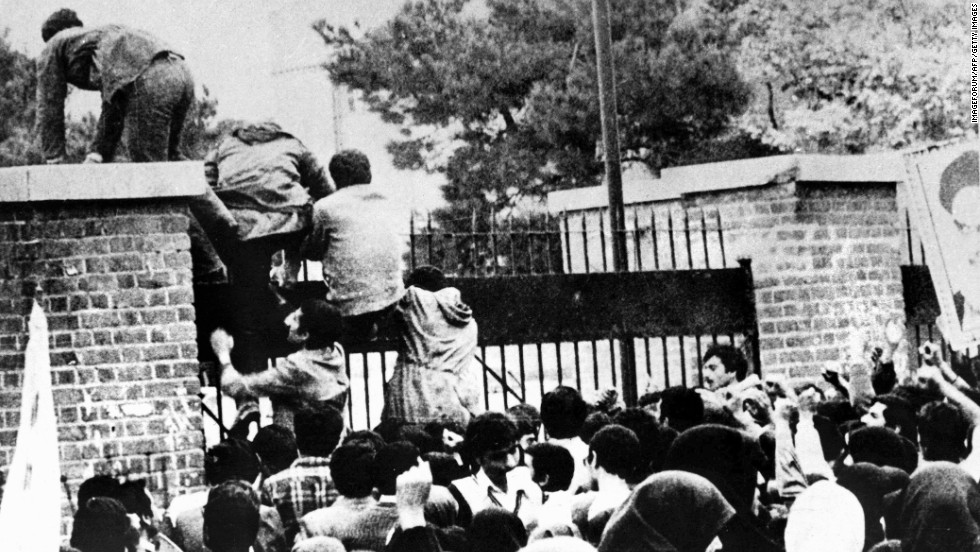 November 4, 1979, : Iran hostage crisis begins: 3,000 Iranian radicals, mostly students, invade the U.S. Embassy in Tehran and take 90 hostages (53 of whom are American). They demand that the United States send the former Shah of Iran back to stand trial. (click >>> NYT article re Students invade embassy) (see Nov 12)
USS Cole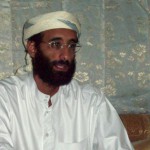 November 4, 2002: Qaed Salim Sinan al-Harethi, a suspected al-Qaeda operative, who was believed to have planned the Cole attack, was killed by the CIA using an AGM-114 Hellfire missile launched from an MQ-1 Predator drone. (NYT article) (see Nov 25)
Ronald Reagan elected President

November 4, 1980: Ronald Reagan defeated incumbent President Jimmy Carter, exactly 1 year after the beginning of the Iran hostage crisis. (click >>> "After the celebrations over Ronald Reagan's spectacular victory, come the hangovers.")
Jack Kevorkian
November 4, 1996: Kevorkian's lawyer announced a previously unreported assisted suicide of a 54-year-old woman. This brings the total number of his assisted suicides, since 1990, to 46. (see June 12, 1997)
Gay marriage


November 4, 2008: California voters approved a ban on same-sex marriage called Proposition 8. The attorney general of California, Jerry Brown, asked the state's Supreme Court to review the constitutionality of Proposition 8. The ban threw into question the validity of the more than 18,000 marriages already performed, but Attorney General Brown reiterated in a news release that he believed the same-sex marriages performed in California before November 4 should remain valid and the California Supreme Court, which upheld the ban in May 2009, agreed, allowing those couples married under the old law to remain that way; also, voters in Arizona, and Florida approved the passage of measures that ban same-sex marriage. Arkansas passed a measure intended to bar gay men and lesbians from adopting children. (click for article re day before California vote >>> Rush to marry) (see Nov 12)

Marijuana
Michigan
November 4, 2013: "Sixty-three percent of Michigan voters approved Proposal 1 (the law took effect on December 4, 2008). It removed state-level criminal penalties on the use, possession and cultivation of marijuana by patients who possess written documentation from their physicians authorizing the medical use of marijuana." (see February 25, 2009)

November 4, 2014
Oregon voters approved Measure 91, a proposal which would legalize the possession of up to eight ounces of cannabis, a limit that was eight times higher than that of Washington and Colorado. The initiative would also allow everyone 21 and older to cultivate up to four plants, and purchase cannabis from state-licensed outlets, which would open by 2016.
In Alaska, Ballot Measure 2 was approved with 52% of the vote. This initiative legalized the possession of up to an ounce of cannabis, as well as the private cultivation of up to six plants. The proposal also allowed for cannabis retail outlets. (see February 24, 2015)
In Washington D.C voters approved Initiative 71. Once it takes effect – after a 30-day congressional review period – the proposal would legalize the possession of up to two ounces of cannabis for those 21 and older, in addition to allowing for the private cultivation of up to six plants. Although the initiative did not allow for cannabis retail outlets, the district's Council was considering legislation to change that.
In California, voters approved Proposition 47, a proposal which removed felony charges for numerous nonviolent crimes such as drug possession and petty theft. The initiative, which would free up prison space and save the state hundreds of millions of dollars annually, was approved with 57% of the vote.
In Florida, Amendment 2 (legalization of medical cannabis ) was defeated, failing to garner the 60% required to be passed into law.
In Michigan, voters gave approval to cannabis decriminalization initiatives in the cities of Saginaw, Huntington Woods, Pleasant Ridge, Port Huron, Mount Pleasant and Berkley. These initiatives removed criminal penalties within the city for the possession, use and transfer of up to an ounce of cannabis. Similar initiatives were voted down in Clare, Frankford, Harrison, Lapeer and Onaway counties.
In Maine, voters in South Portland passed an initiative to legalize up to an ounce of cannabis, joining Portland which approved a similar initiative last year. A legalization initiative was rejected in Lewiston (see Dec 13)
Women's Health
November 4, 2013:  the US Supreme Court left intact a state court decision invalidating an Oklahoma law that effectively banned the so-called abortion pill RU-486. (see Nov 26)
November 4 Peace Love Activism, November 4 Peace Love Activism, November 4 Peace Love Activism, November 4 Peace Love Activism, November 4 Peace Love Activism, November 4 Peace Love Activism, November 4 Peace Love Activism, November 4 Peace Love Activism, November 4 Peace Love Activism, November 4 Peace Love Activism, November 4 Peace Love Activism, November 4 Peace Love Activism, November 4 Peace Love Activism, November 4 Peace Love Activism, 
Please follow and like us: