October 10 Peace Love Activism
BLACK HISTORY
Slave Celia
October 10, 1855: an investigation into Robert Newsom's disappearance led authorities to question Celia until she admitted to the act. Missouri law at the time allowed a woman who believed she was in "imminent danger of forced sexual intercourse" to be acquitted on a self-defense theory. However, the judge in Celia's case did not give such an instruction to the jury because, in his view, she was a slave with no right to refuse her "master."

The jury convicted Celia of first degree murder on October 10, 1855. (see Slave Celia for full story; BH, see "In May" 1856)
Octavius Catto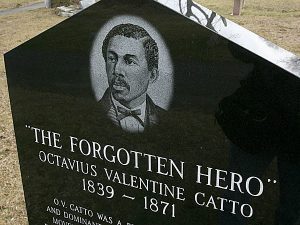 October 10, 1871: Frank Kelly assassinated Octavius Catto, a 32-year-old educator and civil rights activist, during an election day uprising in Philadelphia. Kelly, was never tried for murder. Catto's headstone remembers him as "the forgotten hero." (see Oct 12)
Autherine Lucy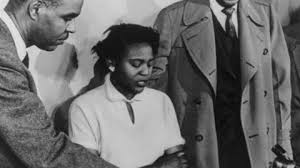 October 10, 1955: in Lucy et al v ADAMS, Dean of Admissions, University of Alabama, the Supreme Court upheld the lower court's decision to admit Autherine Lucy and Pollie Ann Meyers. Chief Justice Earl Warren wrote for the majority, The injunction which the District Court issued in this case, but suspended pending appeal to the Court of Appeals, is reinstated to the extent that it enjoins and restrains the respondent and others designated from denying these petitioners, solely on account of their race or color, the right to enroll in the University of Alabama and pursue courses of study there. The motion is denied. (BH, see Oct 19; U of A, see Feb 2, 1956)
Lurleen B. Wallace Award
October 10, 1996: former Alabama Governor Wallace presented the Lurleen B. Wallace Award for Courage, named for his late wife, to Autherine Lucy. He told her that he made a mistake 33 years earlier and that he admired her. They discussed forgiveness.(CNN story) (BH, see May 16, 1997; U of A, see May 19, 1997)
Komla Agbeli Gbedemah
October 10, 1957: in the conclusion to an extremely embarrassing situation, President Dwight D. Eisenhower offered his apologies to Ghanian Finance Minister, Komla Agbeli Gbedemah, who had been refused service at a restaurant in Dover, Delaware. It was one of the first of many such incidents in which African diplomats were confronted with racial segregation in the United States.  (NYT article) (see Feb 20)
MARTIN LUTHER KING
October 10, 1963: at the request of FBI Director J. Edgar Hoover, U.S. Attorney General Robert Kennedy authorized the FBI to wiretap the telephones of Martin Luther King Jr. Hoover hoped to prove King was under the influence of the Communist Party but failed. (BH, see Oct 11; MLK, see Oct 15)
Duluth, MN lynching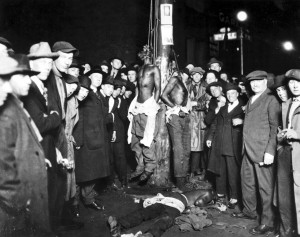 October 10, 2003: the June 15, 1920 Duluth, MN lynching was commemorated by dedicating a plaza including three seven-foot-tall bronze statues to the three men who were killed. The statues were part of a memorial across the street from the site of the lynchings. The Clayton Jackson McGhie Memorial was designed and sculpted by Carla J. Stetson, in collaboration with editor and writer Anthony Peyton-Porter.
At the memorial's opening, thousands of citizens from Duluth and surrounding communities gathered for a ceremony. The final speaker at the ceremony was Warren Read, the great-grandson of one of the most prominent leaders of the lynch mob:

"It was a long held family secret, and its deeply buried shame was brought to the surface and unraveled. We will never know the destinies and legacies these men would have chosen for themselves if they had been allowed to make that choice. But I know this: their existence, however brief and cruelly interrupted, is forever woven into the fabric of my own life. My son will continue to be raised in an environment of tolerance, understanding and humility, now with even more pertinence than before." (see April 22, 2004)
Medgar Evers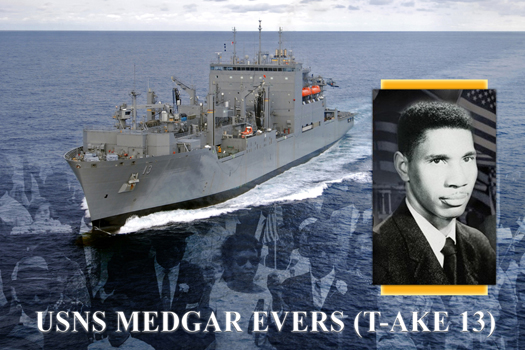 October 10, 2009: Myrlie Evers-Williams, the widow of the slain civil rights pioneer Medgar Evers, heard Navy Secretary Ray Mabus, a former Mississippi governor, announce that he was naming a new Navy supply ship for her husband. She said: "I think of those who will serve on this ship and those who will see it in different parts of the world. And perhaps they, too, will come to know who Medgar Evers was and what he stood for." (see Oct 28)
BLACK & SHOT
October 10, 2017: according to their lawyer, Officers Garrett E. Miller and Edward M. Nero, the two police officers involved in the fatal arrest of Freddie Gray (see April 19, 2015) agreed to face modest internal discipline, bringing an end to the proceedings against them two and a half years after Gray's death in police custody prompted violent protests in Baltimore and fueled a national debate over the way the police treat minorities.

According to Michael Davey, a lawyer for their police union, Miller and Nero agreed to face "minor disciplinary action. Davey did not specify their punishment nor the allegations they faced. He said the move ensures they can "continue their careers with the Baltimore Police Department."
October 19 Music et al
Sonny Rollins
In 1958: Sonny Rollins released Freedom Suite in, although his record company changed the name to Shadow Waltz. In its liner notes, Rollins wrote, "How ironic that the Negro, who more than any other people can claim America's culture as his own, is being persecuted and repressed." (see Feb 20)
 
Larry Verne
October 10 – 16, 1960: "Mr. Custer" by Larry Verne #1 Billboard Hot 100.
October 10, 1966, Teenage Culture: the Monkees released  their first album, The Monkees. (see Nov 12)
October 10 Peace Love Activism
INDEPENDENCE DAY
October 10, 1970: Fiji independent of the United Kingdom (see March 26, 1971)
LGTBQ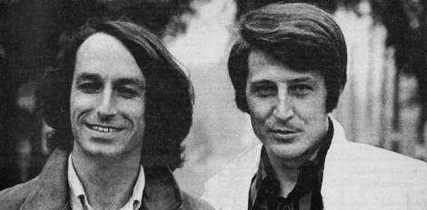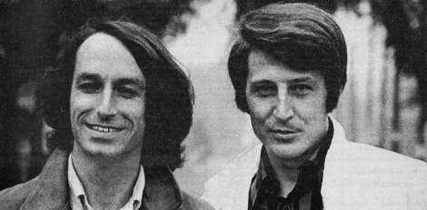 October 10, 1972: The U.S. Supreme Court dismissed Baker v. Nelson, one of three cases brought by same-sex couples. challenging the denial of marriage. A Minnesota couple, Richard Baker and James Michael McConnell, were denied a marriage license by the Hennepin County District Court's clerk on May 18, 1970. Their initial trial court dismissed their claim and affirmed that the clerk could refuse gay couples a marriage license. (NYT article) (see January 1, 1973) 
Kerrigan v. Commissioner of Public Health
October 10, 2008, LGBTQ: The Connecticut Supreme Court ruled in Kerrigan v. Commissioner of Public Health, a case brought by Gay & Lesbian Advocates & Defenders, that same-sex couples were entitled to the freedom to marry. The law retroactively takes effect on October 1, allowing all couples the freedom to marry and converting existing civil unions between same-sex couples in the state into marriages.  (see Nov 4)
Idaho
October 10, 2014: the Supreme Court allowed same-sex marriages to proceed in Idaho, lifting a temporary stay issued two days earlier by Justice Anthony M. Kennedy. (LGBTQ, see Oct 12; Nevada LGBTQ, see January 9, 2015)
Watergate Scandal
October 10, 1972: the Washington Post reported that FBI agents had established that the Watergate break-in stemmed from a massive campaign of political spying and sabotage conducted on behalf of the Nixon reelection effort. (see Nov 7)
VP Agnew Scandal
October 10, 1973: Spiro Agnew resigned the vice presidency and appeared in US District Court in Baltimore on the same day to plead nolo contendere to a single federal count of failing to report on his income-tax return $29,500 in income. (NYT article) (see Dec 6)
WAR POWERS ACT
October 10, 1973: Senate approved joint conference committee's resolution 75 – 20. (see Oct 12)
Sexual Abuse of Children
Sinead O'Connor
October 10, 1992: Sinead O'Connor appeared on Saturday Night Live as a musical guest. She sang an a cappella version of Bob Marley's "War", which she intended as a protest over the sexual abuse in the Roman Catholic Church, by changing the lyric "racism" to "child abuse." She then presented a photo of Pope John Paul II to the camera while singing the word "evil", after which she tore the photo into pieces, said "Fight the real enemy", and threw the pieces towards the camera.  (NYT article) (see "In November")
Jason Berry
In 1992: Jason Berry's Lead Us Not Into Temptation: Catholic Priests and the Sexual Abuse of Children published. In Rev. Andrew M. Greeley's foreword, he describes its content as revealing "what may be the greatest scandal in the history of religion in America and perhaps the most serious crisis Catholicism has faced since the Reformation" (see "In July")
Native Americans
October 10, 2013: in an emotional statement Dusten Brown, Baby Veronica's biological father, said he and the Cherokee Nation were dropping the legal fight to regain custody of the 4-year-old girl.

 "I know we did everything in our power to keep Veronica home with her family," Brown said in Oklahoma. "Veronica is only 4 years old, but her entire life has been lived in front of the media and the entire world. I cannot bear for [it to continue] any longer.... I love her too much to continue to have her in the spotlight. It is not fair for her to be in front of media at all times," he said. "It was the love for my daughter that finally gave me the strength to accept things that are beyond my control." (see Nov 21)
October 10 Peace Love Activism, October 10 Peace Love Activism, October 10 Peace Love Activism, October 10 Peace Love Activism, October 10 Peace Love Activism, October 10 Peace Love Activism, October 10 Peace Love Activism, October 10 Peace Love Activism, 
Please follow and like us: