Thirty-nine 1969 Festivals
While the 

Woodstock Music and Art Fair

 is the most famous of music festivals, few realize that it was just one of dozens during the summer of 1969 and that many of the same Woodstock artists performed at those others. 

Here are the ones I've found. I've done a separate blog entries for most of these and if so the festival title is a link)
Forty-one 1969 Festivals
April 1 & 3, 1969
Palm Springs Pop Festival
Palm Springs, CA
Palm Springs Drive-In Theatre
MC, KMET's B Mitchell Reed
Jeff Beck (billed but didn't appear)
Moby Grape (billed but didn't appear)
Procol Harum (replacement for above)
Flying Burrito Brothers (replacement for above)
Gram Pasons
Timothy Leary
John Mayall
Paul Butterfield Blues Band
Lee Michaels
Hard Luck Boy
and
Palm Springs Angel Baseball Stadium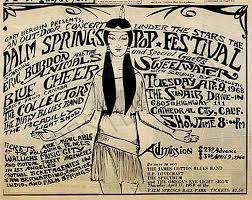 Ike and Tina Turner Revue
Savoy Brown
Buddy Miles Express
Canned Heat
April 20, 1969
LA Free Press Festival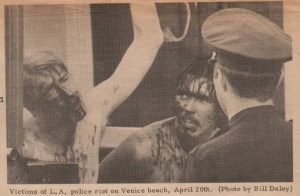 Venice, California
The line-up was likely Spirit, Nitty Gritty Dirt Band, and Taj Mahal, interspersed with anti-war speeches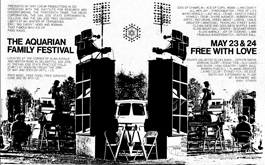 Performers (likely): The Ace of Cups, All Men Joy, Birth, Beggars Opera, Big Brother and the Holding Company, Boz Scaggs, Chocolate Watchband, Crabs, Crow, Cleanliness and Godliness Skiffle Band, Devine Madness, Denver, The Doobie Brothers, Elgin Marble, Flamin' Groovies, Frumious Bandersnatch, Gentle Dance, Greater Carmichael Traveling Street Band, Glass, Mountain, High Country, Jefferson Airplane, Joy of Cooking, Last Mile, Libras, Lamb, Living Color, Linn County, Mother Ball, Morning Glory, Mad River, Mt. Rushmore, Nymbus, Old Davis, Quicksilver Messenger Service, Red Grass, Green Smoke, Rubber Maze,Rising Tide, Rejoice, Sunrise, Sable, Sons of Champlin, Sounds Unlimited Blues Band, Sandy Bull, The Steve Miller Blues Band, Strawberry Alarm Clock, Stoned Fox, South Bay Experimental Flash, Throckmorton, Tree of Life, Weird Herald, Womb, Warren Purcell, and Zephyr Grove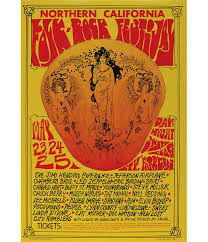 The poster for was created by rock artist Linda Segul.
Jimi Hendrix Experience
Jefferson Airplane
The Chambers Brothers
Led Zeppelin
Eric Burdon
Spirit
Canned Heat
Buffy Sainte-Marie
The Youngbloods
Steve Miller
Chuck Berry
Muddy Waters
Taj Mahal

Lee Michaels
Blues Image
Santana
Aum
Elvin Bishop
Poco
People!
Lynn County
Loading Zone
Sweet Linda Divine
Cat Mother & the All Night Newsboys
Doc Watson & New Lost City Ramblers
Noel Redding
May 23 – 25, 1969


Big Rock Pow Wow


Seminole Indian Village, Hollywood, FL

Performers: Grateful Dead, Joe South, NRBQ, The Nervous System, Jane and the Electric Jive Wire, Rhinoceros, Muddy Waters, Sun Country, Sweetwater, Johnny Winter, Youngbloods, The Echo, and Aum.

MC5
Chuck Berry
Sun Ra
Dr John the Night Tripper
Johnny Winter
Psychedelic Stooges
Terry Reid
Amboy Dukes
SRC
Frost
Rationals
Teegarden & Van Winkle
Nyman Woodward

Wilson Mower Pursuit
3rd Power
NY Rock & Roll Ensemble
David Peel
Lower East Side
Red, White, & Blues
Sky-Train
Savage Grace
James Gang
Caste
Gold Bros
Dutch Elm
Up
June July 1969
Mississippi River Festival
Southern Illinois University
Edwardsville, IL
June 6 – 8, 1969
The Fourth Annual Memphis Country Blues Festival
and the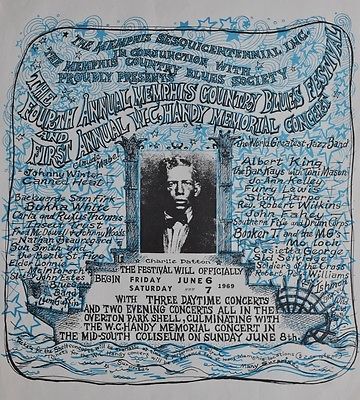 The poster reads:  The Memphis Sesquicentennial Inc. in conjunction with The Memphis Country Blues Society proudly presents The Fourth Annual Memphis Country Blues Festival and First Annual W.C. Handy Memorial Concert

The Festival will officially begin Friday June 6 and Saturday June 7, 1969 with three daytime concerts and two evening concerts all in the Overton Park Shell, culminating with the W.C. Handy Memorial Concert in the Mid-South Coliseum on Sunday June 8th.

Tickets for the Shell concerts will be available at time of performance only . Tickets for the W.C. Handy concert will be on advance sale at many Memphis locations ($2.50 to $5.00)



Claude Mabel (artist?)



Johnny Winter, Canned Heat, Backwards Sam Firk,Bukka White,Carla and Rufus Thomas, Insect Trust, Fred McDowell & Johnny Woods, Nathan Beauregard Sun Smith and the Beale Street Five, Elder Lonnie McIntorsch, Sleepy John Estes  Blues Band, Lum Guffin, The World Greatest Jazz Band, Albert King, The Bar-Kays with Toni Mason, Jo-Ann Kelley, Furry Lewis, Slim Harpo, Rev. Robert Wilkins, John Fahey, Southern Fife and Drum Corps, Booker T. and the MGs, Moloch, Casietta George, Sid Selvidge, Soldiers of the Cross, Robert Pete Williams, Rev. Ishmon Bracey, and Wild Child Butler
Devonshire Downs in Northridge, CA

This was the 2nd year for the festival, with the first, the Newport Pop Festival, had been held in Costa Mesa, CA. Attended by an estimated 200,000 fans, the festival was the largest pop concert up to that time and is considered the more famous of the two Newport Pop Festivals, possibly because of the appearance of the Jimi Hendrix Experience, who got top billing. Hendrix was the headline act for the Friday night opening, but he played so poorly - supposedly from an LSD-laced drink - that he returned to the stage on Sunday. His Sunday performance with Buddy Miles, Eric Burdon, and several others lasted more than two hours.

Despite a poor sound system, a lack of food, water, and restrooms, and brutal security by the Hells' Angels, it was deemed a resounding success by the attendees and musicians.

A week later, Robert Wilkinson, a Los Angeles City Councilman representing Northridge, led the call for immediate inquiries to determine "what can the city do to prevent another disgraceful melee such as occurred outside Devonshire Downs last week." The event's promoter, Mark Robinson, along with his attorney--who happened to be his father, Mark Robinson, Sr.--were hauled into an emergency session of the police commission, as was Robert Deem, the Downs manager, and Captain Al Lembke. The community was outraged, and determined that this sort of debacle wouldn't happen again. Talk of law suits against Valley State College seeking liability for property damage was bandied about, and, eventually, an ordinance was presented to the City Council that sought greater authority to "control such events as the Devonshire Downs Newport '69 Pop Music Festival."

Fri 20 June

Ike & Tina Turner
Albert King
Edwin Hawkins Singers
Jimi Hendrix Experience
Joe Cocker
Southwind
Spirit
Taj Mahal

Sat 21 June

Sun 22 June

Mother Earth

Three Dog Night
June 21 – 22, 1969
(Varsity Stadium)
Saturday 21 June

Eric Anderson
Carla Thomas & the Barkays
Man
Al Kooper
The Band
Bonzo Dog Band
Rotary Connection
Johnny Winter
Velvet Underground
Sly & the Family Stone

Sunday 22 June

Mother Lode
Procol Harum
Edwin Starr
Chuck Berry
Slim Harpo
Tiny Tim
Dr John the Night Tripper
Blood, Sweat, & Tears
Nucleus
Robert Charlebois
Steppenwolf
June 27 – 29, 1969


Denver Pop Festival




(Mile High Stadium)
From Wikipedia: Throughout much of the festival, a crowd gathered outside the venue and demonstrated against having to pay to hear the acts. They also tried to breach the gates and security fences. The Denver Police were forced to employ riot tactics to protect the gates.

On the second day the battle between gatecrashers outside the stadium and the police suddenly affected those inside. With a combination of shifting wind and re-thrown canisters, tear gas suddenly swept over the crowd. The seats emptied into the concourses and onto the field.

It was fortunate that the fence that had been erected to keep the crowd from the field was torn down by the crowd on Friday night. On Friday night Iron Butterfly "encouraged" the crowd to bring down the fence - which they did. If the fence had been up on Saturday there may have been injuries with the crush of people that would have likely occurred with people trying to get out of the stands onto the field to get away from the tear gas. Announcer Chip Monck should be credited with calming the crowd that day as the tear gas came into the stadium. With his amazing voice he instructed the crowd to stay calm - to cover their faces with whatever they had (like a jacket or t-shirt) - etc. Chip Monck was also the announcer at Woodstock - you can hear him in the movie Woodstock.

Ticket prices were $6 per day, or $15 for all three days (Fri, Sat, Sun). On Sunday, after all possible tickets had been sold, the promoter announced from the stage that he was declaring it a "free festival". The people from outside the stadium were let in and took seats in the South Stands of the old Mile High Stadium.
June 27

Big Mama Thornton
The Flock
Three Dog Night
Frank Zappa and the Mothers of Invention
Iron Butterfly

June 28

Aeorta
Zephyr (with Tommy Bolin)
Poco
Johnny Winter
Tim Buckley

Creedence Clearwater

Revival

June 29

Aum
Zephyr (with Tommy Bolin)
Rev. Cleophus Robinson
Joe Cocker
Three Dog Night
Jimi Hendrix Experience
June 28, 1969


Bath Festival of Blues




(held at the Bath Pavilion Recreational Ground in Bath, Somerset, England)

DJ John Peel. Tickets cost 18/6. The festival proved very popular, selling out all 30,000 tickets in the first week, surprising both the townsfolk and the promoters. The only major problem occurred when the Nice's use of bagpipers caused the stage to collapse. This is often considered the first modern 'rock' festival in Britain.
Fleetwood Mac
John Mayall's Bluesbreakers
Ten Years After
Led Zeppelin
The Nice
Chicken Shack
Jon Hiseman's Colosseum
Mick Abrahams' Blodwyn Pig
Keef Hartley
Group Therapy

Taste
Savoy Brown Blues Band
Champion Jack Dupree
Clouds
Babylon
Principal Edwards Magic Theatre
Deep Blues Band
Just Before Dawn
Liverpool Scene
The festival's 1969 program was an experiment in fusing jazz, soul and rock music and audiences. Its lineup included, besides jazz, Friday evening appearances by rock groups Jeff Beck, Blood, Sweat & Tears, Ten Years After, and Jethro Tull. Saturday's schedule mixed jazz acts such as Miles Davis and Dave Brubeck with others including John Mayall and Sly & the Family Stone. James Brown was among those who appeared Sunday afternoon, followed in the evening by Johnny Winter, Herbie Hancock, B. B. King, and Led Zeppelin.

According to the NYT, on July 6 "The Newport Jazz Festival was invaded...by several hundred young people who broke down a section of the 10-foot wooden fence surrounding Festival Field and engaged in a rock throwing battle with security guards."  NYT Newport Jazz report
July 4 – 5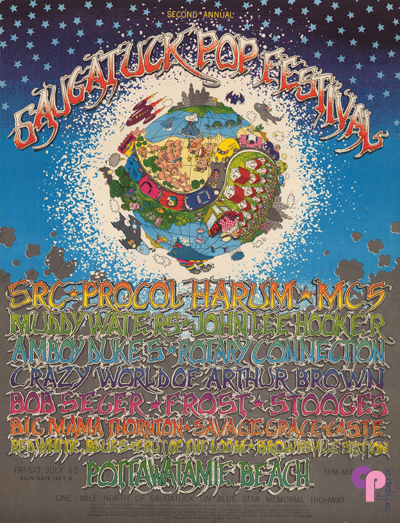 Pottawattamie Beach, Saugatuck, MI
MC5
SRC
Procol Harum
Muddy Waters
John Lee Hooker
Amboy Dukes

Rotary Connection
Crazy World of Arthur Brown
Bob Seger,
Frost
The Stooges
Big Mama Thornton

Chuck Berry
Al Kooper
Blood, Sweat & Tears
Booker T & the MGs
Canned Heat
Chicago Transit Authority
Creedence Clearwater Revival
Dave Brubeck
Delaney, Bonnie & Friends
Ian & Sylvia

Grand Funk
Janis Joplin
Johnny Winter
Led Zeppelin
Pacific Gas & Electric
Paul Butterfield Blues Band
Johnny Rivers
Spirit
Sweetwater
Ten Wheel Drive
July 4, 5, and 6, 1969
Bullfrog Lake Music Festival
Estacada, Oregon
Spectrum Summer Music Festival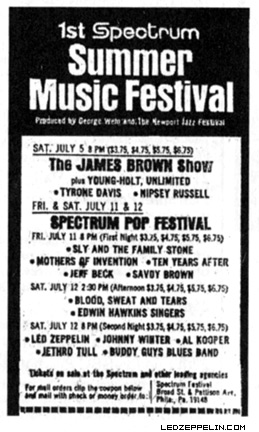 July 5 and July 11 -12
Spectrum, Philadelphia, PA
July 11 – 12, 1969
From the Baltimore Sun: Lost in the smoky haze of 1960s history is The Laurel Pop Festival held in July 1969, which was attended by 15,000 fans and offered an incredible lineup of some of the biggest pop performers of the year. Held just one month before Woodstock, The Laurel Pop Festival ended in controversy as rain-soaked fans built bonfires with wooden folding chairs and refused to leave as the concert dragged on into the early morning.
July 12

Jeff Beck
Ten Years After
Sly and the Family Stone
Mothers of Invention
Savoy Brown
Guess Who

July 11

Al Kooper
Jethro Tull
Johnny Winter
Edwin Hawkins Singers
Led Zeppelin
Buddy Guy
Forest Hills Tennis Stadium
Queens, NY
July 12, 1969, beginning on July 12 and running on Saturdays during July and August, the 1969 Forest Hills Music Festival (Queens, NYC) featured a variety of performers including Janis Joplin, Richie Havens, Blood Sweat and Tears,  and Johnny Winter. 
Thirty-nine 1969 Festivals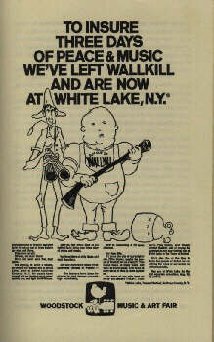 Newport, RI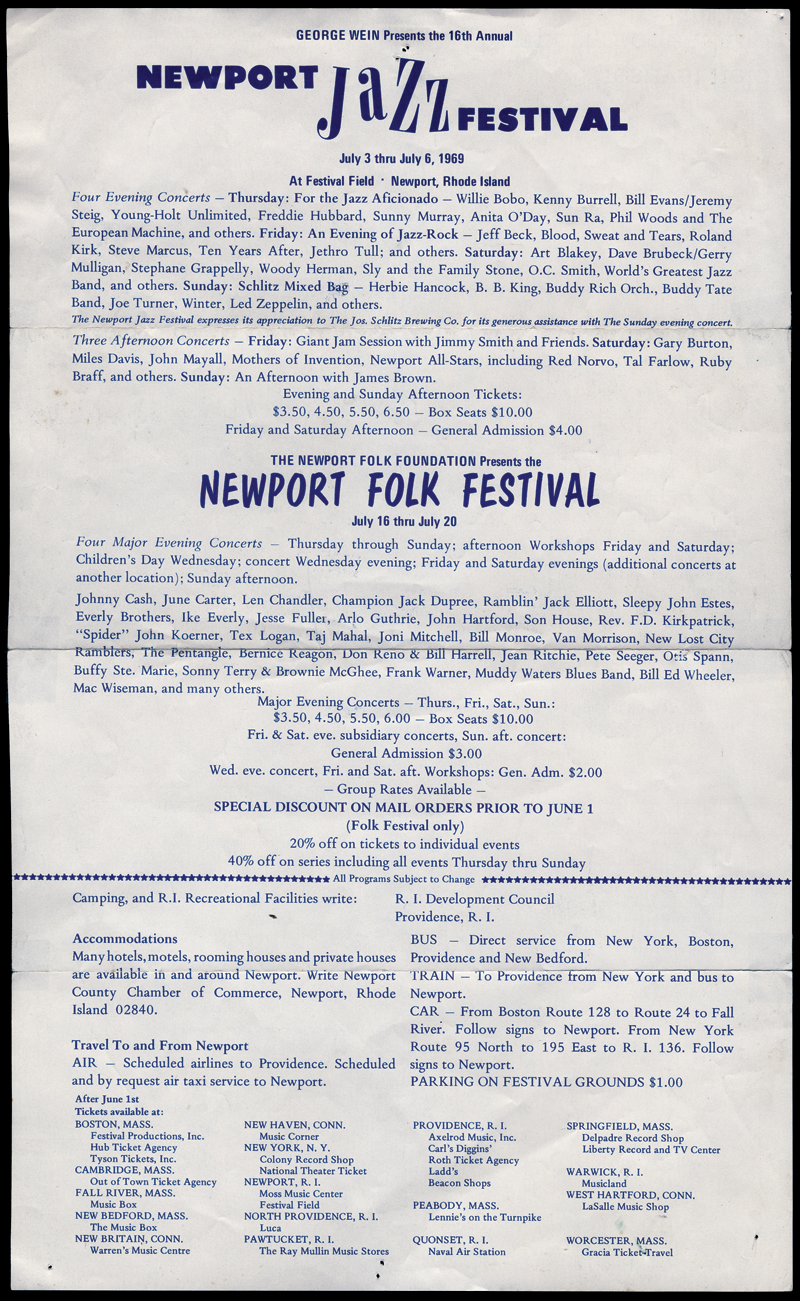 The Doors were billed as the headliner for the third day. After The Doors played, Led Zeppelin 

came on. When the festival was first being put together,Led  Zeppelin was still gaining momentum. According to the sources, Led Zeppelin stole the show. It was the only time The Doors and Led Zeppelin were on the same bill.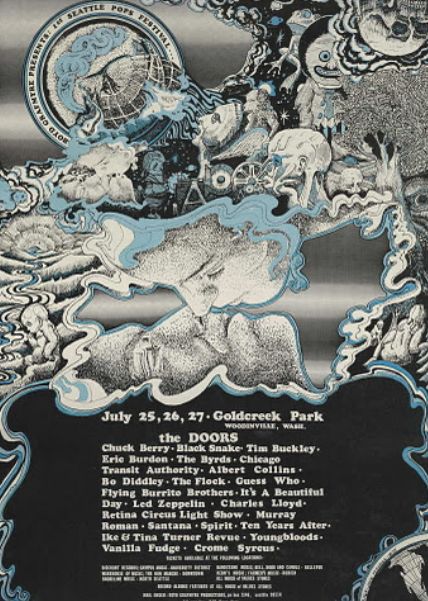 Chuck Berry
Black Snake
Tim Buckley
The Byrds
Chicago Transit Authority
Albert Collins
Crome Syrcus
Bo Diddley
The Doors
Floating Bridge
The Flock
The Flying Burrito Brothers
Guess Who

It's A Beautiful Day
Led Zeppelin
Charles Lloyd
Lonnie Mack
Lee Michaels
Rockin Fu
Murray Roman
Santana
Spirit
Ten Years After
Ike & Tina Turner
Vanilla Fudge
Alice Cooper
The Youngbloods
July 25 – 29, 1969
Midwest Rock Festival


State Fair Park, Milwaukee, WI
Total attendance of about 45,000. The scheduled list of bands was even longer than the number that actually played - Jethro Tull, Jeff Beck and the Bob Seger System were scheduled on Sunday, but rain canceled many of that day's performances.
Fri 25 July

Led Zeppelin
Buffy Sainte Marie
First Edition
Sweetwater
Pacific Gas & Electric
SRC
Shag

Sat 26 July

Blind Faith 
John Mayall
Delany & Bonnie and Friends
Shag
Taste
MC5
SRC

Sun 27 July

Jeff Beck
Johnny Winter
Joe Cocker and the Grease Band
Jethro Tull
Bob Seger System
Jim Schwall Blues Period
MC5
Zephyr
Shag
LItter
SRC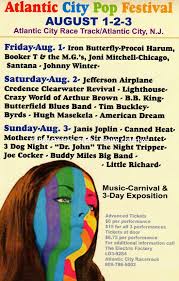 Approximately 100,000 people attended.  Biff Rose MC'd. Rose filled in for Joni Mitchell when she started to cry and ran off stage in the middle of her 3rd song because the crowd was not paying attention to her performance. It seems she was placed in the rotation directly after Mother Earth featuring Tracy Nelson and the crowd wasn't ready to hear her mild act. Crosby, Stills & Nash were originally on the lineup but ended up as a no-show, Nash supposedly had polyps on tonsils (but sang at Woodstock two weeks later). The Chambers Brothers were a last-minute substitute. The Moody Blues were scheduled but weren't there. Johnny Winter was present but did not perform as his equipment did not show up in time.
Friday 1 August

Biff Rose, MC
Aum
Lothar and the Hand People
Booker T. & The M.G.s
Chicago Transit Authority

Crosby, Stills & Nash

*
Iron Butterfly

Johnny Winter

*

Joni Mitchell

*
Procol Harum
Santana Blues Band
The Chambers Brothers*
Tracy Nelson & Mother Earth

Saturday 2 August

American Dream
BB King
Butterfield Blues Band
The Byrds
The Crazy World Of Arthur Brown
Creedence Clearwater Revival
Hugh Masekela
Jefferson Airplane
Lighthouse
Cass Elliot
Tim Buckley

Sun 3 August

Buddy Rich
Canned Heat
Buddy Miles
Dr. John
Janis Joplin
Joe Cocker
Little Richard
Sir Douglas Quintet
The Mothers Of Invention
Three Dog Night
August 15, 16, 17, & 18
For complete list of performers and set list follow link
August 21, 22, and 23, 1969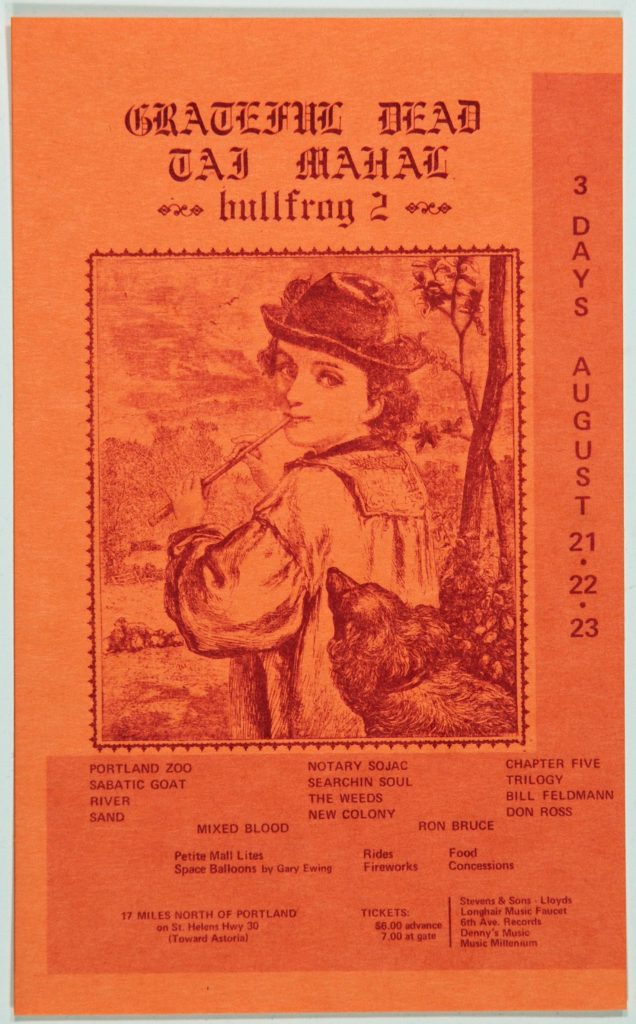 Pelletier Farm
St Helens, Oregon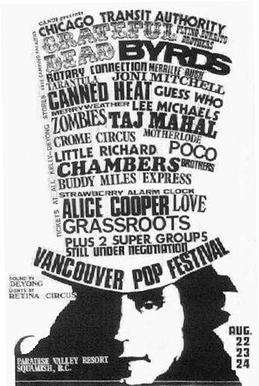 August 22, 23, and 24, 1969
Squamish, British Columbia
The festival attracted approximately 150,000. It became a legendary event largely owing to the participation of Bob Dylan who had spent the previous three years in semi-retirement following a motorcycle accident. 
Saturday 30 August

 The Who
Moody Blues
Fat Mattress
Joe Cocker
Bonzo Dog Band
Family
Free
Pretty Things
Marsha Hunt & White Trash
Battered Ornaments
Aynsley Dunbar
Retaliation
Blodwyn Pig
Gypsy
Blonde on Blonde
Edgar Broughton Band
King Crimson

Sunday 31 August

Bob Dylan & The Band
Richie Havens
TomPaxton
Pentangle
Julie Felix
Gary Farr
Liverpool Scene
Indo Jazz Fusions
Third Ear Band
August 30 – September 1, 1969 [Labor Day weekend]
Attendance at the festival remains unknown, but is estimated between 120,000 and 150,000.
Sat 30 Aug

Grand Funk Railroad
Canned Heat
Chicago Transit Authority
James Cotton Blues Band
Janis Joplin
B.B. King
Herbie Mann
Rotary Connection
Sam & Dave

Sun 31 Aug

Grand Funk Railroad
Chicago Transit Authority
James Cotton Blues Band
Delaney & Bonnie & Friends
Incredible String Band
B.B. King
Led Zeppelin
Herbie Mann
Sam & Dave
Santana

Mon 1 Sept

Grand Funk Railroad
Johnny Winter
Delaney & Bonnie & Friends
B.B. King
Nazz
Sly and the Family Stone
Spirit
Sweetwater
Ten Years After
Tony Joe White
August 30, 1969
Ranier herford Ranch
Tenino, Washington

Performers: White Fox, Snowrabbit, Deacon John and the Electric Soul Train, Whizbang, Axis, Sweetwater, Lee Michaels, Oliver, Cat Mother and the All Night Newsboys, Spiral Staircase, It's A Beautiful Day, Country Joe and the Fish, Byrds, Youngbloods, Canned Heat, Pot Liquor, Chicago (Transit Authority), Tyrannosaurus Rex, Santana, Iron Butterfly, Jefferson Airplane, Grateful Dead, and Janis Joplin.
September 6, 1969
Cleveland Zoo
September 13, 1969
Varsity Stadium, at the University of Toronto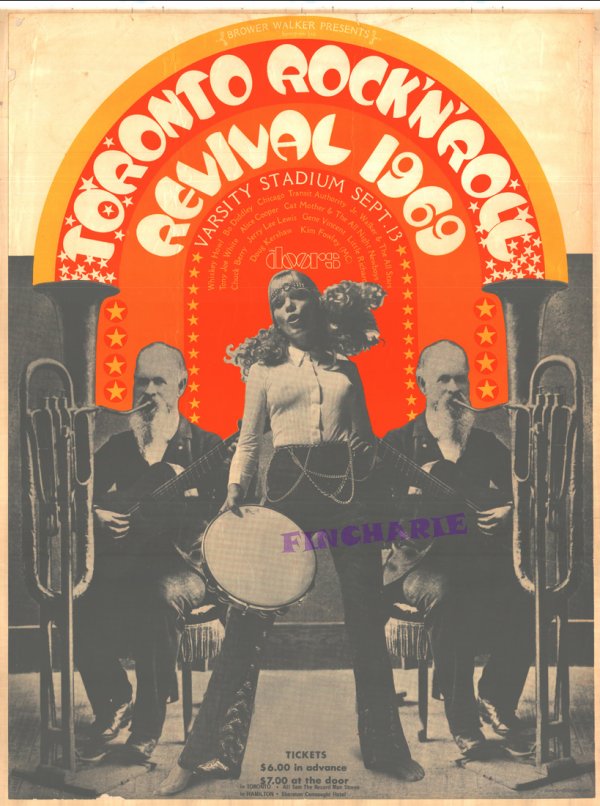 Over 20,000 attended. The appearance of John Lennon, Yoko Ono and The Plastic Ono Band was not publicly known in advance. It was Lennon's first-ever public rock performance without one or more of the Beatles since meeting Paul McCartney in 1957. He decided before returning to England to leave the Beatles permanently.
Whiskey Howl
Bo Diddley
Chicago
Junior Walker and the All Stars
Tony Joe White
Alice Cooper
Chuck Berry
Cat Mother and the All Night News Boys

Jerry Lee Lewis
Gene Vincent
Little Richard
Doug Kershaw
The Doors
John Lennon and Plastic Ono Band w Eric Clapton, Klaus Voormann and Alan White
September 13 – 14 1969
(made into a movie: Celebration at Big Sur)
Joan Baez
Joni Mitchell
Crosby, Stills, Nash & Young
John Sebastian
Johanna Demetrakas
Dorothy Morrison & the Edwin Hawkins Singers
Mimi Fariña

Julie Payne
Ruthann Friedman
Carol Ann Cisneros
The Comb Sisters
Chris Ethridge
Flying Burrito Brothers

Struggle Mountain Resistance Band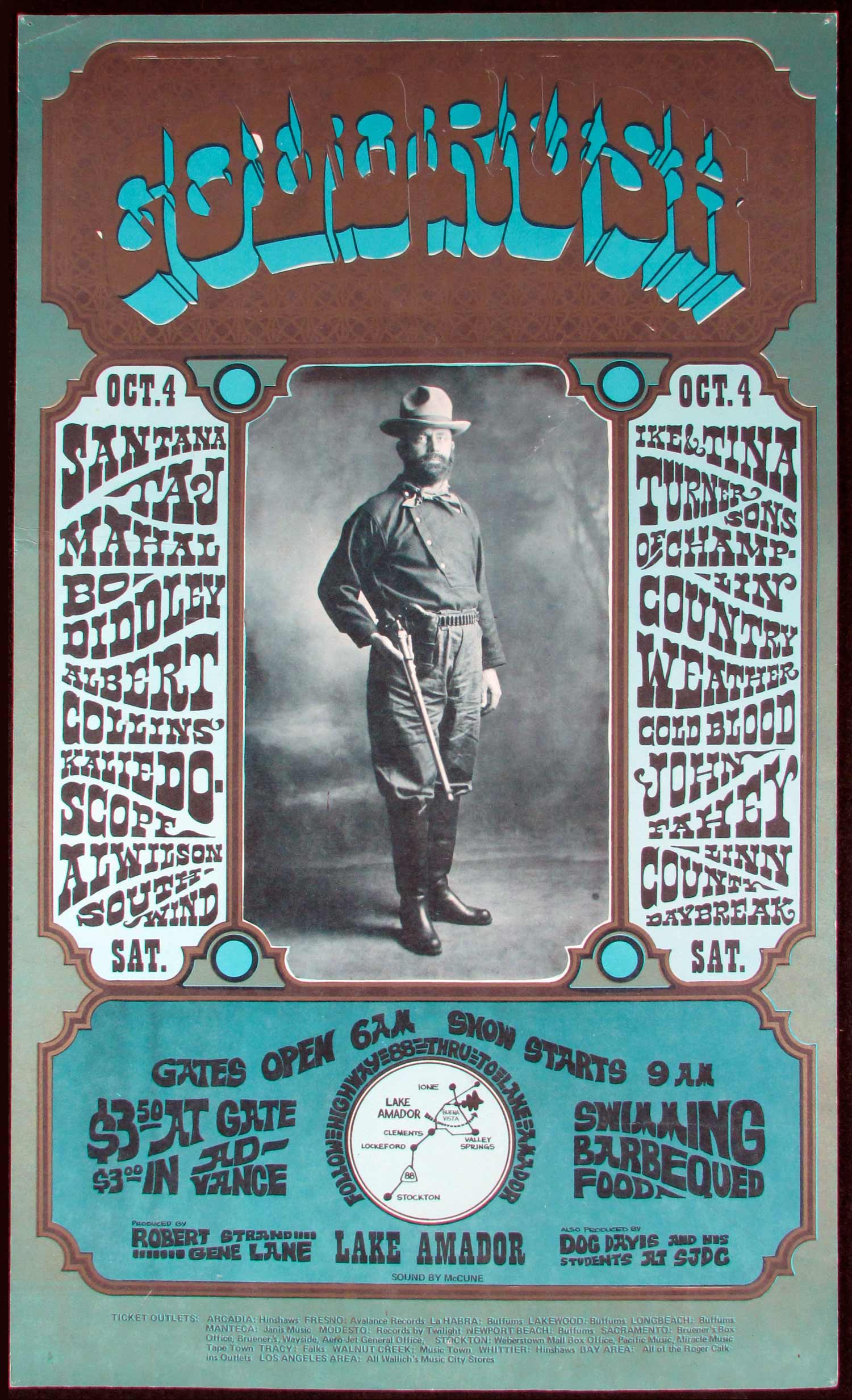 October 12, 1969
Lake Amador, CA
November 6 – 8, 1969
Livingston Gym, Denison University (Granville, OH).
The Who, The Spirit,  and Johnny Winter. Supporting acts: Owen B, The Dust
November 28 – 30, 1969 (Thanksgiving weekend)
From a 2009 Palm Beach Post article: Then-Palm Beach County Sheriff Bill Heidtman vowed to make life miserable for the free-loving, pot-smoking, anti-establishment youngsters who were coming to the Palm Beach Pop Festival. He threatened to herd alligators toward the crowd, gathered on a grassy field at the Palm Beach International Raceway. And he promised to dig out fire ant colonies and relocate them at the venue. 

The Festival was at a drag strip outside of West Palm Beach. Among others, Grand Funk played three nights also. The show featured Iron Butterfly, King Crimson (Robin Fripp and Greg Lake), Jefferson Airplane, Rotary Connection (Minnie Ripperton), PG&E, Rolling Stones, Vanilla Fudge, Janis Joplin and Her Full Tilt Boogie Band, Johnny Winters, and others. 

On the third night, Winters played, then Vanilla Fudge played followed by Janis Joplin. Afterwards, the announcer said, Johnny wants it, Janis wants it, and the Fudge wants one. All three bands came out on stage and jammed. Winters jammed with the guitar players and scatted with Janis. 

Wavy Gravy was there in his WW2 pilot helmet or whatever it was, guiding a car backwards trying to help them and backed them into the pond. We'd like to think he knew it was the police in an unmarked car and put them in the pond on purpose since we know he didn't do drugs.
December 6, 1969
(at the Altamont Speedway in northern California, between Tracy and Livermore)
December 6, 1969: Altamont Free Concert: (at the Altamont Speedway in northern California, between Tracy and Livermore) headlined and organized by The Rolling Stones, it also featured, in order of appearance: Santana, The Flying Burrito Brothers, The Jefferson Airplane, and Crosby, Stills, Nash & Young, with the Rolling Stones taking the stage as the final act. The Grateful Dead were also scheduled to perform, but declined to play shortly before their scheduled appearance due to the increasing violence at the venue.
December 27 – 29, 1969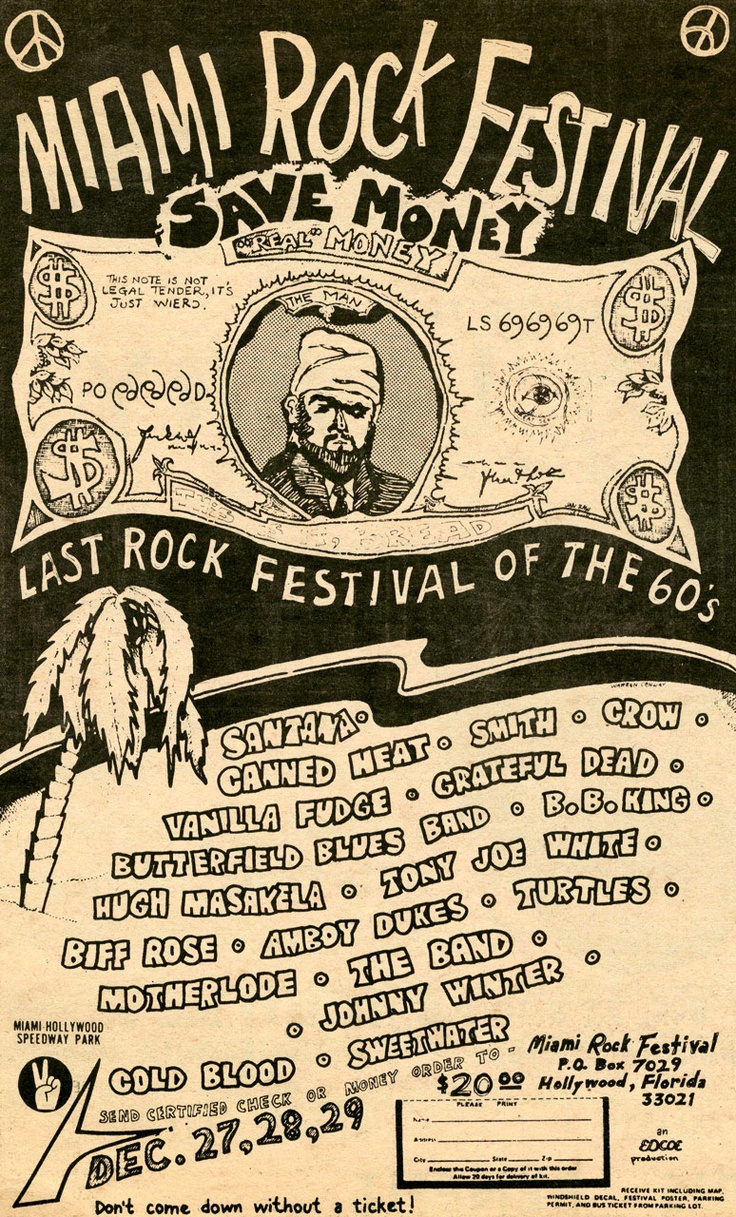 Among the bands playing were: BB King, The Band, Santana, Paul Butterfield Blues Band, Johnny Winter, Grateful Dead, Canned Heat, Sweetwater, Vanilla Fudge, Hugh Masakela, Amboy Dukes, The Turtles, Biff Rose, Tony Joe White, and Celebration.
"December 27, 28, & 29"
...and finally, the last festival of the 1960s. Well not really because it didn't happen. But Johnny Winters would have played (AGAIN) that year!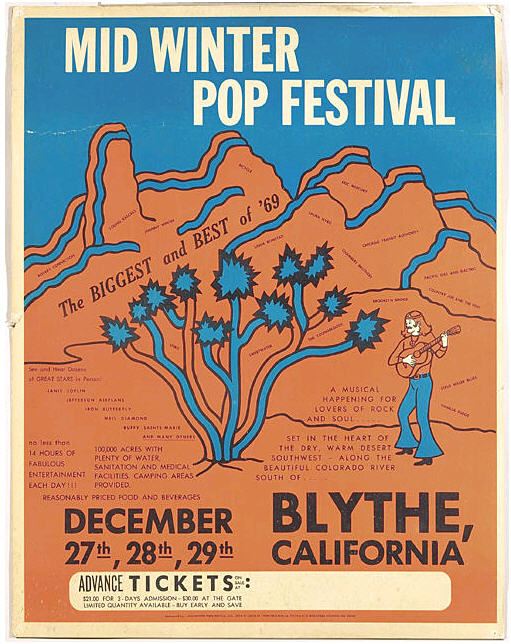 Janis Joplin, Jefferson Airplane, Young Rascals, Vanilla Fudge, Brooklyn Bridge, Neil Diamond, and many others were to attend. 
Thirty-nine 1969 Festivals, Thirty-nine 1969 Festivals, Thirty-nine 1969 Festivals, Thirty-nine 1969 Festivals, Thirty-nine 1969 Festivals, Thirty-nine 1969 Festivals, Thirty-nine 1969 Festivals, Thirty-nine 1969 Festivals, Thirty-nine 1969 Festivals, Thirty-nine 1969 Festivals, Thirty-nine 1969 Festivals, Thirty-nine 1969 Festivals, Thirty-nine 1969 Festivals, Thirty-nine 1969 Festivals, Thirty-nine 1969 Festivals, Thirty-nine 1969 Festivals, Thirty-nine 1969 Festivals, Thirty-nine 1969 Festivals,