January Peace Love Activism
Feminism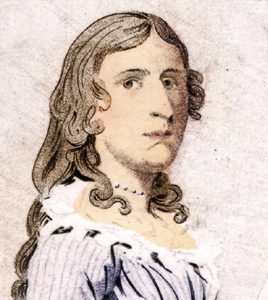 ---
In January 1792: Deborah Sampson petitioned the Massachusetts State Legislature for pay which the army had withheld from her because she was a woman. Her petition passed through the Senate and was approved, then signed by Governor John Hancock. The General Court of Massachusetts verified her service and wrote that she "exhibited an extraordinary instance of female heroism by discharging the duties of a faithful gallant soldier, and at the same time preserving the virtue and chastity of her gender, unsuspected and unblemished". The court awarded her a total of 34 pounds. (see Deborah Samson for full story)
Black History
Scottboro Januarys
---
In January 1932,: NAACP withdrew from the case.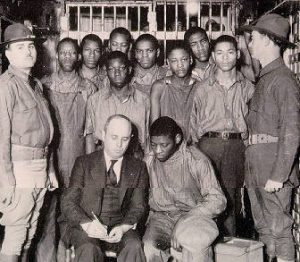 ---
In January 1933: The International Labor Defense retained Samuel Liebowitz, a New York lawyer, to defend the Scottsboro boys. 
---
In January 1935: The US Supreme Court agreed to review the most recent Scottsboro convictions. 
---
In January 1944: Clarence Norris and Andy Wright were paroled. 
---
In January 2004: the town of Scottsboro, Alabama dedicated a historical marker in commemoration of the case at the Jackson County Court House.  (see Scottboro Travesty for full story)
James H Meredith
---
In January 1967: Pulitzer Prize for Photography: Jack R. Thornell for his photograph of James Meredith after being shot on June 6, 1966. (next Meredith, see March 8, 1967)
Black Panthers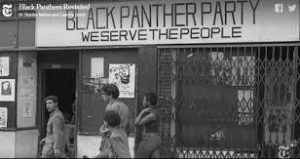 ---
In January 1967: first Black Panther Party office opens at 5624 Grove Street, Oakland, CA. Panthers patrol the street of Oakland. (BH, see Jan 9; BP, see May 2)
Dee/Moore Murders
---
In January 2007: a federal grand jury indicted James Ford Seale.  (see June 14)
Two Steps from the Blues
---
In January 1961: Bobby "Blue" Bland released Two Steps from the Blues album. Bland was an original member of the Beale Streeters and was sometimes referred to as the "Lion of the Blues". Along with such artists as Sam Cooke, Ray Charles, and Junior Parker, Bland developed a sound that mixed gospel with the blues and R&B. An imitator of Frank Sinatra, he was also known as the "Sinatra of the blues", his music being influenced by Nat King Cole. Bland was inducted into the Blues Hall of Fame in 1981, the Rock and Roll Hall of Fame in 1992, and received the Grammy Lifetime Achievement Award in 1997.
"Talkin' John Birch Paranoid Blues"
---
In January 1962: Bob Dylan wrote  "Talkin' John Birch Paranoid Blues"
Albert Ayler
---
In January 1965: Albert Ayler's Spiritual Unity album released. "Ayler was among the most primal of the free jazz musicians of the 1960s; critic John Litweiler wrote that 'never before or since has there been such naked aggression in jazz.' He possessed a deep blistering tone—achieved by using the stiff plastic Fibrecane no. 4 reeds[2] on his tenor saxophone—and used a broad, pathos-filled vibrato."
John Lennon/FBI
---
In January 1972: the Federal Bureau of Investigation opened a file on John Lennon and Yoko Ono fearing they would organize the youth vote and prevent a second term for President Richard Nixon. (see Feb 4)
John and Yoko
---
In January 1975: John and Yoko reunited after 18 month separation—the so-called "Lost Weekend." (see Jan 9)
January Peace Love Activism
Irish Troubles
---
In January 1998: after 15 years and many media reports suggesting the original tribunal's inquiry was flawed, a second commission of inquiry, chaired by Lord Saville, was established  to re-examine 'Bloody Sunday'. (see April 10)
Oklahoma City Explosion
---
In January 2000: Terry Nichols was brought from the prison in Colorado to Oklahoma to face the state trial on 160 capital counts of first-degree murder and one count each of fetal homicide, first-degree arson, and conspiracy. (see June 11, 2001)
LGBTQ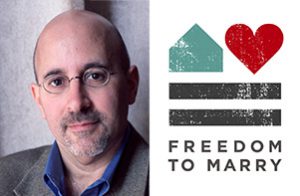 ---
In January 2003: Evan Wolfson founded Freedom to Marry, the campaign to win marriage nationwide. (Site)  (see June 26, 2003)
US Labor History
---
In January 2012: volunteers in the state of Wisconsin submitted nearly a million signatures (double the number of signatures required) calling for a recall election of Governor Scott Walker in protest of his public fight last year to abandon the collective bargaining rights of public workers. (see Apr 30)
January Peace Love Activism, January Peace Love Activism, January Peace Love Activism, January Peace Love Activism, January Peace Love Activism, January Peace Love Activism, January Peace Love Activism, January Peace Love Activism, January Peace Love Activism, January Peace Love Activism, 
Please follow and like us: