August 30 Peace Love Activism
BLACK HISTORY
Gabriel Prosser's rebellion
August 30, 1800: in the spring of 1800, Prosser, a deeply religious man, began plotting an invasion of Richmond, Virginia and an attack on its armory. By summer he had enlisted more than 1,000 slaves and collected an armory of weapons, organizing the first large-scale slave revolt in the U.S. On the day of the revolt, the bridges leading to Richmond are destroyed in a flood, and Prosser was betrayed. The state militia attacked, and Prosser and 35 of his men were hanged on Oct 7, 1800. (see March 2, 1807; Prosser, see October 28, 2002)
School Desegregation
August 30, 1956: despite the 1954 "Brown v. Bd Of Education" decision, a white mob in Mansfield, Texas violently barred black students from attending classes. The 12 black students were approved for registering in to Mansfield High School only to be met with racist taunts and burning effigies. Mansfield's school had board honored the high court's decision to allow the 12 students to attend the local high school. A mob of 400 pro-segregationists took to the streets brandishing guns and racist signs. Governor Allan Shivers sent six Texas Rangers not to escort the children in to the school, but to stave off any potential for violence. Effigies were hung, with one featuring a burned figure alongside a sign that read, "This Negro tried to enter the school." [running for re-election in 1954, Shivers had called Ralph Yarborough, his liberal opponent, a "n-gger lover." Shivers won a third term.]

That day, even though Black residents watched over the students using an armed community watch faction, the students were redirected to a secondary school in Fort Worth. The town resisted student integration and defied the constitutional law until 1965. (see Sept 1)
Pontiac school buses bombed
August 30, 1971: Robert Miles and four other Klansmen bombed 10 empty school buses shortly before a court-order issued by Judge Damon Keith to use busing to integrate schools in Pontiac, Michigan, was supposed to go into effect. (see Sept 9)
Lieutenant Colonel Guion S. Bluford
August 30, 1983: U.S. Air Force Lieutenant Colonel Guion S. Bluford became the first African American to travel into space when the space shuttle Challenger lifted off on its third mission. It was the first night launch of a space shuttle, and many people stayed up late to watch the spacecraft roar up from Cape Canaveral, Florida, at 2:32 a.m. (see Nov 2)
Feminism
Angelina Grimké
 August 30, 1835: Angelina Grimké wrote a letter to abolitionist leader William Lloyd Garrison endorsing his efforts and calling antislavery a "cause worth dying for." As Grimké was a southern woman and the daughter of a prominent slave-owning judge, her letter made her a celebrity within the antislavery movement. (see Feminism November 1836)
Margaret Sanger
August 30, 1949: the U.S. military command in Japan informed Women's Health pioneer Margaret Sanger that General Douglas MacArthur had canceled her invitation to visit Japan. At issue was the fact that abortion rates in Japan were extremely high and Sanger had expressed concern that the greater availability of Women's Health information and services would help to reduce the number of abortions. Gen. MacArthur, however, concluded that Women's Health was too sensitive an issue for the American occupation command, and consequently cancelled her invitation. (Sanger finally had a triumphant visit to Japan in 1953. She addressed the Japanese Diet and was given a motorcade parade, in which sound trucks announced "Sanger is here.") (see April 25, 1951)
Sex-segregated ads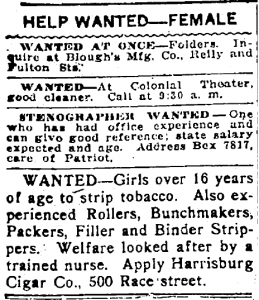 August 30, 1967: until the late 1960s, job-wanted ads were sex-segregated, indicating "Men Wanted" and "Women Wanted." Members of the National Organization for Women (NOW), which had been formed the year before on June 30, 1966, picketed The New York Times on this day to protest its use of sex-segregated ads.

Title VII of the 1964 Civil Rights Act outlawed sex discrimination in employment, but a controversy immediately developed when the new Equal Opportunity Commission initially decided that sex-segregated employment ads were not illegal. After strong feminist protests, the EEOC reversed its position. The Supreme Court upheld a ban on sex-segregated ads, in Pittsburgh Press v. Pittsburgh Human Relations Commission, on June 21, 1973. (see Oct 13)
Labor History
August 30, 1918: ninety-three I.W.W. members in Chicago were sentenced from one to twenty years' imprisonment at Leavenworth, Kansas, for violating the Espionage Act. The defendants are also assessed fines from $20,000 to $30,000. (see Sept 14)
LGBTQ
Evelyn Hooker
August 30, 1956: American psychologist Evelyn Hooker shared her paper "The Adjustment of the Male Overt Homosexual" at the American Psychological Association Convention in Chicago. After administering psychological tests, such as the Rorschach, to groups of homosexual and heterosexual males, Hooker's research concluded homosexuality was not a clinical entity and that heterosexuals and homosexuals do not differ significantly. Hooker's experiment became very influential, changing clinical perceptions of homosexuality. (see June 24, 1957)
North American Mission Board
August 30, 2013: the North American Mission Board, the domestic arm of the Southern Baptist Convention's mission outreach programs, issued guidelines ordering the religion's military chaplains not to perform, attend or participate in same sex weddings in any way. In addition to ordering Baptist chaplains to adhere to the church's "marriage is for one man and one woman" line doctrinally and pastorally, the guidelines said, "NAMB-endorsed chaplains will not conduct or attend a wedding ceremony for any same-sex couple, bless such a union or perform counseling in support of such a union, assist or support paid contractors or volunteers leading same-sex relational events, nor offer any kind of relationship training or retreat, on or off of a military installation, that would give the appearance of accepting the homosexual lifestyle or sexual wrongdoing. This biblical prohibition remains in effect irrespective of any civil law authorizing same-sex marriage or benefits to the contrary." (see Sept 4)
Cold War
August 30, 1963: the "Hot Line" communications link between the White House, Washington D.C. and the Kremlin, Moscow, went into operation to provide a direct two-way communications channel between the American and Soviet governments in the event of an international crisis. This was one year after the Cuban Missile Crisis. It consisted of one full-time duplex wire telegraph circuit, routed Washington- London- Copenhagen- Stockholm- Helsinki- Moscow, used for the transmission of messages and one full-time duplex radiotelegraph circuit, routed Washington- Tangier- Moscow used for service communications and for coordination of operations between the two terminal points. Note, this was not a telephone voice link. (see Oct 7)
 
Technological Milestones
Cultural Milestone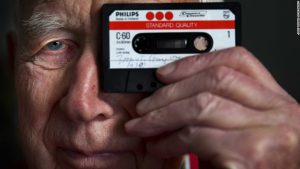 August 30 – September 3, 1963: Dutch electronics company Philips introduced the compact cassette at the Berlin Radio Show (also known as the German Radio Exhibition or Internationale Funkausstellung). Its initial function was as a recording device; only later did prerecorded music become available. (CM, see Sept 2; TM, see November 18)
Space Shuttle
August 30, 1984: NASA's Space Shuttle Discovery took off for the first time, beginning what would become 27 years of reliable service. Astounding video!
 
Cable TV
By the end of 1987, 50.5% American households had cable television. (see April 25, 1990)
August 30 Music et al
August 30, 1965: released Highway 61 Revisited album. His sixth studio album. Recorded June 15 – Aug 4, 1965

Daniel Kramer took the cover photograph . Kramer captured Dylan sitting on the stoop of the apartment of his manager, Albert Grossman, located in Gramercy Park, New York, placing Dylan's friend Bob Neuwirth behind Dylan "to give it extra color".  Dylan wore a Triumph motorcycle T-shirt under a blue and purple silk shirt, holding his Ray-Ban sunglasses in his right hand. Kramer commented in 2010 on the singer's expression: "He's hostile, or it's a hostile moodiness. He's almost challenging me or you or whoever's looking at it: 'What are you gonna do about it, buster?' " (see May 16, 1966)
Byrds
August 30, 1968: Byrds released Sweetheart of the Rodeo album.
 
Festivals
August 30 - 31, 1969: attracted an audience of approximately 150,000. It became a legendary event largely owing to the participation of Bob Dylan who had spent the previous three years in semi-retirement following a motorcycle accident. (Dylan, see January 3, 2009)
see

Texas International Pop Festival

 

for more
August 30 – September 1, 1969 [Labor Day weekend] – in  Lewisville, TX. Attendance at the festival remains unknown, but is estimated between 120,000 and 150,000
August 30 – September 1, 1969 [Labor Day Weekend]: Sky River Rock Festival, Rainier Hereford Ranch. Tenino, Washington. An estimated 25,000 people attended over three days. No breakdown of who played when seems to exist.
John Lennon
August 30, 1972: John Lennon performed two shows at Madison Square Garden in New York City, one in the afternoon and one in the evening, to raise money for children with mental challenges at friend Geraldo Rivera's request.

The benefit concerts, billed as One to One, also featured other performers in addition to Lennon, including Stevie Wonder, Roberta Flack, Melanie Safka and Sha-Na-Na.

Live in New York City captured John Lennon's last full-length concert performance, coming right after the release of Some Time in New York City, which was a commercial failure in the US. Perhaps as a result, Lennon's stage talk, while humorous, is self-deprecating and slightly nervous in tone. Backing Lennon and Ono were Elephant's Memory, who had served as Lennon and Ono's backing band on Some Time in New York City. Although the material Lennon performed was largely drawn from his three most recent albums of the period (John Lennon/Plastic Ono Band, Imagine and Some Time in New York City), he also included in the setlist his Beatles hit "Come Together" and paid tribute to Elvis Presley with "Hound Dog" before leading the audience in a singalong of "Give Peace a Chance". (Beatles, see March 6, 1973; concert, see February 10, 1986)
 
August 30 Peace Love Activism
Dissolution of the USSR
August 30, 1991: Azerbaijan declared independence from Soviet Union. (see Aug 31)
Nominations
August 30, 2004: George W. Bush and Dick Cheney re-nominated at the Republican National Convention in New York City.
Hurricane Katrina
August 30, 2005: Louisiana Governor Blanco ordered the evacuation of all New Orleans, including the Superdome, due to the flooding of the city. (see Aug 31)
Native Americans
Veronica Brown
August 30, 2013: the Oklahoma Supreme Court granted an emergency stay to keep Veronica Brown, a 3-year-old Cherokee girl, with her biological father and plans to hear arguments from his lawyers and those of the girl's adoptive parents. (see Sept 3)
Denali
August 30, 2015: President Obama announced that Mount McKinley was being renamed Denali, restoring an Alaska Native name with deep cultural significance to the tallest mountain in North America. (see September 10, 2016)
August 30 Peace Love Activism, August 30 Peace Love Activism, August 30 Peace Love Activism, August 30 Peace Love Activism, August 30 Peace Love Activism, August 30 Peace Love Activism, August 30 Peace Love Activism, August 30 Peace Love Activism, August 30 Peace Love Activism, August 30 Peace Love Activism, August 30 Peace Love Activism, August 30 Peace Love Activism, August 30 Peace Love Activism, August 30 Peace Love Activism, August 30 Peace Love Activism, August 30 Peace Love Activism, August 30 Peace Love Activism, 
Please follow and like us: