August 26 Peace Love Activism
BLACK HISTORY
Amistad
August 26, 1839: Americans captured the Amistad ("Friendship"), a Spanish slave ship seized by the 54 Africans who had been carried as cargo on board, which had landed on Long Island, N.Y. At the time, the transportation of slaves from Africa to the U.S. was illegal so the ship owners lied and said the Africans had been born in Cuba (BH, see "in May 1840; Slave Revolts, & Amistad, see March 9, 1841)
Black lives don't matter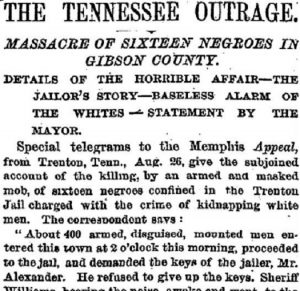 August 26, 1874: sixteen African American men held in the Gibson County Jail in Trenton, Tennessee had been arrested and accused of shooting at two white men.

Around 2:00 a.m. that morning, 400 - 500 masked men, mounted on horses and armed with shot guns, demanded entrance to the jail. The men confronted the jailer and threatened to kill him if he did not relinquish the keys to the cell holding the men. After the jailer gave the leader of the mob the key, the members of the mob bound the men by their hands and led them out of the jail cell. 

The jailer later testified that he soon heard a series of gun shots in the distance. Upon investigation soon after the kidnapping, the jailer found six of the men lying along nearby Huntingdon Road – four were dead, their bodies "riddled with bullets." Two of the men, found wounded but alive, later died before receiving medical attention. The bodies of the ten remaining men were later found at the bottom of a river about one mile from town. 

Local white officials denounced the lynching and held an inquest that concluded the men were killed by "shots inflicted by guns in the hands of unknown parties." The town mayor also expressed local whites' fears that black people throughout the county were arming themselves in plans to exact retaliatory violence. 

One day after the mass murder of sixteen black men by hundreds of white men who remained unidentified and free, the mayor ordered police to take all guns belonging to Trenton's black residents and threatened to shoot those who resisted. (see Dec 7)
FEMINISM
Voting Rights
August 26, 1918:  suffragists (arrested Aug. 12) tried, convicted, and sentenced to 10 to 15 days in old District workhouse. (see Sept 30)

August 26, 1920: Secretary of State Bainbridge Colby signed the 19th Amendment to the Constitution, granting women the right to vote, signed into law. (see Nov 6; 19th amendment, see Feb 27, 1922)
Women's Strike for Equality
August 26, 1970:  the Women's Strike for Equality celebrated the 50th anniversary of the passing of the Nineteenth Amendment. The rally was sponsored by the National Organization for Women (NOW). (see Nov 3)
US Labor History
Fannie Sellins murdered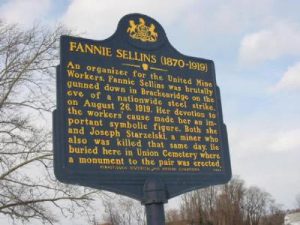 August 26, 1919: while leading strikers in Brackenridge, Pennsylvania, United Mine Workers' organizer Fannie Sellins, a widowed mother of four, was shot to death by coal company guards when she intervened in the beating of a picketing miner. (see Aug 31)
Technological Milestone
August 26, 1939: the first televised Major League baseball game broadcast on station W2XBS, the station that was to become WNBC-TV. Announcer Red Barber called the game between the Cincinnati Reds and the Brooklyn Dodgers at Ebbets Field in Brooklyn, New York.

At the time, television was still in its infancy. Regular programming did not yet exist and very few people owned television sets--there were only about 400 in the New York area. Not until 1946 did regular network broadcasting catch on in the United States, and only in the mid-1950s did television sets become more common in the American household. (see December 2, 1942)
August 26 Music et al
Fear of Rock
August 26, 1955: the Venice Film Festival removed Blackboard Jungle because of objections by the U.S. Ambassador to Italy, Clare Boothe Luce. A noted playwright, she was married to the publisher of Time and Life magazines, Henry Luce. The film famously opened with the recording of Bill Haley's classic, Rock Around the Clock.

In the U.S., local communities tried to ban the film because they felt the soundtrack and the film's portrayal of juvenile delinquents would incite delinquency. On March 28, 1955, the city of Memphis banned Blackboard Jungle. And on May 17, 1955, students at Princeton University staged a "riot" by blasting Rock Around the Clock simultaneously from many dormitory windows. LINK (see February 24, 1956)
Ode to Billy Joe
August 26 – September 22, 1967: "Ode to Billy Joe" by Bobbie Gentry #1 on the Billboard Hot 100.
 
see 

Hey Jude 

for more
August 26, 1968: "Hey Jude" released. It  will spend nine weeks as number one in the United States—the longest run at the top of the American charts for a Beatles' single. (see Aug 28)
 
Nuclear/Chemical News
August 26, 1957: the Soviet Union announced that it had successfully tested an intercontinental ballistic missile (ICBM) capable of being fired "into any part of the world." The announcement caused great concern in the United State, and started a national debate over the "missile gap" between America and Russia. (Cold War, see Sept 4; NN, see Sept 19, 1957; Red Scare, see June 25, 1963)
August 26 Peace Love Activism
August 26, 1985: first day of school. White allowed to listen to his classes via telephone. (see link above for more)
Hurricane Katrina
August 26, 2005: Katrina was again downgraded to a tropical storm. At 5:00 AM EDT, the eye of Hurricane Katrina was located just offshore of southwestern Florida over the Gulf of Mexico about 50 miles (80 km) north-northeast of Key West, Florida.
Immigration History
Murder of  Luis Ramirez
August 26, 2008: Brandon Piekarsky and Colin Walsh, charged with murder and ethnic intimidation in the beating death of  Luis Ramirez were granted bail. Bail was set at $50,000 each for Piekarsky  and Colin Walsh. The two, who are white, were accused in the July 12 beating of Ramirez in Shenandoah. Mr. Piekarsky and Mr. Walsh had been held without bail since their arrests on July 25. A third defendant, Derrick Donchak, 18, is charged with aggravated assault and other offenses. He posted bail soon after his arrest. All three teenagers attended Shenandoah Valley High School. Mr. Ramirez, 24, died after he crossed paths with a group of teenagers in a darkened park. The attack drew condemnation from immigrants' rights groups, who have held vigils in Shenandoah. The Justice Department has opened an investigation into the case. (IH & Ramirez, see April 21, 2009)
LGBTQ
New Mexico
August 26, 2013: New Mexico District Judge Alan Malott New Mexico ruled New Mexico's constitution prohibited discrimination on the basis of sexual orientation and declared same-sex marriage legal, ordering the clerk of the state's most populous county to join two other counties in issuing licenses for gay and lesbian couples.

The Bernalillo County clerk's office in Albuquerque planned to start issuing marriage licenses to same-sex couples at 8 a.m. Tuesday.

The decision came after a judge in Santa Fe directed the county clerk there to begin issuing marriage licenses to same-sex couples on Friday. But Malott's ruling was seen as more sweeping because he directly declared that gay marriage was legal.

Laura Schauer Ives, a lawyer for the American Civil Liberties Union of New Mexico, called it "monumental" and said the group didn't expect such a broad decision by Malott. The judge had been asked only to order that the state recognize, on her death certificate, a dying woman's marriage Friday in Santa Fe to her longtime partner.

But after a short hearing in which neither the counties nor the state objected to the request, Malott also ruled on the broader lawsuit by that couple and five others seeking marriage licenses.(see Aug 28)
Kentucky
August 26, 2015, LGBTQ: a federal appeals court upheld a ruling ordering a Rowan County (Kentucky) Clerk Kim Davis to issue marriage licenses to gay couples.


Davis objected to same-sex marriage for religious reasons. She stopped issuing marriage licenses the day after the U.S. Supreme Court overturned state bans on same-sex marriage. Two straight couples and two gay couples sued her. A U.S. district judge ordered Davis to issue the marriage licenses, but later delayed his order so that Davis could have time to appeal to the 6th circuit. The appeals court denied Davis' request for a stay.

"It cannot be defensibly argued that the holder of the Rowan County Clerk's office, apart from who personally occupies that office, may decline to act in conformity with the United States Constitution as interpreted by a dispositive holding of the United States Supreme Court," judges Damon J. Keith, John M. Rogers and Bernice B. Donald wrote for the court. "There is thus little or no likelihood that the Clerk in her official capacity will prevail on appeal." (see Aug 27)
August 26 Peace Love Activism, August 26 Peace Love Activism, August 26 Peace Love Activism, August 26 Peace Love Activism, August 26 Peace Love Activism, August 26 Peace Love Activism, August 26 Peace Love Activism, August 26 Peace Love Activism, August 26 Peace Love Activism, August 26 Peace Love Activism, August 26 Peace Love Activism, August 26 Peace Love Activism, August 26 Peace Love Activism, August 26 Peace Love Activism, August 26 Peace Love Activism, August 26 Peace Love Activism, August 26 Peace Love Activism, 
Please follow and like us: