July 3 Peace Love Activism
Feminism
July 3, 1782: Deborah Sampson wounded outside Tarrytown, NY receiving two musket balls in her thigh and a forehead wound from a sabre slash. She begged her fellow soldiers to let her die and not take her to the hospital, but they refused to abandon her. Doctors treated her head wound, but she left the hospital before they could attend to the musket balls. Fearful that her true identity would be discovered, she removed one of the balls herself with a penknife and sewing needle, but her leg never fully healed because the other musket ball was too deep for her to reach. (see April 1, 1783)
INDEPENDENCE DAY
July 3, 1944;  Belarus independent from German occupation. (see May 5, 1945)
Muddy Waters
July 3, 1960: Muddy Waters records "At Newport 1960" album at Newport Jazz Festival ["Got My Mojo Working"]. The album itself is released in November 1960.
Beatles
July 3, 1961: the Beatles return to England from Hamburg. (see August)
Four Tops
July 3 – 9 – "I Can't Help Myself (Sugar Pie, Honey Bunch)" by the Four Tops #1 on the Billboard Hot 100.
Brian Jones
July 3, 1969: Brian Jones found dead in the swimming pool at his home in Sussex, England (see July 5)
July 3 – 6, 1969: the festival's 1969 program was an experiment in fusing jazz, soul and rock music and audiences. Its lineup included, besides jazz, Friday evening appearances by rock groups Jeff Beck, Blood, Sweat & Tears, Ten Years After, and Jethro Tull. Saturday's schedule mixed jazz acts such as Miles Davis and Dave Brubeck with others including John Mayall and Sly & the Family Stone. James Brown was among those who appeared Sunday afternoon, followed in the evening by Johnny Winter, Herbie Hancock, B. B. King, and Led Zeppelin.

According to the NYT, on July 6 "The Newport Jazz Festival was invaded...by several hundred young people who broke down a section of the 10-foot wooden fence surrounding Festival Field and engaged in a rock throwing battle with security guards."
Jim Morrison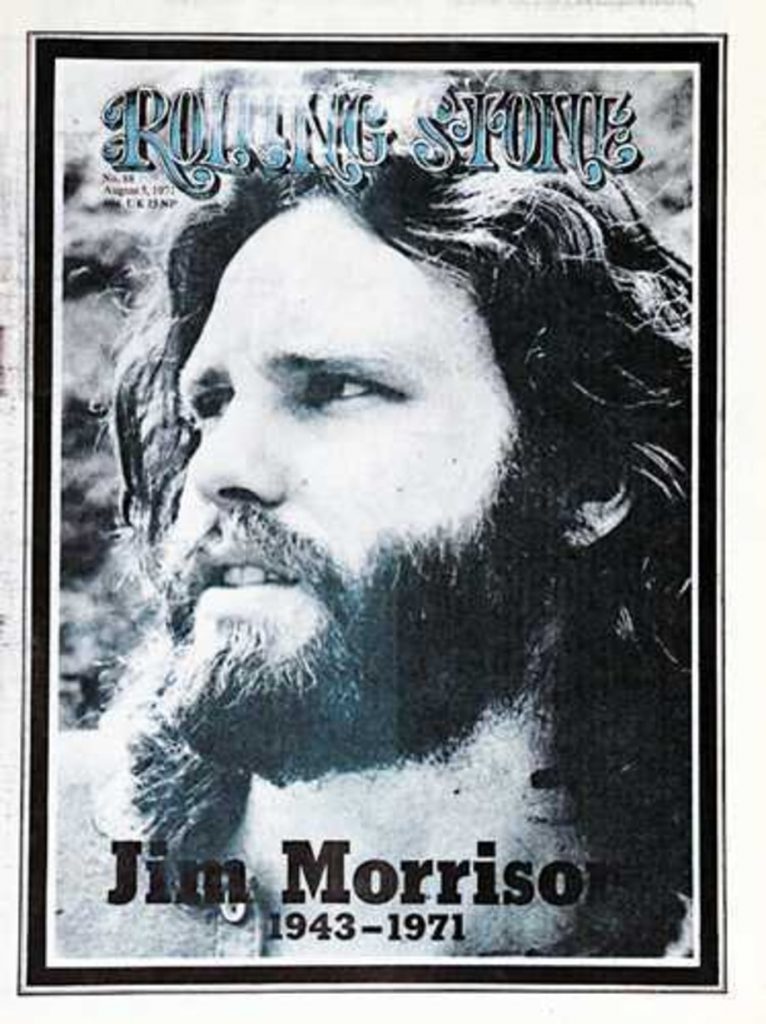 July 3, 1971: Jim Morrison died.
Nuclear/Chemical News
July 3, 1961: a nuclear reactor explosion, the first fatal nuclear accident in the US, kill three men. The Stationary Low-Power Plant No.1 (SL-1), was part of the experimental National Reactor Testing Station (NRTS), near Idaho Falls, Idaho. An 80-lb control rod was lifted by hand beyond its safe position, causing a core meltdown and explosion of the reactor. Four days were spent to devise a safe method to recover one of the corpses. All three bodies were extremely radioactivity, causing problems for their burial. Clean-up took 18 months. Investigators were never able to determine why this "abnormal act" occurred. Two decades later, a documentary speculated one of the men had marital problems and sabotaged the reactor. (see Sept 15)
July 3 Peace Love Activism
FREE SPEECH
July 3, 1978:  comedian George Carlin had developed a routine that used a host of dirty words, to great comic effect. At one point the monologue was broadcast on WBAI, a nonprofit radio station in New York City. A listener complained and the FCC issued WBAI a citation for broadcasting obscene material. The Pacifica Foundation, which owned WBAI, took an appeal to the Supreme Court. 

In FCC Pacifica Foundation, decided on this day, the Court upheld the FCC in a 5–4 vote, singling out the seven words, The seven words are: shit, piss, cunt, fuck, tits, cocksucker, and motherfucker. You can find the words in the Supreme Court's opinion, but you just can't hear them on the radio (or network television).

In the decision it was written: "As Mr. Justice Sutherland wrote, a 'nuisance may be merely a right thing in the wrong place, like a pig in the parlor instead of the barnyard' . . . We simply hold that when the Commission [the FCC]  finds that a pig has entered the parlor, the exercise of its regulatory power does not depend on proof that the pig is obscene." (see July 9)
Toxteth riots in Liverpool
July 3, 1981: the Merseyside police force had a poor reputation within the black community for stopping and searching young black men in the area, under the "sus" laws, and the perceived heavy-handed arrest of Leroy Alphonse Cooper watched by an angry crowd, led to a disturbance in which three policemen were injured.

July 3, 1981: the Toxteth riots in Liverpool start after a mob saved a youth from being arrested. Shortly afterward, the Chapeltown riots in Leeds start after increased racial tension. (see July 9)
TERRORISM
July 3, 1988: U.S. missiles shot down Iran Air Flight 655, a civilian jet airliner over the Strait of Hormuz. All 290 passengers and crew aboard died.
Iraq War II
July 3, 2006: Pfc. Steven Green charged with the rape and murder of a young Iraqi girl. (see July 8)
July 3 Peace Love Activism, July 3 Peace Love Activism, July 3 Peace Love Activism, July 3 Peace Love Activism, July 3 Peace Love Activism, July 3 Peace Love Activism, July 3 Peace Love Activism, July 3 Peace Love Activism, July 3 Peace Love Activism, July 3 Peace Love Activism, July 3 Peace Love Activism, July 3 Peace Love Activism, July 3 Peace Love Activism, 
Please follow and like us: