May 20 Peace Love Activism
Feminism
May 20, 1782: women were not allowed to enlist in the army as a Continental soldier, but Deborah Sampson, five feet seven inches in height, disguised herself as a man and successfully enlisted in the army under the name of her deceased brother, Robert Shurtlieff Sampson. (see July 3)
Cultural Milestone
May 20, 1873: San Francisco businessman Levi Strauss and Reno, Nevada, tailor Jacob Davis were given a patent to create work pants reinforced with metal rivets, marking the birth of one of the world's most famous garments: blue jeans. (see May 31, 1884)
INDEPENDENCE DAY
Cuba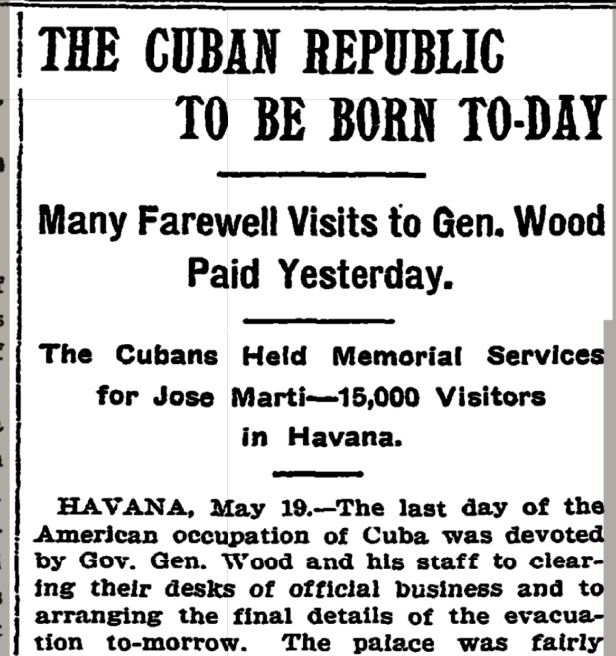 May 20, 1902: Cuba independent from the United States. (see November 3, 1903)
East Timor
May 20, 2002: East Timor (Timor-Leste) became independent from Portugal. (see May 21, 2006)
Dissolution of Yugoslavia
May 20, 2006: Montenegro independent from Serbia. (see February 17, 2008)
Emma Goldman
May 20, 1913: Goldman and Ben Reitman returned to San Diego a year after Reitman's abduction (see May 14, 1912). Goldman was scheduled to lecture on "Ibsen's Play, An Enemy of the People." Upon their arrival, they were taken to a police station under police protection, surrounded by a mob. Police later escorted  and placed them aboard the afternoon train to Los Angeles "for their own safety." (see July 18, 1913)
US Labor History
Railway Labor Act
May 20, 1926: the Railway Labor Act took effect. It was the first federal legislation protecting workers' rights to form unions. (see April 30, 1927)
FREE SPEECH
Cantwell v. Connecticut
May 20, 1940: the Supreme Court overturned the Cantwells' convictions in Cantwell v. Connecticut  holding that the Fourteenth Amendment incorporated the Free Exercise Clause of the First Amendment. (Cantwells, see April 26, 1938) This case marked the incorporation of the Free Exercise Clause of the First Amendment into the Due Process Clause of the Fourteenth Amendment, making it applicable to the states. (FS, see June 28; JM, see April 27, 1942)
Vietnam
Gen. Henri Navarre
May 20, 1953: Gen. Henri Navarre assumed command of French Union Forces in Vietnam and stated "Now we can see [success in Vietnam] clearly, like light at the end of a tunnel" The Vietnamese will defeat the French a year. (see July 27)
Flower Power Day
May 20, 1967: Flower Power Day in NYC. Abbie Hoffman organized the Flower Brigade as an official contingent of a New York City parade honoring the soldiers in Vietnam. News coverage captured Flower Brigade participants, who carried flowers, flags and pink posters imprinted with LOVE, being attacked and beaten by bystanders. In response to the violence, Hoffman wrote in WIN magazine, "Plans are being made to mine the East River with daffodils. Dandelion chains are being wrapped around induction centers.... The cry of 'Flower Power' echoes through the land. We shall not wilt (see "in June")

 
Hamburger Hill
May 20, 1969: US Maj. Gen. Melvin Zais, commanding general of the 101st, sent in two additional U.S. airborne battalions and a South Vietnamese battalion as reinforcements. The communist stronghold was finally captured in the 11th attack, when the American and South Vietnamese soldiers fought their way to the summit of the mountain. In the face of the four-battalion attack, the North Vietnamese retreated to sanctuary areas in Laos.

During the intense fighting, 597 North Vietnamese were reported killed and U.S. casualties were 56 killed and 420 wounded. Due to the bitter fighting and the high loss of life, the battle for Ap Bia Mountain received widespread unfavorable publicity in the United States and was dubbed "Hamburger Hill" in the U.S. media, a name evidently derived from the fact that the battle turned into a "meat grinder." The purpose of the operation was not to hold territory but rather to keep the North Vietnamese off balance. (see May 29)
Pro-Vietnam demonstration
May 20, 1970: around 100,000 people demonstrated in the Wall Street district in support of the war. (see May 21) 

 
Nuclear/Chemical News
H-bomb
May 20, 1956: the first hydrogen fusion bomb (H-bomb) to be dropped from an airplane exploded over Namu Atoll at the northwest edge of the Bikini Atoll. The fireball was four miles in diameter. It was designated as "Cherokee," as part of "Operation Redwing.". (see in 1957)

 
May 20, 1944: Joe Cocker born.
Silver Beetles
May 20, 1960: the Silver Beetles (John Lennon, Paul McCartney, George Harrison, Stu Sutcliffe, and Tommy Moore) played the first night of a short tour of Scotland backing singer Johnny Gentle, at Alloa Town Hall in Clackmannanshire.They were never billed as The Silver Beetles on the tour; all posters gave the billing as "Johnny Gentle and his group". Paul McCartney later wrote:

"Now we were truly professional, we could do something we had been toying with for a long time, which was to change our names to real showbiz names. I became Paul Ramon, which I thought was suitably exotic. I remember the Scottish girls saying, 'Is that his real name? That's great.' It's French, Ramon. Ra-mon, that's how you pronounce it. Stuart became Stuart de Staël after the painter. George became Carl Harrison after Carl Perkins (our big idol, who had written 'Blue Suede Shoes'). John was Long John. People have since said, 'Ah, John didn't change his name, that was very suave.' Let me tell you: he was Long John. There was none of that 'he didn't change his name': we all changed our names.

So here we were, suddenly with the first of Larry's untempestuous acts and a tour of Scotland, when I should have been doing my GCE exams. A lot of my parents' hopes were going up the spout because I was off with these naughty boys who weren't doing GCEs at all." (see June 11)
Karlheinz Stockhausen
May 20, 1967: advanced copies of Sgt Pepper's are sent to the B.B.C. radio service. It decides to ban "A Day In the Life" from broadcast because it contained drug inducement themes in the song. The song's style was influenced by Karlheinz Stockhausen's Gesang der Jünglinge (see June 1)
"Groovin'"
May 20 – June 2, 1967: "Groovin' " by the Young Rascals #1 on the Billboard Hot 100.
The Road to Bethel
May 20, 1969: Michael Lang found separate office space at 513-A Avenue of the Americas in NYC so he can be away from the other organizers. (see May 21)
Let It Be
May 20, 1970: Let It Be movie released. (see June 13)
BLACK HISTORY
Freedom Riders
May 20, 1961: The Freedom Riders arrived in Montgomery, AL where a police escort abandoned them to an angry mob. Freedom Rider Jim Zwerg and Federal official John Seigenthaler were badly injured in an ensuing brawl.
May 20 Peace Love Activism
LGBTQ
John Singer and Paul Barwick

May 20, 1974: The Court of Appeals of Washington denied the case of Seattle residents John Singer and Paul Barwick, who challenged the denial of the freedom to marry to same-sex couples. . (see March 6, 1975)
Pennsylvania same-sex marriage
May 20, 2014: continuing a rush of rulings that had struck down marriage limits across the country, Judge John E. Jones III of Federal District Court in Pennsylvania declared the state's ban on same-sex marriage to be unconstitutional.

"We are a better people than what these laws represent, and it is time to discard them into the ash heap of history," wrote Judge John E. Jones III of Federal District Court in a decision posted on Tuesday afternoon.

President George W. Bush  had appointed Judge Jones in 2002.

Jones did not issue a stay, writing, "By virtue of this ruling, same-sex couples who seek to marry in Pennsylvania may do so, and already married same-sex couples will be recognized as such in the Commonwealth."

Pennsylvania was the last of the Northeast states with a ban on same-sex marriage. (see following)
Boy Scouts of America
May 20, 2014: the Boy Scouts of America announced that it will limit the maximum age of youth in its programs to 18 years old in 2015, down from 21.

The move means those young men from 18 to 20 years old currently participating as youth members in Scouting will have to meet adult membership standards, likely by next spring, BSA spokesman Deron Smith said in an email. Those standards include barring "open or avowed" gay adults from joining and have been at the center of a controversy that has roiled one of America's most popular youth organizations for years. (LGBTQ, see June 4; BSA, see January 21, 2015)
China martial law
May 20, 1989: the Chinese government declared martial law in Beijing.
May 20, 1996: the U.S. Congress reauthorized the Ryan White CARE Act. (see October 30, 2009)
Stop and Frisk Policy
May 20, 2012: Mayor Michael Bloomberg defended stop and frisk practices and said the NYPD will continue the practice that had faced increasing scrutiny. (see June 4, 2012)
DEATH PENALTY
Nebraska
May 20, 2015: with a vote of 32 - 15, the Nebraska legislature passed a bill to repeal the state's death penalty and replace it with life without parole. The measure faced a promised veto from Gov. Pete Ricketts. State Sen. Ernie Chambers, the bill's sponsor and a member of the New Alliance Party, said he was confident supporters could muster the 30 votes necessary to override a veto. (DP, see May 26; Nebraska, see May 27)
Women's Health
May 20, 2016: Oklahoma's Republican Governor Mary Fallin vetoed a bill that called for prison terms of up the three years for doctors who performed abortions, saying the legislation "would not withstand a criminal constitutional legal challenge."

The bill, which was approved a day earlier in the Republican-dominated legislature, would have made performing an abortion a felony and also called for revoking the licenses of any doctor who conducted one. The bill allowed an exemption for an abortion necessary to save the life of the mother.

"The bill is so ambiguous and so vague that doctors cannot be certain what medical circumstances would be considered 'necessary to preserve the life of the mother,'" Fallin said, in a statement from her office, where she was described as "the most pro-life governor in the nation." (see June 27)
May 20 Peace Love Activism, May 20 Peace Love Activism, May 20 Peace Love Activism, May 20 Peace Love Activism, May 20 Peace Love Activism, May 20 Peace Love Activism, May 20 Peace Love Activism, May 20 Peace Love Activism, May 20 Peace Love Activism, May 20 Peace Love Activism, May 20 Peace Love Activism, May 20 Peace Love Activism, May 20 Peace Love Activism, 
Please follow and like us: