May 6 Peace Love Activism
Immigration History
Chinese Exclusion Act
May 6, 1882: President Chester A. Arthur signed the Chinese Exclusion Act, barring Chinese laborers from entering the US for 10 years and prohibiting courts from granting US citizenship to Chinese. (see July 18, 1884)

                Connecticut Senator Joseph Hawley spoke out against the Act in these words: Let the proposed statue be read 100 years hence, dug out of the dust of ages and forgotten as it will be except for a line of sneer by some historian, and ask the young man not well read in the history of this country what was the reason for excluding these men and he would not be able to find it in the law. (see Aug 3)
Women's Health
Margaret Sanger's film, Birth Control
May 6, 1917: about 200 people watched a private showing of birth control advocate Margaret Sanger's film, Birth Control. They were the only people ever to see the film. It was scheduled to open in the Park Theater the following night, but New York officials banned it as obscene and it was never shown publicly. No copy of the film is known to exist today.

                The film depicted episodes drawn from Sanger's own career as a nurse. In one, an impoverished woman begged her doctor for information about birth control, but he declined saying, truthfully, that it would be illegal. She begged nurse Sanger for information. Apparently, she did not receive the information and later, unable to prevent another pregnancy, died during the birth of child. Such personal experiences inspired Sanger to launch her birth control crusade. 
Rhythm Method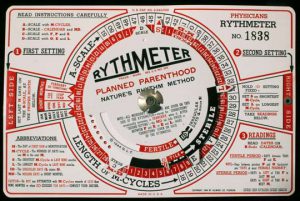 In the 1920s, scientists working independently in Japan (1924) and Austria (1927) devise the "Rhythm Method" of birth control. After figuring out that women are fertile approximately midway through the average menstrual cycle, they conclude that pregnancy can be avoided by abstaining from sex during that fertile period. (see November 1, 1921)
FEMINISM
 Voting Rights
May 6, 1918: Democratic Senator Aristieus Jones, New Mexico, called up suffrage bill on Senate calendar. Opposition forces postponement of vote. (see June 27)
US Labor History
Works Progress Administration
May 6, 1933: President Franklin D. Roosevelt signed an executive order creating the Works Progress Administration (WPA). The WPA was the largest and most ambitious New Deal agency, employing millions of unemployed people (mostly unskilled men) to carry out public works projects, including the construction of public buildings and roads. (see April 12, 1934)
FREE SPEECH
Lady Chatterley's Lover
May 6, 1959: the New York Post office impounded 24 packages from Grove Press containing 164 copies of [unexpergated] editions of Lady Chatterley's Lover. A hearing is held on May 28th to determine the mailability of the books. The judge declined to rule the book obscene and referred the decision to the Post Master General (P.O.D. Docket No. M-18). On June 11th, the Postmaster banned Lady Chaterley's Lover from the mails. Barney Rosset immediately sued in the Federal District Court asking that the ruling of the Postmaster be laid aside. (see June 21)
BLACK HISTORY
Civil Rights Act of 1960
May 6, 1960: Pres Eisenhower signed the Civil Rights Act of 1960 into law establishing federal inspection of local voter registration polls and introduced penalties for anyone who obstructed someone's attempt to register to vote or actually vote. It served to eliminate certain loopholes left by the Civil Rights Act of 1957. (BH, see May 10, VR, see Nov 14)
Viola Liuzzo
May 6, 1965: during his final arguments at the Viola Liuzzo trial the defendants' lawyer, Matt Murphy made blatantly racist comments, including calling Liuzzo a "white nigger," in order to sway the jury. The tactic was successful enough to result in a mistrial the following day (10-2 in favor of conviction) (see May 10)
Cheyney State College
May 6, 1967: four hundred students seized administration building at Cheyney State College. The demonstration was set off by student demands fro "better curriculum, a better faculty, and a better system of finances." (see May 11)
Nuclear/Chemical News
USS Ethan Allen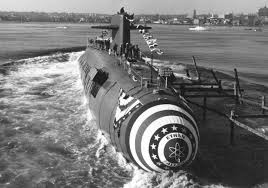 May 6, 1962: the first U.S. nuclear warhead fired from a Polaris submarine was launched. The submerged USS Ethan Allen (SSBN-608) test-fired a Polaris A-2 missile with a live nuclear warhead across the Pacific Ocean toward Christmas Island, 1,700 miles (2,700 km) away. The test, code-named Frigate Bird, was the only one the U.S. ever conducted of any nuclear ballistic missile from launch through detonation. After a 12.5-minute, 1,200-mile flight, the warhead exploded in the air between 10,000 and 15,000-ft (3,000 and 4,600-m) high with a yield of 600 kilotons. (see June 27)
Washington, DC protest
May 6, 1979: over 65,000 anti-nuclear power demonstrators marched on the capitol in protest against more nuclear power plants. Consumer advocate Ralph Nader described nuclear power as "our countries technological Vietnam." (see June 18)
May 6 Music et al
LSD
May 6 1963 : because Timothy Leary, lecturer on clinical psychology, had failed to keep his classroom appointments and had absented himself from Cambridge without permission, the Harvard Corporation voted  to relieve him from further teaching duty and to terminate his salary retroactively to April 30, 1963. (see May 28)
The Road to Bethel
May 6, 1969: Wes Pomeroy met Stanley Goldstein about concert security. Pomeroy agreed to look at site and discuss plans.
Woodstock Ventures offices
In mid-May, 1969: Roberts, Rosenman, Kornfeld, and Lang visited the Woodstock Ventures offices. Roberts and Rosenman had never seen such a layout. Kornfeld and Lang were happy with its laid back set-up. (see May 20)
Beatles memorabilia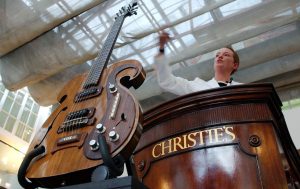 May 6, 2004: sale at Christie's in London, England became the most successful pop auction in the company's history after Beatles memorabilia sold for a record £788,643. The auction included a leather collar worn by John Lennon which sold for £117,250. A signed copy of a management deal with The Beatles and manager Brian Epstein sold for £122,850. A Vox Kensington guitar used by Lennon and Harrison went for £100,000. Also sold - a coloured felt-pen drawing by Lennon (£10,000), a letter with his signature (£5,500), and a pen-and-ink drawing called Happy Fish (£9,500). (see November 22, 2008)
May 6 Peace Love Activism
Kent State aftermath
May 6, 1970: hundreds of colleges and universities across the nation shut down as thousands of students join a nationwide campus protest. Governor Ronald Reagan closed down the entire California university and college system until May 11, which affected more than 280,000 students on 28 campuses. Elsewhere, faculty and administrators joined students in active dissent and 536 campuses were shut down completely, 51 for the rest of the academic year. A National Student Association spokesman reported students from more than 300 campuses were boycotting classes. The protests were a reaction to the shooting of four students at Kent State University by National Guardsmen during a campus demonstration about President Nixon's decision to send U.S. and South Vietnamese troops into Cambodia.

                Vice-President Spiro Agnew stated, "We have listened to these elitists laugh at honesty and thrift and hard work and prudence and logic and respect and self –denial. Why then are we surprised to discover we have traitors and thieves and perverts and irrational and illogical people in our midst?" (Vietnam & Cambodian Invasion, see May 8; FS see May 10)
Irish Troubles
May 6, 1981:  the day after Bobby Sands' death, the British government sent 600 extra British troops into Northern Ireland. (see May 7)
The Cold War
May 6, 1992: in an event steeped in symbolism, former Soviet leader Mikhail Gorbachev reviewed the Cold War in a speech at Westminster College in Fulton, Missouri—the site of  Winston Churchill's "Iron Curtain" speech 46 years before. Gorbachev mixed praise for the end of the Cold War with some pointed criticisms of U.S. policy. (see April 28, 1994)
LGBTQ
Maine
May 6, 2009: the governor of Maine legalized same-sex marriage in that state in Maine; however, citizens voted to overturn that law when they went to the polls in November, and Maine became the 31st state to ban the practice. (see May 26)
Roy S. Moore
May 6, 2016: an Alabama judicial oversight body filed a formal complaint against Roy S. Moore, the chief justice of the state's Supreme Court, charging that he had "flagrantly disregarded and abused his authority" in ordering the state's probate judges to refuse applications for marriage licenses by same-sex couples.

                As a result of the charges, Chief Justice Moore, 69, was immediately suspended from the bench and faced a potential hearing before the state's Court of the Judiciary, a panel of judges, lawyers and other appointees. Among possible outcomes at such a hearing would be his removal from office. (LGBTQ, see May 12; Moore, see June 7)
Sexual Abuse of Children
May 6, 2013:  the Vatican revealed that over the past decade, it had defrocked 848 priests who raped or molested children and sanctioned another 2,572 with lesser penalties, providing the first ever breakdown of how it handled the more than 3,400 cases of abuse reported to the Holy See since 2004.

                The Vatican's U.N. ambassador in Geneva, Archbishop Silvano Tomasi, released the figures during a second day of grilling by a U.N. committee monitoring implementation of the U.N. treaty against torture.

                Tomasi insisted that the Holy See was only obliged to abide by the torture treaty inside the tiny Vatican City State, which has a population of only a few hundred people.

                But significantly, he didn't dispute the committee's contention that sexual violence against children can be considered torture. Legal experts have said that classifying sexual abuse as torture could expose the Catholic Church to a new wave of lawsuits since torture cases in much of the world don't carry statutes of limitations. (see Sept 23)
May 6 Peace Love Activism, May 6 Peace Love Activism, May 6 Peace Love Activism, May 6 Peace Love Activism, May 6 Peace Love Activism, May 6 Peace Love Activism, May 6 Peace Love Activism, May 6 Peace Love Activism, May 6 Peace Love Activism, May 6 Peace Love Activism, May 6 Peace Love Activism, May 6 Peace Love Activism, May 6 Peace Love Activism, May 6 Peace Love Activism
Please follow and like us: