March 30 Peace Love Activism
Technological & Cultural Milestones
Ether
March 30, 1842: physician Dr. Crawford W. Long of Jefferson, Georgia, first used ether as an anesthetic during a minor operation. He placed an ether-soaked towel over the face of James Venable and removed a tumor from his neck. This event predated Morton's public demonstration of ether by four years, but was not disclosed until 1849 in the Southern Medical Journal, which was after Morton's widely publicized feat. However, Dr. Long's accomplishment in 1842 is now widely considered to represent the discovery of surgical anesthesia. He was the subject on a U.S. stamp issued 8 Apr 1940. This is Doctor's Day in his honor. (see May 24, 1844)
Lead pencil and eraser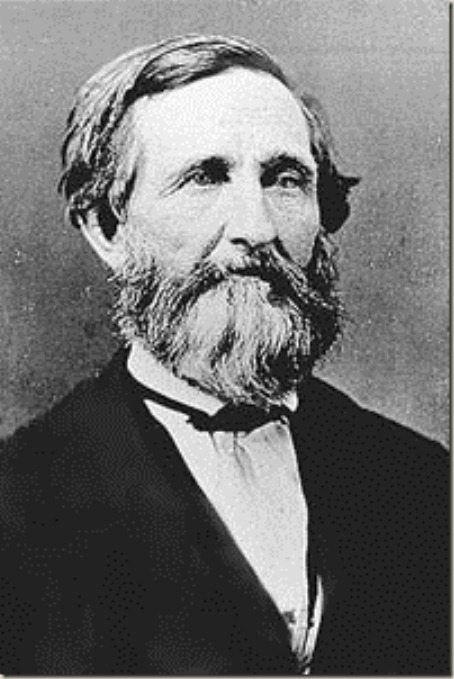 March 30, 1858: the first U.S. patent for a combination lead pencil and eraser was issued to Hyman L. Lipman, of Philadelphia, Pa. (No. 19,783). The pencil was made in the usual manner, with one-fourth of its length reserved inside one end to carry a piece of prepared india-rubber, glued in at one edge. Thus cutting one end prepared the lead for writing, while cutting the other end would expose a small piece of india rubber. This eraser was then conveniently available whenever needed, and not subject to being mislaid. Further, the eraser could be sharpened to a finer point to make a more precise erasure of fine lines in a drawing, or cut further down if the end became soiled. (see October 24, 1861)
"Jeopardy!"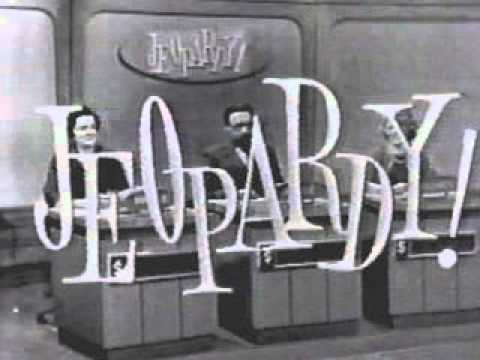 March 30, 1964: premiering in a daytime slot on NBC, "Jeopardy!" was one of the first quiz shows to reintroduce factual knowledge, including knowledge of sports and entertainment trivia as well as the arts, literature, and science, as the main source of questions. Seemingly reversing the logic of the big money quiz shows of the 1950s (e.g., "The 64,000 Question," "Twenty-One"), producer Merv Griffin introduced a format in which the answers for questions are revealed and the contestants must phrase their response in the form of a question. (see "in July")
BLACK HISTORY
Green Cottenham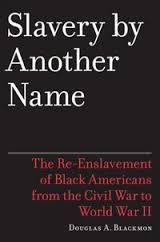 March 30, 1908, : Green Cottenham, a black man, was arrested and charged with "vagrancy" in Shelby County, Alabama. An offense created at the end of the Reconstruction Period and disproportionately enforced against black citizens, vagrancy was defined as an inability to prove employment when demanded by a white person.

Twenty-two-year-old Cottenham was quickly found guilty in a brief appearance before the county judge without a lawyer, and received a sentence of thirty days of hard labor. He was also assessed a variety of fees payable to nearly everyone involved in the process, from the sheriff to the deputy to the court clerk to the witnesses. Due to his inability to pay these fees, Cottenham's sentence would actually last nearly a year.

The day after his court appearance, Cottenham was turned over to the Tennessee Coal, Iron & Railroad Company. The company leased him from Shelby County for $12 per month, which was to go toward paying off the owed fees and fines. Cottenham was sent to work in the Pratt Mines outside Birmingham, in Slope No. 12 mine where conditions were brutal. By the time Cottenham was released nearly a year later, more than sixty of his fellow prisoners had died of disease, accidents, or homicide. Most of their corpses were burned in the mine's incinerators or buried in shallow graves surrounding the mine. (see Aug 14)
"SCOTTSBORO BOYS"
March 30, 1931: a grand jury indicted the nine youths for rape. Although rape was potentially a capital offense, the defendants were not allowed to consult an attorney because they were being kept  "for their safety" in death row cells and that area of the prison did not permit lawyers to speak unattended. (see Scottsboro Boys Travesty for full story) (SB, see  Apr 6 – 7)
FREE SPEECH
March 30, 1964: Hamilton v. Alabama. In a 6–3 per curiam opinion, the Supreme Court granted certiorari (agreed to consider the case) and, without hearing any oral arguments, found in Hamilton's favor, reversing the judgment of the Alabama Supreme Court. In support of its summary decision, the Court cited its 1963 ruling in Johnson v. Virginia, in which it had unanimously held that "a State may not require racial segregation in a courtroom" (BH, see Mar 30; FS, see Apr 6)
Voting Rights
March 30, 1964: what is arguably the most famous filibuster in the history of the U.S. Senate began on this day as southern segregationists attempted to block the civil rights bill pending in the Senate. Nineteen Senators (18 Southern Democrats and one Republican), led by Sen. Strom Thurmond of South Carolina, conducted the filibuster, which lasted for 57 working days. Senator Richard Russell, Jr, of Georgia vowed, "We will resist to the bitter end any measure or any movement which would have a tendency to bring about social equality and intermingling and amalgamation of the races in our (Southern) states." [Historical note: unlike current times, in those days senators had to actually speak continuously in order to maintain a filibuster.] (BH, see Apr 1; VR, see June 10)
Viola Liuzzo
March 30, 1965: funeral services were held for Viola Liuzzo. Her funeral was held at Immaculate Heart of Mary Catholic church in Detroit, with many prominent members of both the civil rights movement and government there to pay their respects. Included in this group were Martin Luther King, Jr.; NAACP executive director Roy Wilkins; Congress on Racial Equality national leader James Farmer; Michigan lieutenant governor William G. Milliken; Teamsters president Jimmy Hoffa; and United Auto Workers president Walter Reuther. At San Francisco's Grace Episcopal Cathedral, Martin Luther King said of Liuzzo, "If physical death is the price some must pay to save us and our white brothers from eternal death of the spirit, then no sacrifice could be more redemptive."

Less than two weeks after her death, a charred cross was found in front of four Detroit homes, including the Liuzzo residence. (BH, see April 2; Selma, see May 3; MLK, see Aug 12)
Congressional Black Caucus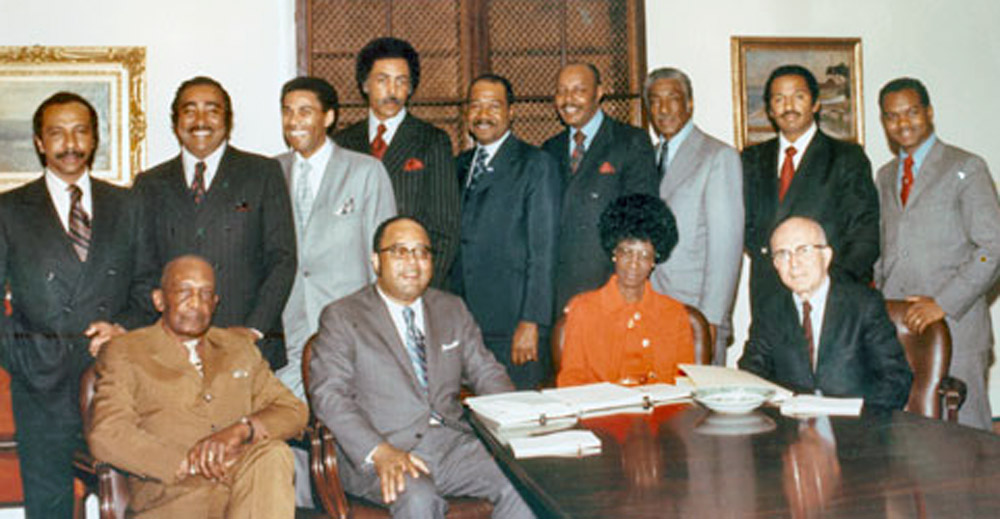 March 30, 1971: founded by 13 members, the Congressional Black Caucus (CBC), representing African-American members of the House of Representatives, was organized on this day. It originated with the Democratic Select Committee in 1969, led by Rep. Charles C. Diggs (D–Michigan). By 2013, there were 43 members of the CBC. (see Apr 20)
Hate Crimes Prevention Act
March 30, 2007: The Matthew Shepard and James Byrd, Jr. Hate Crimes Prevention Act  reintroduced for the fourth time. The 2007 version of the bill added gender identity to the list of suspect classes for prosecution of hate crimes. The bill was again referred to the Subcommittee on Crime, Terrorism and Homeland Security. (BH, see Apr 13; JB, LGBTQ, MSM, see May 3)
US Labor History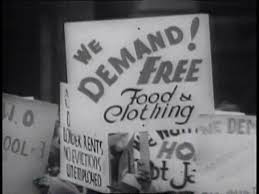 March 30, 1930: 35,000 unemployed march in New York's Union Square. Police beat many demonstrators, injuring 100. (see Apr 13)
Marijuana
  The Single Convention on Narcotic Drugs of 1961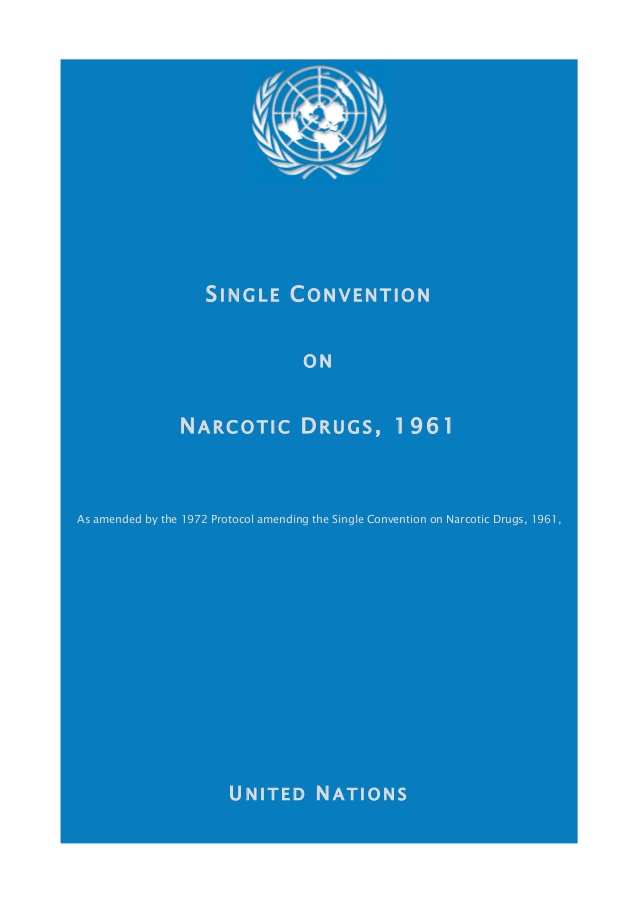 March 30, 1961:  The Single Convention on Narcotic Drugs of 1961 signed. It is an international treaty to prohibit production and supply of specific (nominally narcotic) drugs and of drugs with similar effects except under licence for specific purposes, such as medical treatment and research. The document included updating the Paris Convention of 13 July 1931 to include the vast number of synthetic opioids invented in the intervening thirty years and a mechanism for more easily including new ones. Earlier treaties had only controlled opium, coca, and derivatives such as morphine, heroin and cocaine. The Single Convention consolidated those treaties and broadened their scope to include cannabis and drugs whose effects are similar to those of the drugs specified. (see April 8, 1968)
March 30 Music et al
"He's So Fine"
March 30 – April 26, 1963: The Chiffons "He's So Fine" #1 on the Billboard Hot 100.
LSD

March 30, 1965: Owsley Stanely first shipment of lysergic acid monohydrate, the basis for LSD, arrived through his Berkeley Lab in Los Angeles. He produced 300,000 capsules (270 micrograms each) of LSD by May 1965 and then returned to the Bay Area. (see April 2)
The Beatles
March 30, 1967: photographed with a combination of photographic collage and wax figures from Madame Tussaud's famous museum for the cover artwork of Sgt. Pepper's Lonely Hearts Club Band album at Chelsea Manor Studios in London. There are 61 others surrounding the Beatles, among whom is German composer Karlheinz Stockhausen. (Stockhausen, see in 1955 – 56;  Beatles, see Apr 8)
The Road to Bethel
March 30, 1969: after the Saugerties refusal, Roberts and Rosenman speak to Howard Mills about a piece of land in Wallkill, NY that Mills was going to develop. Mills agreed to rent the site for the festival. (see April 1)
Vietnam
U.S. Embassy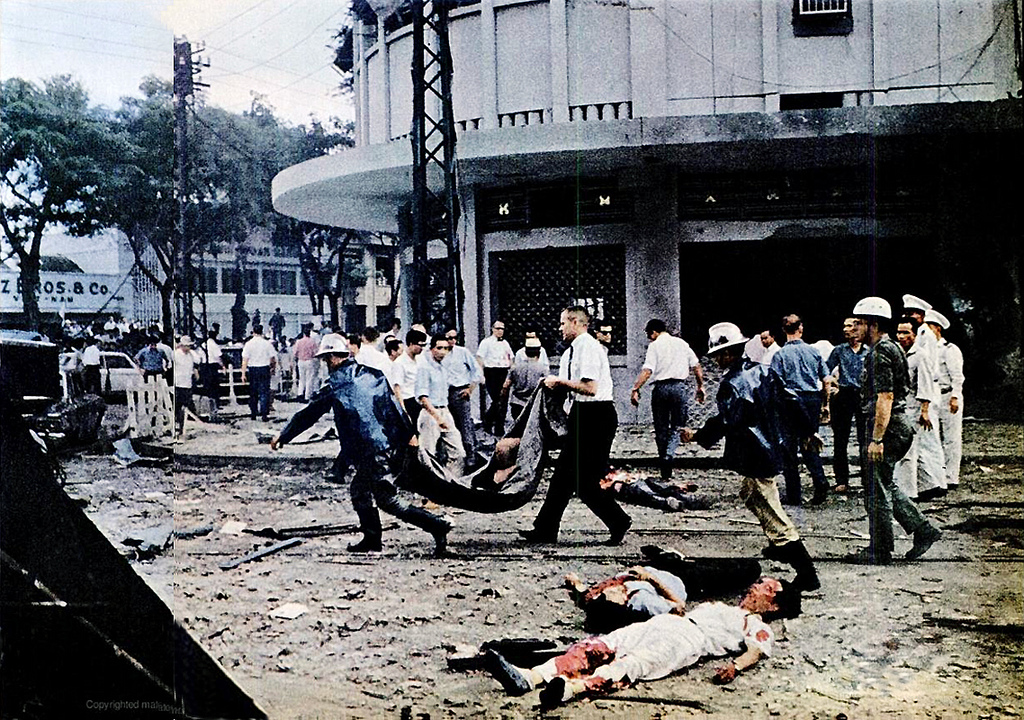 March 30, 1965: a bomb exploded in a car parked in front of the U.S. Embassy in Saigon, virtually destroying the building and killing 19 Vietnamese, 2 Americans, and 1 Filipino; 183 others were injured. Congress quickly appropriated $1 million to reconstruct the embassy. Although some U.S. military leaders advocated special retaliatory raids on North Vietnam, President Lyndon B. Johnson refused. (see "in April")
North Vietnamese offensive
March 30, 1972: a major coordinated communist offensive opened with the heaviest military action since the sieges of Allied bases at Con Thien and Khe Sanh in 1968. Committing almost their entire army to the offensive, the North Vietnamese launched a massive three-pronged attack into South Vietnam. Four North Vietnamese divisions attacked directly across the Demilitarized Zone in Quang Tri province. Thirty-five South Vietnamese soldiers died in the initial attack and hundreds of civilians and soldiers were wounded. (see Apr 10)
Ronald Reagan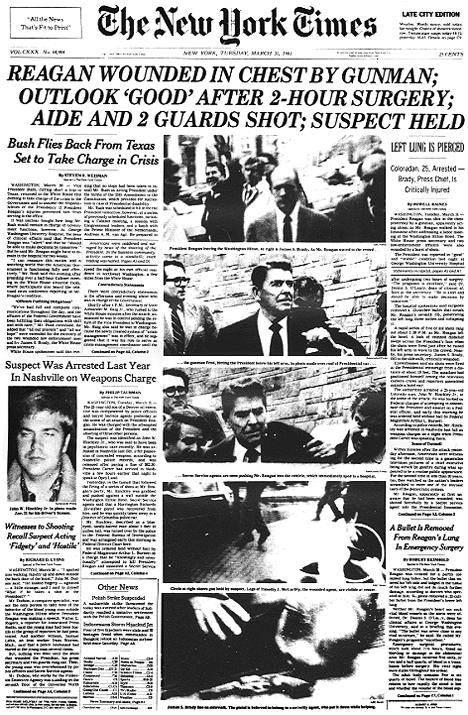 March 30, 1981, Ronald Reagan shot in the chest outside a Washington, D.C. hotel by John Hinckley, Jr. Two police officers and Press Secretary James Brady are also wounded.
Consumer Protection
March 30, 1999: a jury in Portland, Ore., ordered Philip Morris to pay $81 million to the family of a man who died of lung cancer after smoking Marlboros for four decades. (see March 21,  2000)
Iraq War II
March 30, 2003:  US Secretary of Defense, Donald Rumsfeld: We know where [the weapons of mass destruction] are. They're in the area around Tikrit and Baghdad and east, west, south and north somewhat. [ABC This Week, 3/30/03] (see April 3)
Sexual Abuse of Children
BSA
March 30, 2005: Douglas Sovereign Smith Jr., 61, the longtime program director of the Boy Scouts of America and chairman of its Youth Protection Task Force pleaded guilty in court to a charge of possession and distribution of child pornography. (Sexual abuse, see in June 2005; BSA, see June 17, 2012)
March 30 Peace Love Activism
Stop and Frisk Policy
March 30, 2012: Mayor Michael Bloomberg defended Stop-and-Frisk. He said the fact that NYPD officers were recovering fewer guns was an indication that the program was working. (see May 9)
Affordable Care Act
March 30, 2012: US Supreme Court Justices initial vote on health care law. Their final opinion would be released in June. In the weeks after this meeting, individual votes can change. Even who wins can change, as the justices read one another's draft opinions and dissents. (see June 28)

March 30, 2015: the Supreme Court declined to take up the latest lawsuit against Obamacare, this time a challenge to a board that critics label a "death panel."

The case, Coons v. Lew, contested the constitutionality of the Independent Payment Advisory Board, among other complaints against Obamacare. The IPAB was designed to limit spending growth in Medicare, but the challengers say that it will result in limiting care for seniors. (see Apr 27)
FREE SPEECH
Student Rights
March 30, 2015:  the U.S. Supreme Court refused to take up a ruling that had found Live Oak High School had the legal right to order students wearing American flag-adorned shirts to turn them inside out during a 2010 Cinco de Mayo celebration.

In 2014, the 9th U.S. Circuit Court of Appeals had ruled in favor of Live Oak High School administrators, who argued that a history of problems on the Mexican holiday justified the decision to act against the American flag-wearing students. Officials ordered the students to either cover up the shirts or go home, citing past threats and campus strife between Latino and white students that raised fears of violence. (FS, see Mar 31; SR, see June 18)
Fourth Amendment
GPS ankle bracelets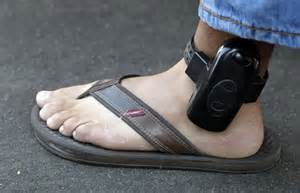 March 30, 2015: the U.S. Supreme Court ruled that North Carolina courts were wrong to decide that GPS ankle bracelets don't count as searches.

Torrey Dale Grady was a repeat sex offender, and North Carolina forced him to wear a GPS tracking device at all times. Grady argued that violated his Fourth Amendment right to be free from unreasonable searches. Several state courts, including the state Supreme Court, dismissed Grady's argument, saying the ankle monitor did not count as a search.

The U.S. Supreme court ruled it does. The justices said: "The state's program is plainly designed to obtain information. And since it does so by physically intruding on a subject's body, it effects a Fourth Amendment search."

The Supreme Court did not, however, decide whether the search was unreasonable. The justices sent the case back to state courts to rule on that question, and determine whether North Carolina's tracking program was constitutional. (see Mar 31)
Native Americans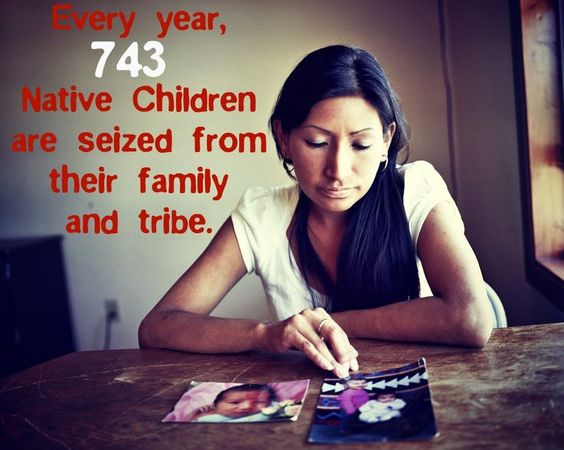 March 30, 2015: "Indian children, parents and tribes deserve better," wrote Chief Judge Jeffrey Viken of the Federal Court for South Dakota in a 45-page decision. Viken ruled that the procedures used by the four state officials in removing Indian children from their homes violated the due process clause of the 14th Amendment of the Constitution as well as the Indian Child Welfare Act (ICWA), which establishes minimum federal standards for the removal of Indian children from their families. Congress passed the law in 1978 "to curb the alarmingly high rate of removal of Indian children from Indian parents."

According to Viken, state officials violated the plaintiffs' rights to basic judicial fairness during state child-custody hearings. Parents didn't receive adequate notice of the allegations against them, nor was counsel appointed to represent them. They also were prohibited from cross-examining state workers who accused them of mistreating their children and from presenting evidence in their own defense. When their children were taken, the state court also failed to provide them with a written decision based on evidence presented during the hearing. (see Aug 30)
Women's Health
March 30, 2016: the Food and Drug Administration relaxed the requirements for taking a medication that induces abortion, a move that was expected to expand access to the procedure.

The move was a victory for abortion rights advocates who had been fighting laws in states like Texas, North Dakota and Ohio that required providers to follow the requirements on the original F.D.A. labels for the drug when conducting abortions by medication. Many doctors said the original labels, based on clinical evidence from the 1990s, were outdated and that the state laws went against accepted medical practice and made it harder for women to get abortions. (see May 20)
March 30 Peace Love Activism, March 30 Peace Love Activism, March 30 Peace Love Activism, March 30 Peace Love Activism, March 30 Peace Love Activism, March 30 Peace Love Activism, March 30 Peace Love Activism, March 30 Peace Love Activism, March 30 Peace Love Activism, March 30 Peace Love Activism, March 30 Peace Love Activism, March 30 Peace Love Activism, 
Please follow and like us: