March 16 Peace Love Activism
BLACK HISTORY
Freedom's Journal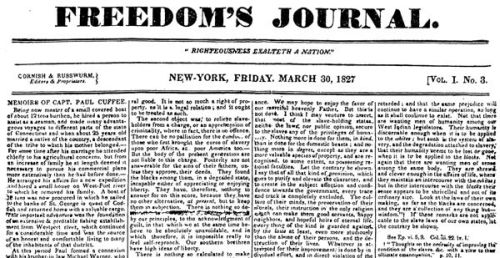 March 16, 1827: the Freedom's Journal newspaper was founded. It was the first Black-owned and operated newspaper in the United States. Started by a group of free Black men in New York City, the paper served to counter racist commentary published in the mainstream press. As a four-page, four-column standard-sized weekly, Freedom's Journal was established the same year that slavery was abolished in New York State. Samuel E. Cornish and John B. Russwurm served as its senior and junior editors. The Journal consisted of news of current events, anecdotes, and editorials and was used to address contemporary issues such as slavery and "colonization," a concept that was conceived in 1816 to repatriate free Black people to Africa. (see July 5)
March to Montgomery
March 16, 1965: police clashed with 600 SNCC marchers in Montgomery, Alabama. (see March 17)
Thirteenth Amendment
March 16, 1995:  Mississippi ratified the Thirteenth Amendment, becoming the last state to approve the abolition of slavery. The amendment was nationally ratified in 1865. (see April 16)
Technological Milestone
Robert H. Goddard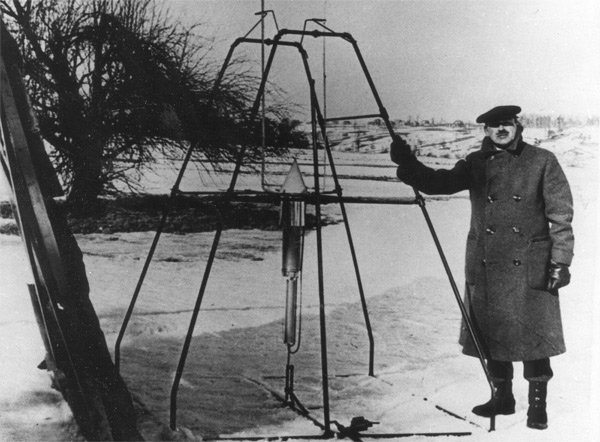 March 16, 1926: rocket science pioneer Robert H. Goddard successfully tested the first liquid-fueled rocket, in Auburn, Mass. (see January 7 1926)
Space Race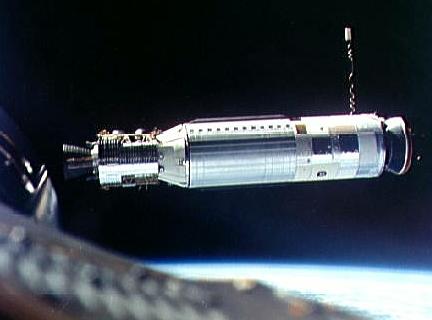 March 16, 1966: Americans Neil Armstrong and David Scott couple Gemini 8 to an unmanned Agena vehicle, docking two spacecraft together for the first time. Shortly after this feat, Gemini 8 experiences a stuck thruster, causing the craft to tumble wildly, and the rest of the mission is aborted. Following reports of Gemini 8's problems, the Soviet Union reveals that their Voskhod 2 mission the previous March had landed far off course and the astronauts were stranded in a snowy forest for a day before they could be recovered. (see March 31)
US Labor History
United Federation of Teachers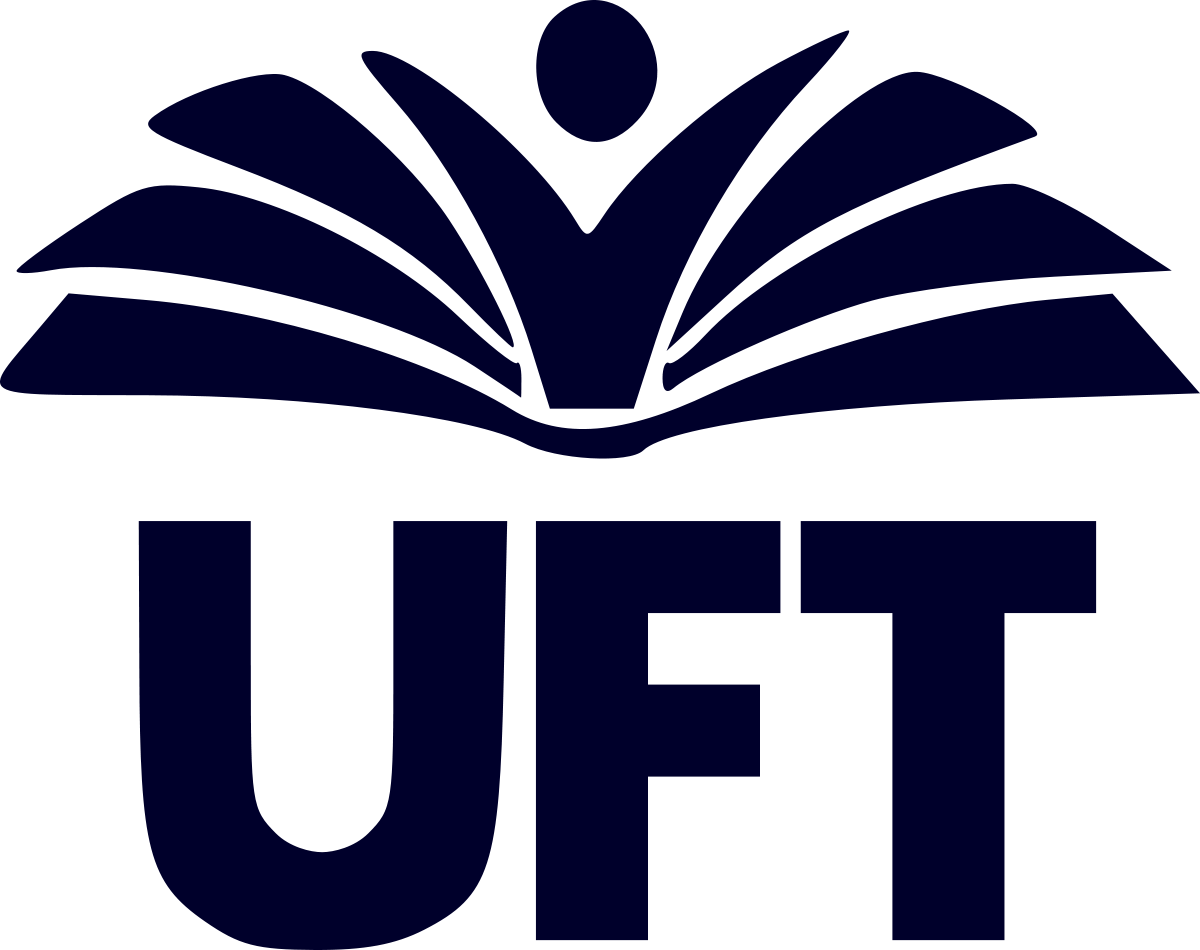 March 16, 1960: the United Federation of Teachers (UFT) was formed in New York to represent New York City public school teachers and, later, other education workers in the city. (see Nov 25)
March 16 Music et al
Frank Fontaine
March 16 – April 20, 1963: Frank Fontaine's Songs I Sing on the Jackie Gleason Show the Billboard #1 album.
Otis Redding
March 16 – April 12, 1968: "(Sittin' On) The Dock of the Bay" by Otis Redding #1 on the Billboard Hot 100.
Vietnam
Alice Herz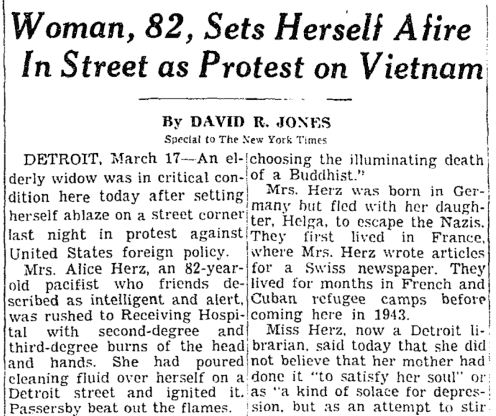 March 16, 1965: Quaker Alice Herz, 82, immolated self in Detroit in protest of the Vietnam war. (Vietnam, see March 24; Herz, see March 22)
My Lai Massacre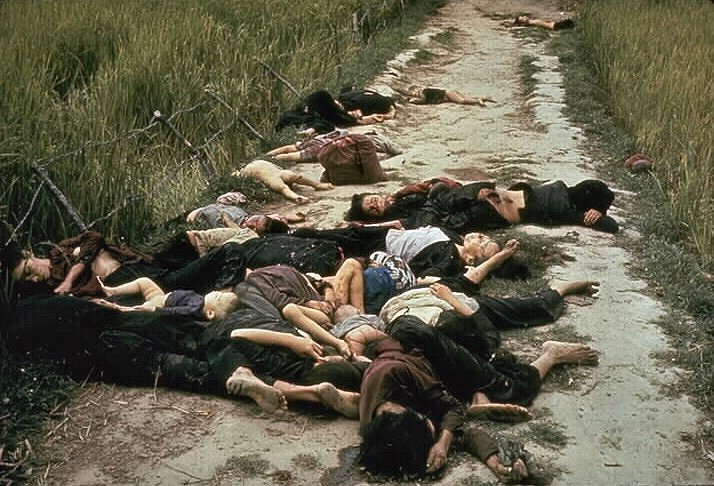 March 16, 1968: the two Charlie Company platoons in the village begin rounding up approximately 20-50 civilians (mostly women, children and old men,) pushing them along trails to a dirt road south of the village, and placing them under guard. Another group of 70 civilians were moved to the east of the village. Soldiers begin killing the civilians without pretext. Men were stabbed with bayonets or shot in the head. One GI pushed a man down a well and threw an M26 grenade in after him. Over a dozen women and children praying by a temple were shot in the head by passing soldiers.

Two soldiers came across a woman carrying an infant and walking with a toddler; they fire at her. An elderly woman was spotted running down a path with an unexploded M79 grenade lodged in her stomach. One soldier forced a woman around the age of 20 to perform oral sex on him while holding a gun to a four-year-old child's head. At a drainage ditch into which the civilians had been herded and Lieutenant Calley gave the order to start killing them. Within ten minutes, all are shot down by members of the 1st Platoon. Witnesses to the shooting reported anywhere between 75 and 150 Vietnamese killed. None of the Vietnamese were armed. From his helicopter, a Warrant Officer Hugh Thompson spotted a group of wounded Vietnamese citizens south of My Lai. He marked their positions with smoke grenades and radioed soldiers on the ground to provide medical assistance. Later Thompson will confront officers on the ground at the massacre site. He will succeed in Medevacing some villagers for help. Thompson will also report that day what he has seen. (My Lai, see Mar 18; Vietnam, see March 16)
Robert F. Kennedy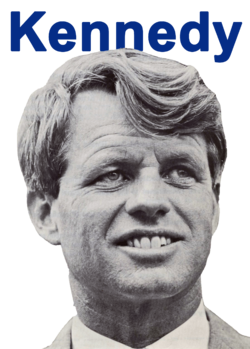 March 16, 1968: Robert F. Kennedy announced candidacy for President. (see March 17)
March 16 Peace Love Activism
Fair Housing
Pruitt-Igoe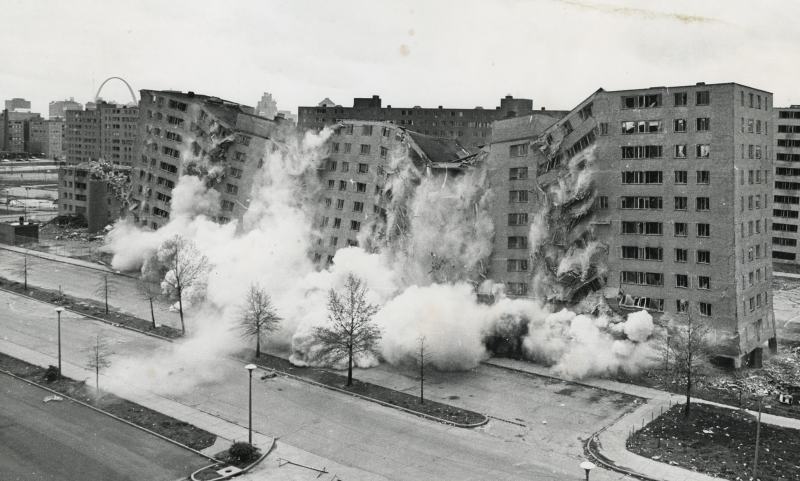 March 16, 1972: after years of failed attempts at remedying the many housing issues, the first of the Pruitt-Igoe building was demolished. The second one went down April 22, 1972. After more implosions on July 15, the first stage of demolition was over. As the government scrapped rehabilitation plans, the rest of the Pruitt–Igoe blocks were imploded during the following three years; and the site was finally cleared in 1976 with the demolition of the last block. (see Mar 23)
FREE SPEECH
Zoia Horn
March 16, 1972: reference librarian Zoia Horn refused to testify against the Harrisburg Seven who were on trial for an alleged conspiracy to kidnap then-National Security Adviser Henry Kissinger. Five of the seven were current or former Catholic priests or nuns.

Horn had been implicated by an ex-convict informer placed in the Bucknell University library by the FBI.

Though given immunity from self-incrimination, Zoia objected to the idea that libraries could become places of infiltration and spying. Charged with contempt of court, she was sent to jail for 20 days until a mistrial was declared.

Judith Krug, longtime director of the American Library Association's Office of Intellectual Freedom, said that Horn was "the first librarian who spent time in jail for a value of our profession."

At the trial she asked to read a statement of explanation, but was led away in handcuffs before she had begun her third sentence: "Your Honor, it is because I respect the function of this court to protect the rights of the individual, that I must refuse to testify. I cannot in my conscience lend myself to this black charade. I love and respect this country too much to see a farce made of the tenets upon which it stands. To me it stands on freedom of thought—but government spying in homes, in libraries and universities inhibits and destroys this freedom. It stands on freedom of association—yet in this case gatherings of friends, picnics and parties have been given sinister implications, and made suspect. It stands on freedom of speech—yet general discussions have been interpreted by the government as advocacies of conspiracies." (see Mar 23)
TERRORISM
Terry Anderson
March 16, 1985: Terry Anderson was kidnapped on a west Beirut street while leaving a tennis court. His captors took him to the southern suburbs of the city, where he was held prisoner in an underground dungeon for the next six-and-a-half years. (see May 17, 1987)
Iran–Contra Affair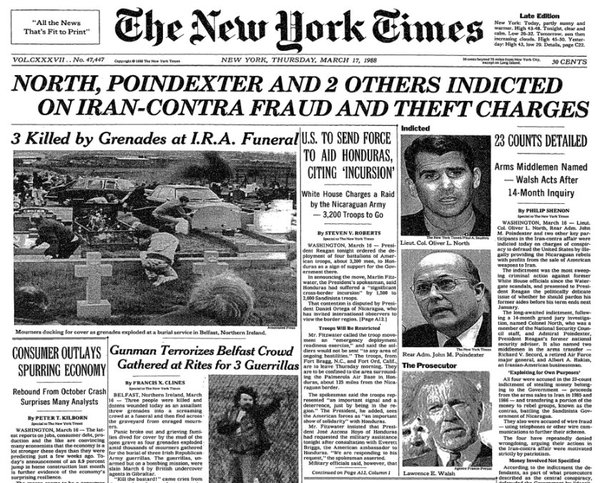 March 16, 1988: Lieutenant Colonel Oliver North and Vice Admiral John Poindexter were indicted on charges of conspiracy to defraud the United States. (see Mar 24)
IRAQ
Chemical weapons
March 16, 1988: Iraq used chemical weapons against Kurds supporting Iran in Halabja, killing 4000, an attack which begins the Anfal campaigns against Kurdish villages (formally continuing until 6 Sept, though  attacks continued until 1989). Approximately 50,000 to 180,000 Kurds are killed in this campaign, and 1,276 villages are destroyed. (see Aug 20)
Dick Cheney
March 16, 2003: Vice President Dick Cheney predicted on NBC's "Meet the Press" that American troops would be "greeted as liberators" by the Iraqi people. (see Mar 17)
LGBTQ
March 16, 2011: The Respect for Marriage Act, the bill that would overturn the so-called Defense of Marriage Act, introduced.  (see April 4)
STAND YOUR GROUND LAW
Trayvon Martin Shooting
March 16, 2012: Sanford FL police released copies of the 911 calls to the news media. On the recordings, one shot, an apparent warning or miss, is heard, followed by a voice begging or pleading, and a cry. A second shot is then heard, and the pleading stops. (see Mar 21)
Kandahar massacre
March 16, 2012: the military identified the soldier accused of killing 16 Afghan villagers as Staff Sgt. Robert Bales, a 38-year-old father of two who had been injured twice in combat over the course of four deployments and had, his lawyer said, an exemplary military record. Bales was flown from Kuwait to the Midwest Joint Regional Correctional Facility in Fort Leavenworth, Kansas. According to U.S. Army Colonel James Hutton, Chief of Media Relations, Bales was held in special housing in his own cell and was able to go outside the cell "for hygiene and recreational purposes" (see Mar 23)
Women's Health
March 16, 2012: Utah Gov. Gary Herbert vetoed a bill banning public schools from teaching contraception as a way of preventing pregnancy and sexually transmitted diseases. The bill, which also sought to bar instruction on homosexuality or other aspects of human sexuality other than the teaching of abstinence, would have been the first of its kind in the nation if it had become law. (see October 23)
Clarence Earl Gideon
March 16, 2013: approaching the 50th anniversary of the US Supreme Court decision, Gideon v. Wainwright, which guaranteed indigent defendant the right to a lawyer, a NYT article stated, the Legal Services Corporation, the Congressionally financed organization that provides lawyers to the poor in civil matters, says there are more than 60 million Americans — 35 percent more than in 2005 — who qualify for its services. But it calculates that 80 percent of the legal needs of the poor go unmet. In state after state, according to a survey of trial judges, more people are now representing themselves in court and they are failing to present necessary evidence, committing procedural errors and poorly examining witnesses, all while new lawyers remain unemployed... According to the World Justice Project, a nonprofit group promoting the rule of law that got its start through the American Bar Association, the United States ranks 66th out of 98 countries in access to and affordability of civil legal services.
March 16 Peace Love Activism, March 16 Peace Love Activism, March 16 Peace Love Activism, March 16 Peace Love Activism, March 16 Peace Love Activism, March 16 Peace Love Activism, March 16 Peace Love Activism, March 16 Peace Love Activism, March 16 Peace Love Activism, March 16 Peace Love Activism, March 16 Peace Love Activism, 
Please follow and like us: