March 1 Peace Love Activism
DEATH PENALTY
Feminism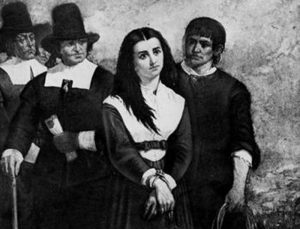 ---
March 1, 1692: in Salem Village in the Massachusetts Bay Colony, Sarah Goode, Sarah Osborne, and Tituba, an Indian slave from Barbados, were charged with the illegal practice of witchcraft. Later that day, Tituba, possibly under coercion, confessed to the crime, encouraging the authorities to seek out more Salem witches. (see June 10)
---
Roper v. Simmons
---
March 1, 2005: in Roper v. Simmons the Supreme Court overruled its 1989 Stanford v. Kentucky decision which allowed the execution of persons who were age 16 or 17 at the time they committed their crimes. In Roper, the Court held that the execution of a person under the age of 18 was disproportionate punishment under the Eighth Amendment and, therefore, was cruel and unusual punishment. (DP, see January 17, 2006; 8th , see May 17, 2010)
---
March 1 Peace Love Activism
BLACK HISTORY
Act for the Gradual Abolition of Slavery
March 1, 1780: Pennsylvania enacted the Act for the Gradual Abolition of Slavery. It  guaranteed freedom to non-residents' slaves  after living in Pennsylvania for six months. (see August 7, 1789)
---
Follow the Drinking Gourd
---
March 1, 1790: the first U.S. Census count included slaves (though each counted only three-fifths) and free African-Americans, but Indians were not included.  During American slavery, songs were an important part of slave culture. One of the best known (though not published until the 1920s) was "Follow the Drinking Gourd." The song provides coded directions for slaves to escape north. Many artists have covered the song. (see June 21, 1851)
---
The Civil Rights Act of 1875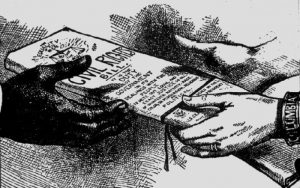 ---
March 1, 1875: The Civil Rights Act of 1875 (sometimes called Enforcement Act or Force Act) enacted.  It declared: all persons within the jurisdiction of the United States shall be entitled to the full and equal enjoyment of the accommodations, advantages, facilities, and privileges of inns, public conveyances on land or water, theaters, and other places of public amusement; subject only to the conditions and limitations established by law, and applicable alike to citizens of every race and color, regardless of any previous condition of servitude. (BH, see Mar 23; CRA, see October 15, 1883)
---
Idaho anti-miscegenation law
---
March 1, 1921: Idaho amended its anti-miscegenation law to include additional restrictions on interracial marriage. Idaho passed its first anti-miscegenation law in 1864, which banned marriage between a white person and "any person of African descent, Indian or Chinese." The punishment for marrying in violation of the statute was imprisonment for up to two years. Idaho also passed a law banning interracial cohabitation in 1864, violation of which could result in a $100-$500 fine, six to twelve months in jail, or both. The anti-miscegenation law was amended in 1867 to increase the range of fines and the maximum possible prison time to ten years. In 1921, the law was amended again to ban marriage between whites and "mongolians, negroes, or mulattoes," although the state's population at the time was less than .02% African American. The Idaho state legislature repealed the anti-miscegenation law in 1959.
---
Idaho was not unique in its attempts to obstruct marriage between the races. In the 1920's, Social Darwinism had captured the attention of the country's elite, who became concerned with maintaining and promoting the eugenic racial purity of the white race by controlling procreation. Concerned that states were not adequately enforcing their anti-miscegenation laws, eugenicists pushed for stronger measures against racial mixing and stricter classifications to determine who qualified as white when seeking a marriage license. Like Idaho, many states added the racial category "mongolian" during this time in response to an influx of Japanese immigrants to the United States. (see Apr 5)
---
Alabama State College
March 1, 1960: over 1000 people marched from the Alabama State College campus to the state capital and back. After this march, the president of the university expelled 9 students identified as leaders and suspended 20 other students, under pressure from the governor's office. As a result of this, students at the college voted to boycott classes and exams. (BH, see Mar 7; ASC, see Mar 2)
Malcolm X & Muhammad Ali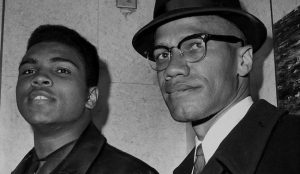 ---
March 1, 1964: Cassius Clay met with Malcolm X in NYC. ( 2016 NPR report about the relationship between both men) (see Mar 3)
---
George Whitmore, Jr
---
March 1, 1965: Gerald Corbin, a juror in the Elba Borrero case, testified at a hearing before Justice Malbin on the motion for a new trial that "practically everyone" on the jury knew that George Whitmore, Jr. had been charged with the Wylie-Hoffert crime. According to Corbin, one of his fellow jurors had stated, "This is nothing compared to what he is going to get in New York."
---
Corbin also testified that at least one juror "on more than one occasion" used racial slurs referring to the sexual proclivities of Negroes and Puerto Ricans. "Whitmore," said the juror in question, "was guilty of attempted rape because Negros are "like jackrabbits" and "got to have their intercourse all the time." An FBI report, which the prosecution had withheld at the trial, was introduced at the hearing. It stated that the button Borrero ripped from her assailant's coat differed in size and color from the buttons on the tan poplin raincoat Whitmore was wearing when he was taken into custody. (see Whitmore for expanded story)
---
Ben Chester White murder
March 1, 2003: after just three hours of deliberations and a three-day trial, a jury of nine whites and three blacks found Ernest Avants, 72, a former Klansman guilty of murdering Ben Chester White  as part of a beer-inspired plot to draw Dr. King down to them. Avants will die in prison on June 16, 2004. (2014 Clarion-Register article) (see Mar 26)
---
March 1 Peace Love Activism
Women's Health
Emma Goldman
---
March 1, 1916: Goldman spoke at a birth control mass meeting held at Carnegie Hall in New York City. Other speakers include Margaret Sanger, Leonard Abbott, Gilbert E. Roe, Theodore Schroeder, Bolton Hall, John Reed, Anna Strunsky Walling, Dr. William J. Robinson and Dr. A. L. Goldwater. (see Goldman for expanded story; WH, see October 16, 1916)
---
Family planning services
---
March 1, 1966,: in a Special Message to Congress on Domestic Health and Education, President Lyndon Johnson called for federal support for family planning services. The first federal support for family planning occurred on November 2, 1965, as part of Johnson's Great Society program, and the War on Poverty in particular. Federal support became institutionalized in 1970 with the Family Planning Services Act, which President Richard Nixon signed into law on December 26, 1970. In the late 1960s and 1960s, most Republican Party leaders supported both birth control and federal aid for family planning services. That changed in the late 1970s when social conservatives captured control of the GOP and advanced and anti-abortion, anti-birth control, and anti-feminist agenda.
---
The fight for the legal availability of birth control and family planning services was a long one. On October 16, 1916 Margaret Sanger opened the first birth control clinic in America. She was arrested a week later for violating New York state law, and eventually served a month in jail. A major breakthrough was the Supreme Court's decision in Griswold v. Connecticut on June 7, 1965, which struck down a Connecticut law prohibiting birth control services and which established a constitutional right of privacy. (NYT abstract) (see Sept 6)
---
March 1 Peace Love Activism
US Labor History
U.S. Steel
March 1, 1937: CIO president John L. Lewis and U.S. Steel President Myron Taylor signed a landmark contract in which the bitterly anti-union company officially recognized the CIO as sole negotiator for the company's unionized workers. Included: the adoption of overtime pay, the 40-hour work week, and a big pay hike (see Mar 18)
---
Colin Kaepernick
---
March 1, 2017: the San Francisco 49ers announced that quarterback Colin Kaepernick opted out of the final season of his contract with the organization in order to become an unrestricted free agent.  (ESPN article) (Labor, see Apr 26; CK, see Aug 12)
---
March 1 Peace Love Activism
Cold War & Nuclear/Chemical Weapons
---
---
March 1, 1950: German-British atomic scientist Klaus Fuchs was sentenced to 14 years in prison by a UK court for passing British and American nuclear secrets to the Soviet Union. (1988 LA Times obit) (CW, see Mar 8; NN, see June 17)
---
Castle Bravo
March 1, 1954:  Castle Bravo was the code name given to the first US test of a dry fuel thermonuclear hydrogen bomb, detonated at Bikini Atoll, Marshall Islands, The blast's 15 megaton yield, far exceeded the expected yield of 4 to 6 megatons. That, combined with other factors, led to the most significant accidental radiological contamination ever caused by the US. Fallout from the detonation — intended to be a secret test — poisoned some of the islanders upon their return, as well as the crew of a Japanese fishing boat, and created international concern about atmospheric thermonuclear testing. (Brookings article) (see June 14, 1954)
---
---
Peace Corps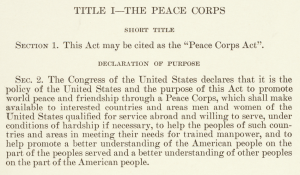 ---
March 1, 1961: President Kennedy issued Executive Order #10924, establishing the Peace Corps as a new agency within the Department of State. The same day, he sent a message to Congress asking for permanent funding for the agency, which would send trained American men and women to foreign nations to assist in development efforts. The Peace Corps captured the imagination of the U.S. public, and during the week after its creation thousands of letters poured into Washington from young Americans hoping to volunteer. (text of order) (next Cold War entry is Bay of Pigs )
---
March 1 Peace Love Activism
TERRORISM
Puerto Rican nationalists
---
March 1, 1954: Puerto Rican nationalists opened fire from the gallery of the U.S. House of Representatives, wounding five congressmen. (NYT article) (see February 16, 1965)
---
Khalid Shaikh Mohammed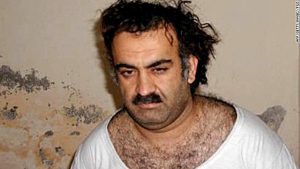 ---
March 1, 2003,: suspected Sept. 11 mastermind Khalid Shaikh Mohammed was captured by CIA and Pakistani agents near Islamabad. (CNN article) (see Nov 25)
---
Continue reading March 1 Peace Love Activism →
Please follow and like us: