Richard Kermode
October 5, 1949 – January 16, 1996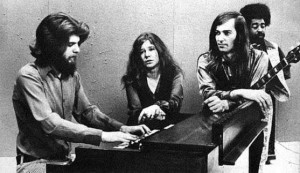 "Yours Is the Light" from Santana's Welcome album. Music by Michael Shrieve lyrics by Richard Kermode. Vocal by Flora Purim
In the band v in a band
     It seems to me that the more members a band has,  the less likely all members are well-known.  That may be especially so when there is one person who heads the band.

     Janis Joplin was a member of Big Brother and the Holding Company, though after awhile the band's name seemed to become Janis Joplin and Big Brother....

     When Joplin left Big Brother in 1968 she formed a back up band. And being in a back up band is not quite the same thing as being in the band.  
Richard Kermode
     Richard Kermode was born in Wyoming and grew up in Buffalo, NY where he became a well-respected keyboardist. In 1969 he moved to California just in time for Janis Joplin to add him to her new Kozmic Blues Band. He was also just in time to be in the band for the Woodstock Music and Art Fair.

     When Janis Joplin died, Kermode became mainly a sessions musician including three albums for Carlos Santana:  Welcome (1973), Lotus (1974), and Dance of the Rainbow Serpent (1995).

     He also played with the group Malo. Jorge Santana, Carlos's brother, was one of that band's founders. He developed a passion for Latin music while playing with Malo and worked with numerous Latin jazz, salsa and Brazilian bands. He also recorded with Patti LaBelle, Luis Gasca, Pete Escovedo, Airto and Purim.   

     In 1990 he suffered severe kidney and liver ailments, but recovered.  He was able to resume his musical career and played in bands on USO tours. He toured South Korea and Japan.

     In 1994 he moved to Denver to work on salsa music projects.
Yours Is the Light
Yours is the light that will always shine
And shine eternally, eternally
Mine is the search, never ending search
Until I am with you
For you, fill my life
All my days and nights
With memories of you
Yours is the light that will always shine
And shine eternally
Mine is the search, never ending search
Until I am with you
For you, fill my life
All my days and nights
With memories of you