New Orleans Pop Festival
August 31 – September 1, 1969
Baton Rouge International Speedway
Prairieville, Louisiana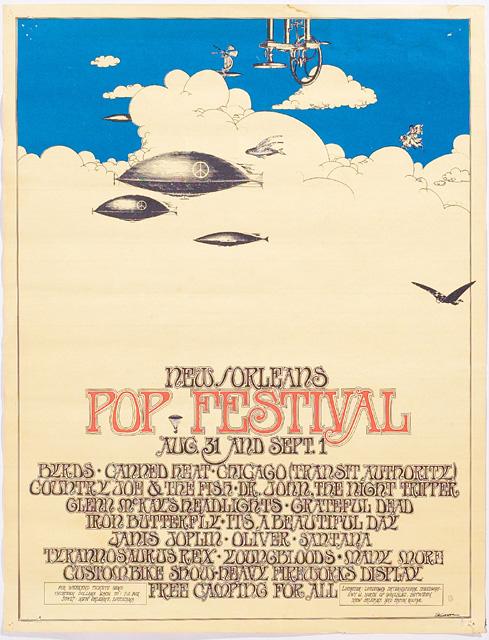 Woodstock in Bethel
New Orleans in Prairieville
     People continue to visit Woodstock, NY to visit the site of the 1969 Woodstock Music and Art Fair. It is an easy mistake for two reasons: 1) the town IS called Woodstock, and 2) the town still looks like that famous festival was held there because many merchants decorate and sell dozens of  festival-related items.

     The New Orleans Pop Festival name has an even more interesting disconnect. Firstly, it was not held in New Orleans, but in Prairieville, Louisiana. Secondly, it was held at the Baton Rouge International Speedway.

     The differences are pointed. If Woodstock Ventures had called their event the Bethel Music and Art Fair (or the Wallkill...) would  that name have been as 

initially

 interesting as branding it "Woodstock"? Of course, that was the idea. Branding. And branding this festival the New Orleans Pop Festival made more sense than other choices. 

     Like Bethel there was camping at the New Orleans Pop Festival. Unlike Bethel, the camping was a few miles away so the community feel that developed at Bethel over its four days did not happen in Prairieville over its two.
New Orleans Pop Festival
         Steve Kapelow and his sponsoring company, Kesi, Inc organized the event. Attendance was small compared to Woodstock two weeks earlier, about 25,000–30,000 people per day. The line up was a good one. 

           Organizers planned a two-day festival (as the poster indicates), but they added a free Saturday evening show. Sunday tickets went for $7.00 for advance tickets and $9.50 at the gate; Monday prices were $8.00 in advance and $10.50 at the gate. Tickets for the entire cost $13.00 in advance and $16.00 at the gate

.
Saturday, August 30, 1969

Local bands starting playing at 6:00pm until the "official" free concert began at 8:00pm.
White Fox
Snow Rabbit

Deacon John and the Electric Soul Train
Whizbang
Axis
Tyrannosaurus Rex
It's a Beautiful Day

Sunday, August 31, 1969

Flower Power
Snow Rabbit
Spiral Starecase
Oliver
Smyth
The Youngbloods

It's a Beautiful Day
Country Joe and the Fish
The Byrds
Canned Heat – A fireworks display was scheduled after this act.
Iron Butterfly
Janis Joplin
Santana

Monday, September 1, 1969

Potliquor
Axis
Oliver
Cat Mother and the All Night Newsboys
Santana
Chicago
It's a Beautiful Day

Tyrannosaurus Rex
The Youngbloods
Lee Michaels
Grateful Dead
Jefferson Airplane
Dr. John VooDoo Show
jam Session featuring Jefferson Airplane, Grateful Dead, Cat Mother, Santana, Chicago, Beautiful Day
Whizbang
Other facts
*On Sunday, the schedule indicated that Sweetwater and White Clover were supposed to play, but the late hour cancelled their performances as well as a scheduled jam session. Doug Kershaw from Louisiana played as well but is not mentioned. Organizers likely  moved both groups to Monday's lineup,but local media reports do not show that to be the case.

*On Monday,  a flower drop was supposed to take place during the Potliquor performance, but the plane missed its target and dropped the flowers onto nearby fields instead of on the crowd.

*Glen McKay and his crew, known as the Headlights presented light shows Sunday and Monday nights.

*As was so often the case, the Grateful Dead recorded their performance and it is available at the Internet Archive site: https://archive.org/details/gd1969-09-01.sbd.kaplan.5216.shnf

*Young and energetic, the following bands played the same weekend at the Texas International Pop Festival:
Canned Heat
Chicago Transit Authority
Janis Joplin
Santana
Sweetwater
Please follow and like us: