Fantasy Fair and Magic Mountain Music Festival
June 10 – 11, 1967
For the benefit of the Hunter's Point Child Care Center
The Sons of Champlin, "Freedom" Recorded Live: 8/16/1968, San Francisco, CA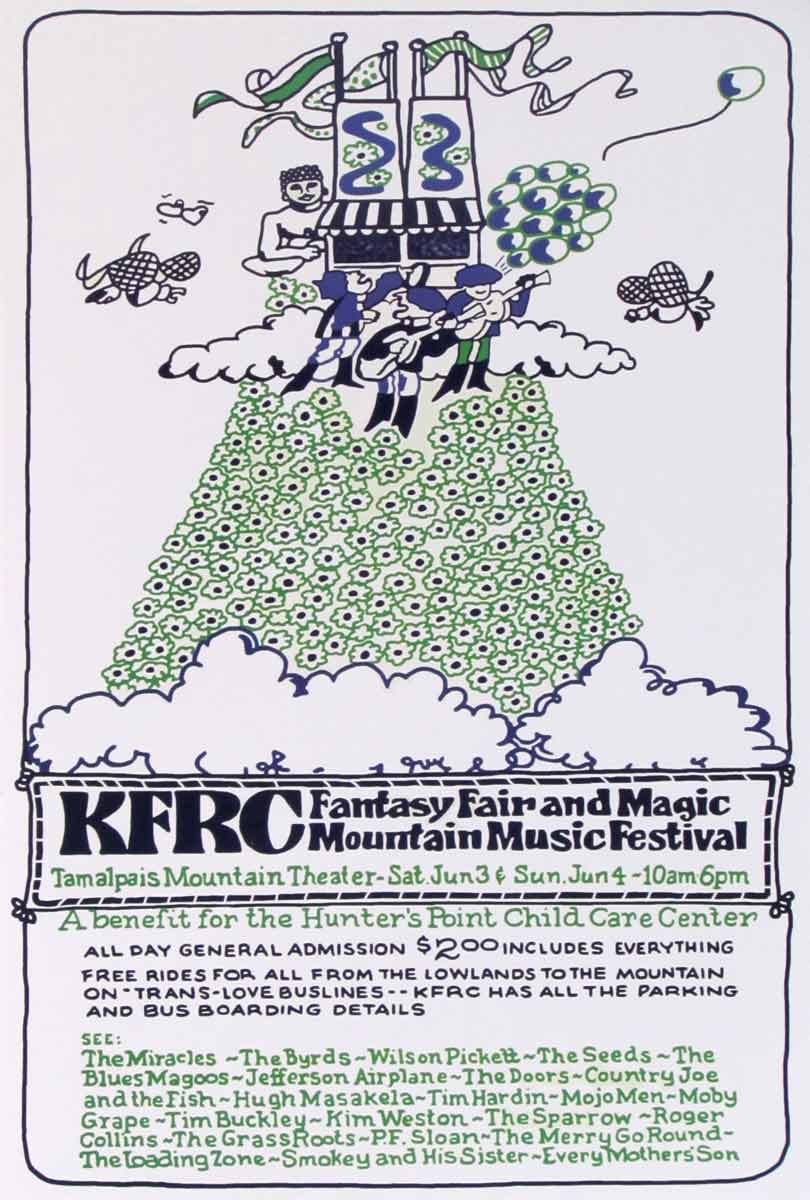 Whether the Woodstock Music and Art Fair in 1969 was the greatest festival ever held is open to debate. Perhaps.

            Whether it was the most important festival ever held less so. Likely.

            It certainly wasn't the first rock festival. 

            Indoor multi-day rock events began in the 50s, but it wasn't until the late 60s that the multi-day outdoor rock festival, featuring more than just a series short sets by musicians playing their big hits, happened.
            Usually the Monterey International Pop Music Festival gets the nod for being the first of the later type, but the Fantasy Fair and Magic Mountain Music Festival occurred a week before. The line-up for the KFRC-sponsored event looks pretty good, too.
Day 1 (Saturday 10 June)

The Charlatans
Mount Rushmore
Rodger Collins
Dionne Warwick
The Doors
The Lamp of Childhood

Canned Heat

Jim Kweskin Jug Band
Spanky and Our Gang
Blackburn & Snow
The Sparrow
Every Mother's Son
Kaleidoscope
The Chocolate Watchband
The Mojo Men
The Merry-Go-Round

 Day 2 (Sunday 11 June)

Sons of Champlin
Jefferson Airplane
The Byrds w/ Hugh Masekela
P. F. Sloan
Captain Beefheart & the Magic Band
The Seeds
The Grass Roots
The Loading Zone
Tim Buckley
Every Mother's Son
Steve Miller Blues Band
Country Joe and the Fish
The 5th Dimension
The Lamp of Childhood
The Mystery Trend
Penny Nichols
The Merry-Go-Round
New Salvation Army Band
Fantasy Fair and Magic Mountain Music Festival       
    While I will admit ignorance of many of the names themselves and of those bands whose names I do recognize that I am not familiar with any particular songs of their, there are certainly a few Rock and Roll Hall of Fame names there. I've underlined those who would play at Woodstock.

            Unfortunately for the Fantasy Fair and Magic Mountain Music Festival (and like so many other festivals), no worthwhile recordings of the music or the event apparently exist. There is a silent blurry hand-held camera film of the Doors performing (whose name does not appear on the poster), but little else.

            There is an interesting connection between the Fantasy Fair and Woodstock. Mel Lawrence was its co-producer and he became Woodstock's operation manager.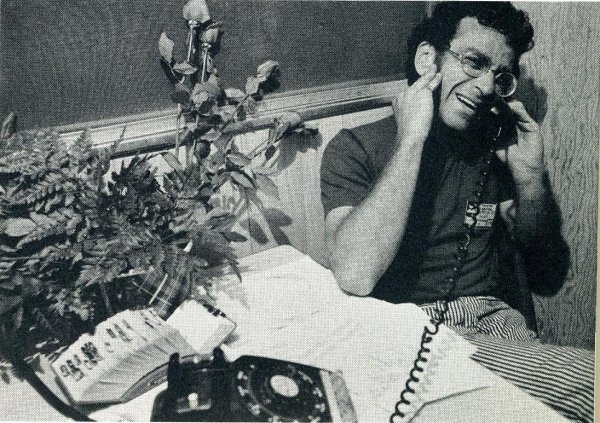 You will also have noticed that the event was for the benefit of the Hunter's Point Child Care Center, thus preceding George Harrison and Ravi Shankar's Concert for Bangladesh by four years.

            The Hells Angels "volunteered" to be security and with some reluctance the organizers approved their "request." Fortunately, their presence worked out OK and without any incident. You cans see some of their bikes parked in the following picture: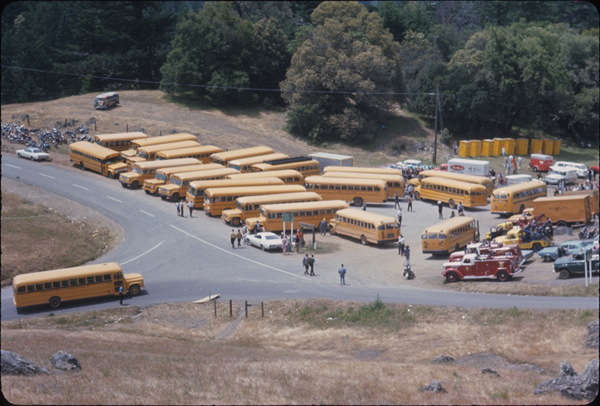 Here is a link to a 2014 Rolling Stone magazine article on the event. RS interviewed many of the attendees, performers, and organizers >>> http://www.rollingstone.com/music/news/the-untold-and-deeply-stoned-story-of-the-first-u-s-rock-festival-20140617
Please follow and like us: