Montgomery Alabama December 1955
Alabama, for better or worse, is typically seen as the the epicenter of the late 20th century's civil rights movement. Of course, what happened there had happened or was also happening in other states. Rosa Parks, her refusal to yield her seat, the subsequent fine, and the bus boycott were a recipe for other strategies. Here's Montgomery December 1955.
Montgomery December 1955
Monday 5 December 1955: The courts found Rosa Parks guilty and fined her for refusing to give up her seat a city bus. The Montgomery Bus Boycott, organized by Martin Luther King Jr., began on this day. Most of the 50,000 African Americans living in Montgomery supported the boycott by walking, bicycling and car-pooling. The one-day boycott was so successful that the organizers met on Monday night and decided to continue. They established the Montgomery Improvement Association to organize the boycott and elected the King  as president. Jo Ann Robinson served on the group's executive board and edited their newsletter. [NYT article re the start of the boycott>>>Montgomery Bus Boycott]
Montgomery Alabama December 1955
Thursday 8 December 1955 : Black taxi drivers charged ten cents per ride, a fare equal to the cost to ride the bus, in support of the boycott. When city officials learn of the tactic an order went out to fine any cab driver who charged a rider less than 45 cents.(NYT article re refusal to settle boycott>>>No settlement]
December 17, 1955: Martin Luther King, Jr and other Montgomery Improvement Association representatives met with white leaders in an unsuccessful attempt to resolve the bus dispute. The boycott, initially launched as a one-day statement of protest, had been going on for nearly two weeks at this point.
December 30, 1955: Montgomery Mayor W. A. Gayle urged Montgomery citizens to patronize city buses or risk losing the bus company's business. [NYT article re ongoing boycott and price increase>>>January. Boycott continues.]

On June 5, 1956, a lower federal court ruled that any law requiring racially segregated seating on buses violated the 14th Amendment to the U.S. Constitution. That amendment guarantees all citizens, regardless of race, equal rights and equal protection under state and federal laws.
The city appealed to the U.S. Supreme Court. On November 13 it ruled that bus segregation was unconstitutional. The city appealed certain parts of the decision, but on...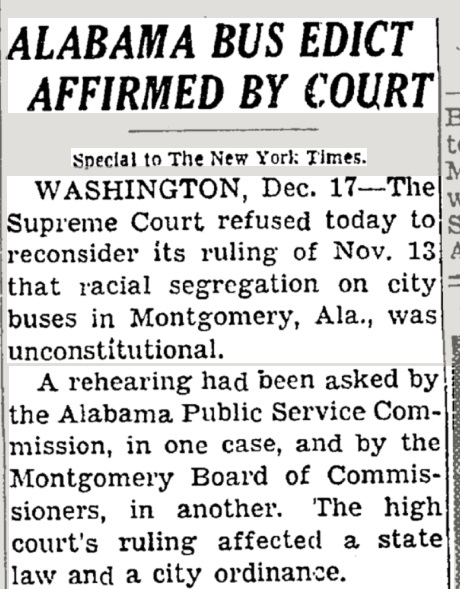 December 17, 1956 the court refused to reconsider its ruling. On December 20 the Montgomery Improvement Association voted to end the boycott and on December 21 the boycott ended. It had lasted 381 days.