Beatles November 22
November 22, 1963 is a day that all Baby Boomers remember where they were when they heard of Kennedy's assassination. The days immediately afterward are also etched in their memories.
Oddly, November 22 is also a day that is part of Beatle history:
Beatles November 22
with the beatles
November 22, 1963: UK release of 2nd Beatle album with the beatles. The 14 songs were a mixture of Lennon/McCartney compositions, the first George Harrison Beatle release, and covers. For we US collectors, we likely didn't realize that what the British kids were buying was more than what we were to get later: 14 songs per album compared to the usual 12 in the USA. Thus the occasional release "singles" albums in the USA to catch up.
Beatles November 22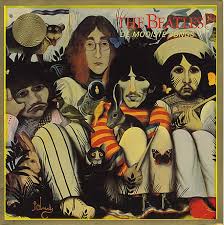 November 22, 1968, The Beatles after live performances: released The Beatles, usually referred to as the White Album. [link to site with information: http://www.thebeatleswhitealbum.org/] The "White Album's" original working title was A Doll's House, which is the name of Henrik Ibsen's play written in the 19th century. In addition, according to Geoffrey Giuliano, author of The Beatles Album, an illustration was prepared for the cover of A Doll's House by the famed artist Patrick. However the title was changed when the British band Family released the similarly titled Music in a Doll's House ear­lier that year. The plain white cover was opted for instead after McCartney then requested the albums sleeve design "be as stark a con­trast to Peter Blake's vivid cover art for Sgt. Pepper's Lonely Hearts Club Band as possible, the complete opposite of it…" he said.
November 22, 2008, The Beatles post break-up: the official Vatican newspaper L'Osservatore Romano suggested that the infamous statement by John Lennon of the Beatles-- who outraged many people in 1966 by saying that the band was "more popular than Jesus"-- should be recognized as "the boasting of an English working-class lad struggling to cope with unexpected success." In an editorial marking the 40th anniversary for the "White Album," L'Osservatore Romano said that the influence of the Beatles has shown "an extraordinary resistance to the effects of time, providing inspiration for several generations of pop musicians."
Please follow and like us: