October 10
Black history

: In the summer of 1850, Robert Newsom, a sixty-year-old white man, purchased Celia, a fourteen-year-old black girl, from a man in a neighboring county. Before Newsom had even returned to his farm, he raped the enslaved girl, and he continued to do so frequently over the next five years. Newsom regularly came to Celia's cabin and forced himself on her, and she gave birth to a child in 1855. At some point during the course of this abuse, Celia entered into a relationship with a man named George who was also enslaved by Newsom. When Celia became pregnant again in late winter of 1855, George insisted that she put an end to Newsom's sexual abuse.
Celia begged Newsom to stop "forcing her while she was sick" and even appealed to his daughters for help. The assaults continued. On June 23, 1855, Newsom told Celia he was "coming to her cabin" that night. When Newsom arrived and began to lower his face over hers, Celia struck him in the head with a stick. Eventually, Celia realized that Newsom had died from the blow. Not knowing what to do, she disposed of the evidence by cremating the body in her fireplace.  An investigation into Robert Newsom's disappearance led authorities to question Celia until she admitted to the act. Missouri law at the time allowed a woman who believed she was in "imminent danger of forced sexual intercourse" to be acquitted on a self-defense theory. However, the judge in Celia's case did not give such an instruction to the jury because, in his view, she was a slave with no right to refuse her "master."
The jury convicted Celia of first degree murder on October 10, 1855.  She was hung on December 20, 1855.
October 10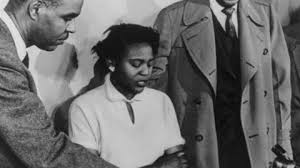 October 10, 1955, in Lucy et al. v. ADAMS, Dean of Admissions, University of Alabama, the Supreme Court upheld the lower court's decision to admit Autherine Lucy and Pollie Ann Meyers. Chief Justice Earl Warren wrote for the majority, The injunction which the District Court issued in this case, but suspended pending appeal to the Court of Appeals, is reinstated to the extent that it enjoins and restrains the respondent and others designated from denying these petitioners, solely on account of their race or color, the right to enroll in the University of Alabama and pursue courses of study there. The motion is denied. 
October 10, 1957, in the conclusion to an extremely embarrassing situation, President Dwight D. Eisenhower offered his apologies to Ghanian Finance Minister, Komla Agbeli Gbdemah, who had been refused service at a restaurant in Dover, Delaware. It was one of the first of many such incidents in which African diplomats were confronted with racial segregation in the United States.
October 10 – 16, 1960: "Mr. Custer" by Larry Verne #1 Billboard Hot 100.
October 10, 1966, the Monkees release their first album, The Monkees. 
October 10, 1972, LGBT: The U.S. Supreme Court dismissed Baker v. Nelson, one of three cases brought by same-sex couples. challenging the denial of marriage. A Minnesota couple, Richard Baker and James Michael McConnell, were denied a marriage license by the Hennepin County District Court's clerk on May 18, 1970. Their initial trial court dismissed their claim and affirmed that the clerk could refuse gay couples a marriage license.
The New York Times included the decision among several others under the heading "Homosexuals." click → NYT article
October 10, 1972: The Washington Post reported that FBI agents had established that the Watergate break-in stemmed from a massive campaign of political spying and sabotage conducted on behalf of the Nixon reelection effort.
October 10, 1973: Spiro Agnew resigned the vice presidency and appeared in US District Court in Baltimore on the same day to plead nolo contendere to a single federal count of failing to report on his income-tax return $29,500 in income. NYT editorial → "Agnew Tragedy"
October 10, 1992, Sinead O'Connor appeared on Saturday Night Live as a musical guest. She sang an a cappella version of Bob Marley's "War", which she intended as a protest over the sexual abuse in the Roman Catholic Church, by changing the lyric "racism" to "child abuse." She then presented a photo of Pope John Paul II to the camera while singing the word "evil", after which she tore the photo into pieces, said "Fight the real enemy" and threw the pieces towards the camera.
 October 10, 1996 : former Alabama Governor Wallace presented the Lurleen B. Wallace Award for Courage, named for his late wife, to Ms. Vivian Malone Jones. He told her that he made a mistake 33 years earlier and that he admired her. (click →  CNN story)
In 1965, Jones had became the first black to graduate from the University of Alabama in its 134 years of existence, earning a degree in business management with a B-plus average. The university had hired a driver for her, a student at Stillman College in Tuscaloosa named Mack Jones. They later married, and he became an obstetrician. After graduating from Alabama, Malone worked for the US Justice Department in its civil rights division.
October 10, 2003: the 1920 Duluth, Minnesota lynching was commemorated by dedicating a plaza including three seven-foot-tall bronze statues to the three men who were killed. The statues were part of a memorial across the street from the site of the lynchings. The Clayton Jackson McGhie Memorial was designed and sculpted by Carla J. Stetson, in collaboration with editor and writer Anthony Peyton-Porter.
At the memorial's opening, thousands of citizens of Duluth and surrounding communities gathered for a ceremony. The final speaker at the ceremony was Warren Read, the great-grandson of one of the most prominent leaders of the lynch mob:
"It was a long held family secret, and its deeply buried shame was brought to the surface and unraveled. We will never know the destinies and legacies these men would have chosen for themselves if they had been allowed to make that choice. But I know this: their existence, however brief and cruelly interrupted, is forever woven into the fabric of my own life. My son will continue to be raised in an environment of tolerance, understanding and humility, now with even more pertinence than before.
October 10, 2008: The Connecticut Supreme Court ruled in Kerrigan v. Commissioner of Public Health, a case brought by Gay & Lesbian Advocates & Defenders, that same-sex couples were entitled to the freedom to marry. The law retroactively takes effect on October 1, allowing all couples the freedom to marry and converting existing civil unions between same-sex couples in the state into marriages.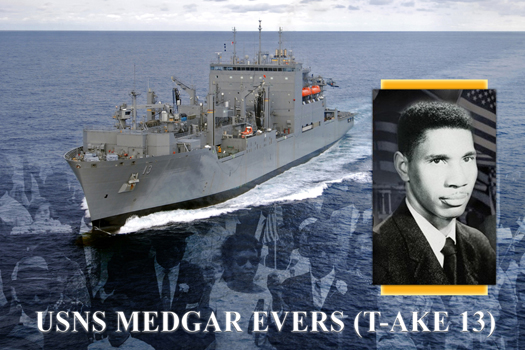 October 10, 2009: Myrlie Evers-Williams, the widow of the slain civil rights pioneer Medgar Evers, heard Navy Secretary Ray Mabus, a former Mississippi governor, announce that he was naming a new Navy supply ship for her husband. She said: "I think of those who will serve on this ship and those who will see it in different parts of the world. And perhaps they, too, will come to know who Medgar Evers was and what he stood for."
October 10, 2014, LGBT: the Supreme Court allowed same-sex marriages to proceed in Idaho, lifting a temporary stay issued two days earlier by Justice Anthony M. Kennedy.