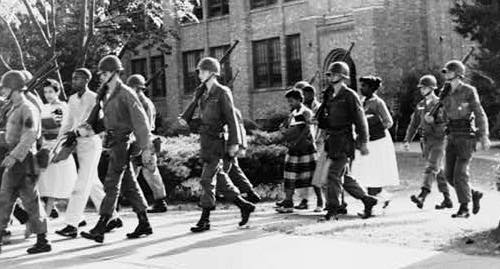 September 25, 1957, BLACK HISTORY & School Desegregation: with 300 United States Army troops standing guard, nine black children were escorted to Central High School in Little Rock, Arkansas, days after unruly white crowds had forced them to withdraw.
September 25, 1959, The Cold War:

 Soviet leader Nikita Khrushchev met with President Eisenhower. The two men came to general agreement on a number of issues, but a U-2 spy plane incident in May 1960 crushed any hopes for further improvement of U.S.-Soviet relations during the Eisenhower years.
September 25, 1961, BLACK HISTORY: Eugene Hurst, a State Representative from Amite County, murdered Herbert Lee at the Westbrook Cotton Gin in Liberty, Mississippi. A month earlier, Lee, age 49, had escorted visiting Civil Rights leader Bob Moses into rural Mississippi to register black people to vote.



Hurst claimed that it was accidental and in self-defense. Louis Allen, a black man who witnessed the shooting, later came forward and said that Hurst shot Lee in the head and that it was not accidental or in self-defense.
September 25, 1962, BLACK HISTORY & James H Meredith: Mississippi Governor Ross R Barnett's responded with two proclamations. To sheriffs and law enforcement officers:  They were "authorized and directed to proceed to do all things necessary that the peace and security of the people of the State of Mississippi are fully protected." The second, directed at Meredith stated in part that "in order to prevent violence and a breach of the peace...do hereby and finally deny you admission to the University of Mississippi." 
BLACK HISTORY: on March 23, 1964, having made dinner for her 10 children, Johnnie Mae Chappell of Jacksonville, Florida, walked to a nearby store to buy some ice cream for dessert. On the way home, the paper sack she carried became soggy and broke. At home, Chappell realized she'd dropped her wallet. She went back out to search the side of the road and a couple of neighbors joined to help.  As she retraced her steps along a road, four white men spotted her, and one of them killed her. They had been looking for an African American to shoot following a day of racist unrest.



In August of that year, two detectives, Lee Cody and Donald Coleman, received information regarding the murderers, but on September 25,  soon after obtaining the confessions  detectives Cody and Coleman were ordered to stop their investigation. Afterwards, Cody was not sure anything else was done to develop the case, but on this date a grand jury indicted all four men on the evidence in the murder of Johnnie May Chappell.





J.W. Rich was the first to go on trial. He says now that the prosecution didn't have anything on him. It's true that the case may have looked slim to a jury. The .22-caliber gun that Cody and Coleman recovered was never introduced at trial (it later disappeared from the evidence room). Cody himself wasn't called to testify. The other men's statements weren't submitted in court. The bullet taken from Chappell's body was introduced in a plain white envelope, not an evidence bag showing the date it had been recovered and from where. Perhaps unwilling to press for a first-degree murder charge in the death of a black woman, the prosecutor told jurors they could find Rich guilty on a lesser count. The jury found him guilty of manslaughter and the judge gave Rich 10 years. He would serve 3.





The State Attorney's Office released Wayne Chessman, Elmer Kato, and Alex Davis from prosecution for lack of evidence, despite their confessions.
September 25, 1965, The Beatles: A cartoon series featuring The Beatles began in the US. Simply titled The Beatles, it ran until 1969 on the ABC network with 39 episodes produced over three seasons. The series was shown on Saturday mornings at 10.30 am until 1968, when it was moved to Sunday mornings. Each episode was named after a Beatles song, with stories based on the lyrics. The Beatles themselves were not directly involved in the production, which was created by Al Brodax and Sylban Buck, and produced by King Features Syndicate. American actor Paul Frees provided the voices for John Lennon and George Harrison, while British actor Lance Percival did the same for Paul McCartney and Ringo Starr.
September 25 – October 1, 1965, Vietnam & News Music: "Eve of Destruction" by Barry McGuire #1 on the Billboard Hot 100.
September 25, 1971: The  Eighth Big Sur Folk Festival.  the final one featured: Joan Baez, Kris Kristofferson, Mimi Fariña and Tom Jans, Mickey Newbury, Big Sur Choir, Lily Tomlin & Larry Manson.
September 25, 1981, Feminism: Sandra Day O'Connor became the first woman appointed to the Supreme Court.