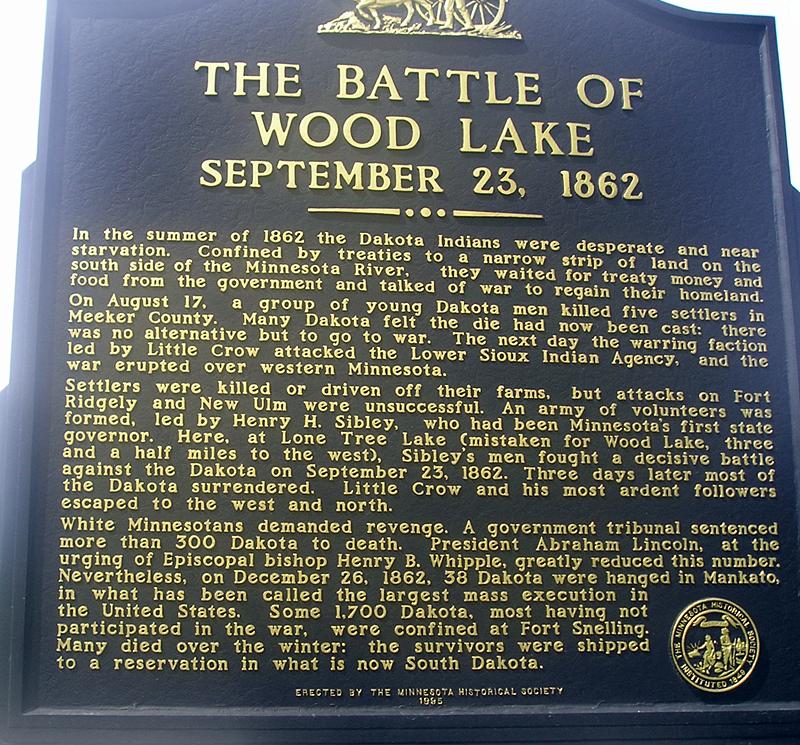 September 23, 1862, Native Americans: the Battle of Wood Lake. After delays due to forces needed for the Civil War, a large regular army contingent overwhelmingly defeated the Dakota forces.
---
September 23, 1913, US Labor History: miners working for the John D. Rockefeller-owned Colorado Fuel and Iron Company go on strike. Organized by the United Mine Workers Association, the miners move their families to union tent colonies in the countryside away from the mining camps.
---
Mr. & Mrs. Roy (Carolyn) Bryant (left) with Mr. & Mrs. J.W. Milam showed happiness at a the verdict delivered in Sumner, Miss. Friday, September 23, 1955.
September 23, 1955, BLACK HISTORY & Emmett Till:  the jury acquitted Milam and Bryant of murdering Emmett Till after the jury deliberates 67 minutes. One juror told a reporter that they wouldn't have taken so long if they hadn't stopped to drink pop. Roy Bryant and J. W. Milam stand before photographers, light up cigars and kiss their wives in celebration of the not guilty verdict.
Moses Wright and Willie Reed, another poor black Mississippian who testified, left Mississippi and were smuggled to Chicago. Once there, Reed collapsed and suffered a nervous breakdown.
September 23, 1957, BLACK HISTORY & School Desegregation: nine black students who had entered Little Rock Central High School in Arkansas were forced to withdraw because of a white mob outside.
---
September 23, 1967: Saturday Evening Post cover featured a "Hippie" and a story about the so-called Hippie Cult.
---
September 23 – October 20, 1967: "The Letter" by the Boxtops #1 on the Billboard Hot 100.
…and a great cover by Joe Cocker w Leon Russell.
---
September 23, 1969, 1969, Vietnam, Chicago 8 & Black Panthers: the Chicago Eight trial began. The defendants included David Dellinger of the National Mobilization Committee (NMC); Rennie Davis and Thomas Hayden of the Students for a Democratic Society (SDS); Abbie Hoffman and Jerry Rubin, founders of the Youth International Party ("Yippies"); Bobby Seale of the Black Panthers; and two lesser known activists, Lee Weiner and John Froines. The group was charged with conspiracy to cross state lines with intent to incite a riot. All but Seale were represented by attorneys William Kunstler and Leonard Weinglass.
Early in the trial, presiding Judge Julius Hoffaman (no relation to Abbie) ordered Bobby Seale bound and gagged in the courtroom because of his outbursts. Seale's trial will eventually be separated from the others'.
---
September 23, 1974, The Beatles post break-up: Lennon single, Whatever Get You Through the Night released. It would be Lennon's only solo #1 single in the US during his lifetime. Lennon was the last member of The Beatles to achieve an American number one solo hit. The recording featured Elton John on harmony vocals and piano. While in the studio, Elton bet Lennon that the song would top the charts.
September 23, 2010, DEATH PENALTY, Teresa Lewis was put to death in Virginia for arranging the killings of her husband and a stepson over a $250,000 insurance payment. The 41-year-old was the first woman to be executed in the United States in five years. More than 7,300 appeals to stop the execution – the first of a woman in Virginia since 1912 – had been made to the governor in a state second only to Texas in the number of people it executes. Texas held the most recent U.S. execution of a woman in 2005. Out of more than 1,200 people put to death since the U.S. Supreme Court reinstated capital punishment in 1976, only 11 have been women.
Lewis, who defense attorneys said was borderline mentally disabled, had inspired other inmates by singing Christian hymns in prison. Her execution stirred an unusual amount of attention because of her gender, claims she lacked the intelligence to mastermind the killings and the post-conviction emergence of defense evidence that one of the triggermen manipulated her." Under US law, anyone with an IQ under 70 cannot be executed. Lewis was judged to have an IQ of 72.
---
September 23, 2013, Native Americans: Veronica, the Cherokee girl at the center of a long custody dispute, was handed over to her adoptive parents, Matt and Melanie Capobianco, of South Carolina. Veronica, 4, had been living in the Cherokee Nation with her father, Dusten Brown, since she was 2. Before that, she lived with the Capobiancos. Her adoption was made final earlier this year, but Mr. Brown had appealed. The girl was handed over after the Oklahoma Supreme Court ruled it would not intervene.
Cherokee Nation spokeswoman Amanda Clinton confirmed the announcement via social media about an hour after the handover. "It is with a heavy heart that I can confirm Veronica Brown was peacefully handed over to Matt and Melanie Capobianco (this) evening," she tweeted. "Updates will be forthcoming, but the transition was handled peacefully and with dignity by all parties. Please keep Veronica in your prayers."
---
September 23, 2014, Sexual Abuse of Children: Vatican officials announced that Pope Francis had ordered the arrest of former Polish archbishop Jozef Wesolowski, accused of child sex abuse in the Dominican Republic. A Vatican tribunal had defrocked Wesolowski earlier in the year. He was under house arrest inside Vatican City due to the "express desire" of Pope Francis, the Vatican said in a statement.
The Vatican's chief spokesman, the Rev. Federico Lombardi, said, "The seriousness of the allegations has prompted the official investigation to impose a restrictive measure that … consists of house arrest, with its related limitations, in a location within the Vatican City State."