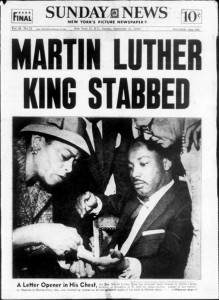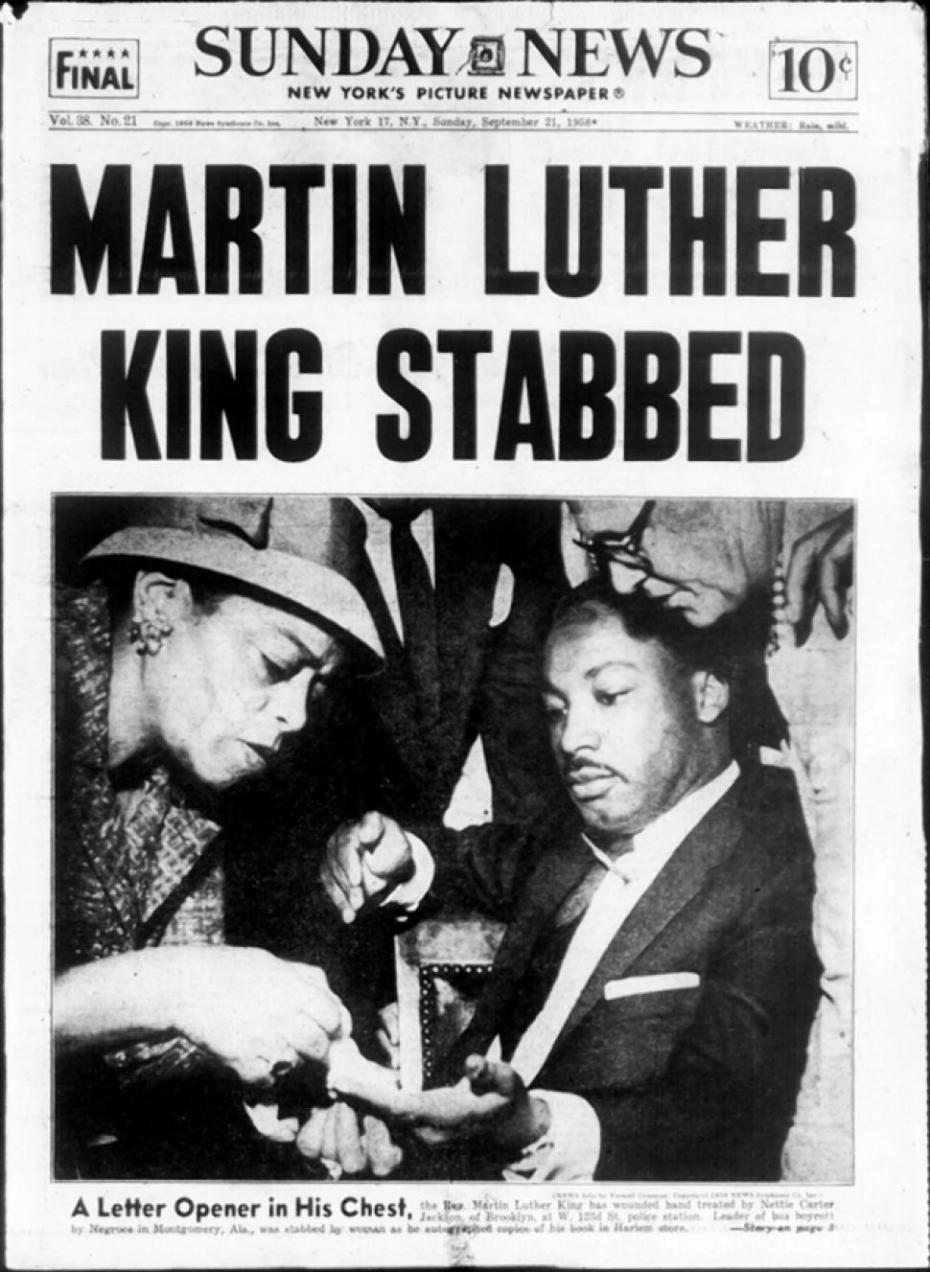 September 20, 1958, BLACK HISTORY &  MARTIN LUTHER KING, JR: Dr Aubre de L Maynard, chief of surgery at Harlem Hospital, removed a letter opener from the chest of Martin Luther King, Jr. King. Izola Ware Curry had stabbed King with a steel letter opener while he signed copies of his book, Stride Toward Freedom: The Montgomery Story.  Curry also carried a fully loaded .25-calibre automatic.
In 1968, the day before he was assassinated, King spoke to a group and referred to this incident:
                It came out in the New York Times the next morning, that if I had merely sneezed, I would have died. Well, about four days later, they allowed me, after the operation, after my chest had been opened, and the blade had been taken out, to move around in the wheel chair in the hospital. They allowed me to read some of the mail that came in, and from all over the states and the world, kind letters came in. I read a few, but one of them I will never forget. I had received one from the President and the Vice-President. I've forgotten what those telegrams said. I'd received a visit and a letter from the Governor of New York, but I've forgotten what that letter said. But there was another letter that came from a little girl, a young girl who was a student at the White Plains High School. And I looked at that letter, and I'll never forget it. It said simply,
Dear Dr. King,
I am a ninth-grade student at the White Plains High School."
And she said,
While it should not matter, I would like to mention that I'm a white girl. I read in the paper of your misfortune, and of your suffering. And I read that if you had sneezed, you would have died. And I'm simply writing you to say that I'm so happy that you didn't sneeze.
And I want to say tonight — I want to say tonight that I too am happy that I didn't sneeze. Because if I had sneezed, I wouldn't have been around here in 1960, when students all over the South started sitting-in at lunch counters. And I knew that as they were sitting in, they were really standing up for the best in the American dream, and taking the whole nation back to those great wells of democracy which were dug deep by the Founding Fathers in the Declaration of Independence and the Constitution.
PDF NYT article: MLK stabbed
September 20, 1962, BLACK HISTORY & James H Meredith: defying orders of the Federal courts, Mississippi Governor Ross R Barnett denied Meredith admission to the University of Mississippi. The Justice Department immediately obtained contempt of court citations against Dr J D Williams, university chancellor; Dr Robert B Ellis, registrar, and Dean Anthony B Lewis.
September 20, 1969, The Beatles break-up: John Lennon announced to the others that he was leaving the band.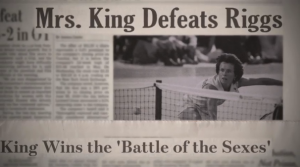 September 20, 1973,  Feminism:  in a highly publicized "Battle of the Sexes" tennis match, top women's player Billie Jean King, 29, beat Bobby Riggs, 55, a former No. 1 ranked men's player. Riggs (1918-1995), a self-proclaimed male chauvinist, had boasted that women were inferior, that they couldn't handle the pressure of the game and that even at his age he could beat any female player. The match was a huge media event, witnessed in person by over 30,000 spectators at the Houston Astrodome and by another 50 million TV viewers worldwide. King made a Cleopatra-style entrance on a gold litter carried by men dressed as ancient slaves, while Riggs arrived in a rickshaw pulled by female models. Legendary sportscaster Howard Cosell called the match, in which King beat Riggs 6-4, 6-3, 6-3. King's achievement not only helped legitimize women's professional tennis and female athletes, but it was seen as a victory for women's rights in general.
NYT pdf: King defeats Riggs
September 20, 1994, Oklahoma City Explosion:  Terry Nichols and Timothy McVeigh rented a storage shed and began gathering supplies for the truck bomb they would use in Oklahoma City.
September 20, 2014, Environmental Issues: hundreds of thousands of demonstrators from around the world turned out for the massive People's Climate March.  The streets of midtown Manhattan are crowded with protesters demanding  global leaders take action to avert catastrophic climate change.