September 19, 1955, BLACK HISTORY & Emmett Till:  the kidnapping and murder trial of J. W. Milam and Roy Bryant opened in Sumner, Mississippi, the county seat of Tallahatchie County. Jury selection begins and, with blacks and white women banned from serving, an all-white, 12-man jury made up of nine farmers, two carpenters and one insurance agent was selected.
Emmett's mother, Mamie Till Bradley, departed from Chicago's Midway Airport to attend the trial.
September 19, 1957, Nuclear and Chemical Weapons: the US detonated a 1.7 kiloton nuclear weapon in an underground tunnel at the Nevada Test Site (NTS), a 1,375 square mile research center located 65 miles north of Las Vegas. The test, known as Rainier, was the first fully contained underground detonation and produced no radioactive fallout. A modified W-25 warhead weighing 218 pounds and measuring 25.7 inches in diameter and 17.4 inches in length was used for the test. Rainier was part of a series of 29 nuclear weapons and nuclear weapons safety tests known as Operation Plumbbob that were conducted at the NTS between May 28, 1957, and October 7, 1957.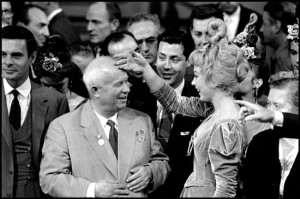 September 19, 1959, The Cold War: Soviet leader Nikita Khrushchev had arrived in the US on September 15 for a summit meeting with President Eisenhower. The Soviet leader indicated a desire to see Hollywood.
September 19 began pleasantly enough, with a tour of the Twentieth Century Fox Studios. Kurshchev was taken to the sound stage for the movie "Can-Can" and was immediately surrounded by the cast of the film, including Shirley MacLaine and Juliet Prowse. The cast members performed a number from the film. Frank Sinatra was brought in to serve as an unofficial master of ceremonies later lunched with an obviously delighted Khrushchev.
                Later Twentieth Century Fox President Spyros P. Skouras introduced Khrushchev at Los Angeles Town Hall. Skouras, an ardent anticommunist, irritated Khrushchev by referring to the premier's famous statement that Russia would "bury" capitalism. Skouras declared that Los Angeles was not particularly interested in "burying" anyone, but would meet the challenge if posed. Khrushchev's famous temper quickly flared. He charged that Skouras's remarks were part of a campaign to heckle him during his trip to America.
                Khrushchev's anger increased when he learned that he would not be allowed to visit Disneyland. Government authorities feared that the crowds would pose a safety hazard for the premier. Khrushchev, still fuming about the debate with Skouras, exploded. "And I say, I would very much like to go and see Disneyland. But then, we cannot guarantee your security, they say. Then what must I do? Commit suicide? What is it? Is there an epidemic of cholera there or something? Or have gangsters taken hold of the place that can destroy me?"
September 19, 1962, Cold War, Nuclear News &  Cuban Missile Crisis:  the United States Intelligence Board (USIB) approved a report on the Soviet arms buildup in Cuba. Its assessment, stated that some intelligence indicates the ongoing deployment of nuclear missiles to Cuba. The Soviet Union above ground nuclear test. 1.5 – 10 megaton.
September 19, 1969, Vietnam: President Nixon announced the cancellation of the draft calls for November and December. He reduced the draft call by 50,000 (32,000 in November and 18,000 in December). This move accompanied his twin program of turning the war over to the South Vietnamese concurrent with U.S. troop withdrawals and was calculated to quell antiwar protests by students returning to college campuses after the summer.
September 19, 2002, Sexual Abuse of Children: the Boston Archdiocese reached $10m settlement with victims of John Geoghan, retracting a previous settlement of $30m which the Church said would have bankrupted the archdiocese.
September 19, 2011, LGBT: The US military's "Don't ask, don't tell" policy officially ends.
September 19, 2012, LGBT: The one-year anniversary of the end of the "Don't Ask, Don't Tell" policy passed with little notice because the policy had been so quickly implemented with so little disruption. Gay, lesbian and bisexual service members were thought to make up at least 2 percent of the military's 2.2 million forces on active duty, in the reserves, and the National Guard.